Purchases made through links earn us a small commission, at no extra cost to you.
Ahh…Jasper. Every time I visit I don't want to return to my city life. Sparkling blue lakes reflecting postcard-perfect Rocky Mountain views, leave me feeling calm and serene every time. Just visit Pyramid and Patricia Lakes and you'll know what I mean!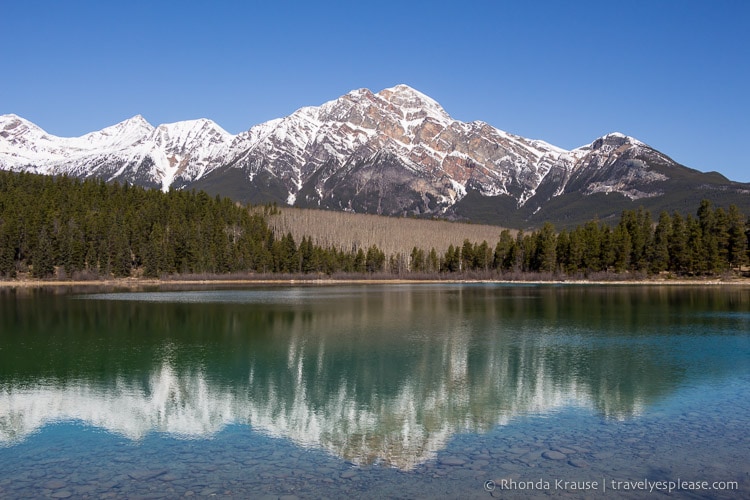 Visiting Pyramid and Patricia Lakes- Jasper National Park
As part of the Canadian Rocky Mountains, Jasper has no shortage of beautiful sites. One of the most accessible places to experience all Jasper is known for is Pyramid and Patricia Lakes.
At these two lakes, just 8 km from the Jasper townsite, you can experience Jasper's subalpine forests, rocky mountain peaks, comprehensive trail network (the largest of any Canadian national park), and frequent wildlife sightings. I always see wildlife in Jasper National Park and Pyramid Lake Road can be a good place to spot mule deer.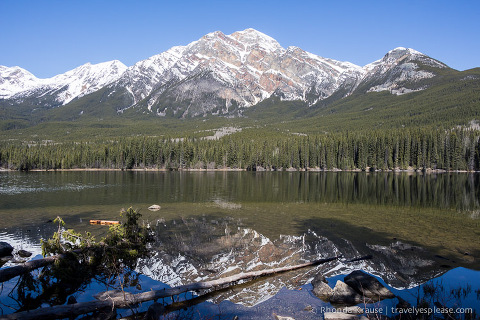 Patricia Lake
The first lake you'll come to when driving Pyramid Lake road is Patricia Lake. No matter how many times I visit, I still have to stop and snap some pictures of Pyramid Mountain reflecting in the waters of Patricia Lake. It's just so pretty!
If you're in the mood for an easy hike, take the 3.4 km Patricia Lake North Loop, which follows near the shoreline for part of the hike.
Patricia Lake is not only beautiful, it has an interesting history too. During World War II, a prototype was built here for an unsinkable aircraft carrier. It was made from pykrete, a mixture of wood pulp and ice. The project was abandoned and the ship was left to sink in place. Remains of the model were found in the 1970's.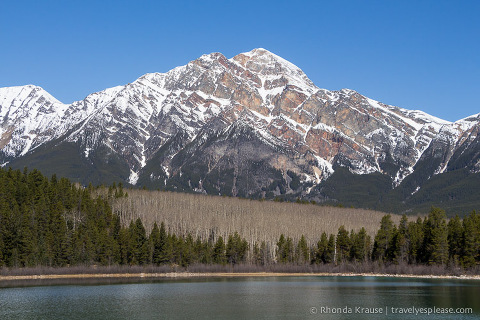 Pyramid Lake
A short ways up the road from Patricia Lake is Pyramid Lake. A highlight of visiting Pyramid Lake is taking a walk on Pyramid Island. It's very small and only takes a few minutes to walk around the entire island, so there's plenty of time for enjoying the views.
Pyramid Island is also a great place to have a picnic but if you didn't pack a lunch, you can grab a bite to eat at the Pyramid Lake Resort, where every seat in the house has a great view of Pyramid Lake. You should check their website for the restaurant's hours because I think they vary. When we arrived just after noon, the staff wasn't sure if they were open for lunch yet or not!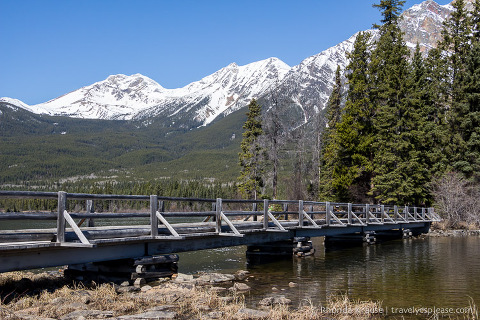 Next time we return to Jasper National Park, Mike and I plan to go kayaking on Pyramid Lake for a different perspective of the scenery. Maybe we'll even go "lake hopping" and kayak a different lake every day! With so many gorgeous lakes right near the town of Jasper, why not?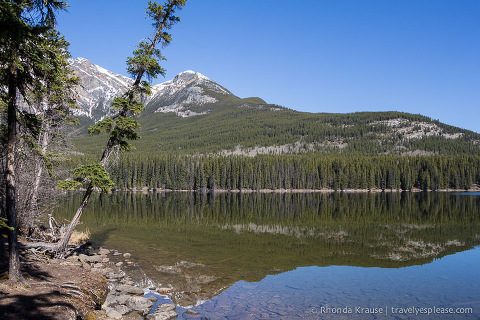 Tips for Visiting Pyramid and Patricia Lakes
Location: Pyramid and Patricia Lakes are located along Pyramid Lake Road, north of the Jasper townsite. Drive time is about 15 minutes to Pyramid Lake.
Activities: There are several trails in the area for hiking and mountain biking. There's also a sandy beach and shoreside picnic sites at Pyramid Lake. Pyramid Lake Resort has canoe, kayak, and paddleboat rentals. In the winter, there's a large skating rink cleared on Pyramid Lake and cross country ski trails.
Information was updated January 2022, but can change without notice. Please confirm directly with service providers.
Accommodations in Jasper
For your convenience, here is a list of hotels in Jasper. Please consider booking your Jasper accommodations through the included link. It costs nothing extra and helps support this website. Thank you!
More Jasper Attractions and Travel Guides