Purchases made through links earn us a small commission, at no extra cost to you.
Koyasan- sacred, traditional and somewhat mysterious- was one of the most rewarding places we visited in Japan.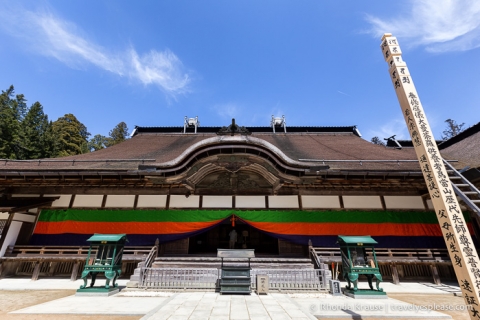 In this quiet mountain town, we not only got a glimpse into the time-honored ways of Japanese religious life, we got to experience it.
We stayed overnight in Buddhist temple, sampled the customary vegetarian cuisine and attended a morning prayer service.
Our day in Koyasan was spent visiting some of the most significant temples to Shingon Buddhism. They were beautiful, interesting, steeped in history and tradition.
Most memorable though, was our walk through Koyasan's sprawling ancient cemetery. It was a fascinating place to wander around, an experience I believe every visitor to Japan should have.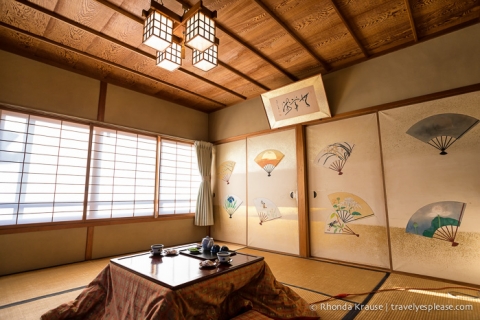 History of Koyasan
Koyasan was founded by the great Buddhist monk Kobo Daishi Kukai. A teacher of Shingon Buddhism since 806, Kobo Daishi's wish was to open a monastic complex that was isolated and free from distractions.
In 816, he was given permission by the Imperial Court to build a centre for Shingon Buddhist training at Mt. Koya. At an elevation of 900 metres, deep in the forest and surrounded by eight low peaks, Mt. Koya was far from worldly distractions.
Kobo Daishi lived and taught at Koyasan until his death, or entrance into eternal meditation, as some believe, in 835. His mausoleum at Okunoin has drawn pilgrims to Mt. Koya for over a millennium.
In 2004, Koyasan was inscribed as a UNESCO World Heritage Site as part of the "Sacred Sites and Pilgrimage Routes in the Kii Mountain Range", which also includes Yoshino, Omine, and Kumano Sanzan (partly located in Nachisan).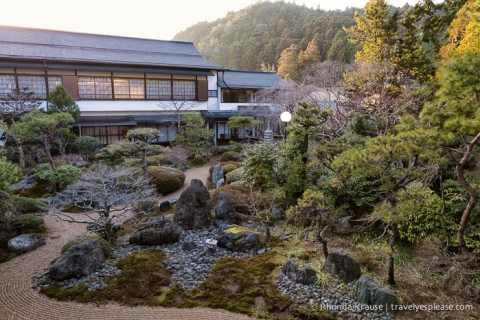 Things to Do in Koyasan- What to See During a Self-Guided Tour of Mt. Koya
There are a lot of things to do in Koyasan, especially if you like visiting Japanese temples (there are 117 of them!) Most of the attractions in Koyasan are spread out along a main road, which makes it easy to find your way around.
We spent one day and one night in Koyasan and were able to take our time visiting the main sites.
Since our temple accommodations were in the centre of town, we decided to start with the sites that were close by, then worked our way west to the main gate. From there, we caught a bus down to the far east side and visited Okunoin, Koyasan's ancient cemetery.
For this blog post though, I'm going to show you the sites starting at the west entrance to Koyasan, then working our way down to the cemetery. Here's a look at our self-guided walking tour of Koyasan!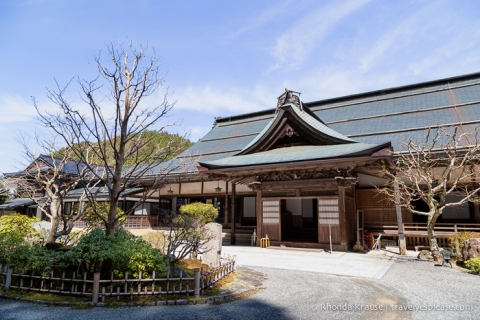 Daimon
Daimon is the main gate of Koyasan. The gate is quite large (25 metres high) and has two statues of protector deities watching over the entrance.
The gate is not the original structure, but having been rebuilt in 1705, it still is really old!
Dai Garan (Danjo Garan) Complex
The Dai (Great) Garan is one of the most important areas in Koyasan, along with Okunoin.
Since the founding of Koyasan, Dai Garan has been the main area for the study, training and rituals of Shingon Buddhist monks, a role it still serves today.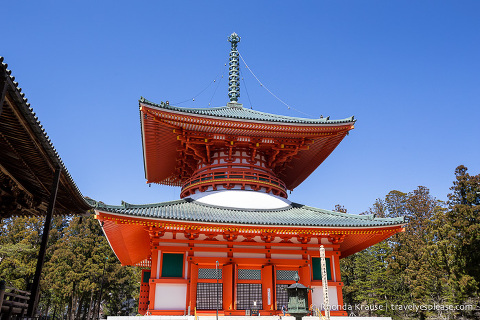 We spent quite a lot of time wandering around the Garan as it has many beautiful halls, shrines and pagodas. The most recognizable though is the Konpon Daito, or Great Pagoda, which has become a symbol of Koyasan.
Read our full post about the Danjo Garan Complex.
Kongobuji Temple
Kongobuji Temple is the head temple of Koyasan Shingon Buddhism. While it is largely an administrative facility, don't let that deter you from paying a visit inside. The temple contains many beautiful screen paintings, an old kitchen and Japan's largest rock garden, the Banryutei.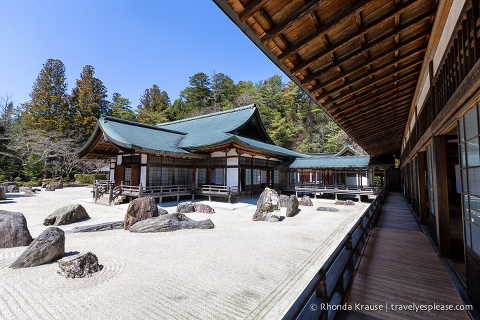 If you don't feel like paying to go inside, there are still many noteworthy things you can see on the grounds in front of the temple, some of which include a historic bell tower and scripture storehouse.
Read our full post about Kongobuji Temple.
Okunoin
Okunoin is considered the most sacred place at Koyasan, as it's the site of Kobo Daishi's mausoleum, where he is believed to be in eternal meditation.
The 2 kilometre path leading up to the mausoleum passes through an ancient cemetery containing over 200,000 gravestones of some of the most influential people in Japanese history.
Okunoin was without a doubt our favourite area of Mt. Koya. In no other place do you feel the peace and spirituality of Koyasan than when you walk the path to Kobo Daishi's mausoleum.
Read our full post about Okunoin Cemetery.
Final Thoughts About Our Trip to Mt. Koya
The best part about our trip to Koyasan was experiencing a strong connection with the spirituality of Japan. From staying overnight in a Buddhist temple, to wandering through a sacred cemetery, everything we did during our day in Koyasan made a lasting impression.
These unique experiences and Koyasan's beautiful location make it one of the most satisfying places in Japan to visit. Our trip to Mt. Koya was definitely a highlight of our two weeks in Japan and we couldn't have asked for a better place to learn more about the country's history and culture during our first trip to Japan.
We had such a wonderful time visiting Koyasan that we think it should be on every traveller's Japan wish list!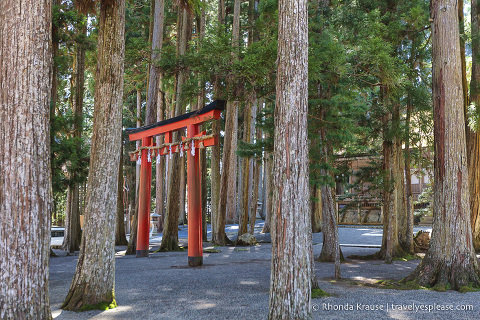 Tips for Visiting Koyasan
Location: Koyasan is located in the Wakayama Prefecture on the Kii Peninsula.
How to Get to Koyasan: From Osaka, Koyasan was about a 2 hour and 15 minute journey involving a few train transfers, a cable car ride up a small mountain, and a short bus trip into the main town.
You have to use Nankai Railway to get to Koyasan from Osaka, so a Japan Rail Pass is not valid for this trip.
At the Shin-Imamiya station (JR loop line in Osaka), transfer to Nankai Koya Line. You'll have to walk to a different station, which is about 350 metres away. Once you get to the Nankai station, ask to buy a ticket which includes the cable car ride up Mt. Koya.
Depending on the train schedule you choose, you may have to switch trains at Hashimoto (Wakayama).
At Gokurakubashi, you'll board the cable car for a 5 minute ride up Mt. Koya.
Lastly, from the top station it's a 10 minute bus ride into town. Walking along that street is not permitted (it's a really far walk anyways!)
Getting Around Koyasan: Once in Koyasan, the land is flat and easily walkable, but it's a fair distance from end to end. At the upper cable car station we decided to buy a one-day bus pass that allows unlimited use of buses on Koyasan. We didn't use it that much because it was honestly faster to walk to the next place than wait for the bus. It did come in handy though when we went to the cemetery. By that time my feet hurt so badly it was a relief not to have to walk anymore!
Koyasan World Heritage Ticket: Nankai Railways sells a Koyasan World Heritage Ticket which provides round trip travel from Osaka, unlimited bus travel in Koyasan, and discounts on admission to some Koyasan attractions. The pass is valid for two consecutive days and can be bought at major Nankai Line stations. See this page for how to use the ticket.
Sightseeing: At the Koyasan Shukubo Association Offices you can buy a combination ticket that provides admission into almost all points of interest on Koyasan. We didn't buy this since we were only interested in going inside a few temples.
You can rent audio guides and bicycles at the Koyasan Shukubo Association Central office. You will need to present your passport or other identification.
For more information about rentals and the "Common Ticket for Visiting Temples" visit this page on the Koyasan Shukubo Association's website.
Staying Overnight: A lot of people do a day trip to Koyasan from Osaka, but we recommend staying overnight to fully experience Koyasan and the traditional temple lodgings.
Information was updated September 2022, but can change without notice. Please confirm directly with service providers.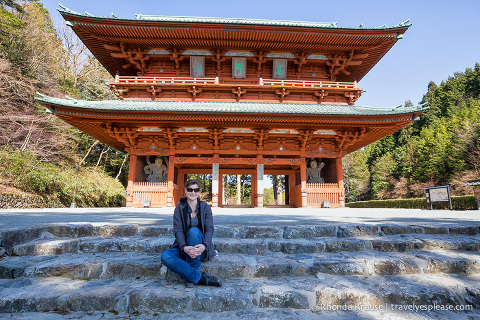 Accommodations in Koyasan
There are 52 temples at Koyasan that provide traditional Japanese lodging. The temple we stayed at provided us with two vegetarian meals, dinner and breakfast (I think most temples do this).
We used JAPANiCAN.com to book our temple lodging, but there is also a small selection of temple accommodations available through Booking.com, our trusted booking site. Accommodations booked through the included link earn us a small commission, at no extra cost to you, and help support this website. Thank you!
More Japan Destinations and Travel Guides