Purchases made through links earn us a small commission, at no extra cost to you.
After three trips and countless memorable experiences in Japan, it's no secret that Japan is my favourite country to visit. On each of my trips I've appreciated how Japan's traditions and rich history have been preserved and intertwined within an ultra-modern world.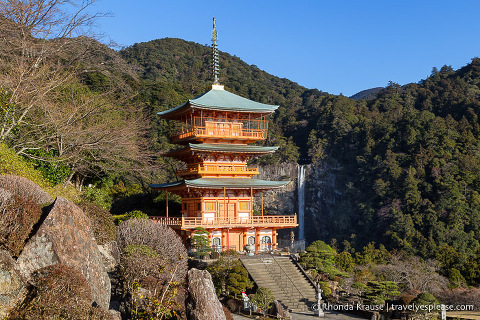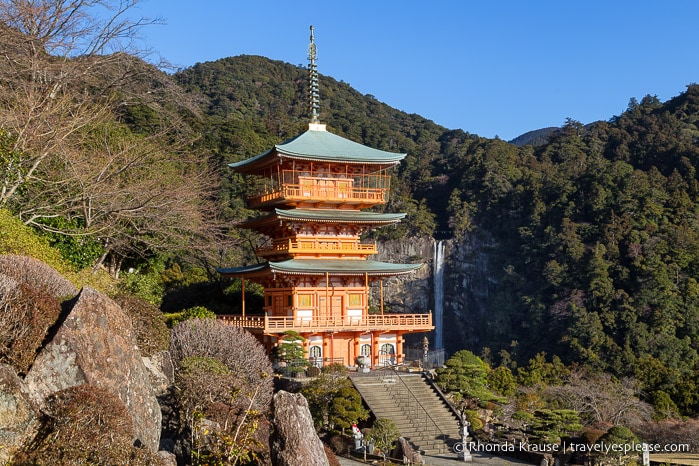 Whether it's your first trip to Japan or your tenth, you'll have no trouble finding enjoyable things to do in Japan. From admiring historic buildings and discovering contrasts between old and new, to exploring nature and taking part in cultural activities, there are several must do things in Japan that are worthy of any Japan bucket list.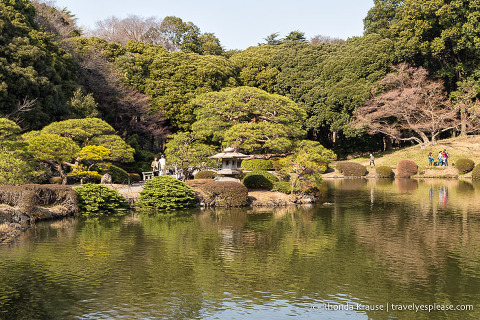 Japan Bucket List- The Best Things to Do in Japan
The following list of things to do in Japan includes some of my personal highlights, experiences that I thoroughly enjoyed and left me with a deeper understanding of the country and its culture.
Of course, this is just a small selection of all the things to do in Japan, and a work in progress since I hope to travel there again, but I truly think these experiences in Japan should be included on every Japan bucket list.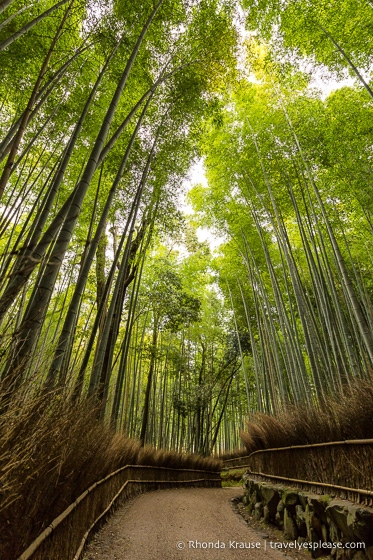 So, let's get to it- here are some must do things in Japan for your Japan itinerary!
*All links will open in a new window for your convenience.
Experience the Contrasts of Tokyo
As the capital of Japan and main hub for international travel, Tokyo is visited by most travellers to the country. However, don't put Tokyo on your Japan bucket list for convenience sake- it belongs there because of its captivating mix of modern pop culture and age-old traditions.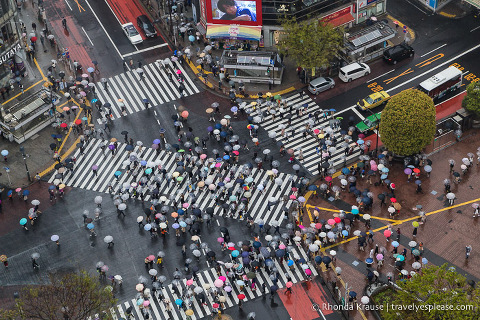 On first glance, Tokyo is primarily a modernized metropolis. The city is packed with towering skyscrapers, flashing billboards light up the Shibuya and Shinjuku districts, quirky teenage fashion and cosplay culture are on display in Harajuku, and contemporary architecture can be seen at buildings like the Tokyo International Forum, Asahi Breweries headquarters, and Tokyo Skytree.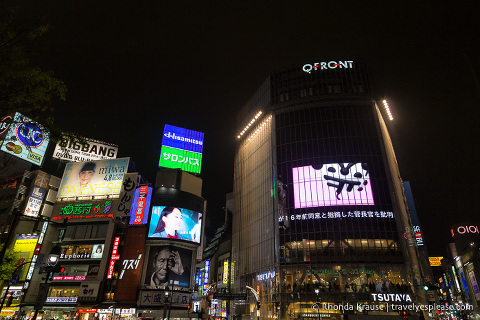 As prominent as the present-day culture is, Tokyo's historic sites are not overshadowed. The city has several traditional attractions that should be included on a Tokyo itinerary including the popular Meji Shrine and Senso-ji Temple, and the hidden gem Nezu Shrine.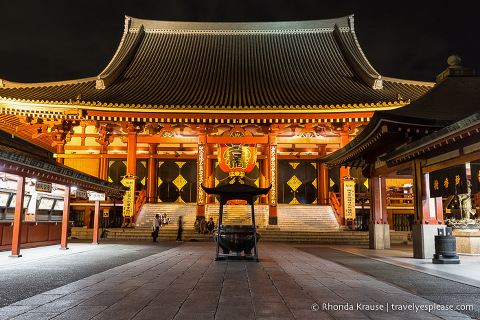 A great place to learn more about the history of Tokyo and how it transformed from Edo to become a huge city and the capital of Japan, is at the Edo-Tokyo Museum. The replica buildings, to scale dioramas, automated models, and photography exhibits create a fun and engaging atmosphere for discovering more about Tokyo's past and present.
Stay Overnight in a Buddhist Temple on Mt. Koya
One of the highlights of visiting Japan is discovering the centuries old traditions of Buddhism, one of Japan's major religions.
A great way to learn about Buddhism and its customs is by visiting Koyasan and spending the night in a working Buddhist temple.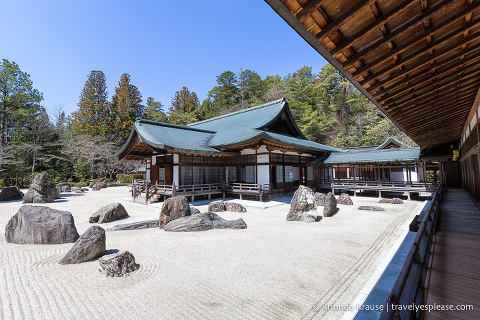 The sacred mountain of Koyasan is home to an active monastic settlement of over 100 temples, about half of which offer overnight accommodations for tourists.
During a temple stay, you'll get to sleep on a Japanese style futon in a traditional room with sliding doors and a tatami mat floor. Monks will also serve you thoughtfully presented vegetarian dinners and breakfasts in your room.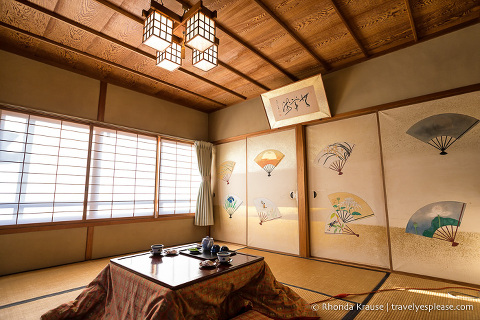 Guests of a temple lodging (shukubo) are also welcome to attend the morning prayer service, so you'll be able to see Buddhist rituals in action.
In addition to getting a glimpse inside the traditional lifestyle of a Buddhist monk, Koyasan also has several interesting spiritual sites you can visit.
The Okunoin, Japan's largest cemetery and location of the great monk Kobo Daishi's mausoleum, is fascinating to walk around, not to mention hauntingly beautiful. Kongobuji Temple features eye-catching screen paintings, whereas the Danjo Garan hosts a pretty two-storied pagoda.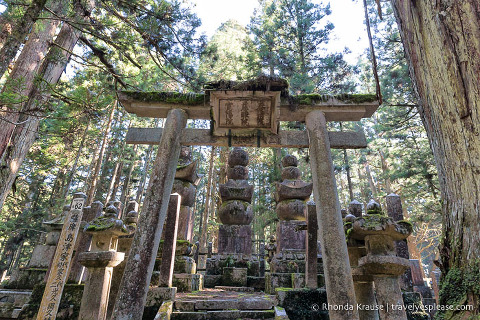 Getting to spend the night in a Buddhist temple and visit several sacred sites can definitely be one of the most rewarding things to do in Japan, especially if you have an interest in history and culture.
Celebrate Cherry Blossom Season
Spring and the accompanying cherry blossom season is a time of beauty and celebration in Japan. As these delicate, pretty blossoms begin to unfold, people excitedly gather to welcome new life.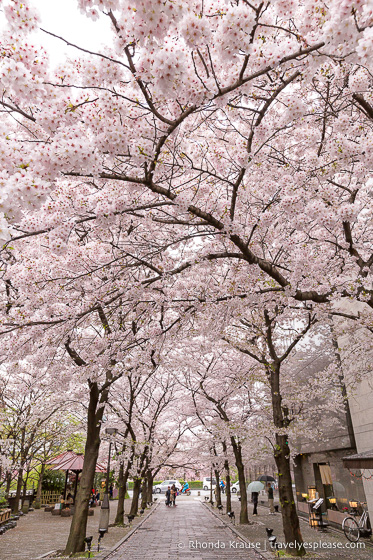 Throughout the country, locals enthusiastically usher in spring by taking part in hanami parties. At these blossom viewing parties, people lay down tarps or blankets for picnics under the cherry trees.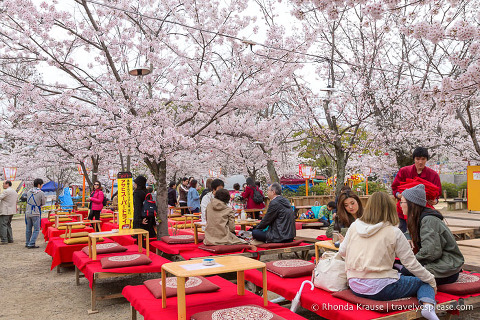 While cherry blossoms (sakura) can be seen all over Japan, two of my favourite places to view them were in the mountain town of Yoshino, home to 30,000 cherry trees, and the city of Kyoto.
During our 3 days in Kyoto, we witnessed a lot of fanfare during cherry blossom season. People were dressed in their finest kimonos getting pictures taken under the cherry trees, families were walking together down the sakura-lined Path of Philosophy, and there was a jovial festival in Maruyama Park. Even at night the cherry blossom spots in Kyoto were lovingly illuminated so they could be enjoyed after dark.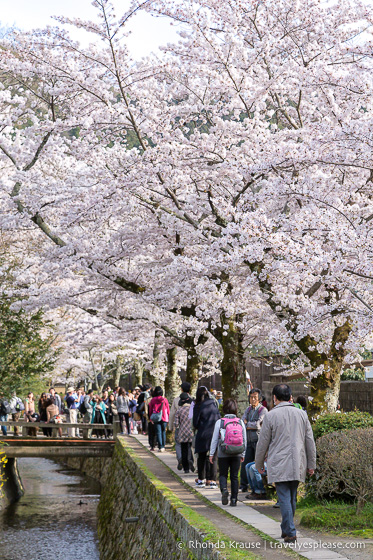 Another benefit of visiting Japan during cherry blossom season is indulging in all the delicious sakura flavoured treats. My personal favourite was the sakura soft ice cream- so tasty!
Participating in cherry blossom season is one of the best experiences in Japan not only because of the obvious beauty and sweet treats, but because it's a wonderful opportunity to witness Japan's appreciation of and connection to nature.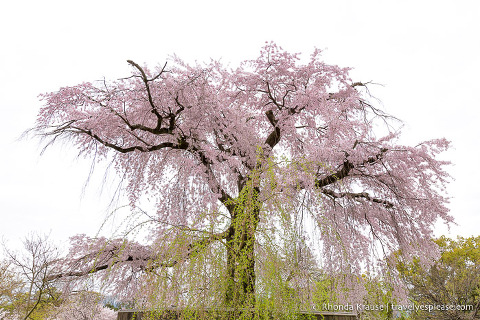 Marvel at Mt. Fuji
Every Japan bucket list should include a visit to Mt. Fuji, Japan's most famous volcano and one of the country's "Three Holy Mountains".
The snow-capped cone of Mt. Fuji is an internationally recognized symbol of Japan, having been a frequent subject of Japanese art for generations. Today it's a popular sightseeing spot and climbing destination.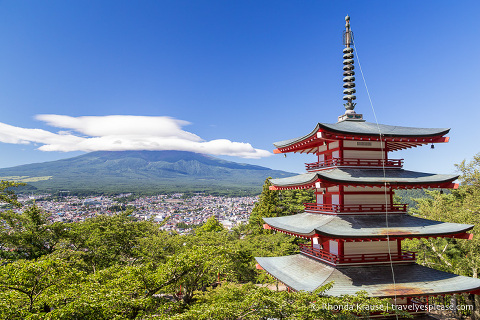 Unfortunately, Mt. Fuji's symmetrical cone is a sight that can be quite elusive because of frequent cloud cover. Even though sightings can't be guaranteed, it's worth the trip to the Fuji Five Lakes area to catch even the slightest glimpse of this cultural icon and natural wonder.
When Mt. Fuji is not hiding behind clouds, some scenic places to view it are from the shores of Lake Kawaguchiko, Oshino Hakkai village, and Arakura Sengen Shrine.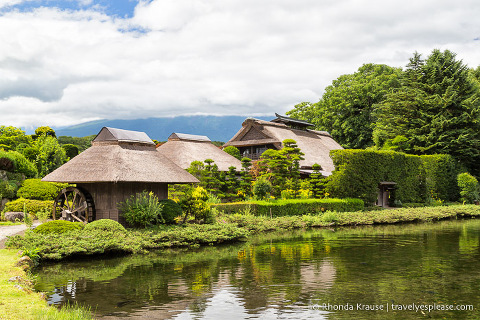 To experience the more spiritual side of Mt. Fuji, pay a visit to the Fujiyoshida Sengen Shrine at the foot of the volcano. This small, secluded shrine was historically the starting point for climbing Mt. Fuji, but it still attracts pilgrims and traditionalist hikers who come here to pray before ascending the mountain.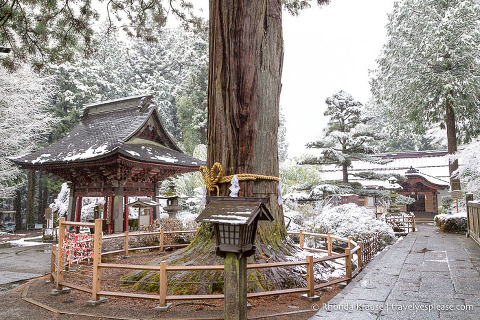 Ride a Bullet Train
Japan has one of the finest rail systems in the world, delivering travellers to their destinations safely, efficiently, and in comfort. As the first country to build dedicated railway lines for high-speed travel, Japan became famous for its aptly nicknamed "bullet trains".
Even if you're not a train aficionado, riding a high-speed bullet train is an experience to remember. These shinkansen, as they are known locally, are capable of reaching speeds up to 400 km/hr, but they typically operate at maximum speeds of 240-320 km/hr. It's quite fun to watch from the window as places go flying by!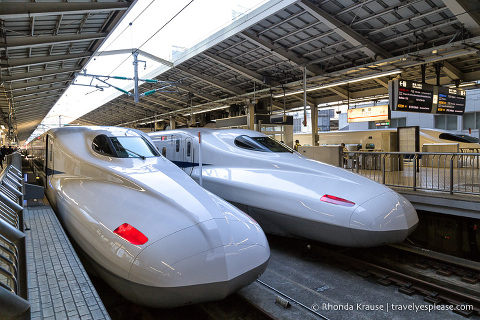 With a fast acceleration and deceleration, impressive punctuality (arriving within 30 seconds of their scheduled time), and impeccable safety record, Japan's shinkansen can be relied on by travellers for efficient long distance journeys.
Although shinkansen tickets can be pricey, a Japan Rail Pass can help make travel on these exciting trains more affordable.
Go Temple and Shrine Hopping in Kyoto
As the cultural capital of Japan, Kyoto belongs on every Japan bucket list. The city is home to numerous gardens, palaces, villas, and a castle, but it's the temples and shrines that take centre stage.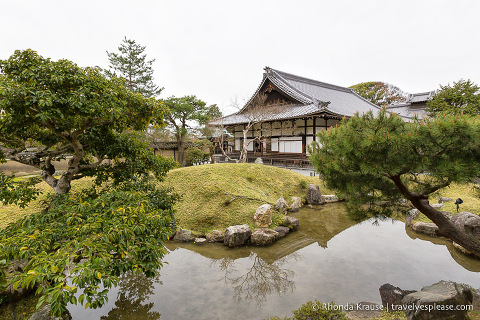 In fact, you could spend weeks in Kyoto visiting only religious places since there are over 2,000 of them.
While the high concentration of Buddhist temples and Shinto shrines is undoubtedly impressive, it's the properties themselves that are truly remarkable.
Kyoto is home to some of the most dazzling temples in Japan, including the gold-covered Kinkaku-ji Temple and the hillside Kiyomizu-dera Temple, famous for its verandah made without the use of nails.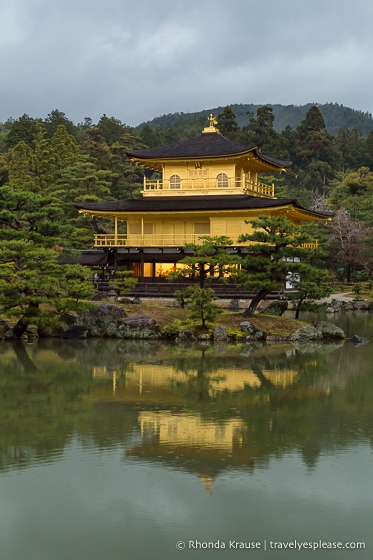 A few other temples in Kyoto we think are worth checking out are To-ji Temple, site of the tallest five-storied pagoda in Japan, Tenryu-ji Temple, located near the popular bamboo grove in the Arashiyama district, and Kodai-ji Temple, which has its own mini bamboo grove that can be enjoyed without the crowds.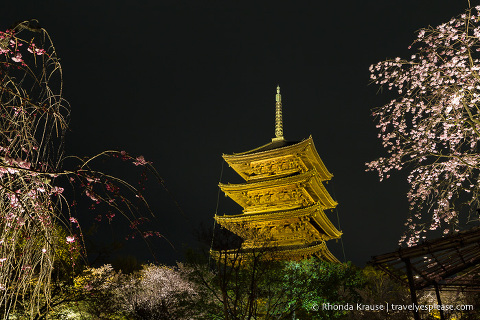 Moving on to the shrines in Kyoto, one that should not be missed is Fushimi Inari. People flock to this popular shrine to walk through its tunnel of torii gates winding up Mount Inari. The opportunity to hike under thousands of torii make Fushimi Inari one of the most unique shrines in Japan.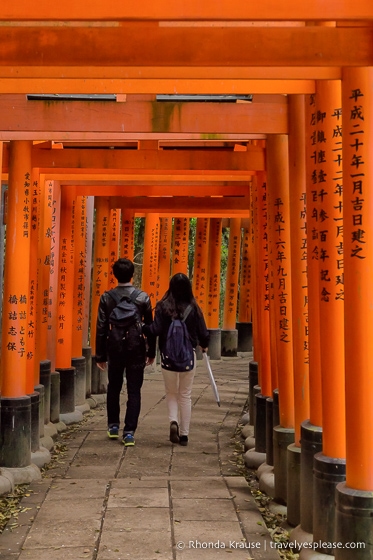 Watch the Sunset from Miyajima Island
Miyajima is one of the most beautiful places in Japan and an enjoyable way to take in the island's natural charm is by sitting along the shoreline and watching the sunset.
What makes Miyajima Island such a special place to watch the sunset is that the sun goes down behind the Great Torii of Itsukushima Shrine. The setting sun lights up the sky and water around the torii in a fiery glow, creating a picture perfect scene.
After the sun disappears behind the mountains, the floating torii is illuminated by floodlights so its beauty can be enjoyed into the night.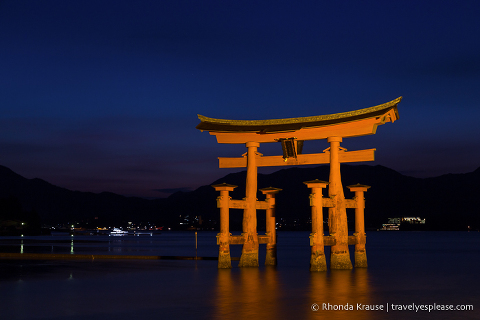 Watching a sunset is such a simple thing, but I thought it was one of the best experiences in Japan.
Tour a Japanese Castle
Going inside a Japanese castle is one of the best things to do in Japan if you want to learn about traditional architecture and history. Even if that's not your thing, Japanese castles can still be appreciated for how they skillfully incorporate contradictory elements, mixing artistry and elegance with strategy and defense.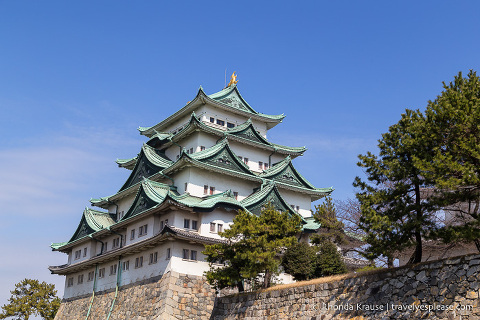 There are 12 remaining feudal castles in Japan and of these originals, Himeji Castle is the grandest and best preserved. Famous for its white walls and imposing size, Himeji attracts the most visitors of any castle in Japan and is both a National Treasure and UNESCO World Heritage Site.
Matsumoto Castle is another original feudal castle that is worth visiting. Somewhat opposite to Himeji, it has a black exterior and is built on flat land instead of a hill.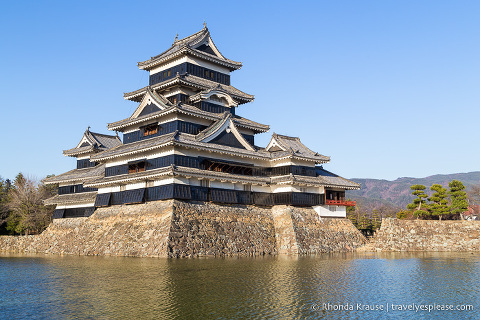 As far as reconstructed castles go, Hiroshima Castle is interesting to visit because of the informative exhibits about what life was like in a castle-town.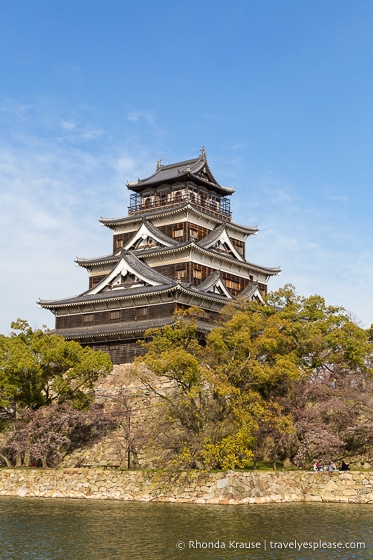 One of the most intriguing things about touring a castle is seeing the different methods of defense used. You can see rectangular openings for shooting arrows, windows for dropping stones onto intruders, fan-shaped stone walls that were difficult to scale, and secret floors for confusing enemies and providing a safe place for samurais. Perhaps most unique are the "nightingale" floors of Nijo Castle that squeak when stepped on to warn of an intruder.
Explore Nikko
A day trip to Nikko is one of the top things to do in Japan because the area is a fine example of how Japan blends spirituality with nature.
Tucked among the forests and waterfalls of Nikko National Park is a Buddhist-Shinto religious centre that has been a site of mountain worship for centuries. There are several religious buildings you can visit, but one that should not be missed is Nikko Toshogu Shrine.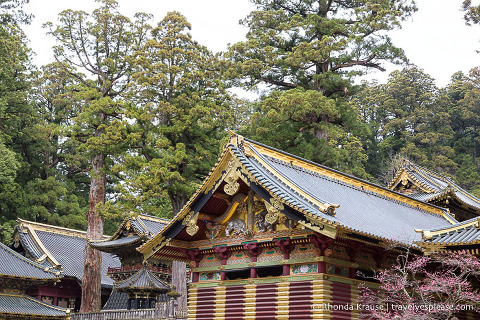 Toshogu Shrine is much more lavish than other Shinto shrines, decorated with glittering gold leaf, intricate wood carvings, and colourful paint. It truly is a stunner whose flashy appearance is grounded by the towering, ancient forest.
Go Hiking
Another great way to experience Japan's spiritual connection to nature is by going hiking.
There are several ancient pilgrimage routes in Japan that have been used for generations as both a religious experience and personal challenge. These trails connect places of historic and spiritual significance, particularly temples and shrines, and are multi-day treks. If you prefer, you can just hike one segment of a pilgrimage route and still have a memorable experience.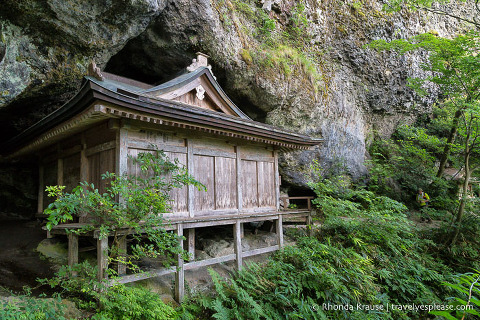 Some prominent pilgrimage routes in Japan include the Kumano Kodo, whose main Nakahechi route links the three Grand Shrines of Kumano, and the Shikoku Pilgrimage trail, which visits 88 temples associated with Kobo Daishi, the founder of Shingon Buddhism.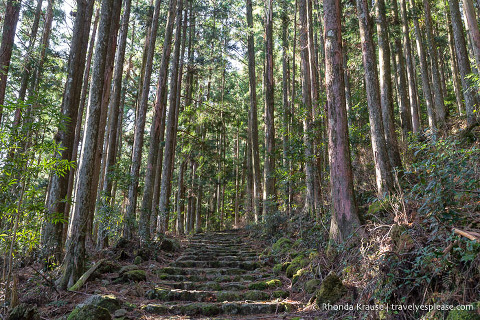 If shorter hikes are more your style, Japan has many scenic trails with historic attractions and spiritual connections that can be done as day hikes. Two of my favourites are the hike to Nageiredo Hall on Mount Mitoku, and the Mount Misen hike in Miyajima.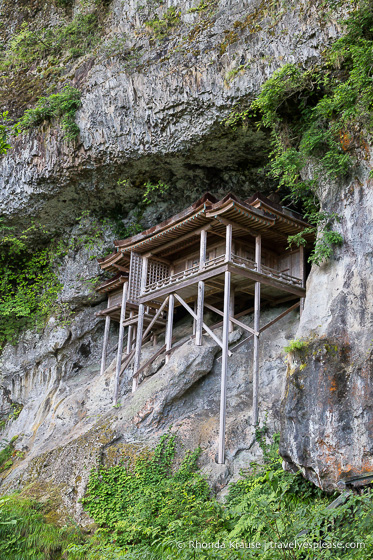 Visit the Snow Monkeys
A fun thing to do in Japan is visit a snow monkey park and watch Japanese macaques play and interact with each other.
At these parks, the monkeys aren't confined like at a zoo, but are free to wander and come and go as they wish.
The most famous to place to see snow monkeys in Japan is at Jigokudani Monkey Park, where these cuties can be seen bathing in the hot springs. It's so entertaining to watch the little ones swim and splash at their reflection in the water!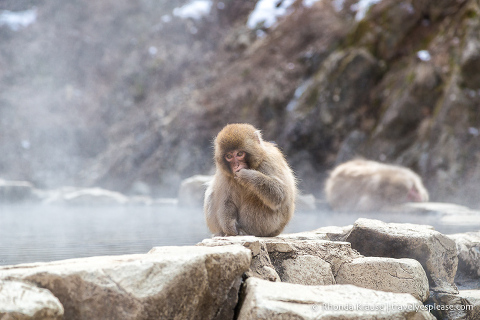 Another place you can watch monkeys is at Iwatayama Monkey Park in Kyoto. It's a steep hike to the hilltop park, but so worth it to watch the antics of these expressive animals!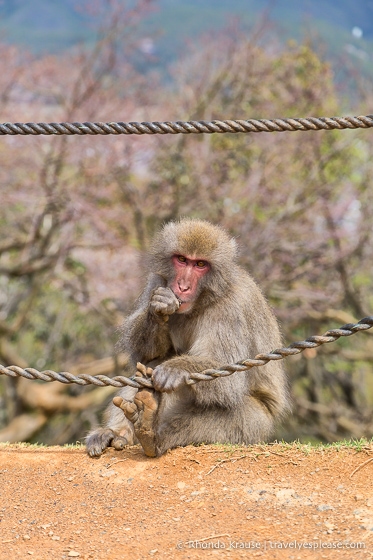 Stroll Through a Japanese Garden or Flower Park
Japanese gardens have a long history, originating around early Shinto shrines. To this day, they remain some of the most wonderful places in Japan to connect with nature.
No matter the type of garden you visit, you'll see many similar components and design principles like the use of stones, water, and bridges. Some gardens are designed to be viewed from one point, while others are made for strolling.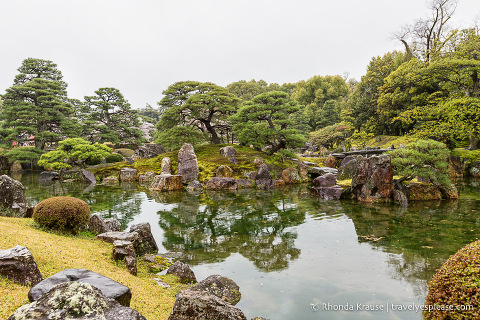 Gardens can be found all over Japan, since they're often an integral part of temples and shrines. There are also a lot of standalone gardens in cities and towns, like the popular Kenrokuen Garden in Kanazawa. Japanese gardens can also be part of a larger park, like how Tokyo's Shinjuku Gyoen National Garden has a section with a traditional Japanese landscape garden.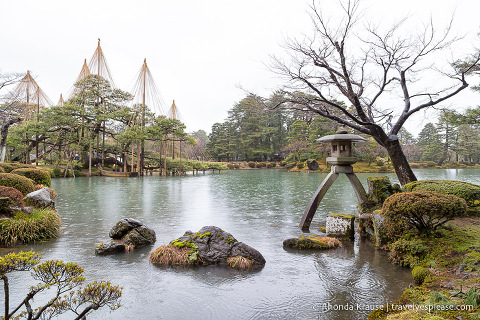 In addition to classic Japanese gardens, you'll also find several large flower parks in Japan. These parks have colourful gardens with a variety of flowers that change according to the season. One flower park I can recommend that isn't so well known among international tourists is Tottori Hanakairo Flower Park near the city of Yonago in Tottori Prefecture.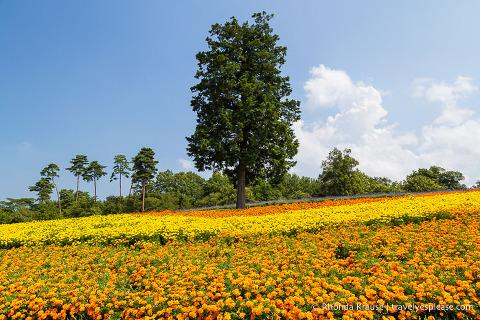 Attend a Seasonal Illumination
Winter illumination events have become increasingly popular in cities and flower parks across Japan. These light attractions are usually displayed between November and New Year, but some stay on until spring.
Illumination events can range from the simple lighting up of trees to full-on festivals with elaborate LED light displays. Some flower parks get decked out in millions of lights with entire hillsides and fields covered in LEDs. Other highlights include light tunnels and animated light shows synchronized to music.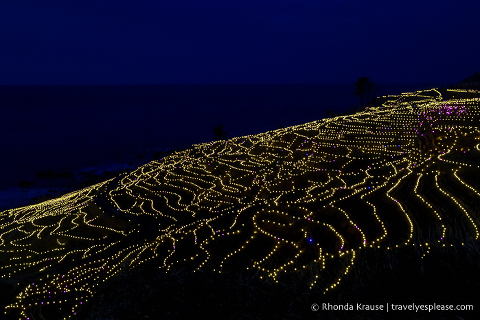 One of Japan's longest running and most popular winter illumination events is Kobe's Luminarie (still on my Japan wish list). Among the largest flower park light festivals are the Nabana no Sato Winter Illumination and the Ashikaga Flower Fantasy (also on my Japan bucket list). The Sagamiko Illumillion, at the Sagamiko Resort Pleasure Forest amusement park, is also supposed to be impressive.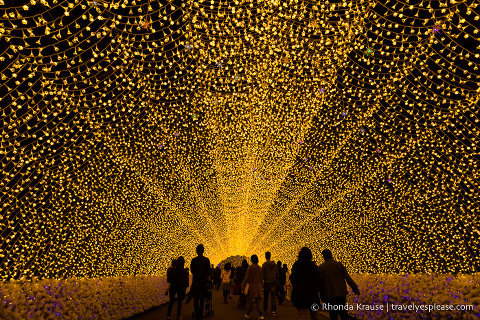 Attending an illumination event is definitely one of the best things to do in Japan if you're visiting in the winter and a fun way to get into the holiday spirit.
Feed the Deer in Nara Park
Nara Park makes it onto this Japan bucket list not just because of the remarkable Todai-ji Temple, but because of the hundreds of deer that call the park home.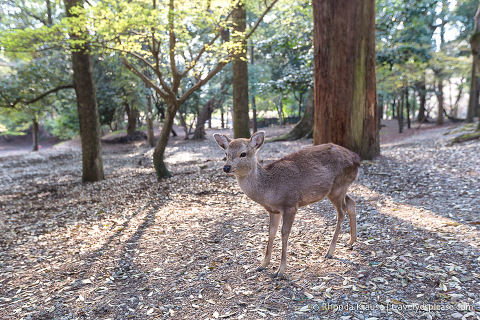 All over Nara Park you'll see adorable deer wandering through the grounds, often keeping close to tourists who buy special deer crackers to feed them.  
The most memorable thing about feeding deer in Nara Park is how they would bow their head to ask for a cracker. They were surprisingly polite, as long as they weren't being teased with the crackers.
As an animal lover, interacting with such well-mannered deer was definitely one of my favourite experiences in Japan.
Visit the Tottori Sand Dunes
One of the most unique, and somewhat unexpected, landscapes in Japan is the Tottori Sand Dunes.
Located on the edge of Tottori City, these desert-like dunes overlook the Sea of Japan and are a great place to enjoy views of the coast. You can even try some adventurous activities like sandboarding and paragliding.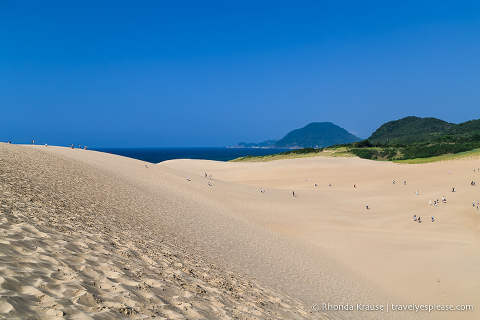 After visiting the dunes, you won't want to miss the nearby Tottori Sand Museum. It is completely dedicated to sand art and has an incredible display of sculptures made only from sand and water. Each year the museum has a different theme based on world travel so all the sculptures showcase the chosen destination.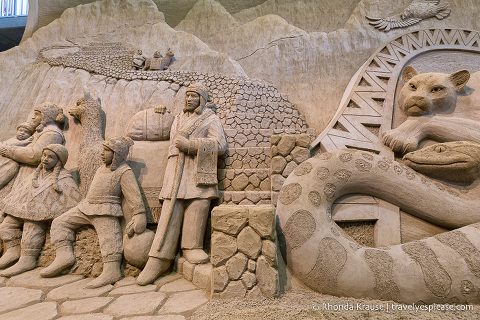 Pay Your Respects at the Atomic Bomb Dome
Japan has a lot of historic sites but none as tragic, or significant in world history, as the Atomic Bomb Dome.
The Atomic Bomb Dome, as it's now known, was the only building to survive near the hypocenter of the nuclear bomb dropped on Hiroshima in World War II. It was the first atomic bomb ever deployed in armed conflict.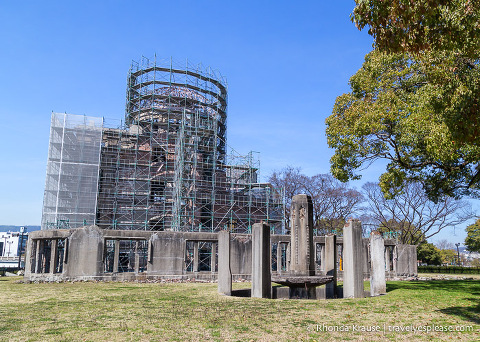 Toady the structure stands as the main monument in the Hiroshima Peace Memorial Park. The park is important to visit not only from a historic perspective, but to pay respects to the first victims of a nuclear attack, most of whom were civilians.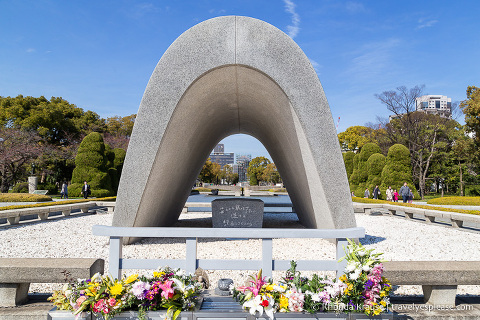 Go Inside a Traditional Thatched Roof House
There's something charming about Japanese architecture, especially when it comes to the traditional farmhouses.
The style of these wooden, thatched roof houses was created hundreds of year ago and is still used in some rural areas. In other places, these traditional homes have been turned into museums.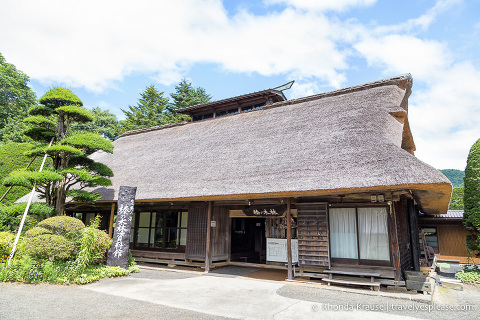 One of the best places to see traditional farmhouses is in the Gokayama and Shirakawago regions of the Shogawa River Valley. The villages here have houses with steeply pitched thatched roofs, perfect for preventing snow from accumulating. This style of house is known as gassho-zukuri and can only be seen in this mountainous region of Japan.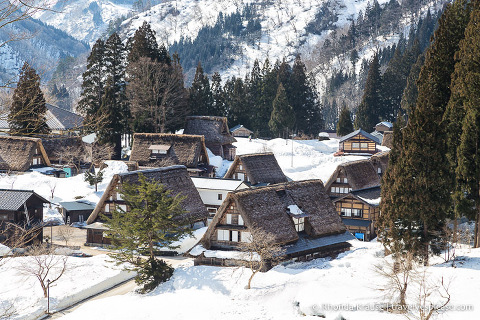 For a real unique Japan experience, you can even spend the night in a gassho house, as some families have turned them into inns.
Another type of Japanese thatched roof house is called kabuto-zukuri. In this style, the roof was made to resemble a samurai warrior helmet. Kabuto-zukuri houses can been seen at Saiko Iyashi no sato Nenba, a farming village-turned museum near Mt. Fuji.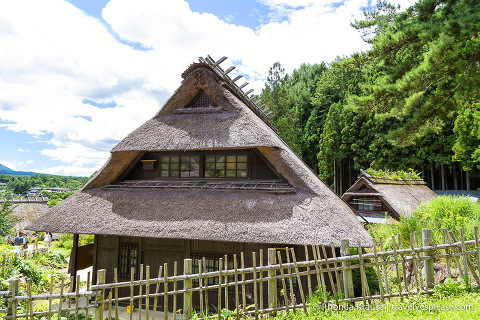 Wear a Kimono
Although kimonos are no longer everyday wear for the Japanese, it's not unusual to see people walking around in these distinctive, wraparound garments.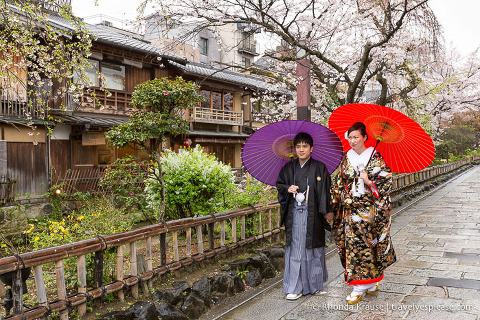 It's a Japanese tradition to wear formal kimonos on special occasions like weddings, tea ceremonies, and religious festivals. Casual, lightweight variations of the kimono, called yukatas, are commonly worn at summer festivals and hot spring resorts.
As a visitor to Japan, you will have the opportunity to wear a yukata if you stay at a ryokan (traditional inn) or visit a hot spring resort. Yukatas are provided in the room so you can change into one to relax in the evenings.
Many popular tourist destinations also have shops where both men and women can rent a kimono to wear while sightseeing. Staff will dress you to ensure a proper fit and let you pick out accessories. For an extra fee, you can even get hair styling, makeup application, and a photography session.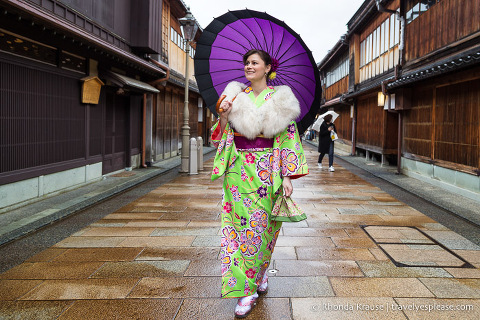 Renting a kimono was one of my favourite experiences in Japan because I got to participate in Japanese culture first hand, from the behind the scenes process of getting dressed (it's quite involved), to visiting historic sites in traditional clothes.
Soak in an Onsen
As a volcanically active country, there are thousands of geothermal springs scattered across Japan. Soaking in these hot springs, called onsen in Japan, is not only a popular pastime, but also an important part of the local culture.
For centuries, communal bathing in hot springs has been a custom that is enjoyed for relaxation purposes, health reasons, and purification rituals.
Onsen come in many forms and can be natural or man-made, indoors or outdoors, and large pools or small baths.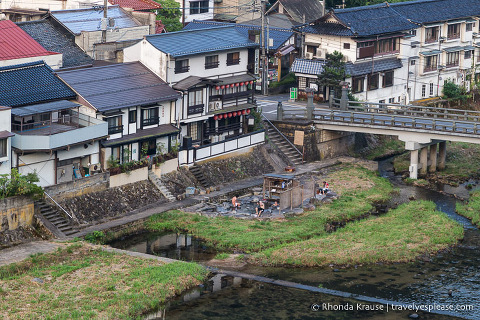 The main differences between Japanese onsen and western hot springs is that bathing occurs in the nude. Most onsen are gender separated, so although this can be intimidating and uncomfortable for some tourists at first, you don't need to worry about it being a sexualized experience.
Onsen are commonly found at traditional inns (ryokans), but for the full onsen experience you should visit a hot spring resort town. At these resorts you can wander around town in a yukata and visit several different spas in one day.
Admire the World's Oldest Wooden Buildings
Japan has a lot of historic, traditional architecture, but it's not very well known that the country is home to the world's oldest wooden buildings.
At Horyu-ji Temple you can see a collection of what are believed to be the oldest wooden structures in the world- a five-story pagoda, a temple gate, and the main hall.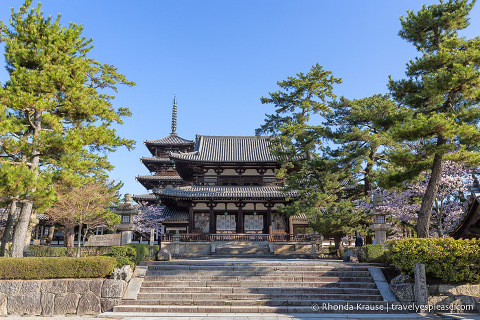 Just as impressive as the age of these buildings are the cultural items on site, including several National Treasures and some of Japan's earliest statues of Buddha.
Although it's not the most famous temple in Japan among international tourists, Horyu-ji is worth being on a Japan bucket list for people who love history and architecture.
Visit One of Japan's Tallest Waterfalls
There are hundreds of waterfalls in Japan but those that are most impressive are also among the tallest.
One such waterfall is Nachi Falls, located at a sacred site on Mt. Nachi (Nachisan). With an uninterrupted drop of 133 m, it's the tallest single-tier waterfall in Japan.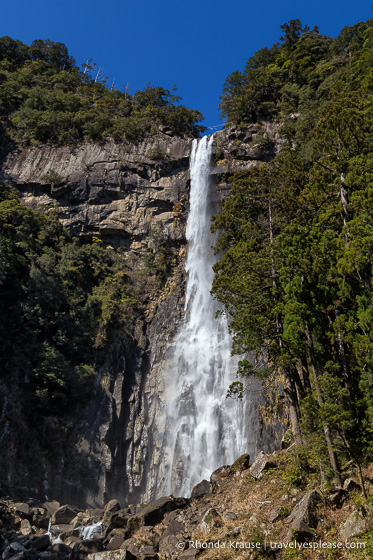 Another one of Japan's best-known waterfalls is Kegon Falls in Nikko National Park. At 97 m tall, it's considered to be one of the three most beautiful waterfalls in Japan (alongside Nachi Falls and Fukuroda Falls, a 120 m tall cascading waterfall).
Explore a Temple Town
Visiting a temple town is a chance to see an influential temple, sample regional dishes, shop for local goods, and learn more about how small villages evolved into cities.
Just as the name suggests, temple towns are settlements that were built around a prominent temple. These towns, or monzen-machi as they are called in Japan, started to develop as religious pilgrimage became popular, creating a need for inns and restaurants to cater to travellers.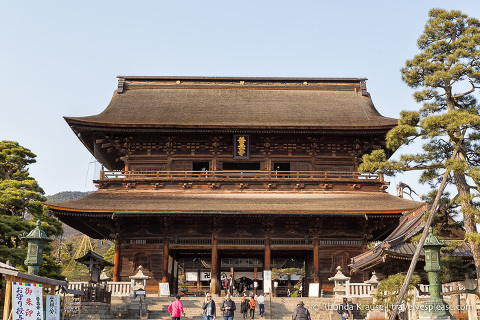 Seeing the opportunity, merchants and manufacturers gathered around the temple to conduct business. Eventually the main street leading to the temple became lined with restaurants, local product stores, and lodgings. Followers of Buddhism also built houses near the temple, creating a larger community.
There are several temple towns in Japan where the charm of a traditional monzen-machi has been preserved. Nagano is a fine example of a temple town and the long approach to Zenko-ji Temple is still framed by merchant houses, storehouses, and inns.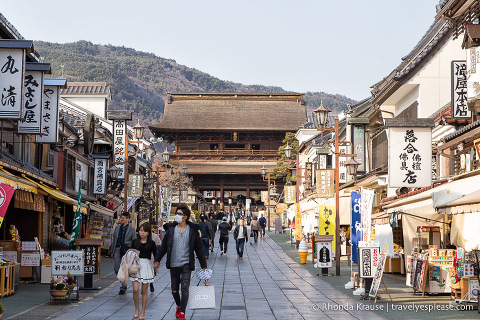 Participate in an Arts and Crafts Workshop
A fun thing to do in Japan is make your own souvenirs by participating in an arts and crafts workshop.
Arts and crafts have a distinguished history in Japan and play a significant role in Japanese culture. Artisans can be seen at work throughout the country creating beautiful ceramics, textiles, lacquerware, paintings, and even samurai swords.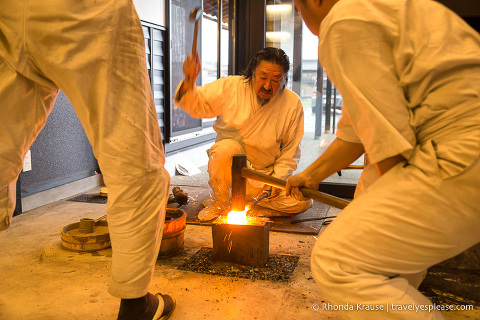 By taking part in a workshop, you not only get to learn from a talented artisan, you get hands-on experience making a traditional Japanese craft. The best part is that you will come home with a one-of-a-kind souvenir.
When I was visiting the Chubu region of Japan, I took part in a couple of workshops where I got to make washi paper and decorate chopsticks with gold leaf. Another one of my memorable experiences in Japan was watching sword forging in Seki. I even got to swing the heavy hammer a few times to help shape the metal.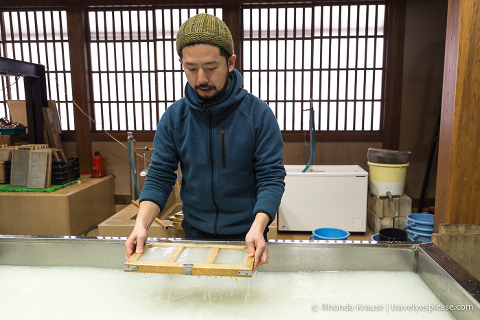 Final Thoughts About My Bucket List Experiences in Japan
As you can tell, there's no shortage of incredible things to do in Japan. This list of my personal favourites is really just a small sample of all the wonderful places and experiences that could go on a Japan bucket list. I hope to travel there again to discover some more must do things in Japan!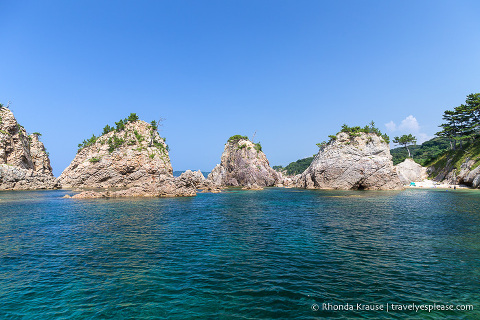 Tips for Planning Your Japan Bucket List
For a well-balanced trip, try to fill your Japan bucket list with places and activities that allow you to experience both the modern and traditional sides of Japan. A mix of large cities, smaller towns, and rural areas can provide very different views of Japan. When put together, these perspectives help give travellers a more complete picture of the country.
Train is the easiest and fastest way to get around Japan. If travelling long distances, a Japan Rail Pass can potentially save you some money. Here is where you can BUY THE PASS ONLINE from an authorized vendor. For more information, check out our review of the Japan Rail Pass.
Accommodations in Japan
For your convenience, here is a list of HOTELS IN JAPAN. Please consider booking your Japan accommodations through the included link. It costs you nothing extra and helps support this website. Thank you!