Purchases made through links earn us a small commission, at no extra cost to you.
I've always enjoyed hiking in geologically interesting landscapes, so it's no surprise that I was captivated by the Queen's Garden Navajo Loop trail in Bryce Canyon National Park.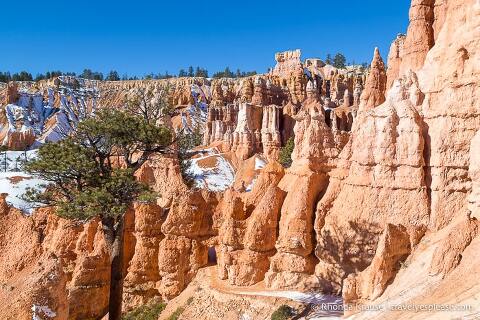 As we hiked along this popular route, we were surrounded by some of Bryce Canyon's most remarkable scenery, from uniquely shaped hoodoos to colossal rust-coloured rock walls. We even got an up-close look at several of the park's iconic landmarks, including Thor's Hammer and the Queen Victoria hoodoo.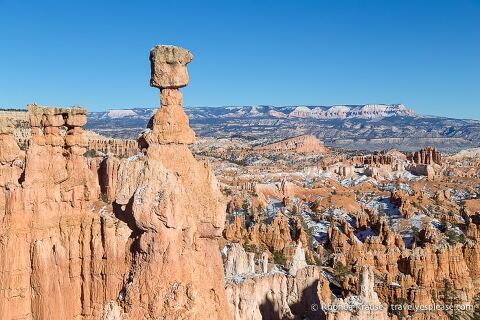 The opportunities to gaze out over the sweeping vista of Bryce Amphitheatre, as well as be immersed in its weathered, colourful landscape, make hiking Queen's Garden Navajo Loop trail an unmissable experience in Bryce Canyon National Park.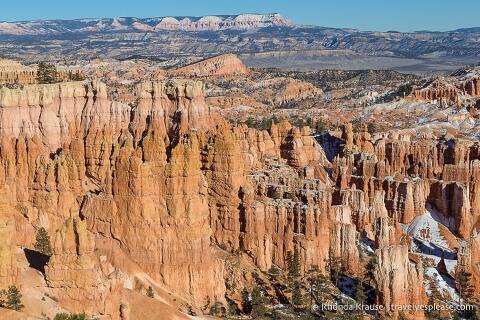 About the Queen's Garden Navajo Loop Trail in Bryce Canyon National Park
The Queen's Garden Navajo Loop hike is a route that combines two top hiking trails in Bryce Canyon National Park- the Queen's Garden Trail that descends into Bryce Amphitheatre from Sunrise Point and the Navajo Loop Trail that descends from Sunset Point.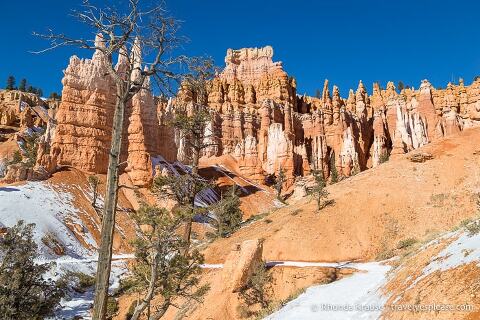 When united into one hike, these two trails form a scenic loop in the amphitheatre that ventures past towering hoodoos and imposing rock walls, while also incorporating a section of the Rim Trail to connect Sunrise and Sunset Points.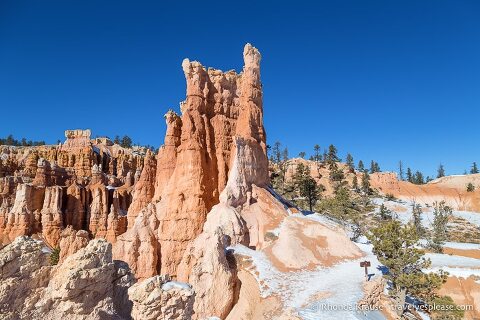 Since the hike is a loop, you can start at Sunrise or Sunset Point, but we recommend beginning at Sunrise Point and hiking clockwise.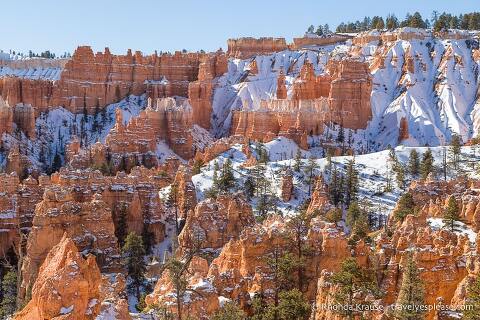 Doing the loop clockwise means that you'll have expansive views of Bryce Amphitheatre in front of you when you go down Queen's Garden Trail, instead of at your back if you were to ascend this way. The Navajo Loop Trail has a more narrow view, since it's framed by rock walls, so the scenery is similar going up and down. Also, hiking down Queen's Garden Trail is safer than going down Navajo Loop Trail because it's not as steep (less chance of slipping, especially in the winter).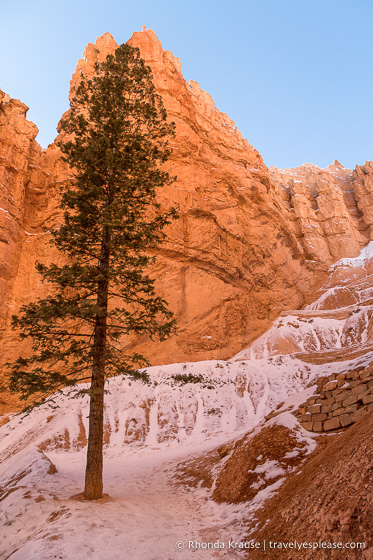 The Queen's Garden Navajo Loop trail is rated moderate and has an elevation gain of approximately 183 m/600 ft over a span of 4.6 km/2.9 mi. Plan for 2- 3 hours to complete the hike.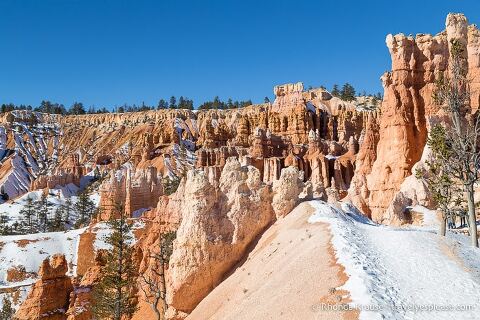 Hiking Queen's Garden Navajo Loop Trail- Our Experience
We decided to do the Queen's Garden Navajo Loop hike clockwise, starting from Sunrise Point and descending down into the amphitheatre via Queen's Garden Trail. This trail is considered the easiest route to enter the canyon from the rim.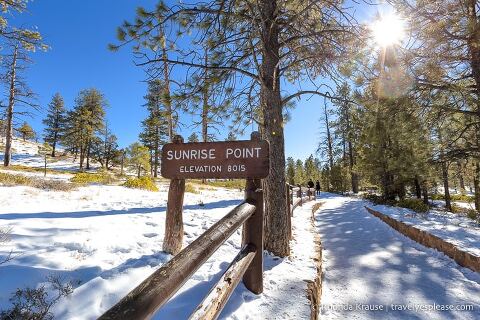 Immediately after departing Sunrise Point the trail began its steady descent into the Bryce Amphitheatre. Spread out in front of us was a sprawling view of the hoodoo-filled canyon dotted with groups of evergreen trees. It was a scene that invited exploration and we were excited to see what we would encounter along Queen's Garden Trail.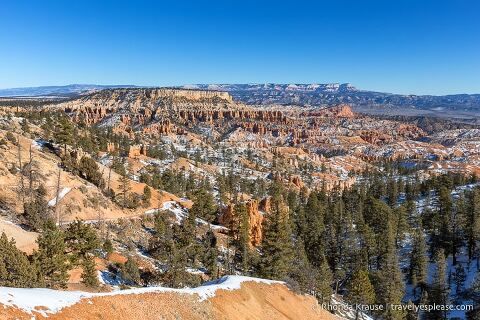 As we proceeded down into the canyon, the trail winded along the upper edge of a large rock feature known as the Queen's Castle. With rocky spires and towers, we thought it was appropriately named.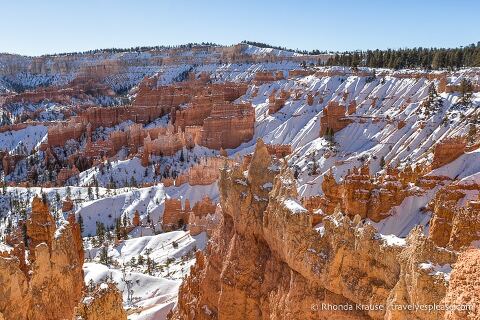 A little further down the trail we encountered a short switchback section and more great vantage points for admiring Bryce Canyon's colours and shapes. In every direction there was something interesting to look at and I knew this was a hike we wouldn't finish quickly. We hadn't even hiked a kilometre yet and already made several stops to appreciate the beauty and take pictures.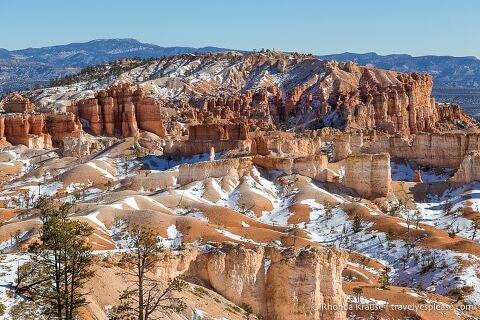 As we got lower into the canyon the trail got closer to the hoodoos. It wasn't until we were standing next to them did we realize just how tall they were. They looked far bigger and more impressive than the hoodoos we have back home in the Alberta badlands.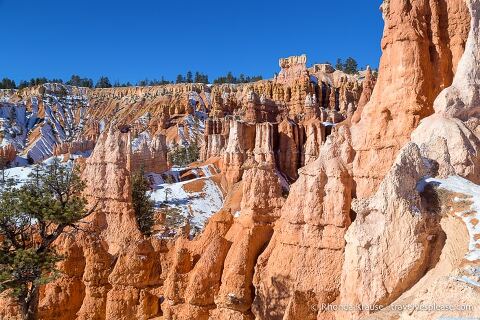 Next up the trail made a zig-zagging turn to head in the direction of the rim. This section would turn out to be my favourite part of the hike. 
Here there were some prominent hoodoos towering above the trail, but because we weren't at the bottom of the canyon yet, we still got to enjoy a wonderful panoramic view of the amphitheatre.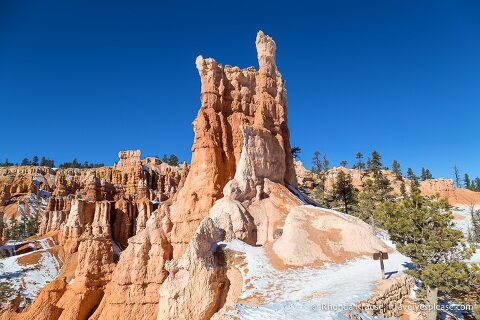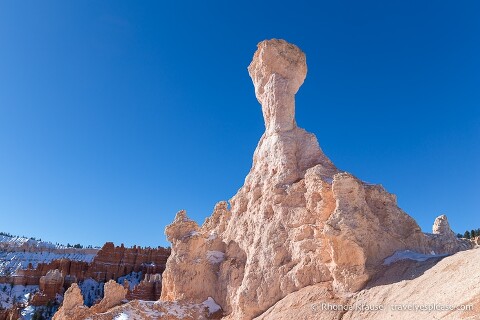 Continuing downhill, we soon found ourselves walking beside a huge wall of hoodoos. Straight ahead we could see the trail passing through a cute little archway in the rock.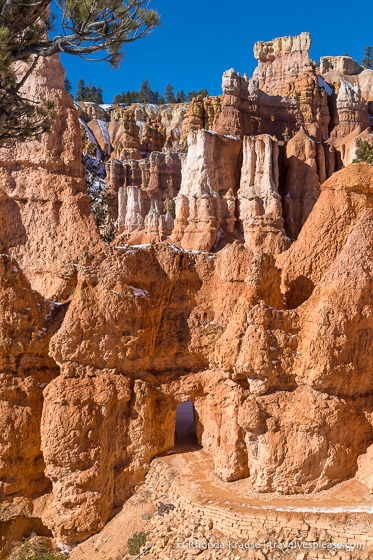 On the other side of the archway the trail remained close to the jagged wall of hoodoos. We loved being surrounded by these soaring spires of eroded rock!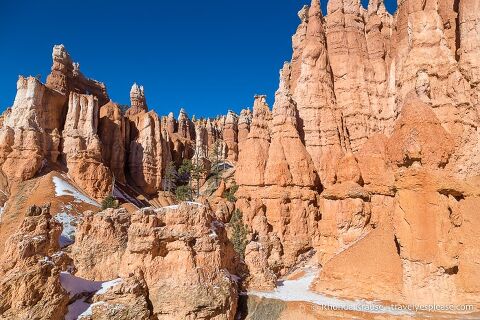 Once the trail turned to head southwest, the scenery opened up a bit as we hiked along the base of a hill. We could still see hoodoos, but the trail wasn't as close to them as it was a few moments ago.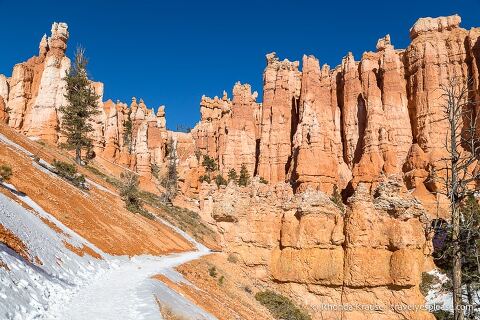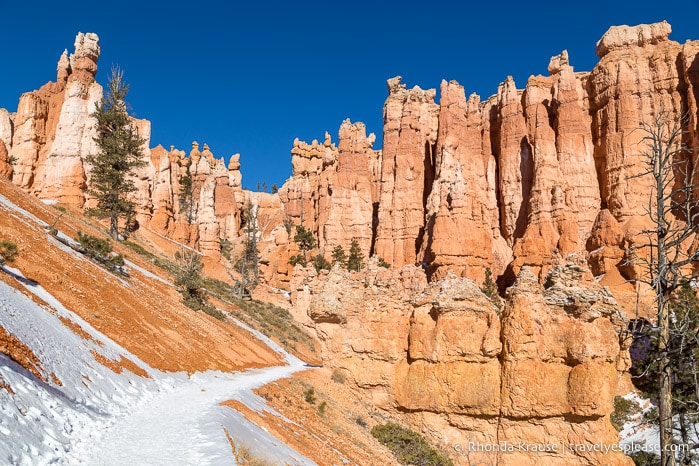 The trail then turned north to go around the other side of the slope, eventually arriving at a short spur trail (94 m/308 ft) that leads to the Queen Victoria hoodoo, the most famous landmark on Queen's Garden Trail.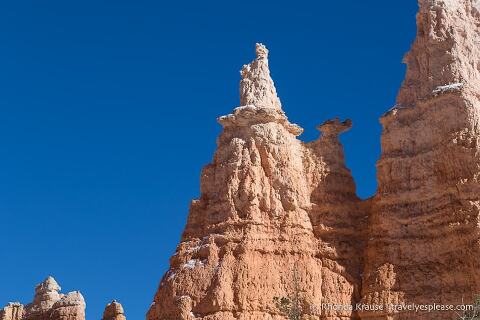 It didn't take any imagination to see the hoodoo's resemblance to Queen Victoria. We could clearly see the crown on top of her head and a long layered dress "flowing" to her feet. It was uncanny how much this hoodoo looked like the Queen Victoria statue in London, for which it was named.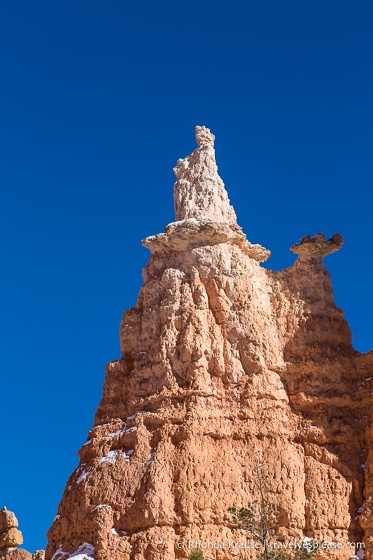 After admiring the Queen Victoria hoodoo, we headed back to the main trail and continued south on our journey towards Navajo Loop. This part of the hike had more trees, but they were dispersed enough that we could still see some hoodoos.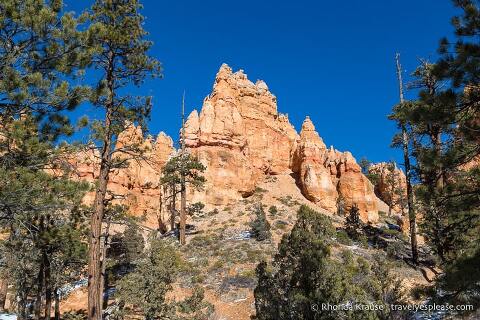 During the hike through this treed area we finally reached the lowest part of the trail. Not long after we arrived at Navajo Loop, where the ascent to the canyon's rim begins.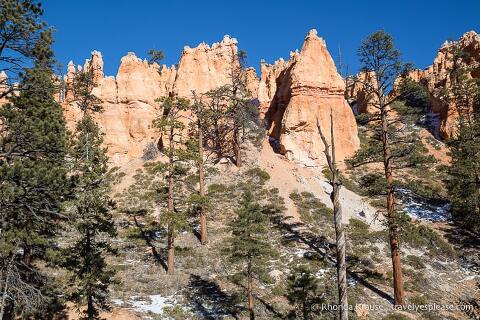 At the Navajo Loop Benchmark there are two ways you can go- straight to take the Wall Street side of the loop, or right to take the Two Bridges side of the loop. Since the Wall Street route is closed in winter, we had no choice but to take the Two Bridges side, which is the less steep of the two options.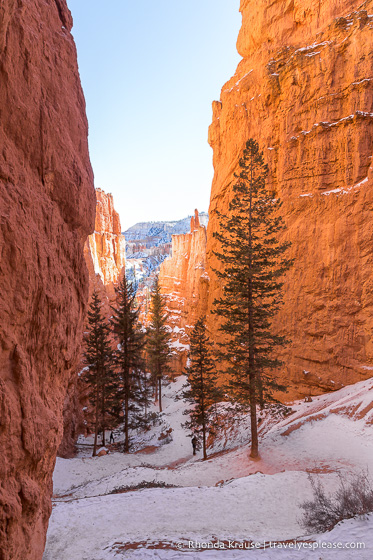 The Two Bridges side of Navajo Loop Trail begins with an uphill walk through an area of trees before entering into a narrow valley framed by mighty walls of rock.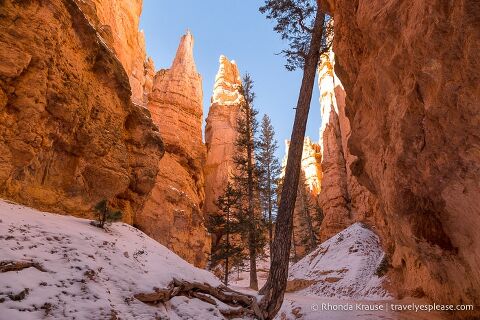 Soon after entering the valley we followed a very short spur trail to the Two Bridges. Just as the name suggests, here there are two small rock bridges linking some hoodoos.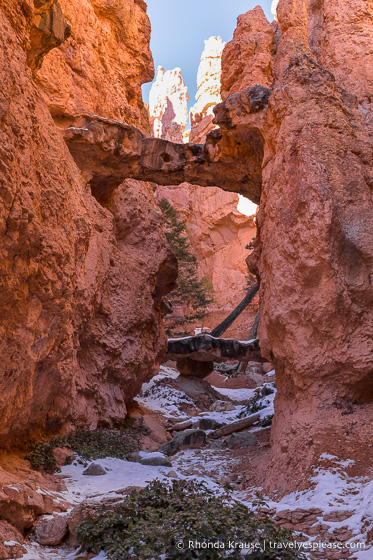 Back on the main trail we continued up the valley, gazing overhead at the walls of rock that surrounded us. 
Next we came to a steep section of switchbacks that zigzagged up the valley. This was another one of my favourite parts of the hike because the rocky scenery was so dramatic, especially when looking back down at where we had just hiked from.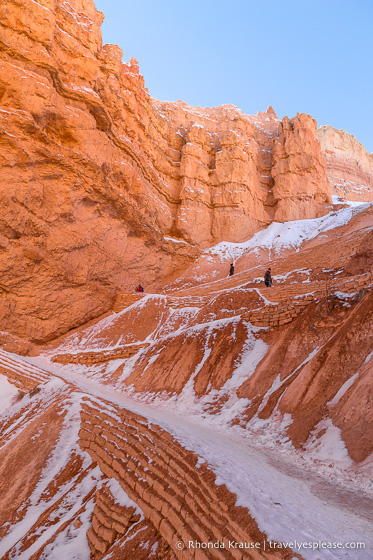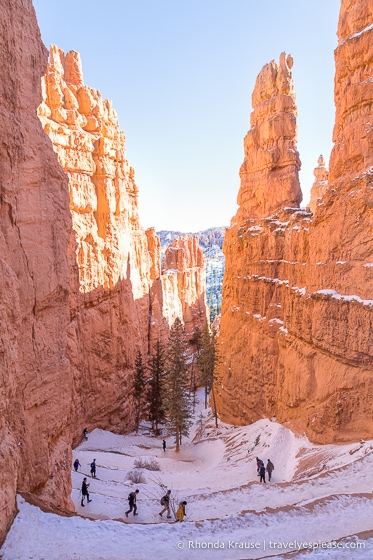 The trail was slippery though, so we were glad to be going uphill instead of down!
After reaching the top of the switchbacks, the park's most famous hoodoo, Thor's Hammer, came into view.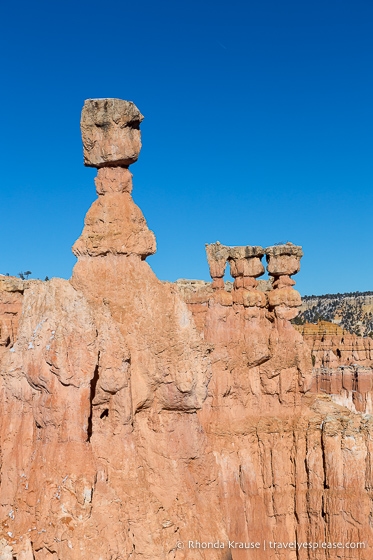 It was quite interesting to see the result of soft rock eroding faster than the hard layers, leaving a boulder "balancing" on top of a thinner column.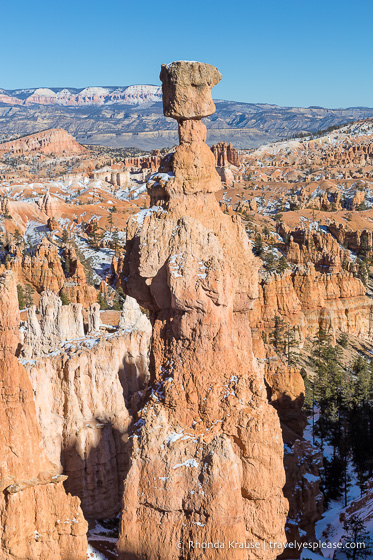 During the final approach back to the canyon's rim, we walked across a slope with large protruding rock formations.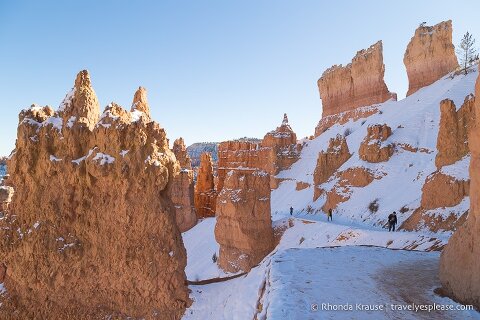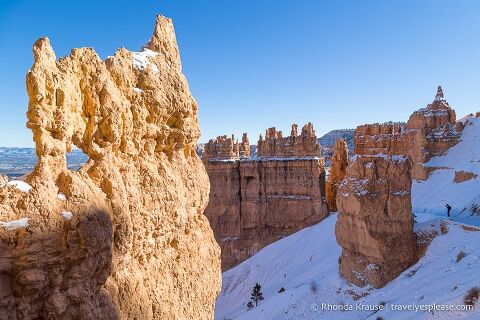 As we got higher up the trail, I couldn't help but stop every so often to marvel at the incredible view of hoodoos that pack Bryce Amphitheatre. The scenery was just as impressive now as it was at the start of our hike.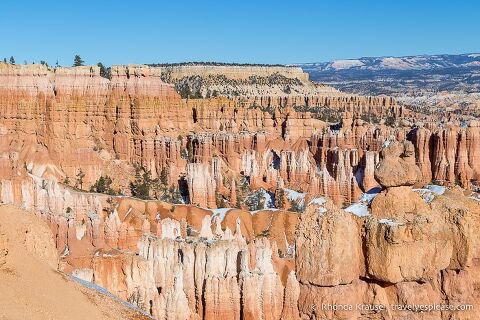 Once we reached the rim, we took a short break at Sunset Point then made our way north along the Rim Trail to return to Sunrise Point. Having wide views of the canyon to admire on the final stretch of this hike was the perfect end to an enjoyable journey on the Queen's Garden Navajo Loop trail.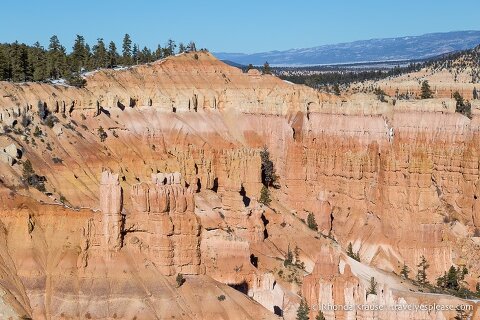 Final Thoughts About Our Queen's Garden Navajo Loop Hike
After hiking the Queen's Garden Navajo Loop trail, it was clear why this is the most popular hike in Bryce Canyon National Park. For only a moderate amount of effort and time we got to see some of the most famous rock formations in the park.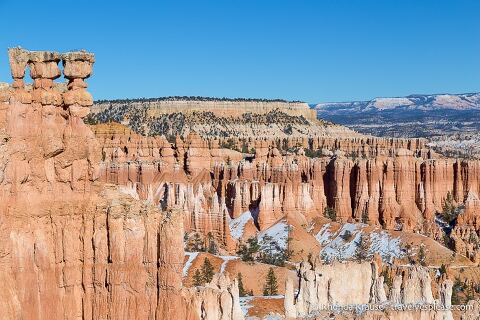 We thought the best part of this hike was how close the trail went to the hoodoos, giving us a close-up look at these one-of-a-kind rock formations. It was a nice contrast to the Fairyland Loop Trail we also hiked, which offered more wide ranging views of the Bryce Amphitheatre.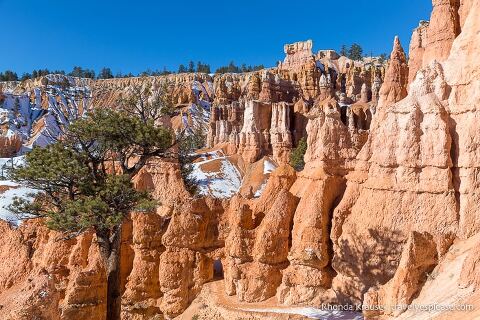 Just like other hiking trails in Bryce Canyon National Park, what made the Queen's Garden and Navajo Loop so engaging was looking for different shapes and figures in the eroded rocks. It's funny what you notice when you start looking for lifelike forms in the stone. I even saw what looked like a pair of tiny elephants walking in a line.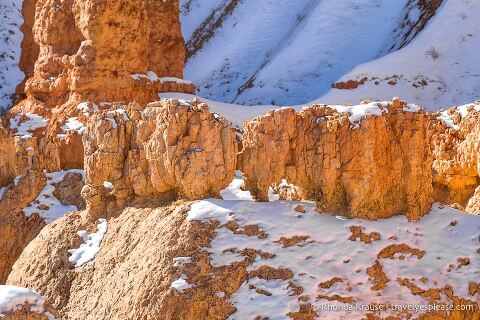 Even though we tend to prefer lesser trafficked trails, this is one that we're glad we didn't skip during our southwest USA road trip. It definitely lives up to the hype and because of that we consider it one of the best hikes in Bryce Canyon National Park.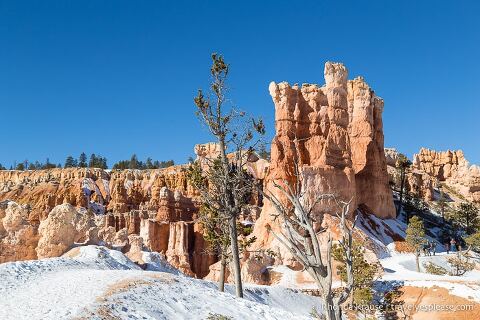 Tips for Hiking the Queen's Garden Navajo Loop Combination Trail
Trail Details: Here is some information about the Queen's Garden Navajo Loop combination trail so you can prepare for your hike.
Type of Trail- Loop
Distance- 4.6 kilometers/2.9 miles
Elevation Gain- 183 m/600 ft
Difficulty- Moderate
Length of Time- 2- 3 hours
Trailhead- Sunrise Point (at the middle of the Rim Trail, shuttle stop #13) or Sunset Point (also on the Rim Trail at shuttle stop #11).
Getting to the Queen's Garden and Navajo Loop Trailheads: If starting this hike from Sunrise Point, you can take the park's shuttle bus to stop #13 (from April to mid-October) or park in the lot by the General Store on the Sunrise Point Access Road. See the shuttle schedule here.
If starting from Sunset Point, take the shuttle to stop #11 or park in the lot at the end of Sunset Point Road.
Best Time to Hike Queen's Garden and Navajo Loop: The trail can be hiked year round, but the best time is spring and early fall when temperatures are cooler and fewer people are visiting the park. We hiked this route in early January and found it to be pleasant, aside from a few slippery spots going up the Two Bridges side of Navajo Loop.
In late fall and winter, or whenever precipitation combines with freezing overnight temperatures, the Wall Street side of Navajo Loop Trail is closed. When Wall Street is closed, you'll have to use the Two Bridges side of Navajo Loop to complete the Queen's Garden Navajo Loop combination hike (what we did).
I would avoid this trail after a rainfall and during snowmelt because the dirt path would be muddy.
Facilities: There is water and restrooms at Sunset Point and the General Store near Sunrise Point. 
Safety: The main things you need to prepare for are sun exposure and potentially hot temperatures. Dehydration is a risk.
Gear/What to Bring: Bring plenty of water and sun protection, especially if hiking midday or in the warmer months. There's not much shade on the trail.
Wear comfortable and supportive hiking shoes or boots.
Information was updated January 2022, but can change without notice. Please confirm directly with service providers.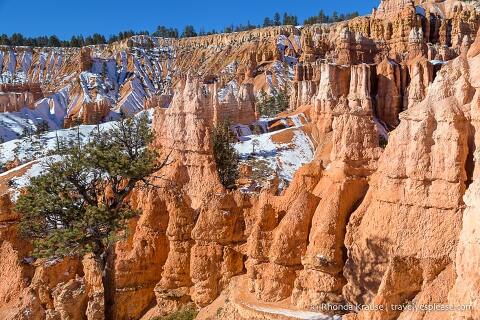 Accommodations Near Bryce Canyon National Park
For your convenience, here is a list of HOTELS NEAR BRYCE CANYON NATIONAL PARK. Please consider booking your Bryce Canyon accommodations through the included link. It costs nothing extra and helps support this website. Thank you!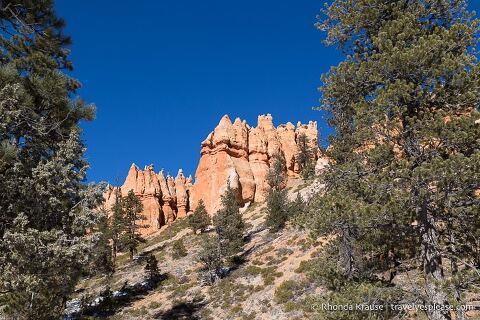 More Utah Hikes and Destinations