Purchases made through links earn us a small commission, at no extra cost to you.
As a lifelong resident of Alberta, and frequent visitor to Banff National Park, it's very odd that I hadn't visited Peyto Lake before now. Over the last few months, I was seeing so many photos of this beautiful lake on Instagram, that I decided we had to make a special stop on our way home from our Alaska cruise to visit it.
Peyto Lake can be found just off the Icefields Parkway at Bow Summit, about 38 km north of Lake Louise. It was named after Bill Peyto, who was a Banff area trail guide and trapper in the late 1800's.
The water's vibrant turquoise colour is caused by the glacial rock flour that flows into the water from Peyto Glacier. This fine, glacial silt gets suspended in the water and refracts the sunlight shining into the lake, producing the milky turquoise colour you see in the photo below.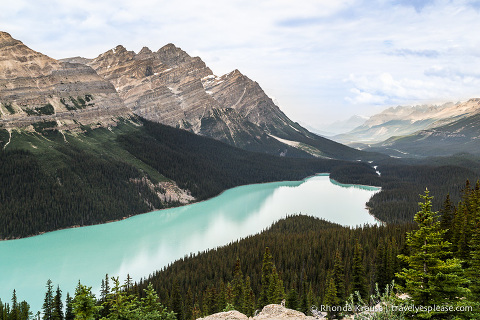 Peyto Lake is easily accessible and therefore a popular spot for tourists to visit during a Canadian Rockies road trip, especially in the summer. They came by the bus loads, many of which had no qualms about standing right in front of mine and another photographer's tripod, so they could take a cellphone selfie. Next time I visit, I'll try and come later in the day, or in off season.
Another way to avoid the crowds and have a quieter visit is to hike up past the lookout deck. We didn't do this, but there is a loop trail that starts to the left of the main lookout. From this trail you can hike down to Peyto Lake, or to the Bow Summit Lookout to get a higher up view of the lake.
From the parking lot, Peyto Lake is about a 10-15 minute, uphill walk to the lookout point. There is another lot that is further up the hill, close to the lookout point, but this is reserved for buses and handicapped access.
More Banff National Park Attractions and Travel Guides