Purchases made through links earn us a small commission, at no extra cost to you.
Trinidad is the place I was most looking forward to visiting in Cuba. I had heard so many great things about this delightful, small town, and lucky for me, it easily lived up to my high expectations.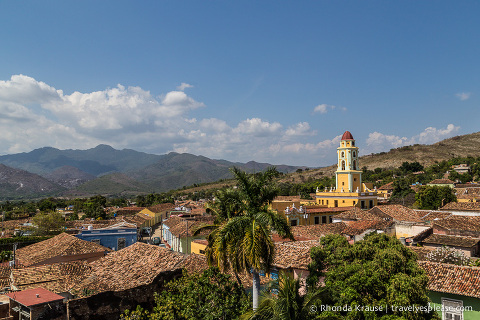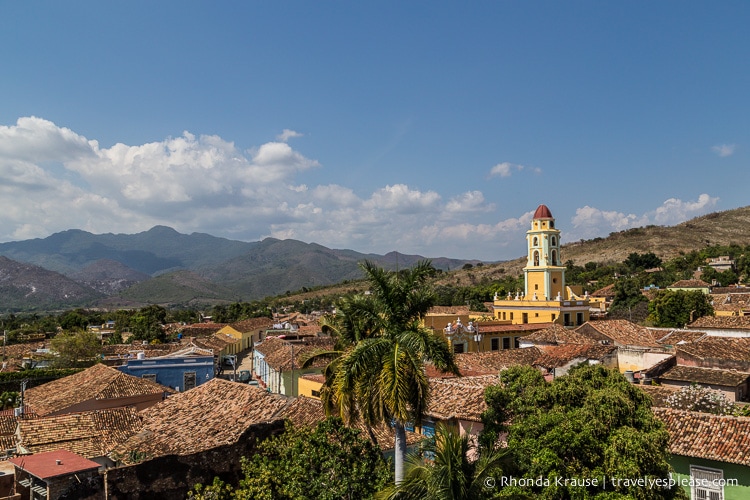 Walking around Trinidad, I couldn't help but smile. The colourful, colonial architecture gives the town a bright, cheerful feeling and the original cobblestone streets make you feel as if time here has stood still.
The town was relatively calm and peaceful, which was exactly what we needed after our exhausting and stressful visit to Havana. It was a relief to be able to wander the streets uninterrupted, free to enjoy Trinidad's charms without worry.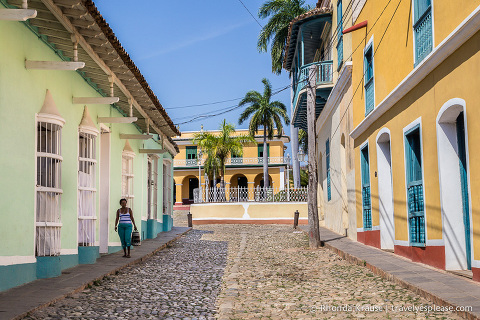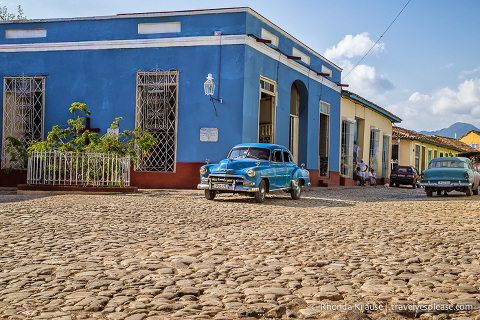 Since we were visiting Trinidad on an excursion from Varadero, we didn't have time to explore as much as I wanted to. We passed by many lovely restaurants and music venues that would have been nice to visit. We did, however, get to spend some time at the municipal museum and Plaza Mayor, Trinidad's main square, while learning a bit about the town's history.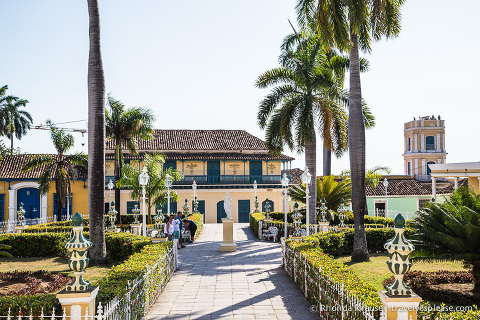 History of Trinidad
Trinidad was founded in 1514 by Diego Velázquez, a Spanish conquistador who governed Cuba on behalf of Spain. The city became a major trade centre for sugar and slaves, enjoying economic prosperity from the 17th-19th centuries. By 1796, Trinidad was the third-largest city in Cuba.
The town layout has remained largely unchanged since colonial times, the result of a period of isolation from the 1850's-1950's. Although Trinidad has not experienced any modern building, the historic centre has been meticulously restored, right down to the street lights.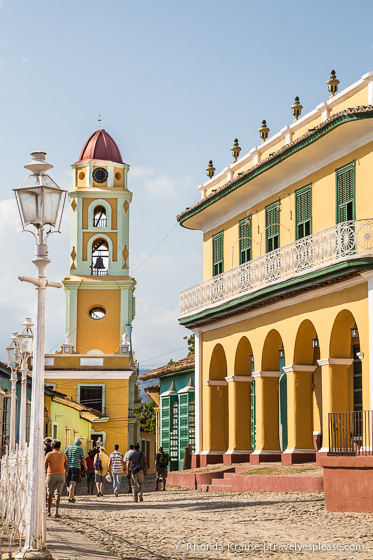 In 1988, Trinidad and the nearby Valle de los Ingenios were declared a World Heritage Site by UNESCO, as they are an exceptional example of a traditional settlement and have made substantial contributions to human history.
Today, Trinidad's main industry is tobacco processing.
Exploring Trinidad, Cuba- What to See on a Short Visit
Since we we were only in town for a few hours, our visit focused on the sights and attractions around Trinidad's Plaza Mayor. Here's a look at the highlights from our short tour of Trinidad.
Palacio Cantero
Palacio Cantero is now home to the Museo Histórico Municipal, but the mansion once belonged to Don Borrell y Padrón, a prominent figure in the local sugar production. This 19th century building is a fine example of Neo-Classical architecture and design. The frescoed arches are particularly eye-catching.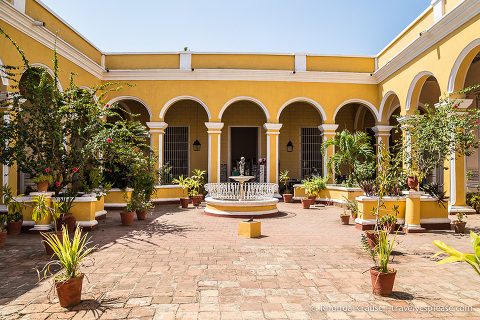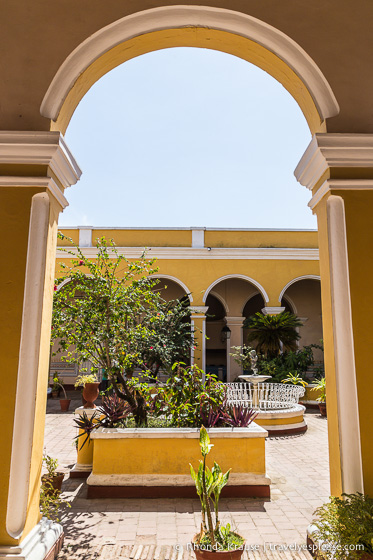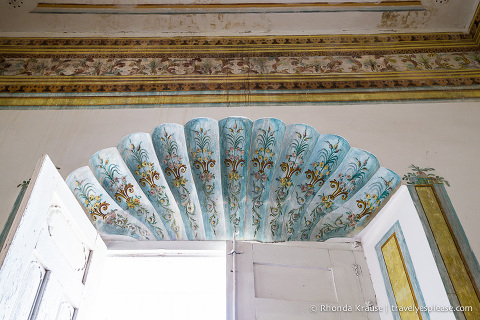 Throughout the rooms, you can see exhibits, maps and monuments that trace the history of Trinidad and surrounding areas. The best part of our visit, was climbing to the top of the palace's tower. The viewing platform offers commanding views of the town's historic centre and the nearby Sierra del Escambray.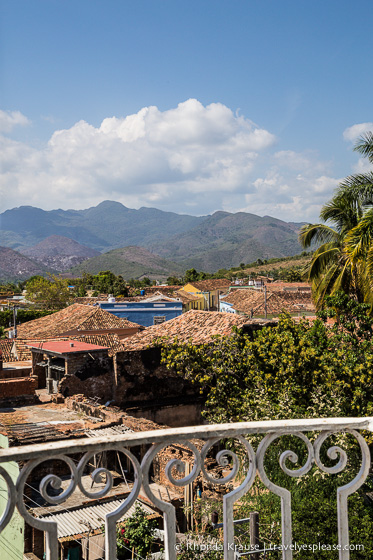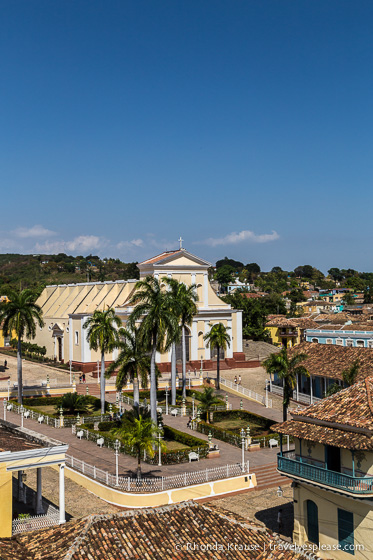 Trinidad's Plaza Mayor
Plaza Mayor is the heart of Trinidad. It's also one of the most lovely town squares I have seen, lush with palm trees, manicured hedges and vibrant red flowers. The plaza is surrounded by beautifully restored 18th and 19th century buildings, which are now used as museums and art galleries.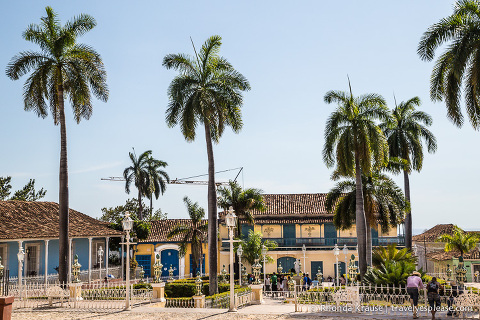 At one end of Plaza Mayor is Casa de Aldeman Ortiz, a gorgeous 19th century mansion with a wrap-around wooden balcony. The house was built in 1808 for Ortiz de Zuniga, who once served as mayor of Trinidad. Today the house is an art gallery that displays and sells paintings from contemporary Cuban artists.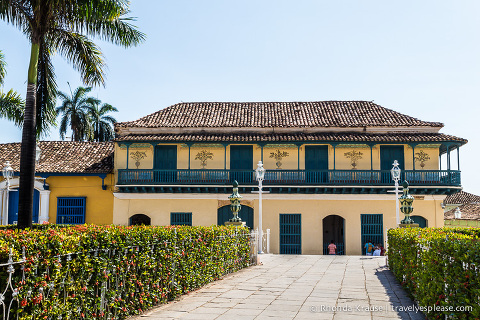 Overlooking the other end of Plaza Mayor is Iglesia Parroquial de la Santisima Trinidad. The church of the Holy Trinity was completed in 1892, replacing a 17th century church that was destroyed by a cyclone. We didn't have a chance to go in, but the church is known for its carved wooden alter and the statue of Señor de la Vera Cruz, which came from Spain and dates back to 1731.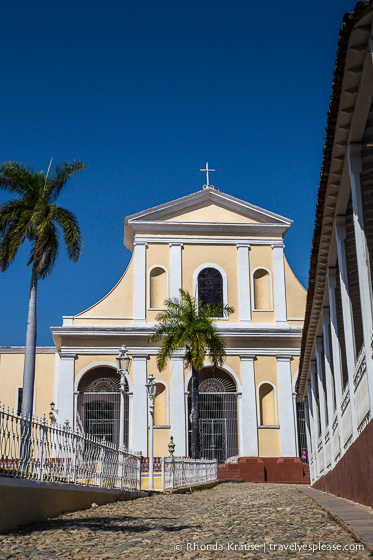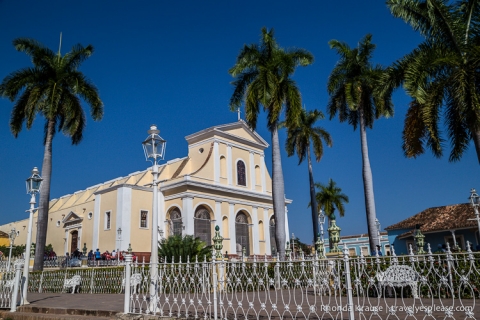 The blue building framing the south side of Plaza Mayor is the restored Casa de los Sanchez Iznaga, a family mansion from the 18th century that now houses the Museo de Arquitectura Colonial. Inside the Museum of Colonial Architecture you'll find items illustrating the various architectural elements seen in Trinidad and the building techniques used during the colonial period.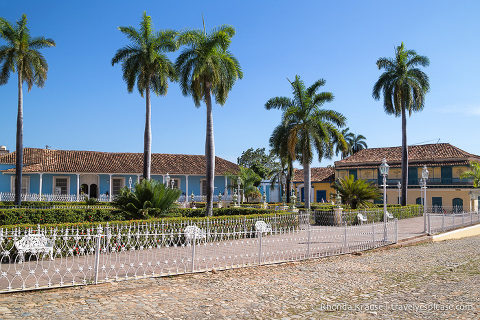 Architecture of Trinidad
If you haven't already guessed, I loved the architecture in Trinidad! Beyond the beautiful colours, there are many exquisite details that add to the allure of the homes we saw.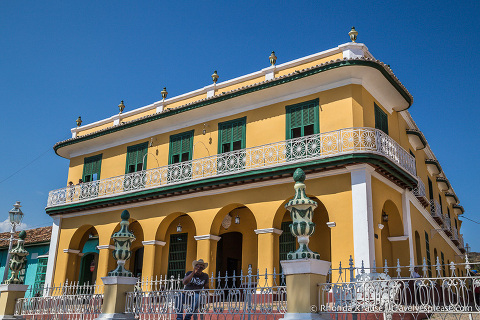 A typical house in Trinidad has a large wooden door, with smaller doors cut in it for easy access. The doors are sometimes framed by plaster motifs.
You will notice that windows are set just slightly above ground level and almost match the height of the door. The windows have strong wooden shutters, instead of glass, and are further decorated by wooden barrotes (small, turned wooden columns) or iron grilles, which became popular in the 19th century. Arched windows are also characteristic of the homes here.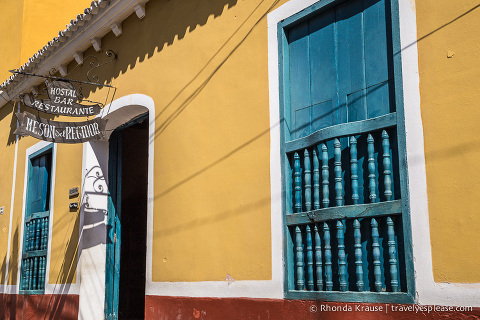 Most of the roofs you see are two or four-pitch, supported by wooden beams and covered with terracotta tiles.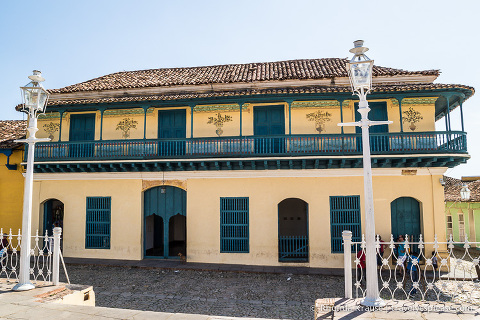 Final Thoughts About Our Trip to Trinidad
I really liked Trinidad and had we not been on an organized trip from Varadero, I would have spent a day or two here. Not only is the town very pretty, but the surrounding natural areas are beautiful as well.
While excursions are convenient, and a good way to see many things in a short amount of time, it bothered me to have such little time in Trinidad. I practically had to beg our tour guide to give us 10 extra minutes of free time. I would definitely return here again, but not on a guided excursion.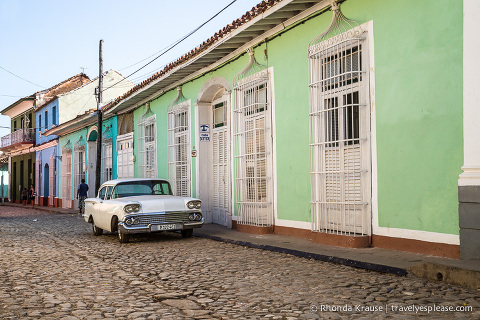 Tips for Visiting Trinidad
Trinidad is about 273 km (a four hour drive) from the popular beach resort of Varadero.
The resorts at Varadero offer excursions to Trinidad. You can choose from a day trip or an overnight excursion (which we did).
Trinidad makes a good base for tours to the Sierra del Escambray and the Valle de los Ingenios.
Information was updated January 2022, but can change without notice. Please confirm directly with venues and service providers.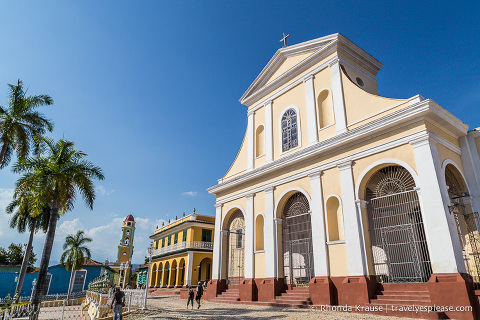 More Cuba Destinations and Travel Guides