Purchases made through links earn us a small commission, at no extra cost to you.
During our stay in Varadero, we booked an excursion that took us to Trinidad and the Escambray Mountains, where we spent the night in Topes de Collantes nature reserve park. The next morning, our tour took us through the jungle covered mountains and down into Guanayara National Park, where we enjoyed an easy hike past caves, waterfalls and natural pools.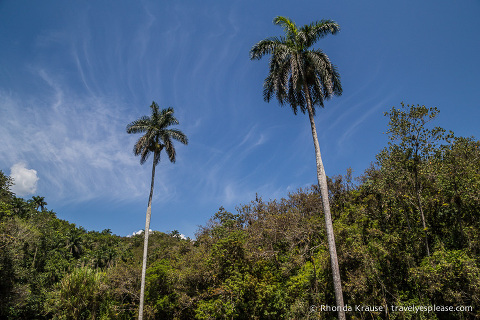 Hiking in Guanayara National Park
Our adventure started after we climbed into the back of an old Russian military truck, our transportation for the day. As it turned out, getting to the park was just as fun as visiting the park itself! I really loved riding in the army truck- it felt so "jungle-ish!" Wind blew through our hair as the driver sped down winding roads into the valley where Guanayara National Park is located.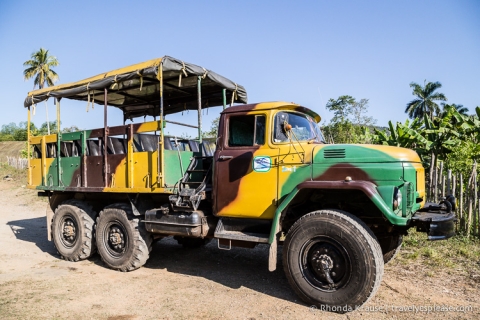 On the way, we stopped a few a times to enjoy the stunning views as our guide gave us some information about both Topes de Collantes and the Sierra del Escambray. Being from Canada, it felt a little odd to be seeing mountains covered in jungle rather than snow!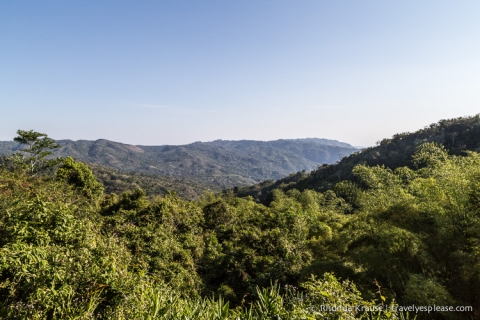 Once we arrived at Guanayara National Park, our guide gave a short introduction then led us off into the jungle, beginning our hike.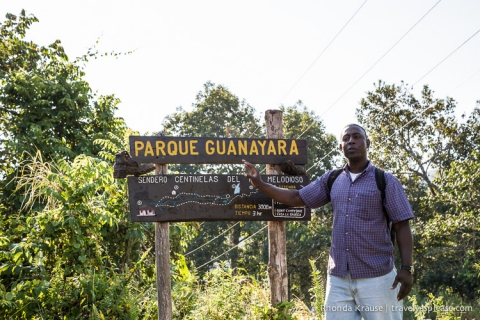 He stopped along the way to talk about the native plant life, many which have special healing properties. We walked past coffee bean trees, banana trees and brightly coloured wild flowers.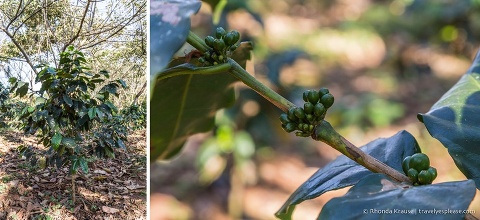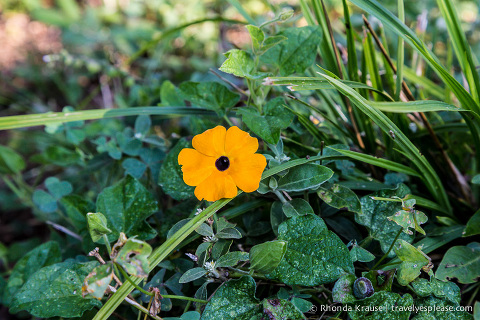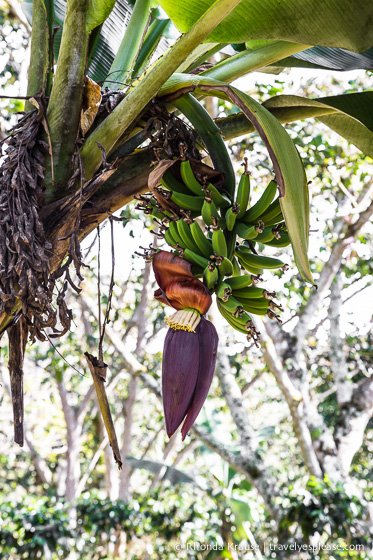 We were lucky enough to get to see Cuba's national bird, the Tocororo (Cuban Trogon), a few times. The bird is unique to Cuba and its feathers are the same colour as the Cuban flag: red, blue and white. If you listen closely you can hear it singing "toco-toco-tocoro-tocoro".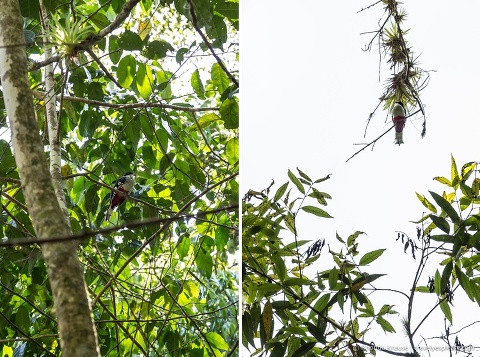 The first place our guide took us to was a small cave. There was a small opening that the sunlight could shine through, highlighting the interesting rock formations. Our guide didn't really know much about the cave or how it was formed, but it was impressive nonetheless.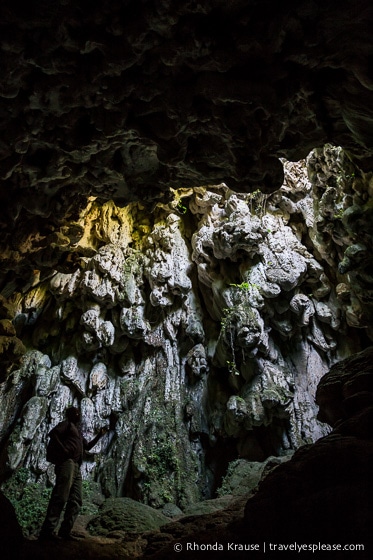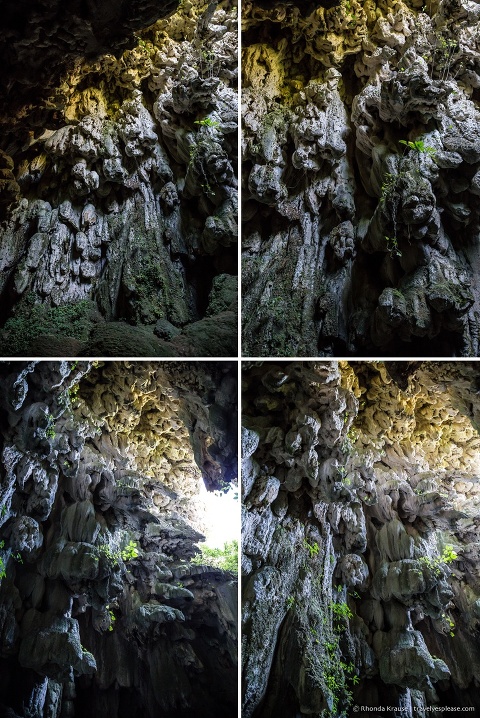 Next, we stopped at the beautiful El Rocio waterfall where we paused to take some photos.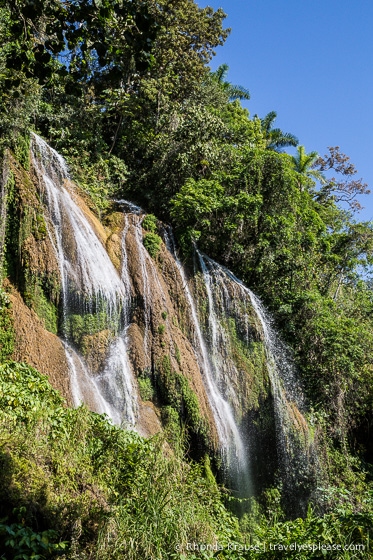 From the falls we headed down a trail lined with huge bamboo trees. They were so tall we couldn't even see the tops!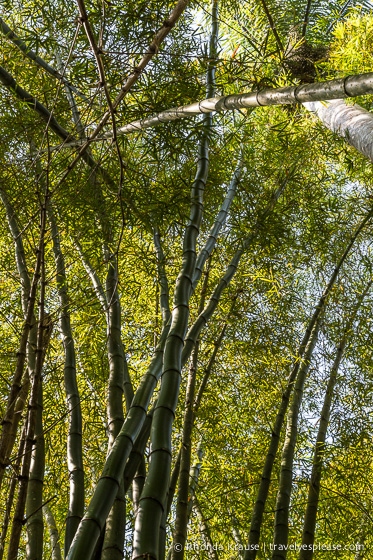 The last place we visited on the hike was a natural pool where we stopped for a short swim. The water was pretty cold but it was nice and refreshing on a hot day. Mike decided to be adventurous and swung off a vine then dropped into the pool!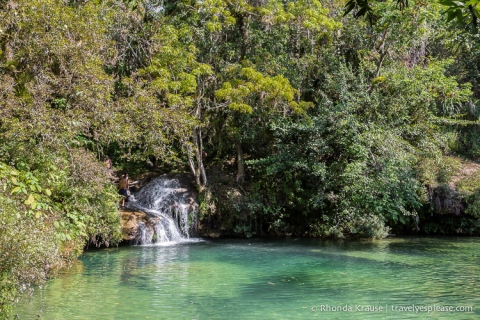 After our swim, we continued our hike to the end of the trail, where we were served a chicken, rice and potato lunch at the restaurant. Even though the food was pretty basic, it still hit the spot because we worked up quite the appetite!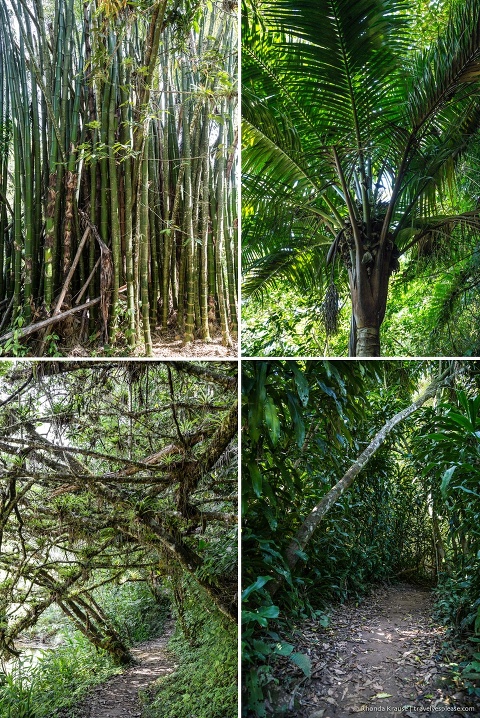 Final Thoughts About our Excursion to Guanayara National Park
We really enjoyed our day at Guanayara National Park and this excursion was the highlight of our trip to Cuba. We got to see many different sides of Cuba- charming colonial towns, small villages, the beautiful countryside and calming natural parks. We highly recommend you venture out of the resort community of Varadero to experience more of what Cuba has to offer.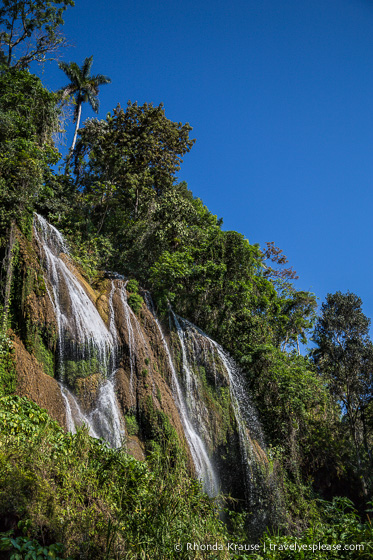 Tips for Visiting Guanayara National Park
We visited Guanayara National Park as part of an excursion called the Rambo Tour, which we booked at our resort in Varadero. The tour took us to many places including Cienfuegos, Trinidad and Santa Clara. Most of the resorts probably offer this tour, but it could be under a different name.
The excursion we were on was operated by Gaviota, a military run tourism corporation that encompasses airlines, hotels, bus tours, marinas, souvenir stores, restaurants, natural parks and museums. Cuba's tourism industry is controlled by the military.
To get the most out of your visit, hire a local guide. If you are staying in Trinidad, your hotel can assist you with this. There also is a tourist office in Trinidad which can organize a tour for you.
The drive from Trinidad to Topes de Collantes is about 30 minutes. From there, it was roughly another 45 minutes (by army truck) to Guanayara National Park.
Wear shoes with good grips. The hike was not overly difficult but there were a few challenging spots, such as narrow logs you have to walk on to cross a few streams. For the most part though, the path was flat land.
There is a small, makeshift change room at the natural pool. It's basically just a screen you stand behind. I wore my bathing suit under my clothes during the hike and then changed out of it after the swim.
There is a small bar at the natural pool where you can buy beverages.
There are no washroom facilities until you reach the restaurant at the end of the trail. The hike was about 3 kilometers.
Information was updated January 2022, but can change without notice.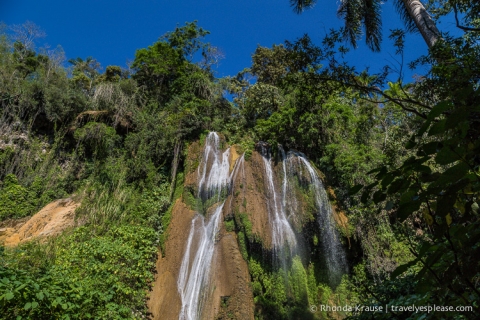 More Cuba Destinations and Travel Guides