Purchases made through links earn us a small commission, at no extra cost to you.
Riding my bike from Quebec City towards Montmorency Falls, I excitedly anticipated doing my first via ferrata route.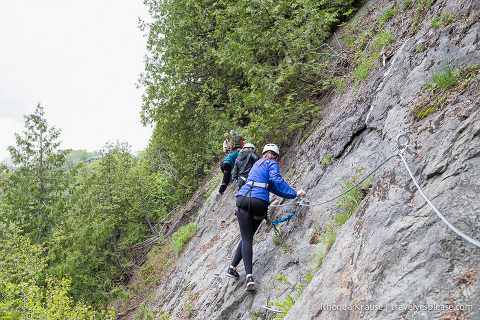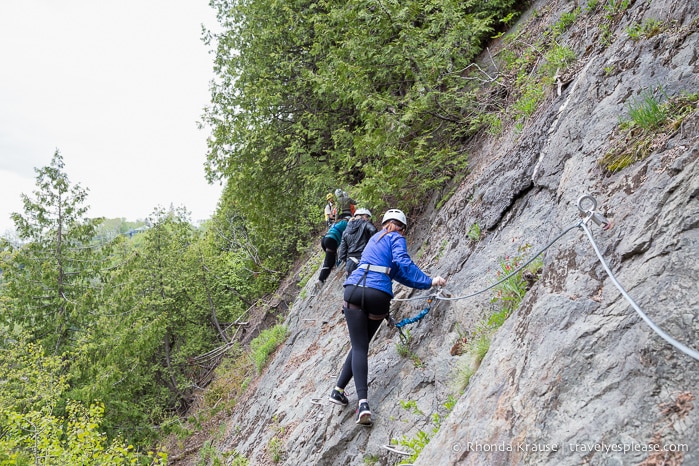 My enthusiasm was oblivious to the fact that I didn't have a clear idea what exactly via ferrata was, only that it sounded like a fun adventure.
So with no preconceived notions or expectations, I readied myself for anything and everything!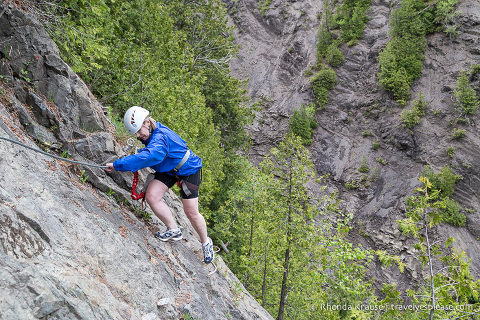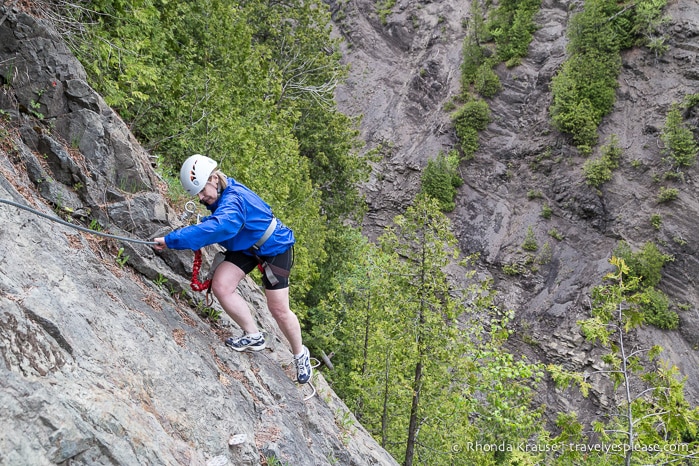 What is Via Ferrata?
Via ferrata is a rock climbing experience that makes use of steel cables fixed to the rock. Climbers, outfitted in a climbing harness, can clip themselves to the cable using carabiners, and then navigate a route of iron rungs, pegs and natural steps.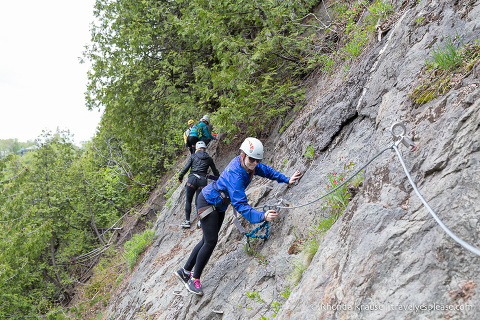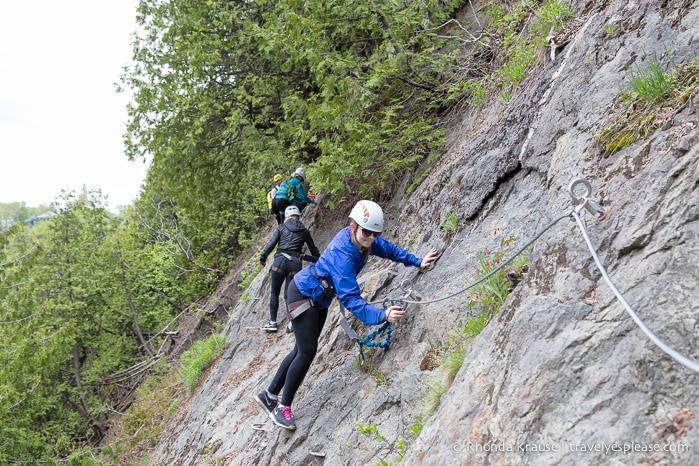 Via ferrata routes can be found around the world, in varying lengths and degrees of difficulty. Via ferratas make climbing more accessible to people without mountaineering experience, yet still provide a challenge for experienced climbers.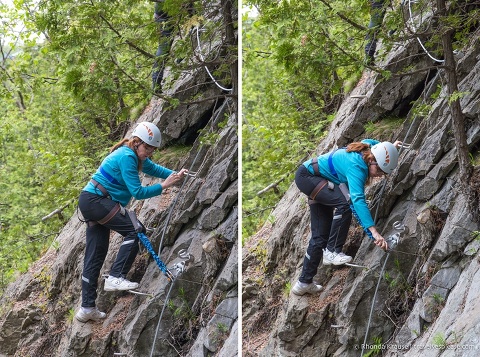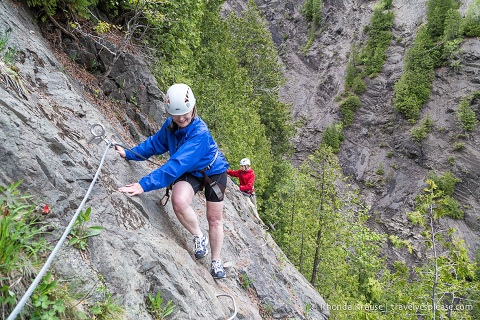 Via Ferrata at Montmorency Falls Park, Quebec
The first step in any via ferrata experience is to get decked out in the proper gear. When you sign up for via ferrata at Montmorency Falls Park, you'll be provided with everything you need- helmet, harness and carabiners.
Once we all looked the part, we headed out to see if we were as good of climbers as we looked. (Spoiler alert- we were!)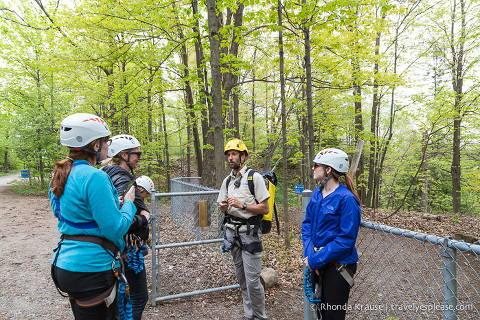 The course that our guide took us to was the Explorer route. This is the easiest of Montmorency's three via ferrata routes- perfect for first-timers. I'd describe it as a mix of hiking and climbing.
Before beginning the climb, our guide told us what to expect on the via ferrata and gave us instruction on how to use the equipment and safely traverse along the rock.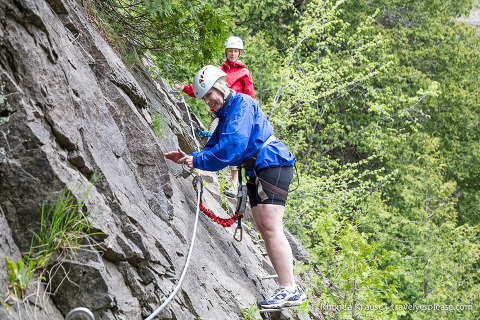 Next, we got to try out our new skills in the training area at the trailhead. I was relieved we had some practice time because it does require consciously coaching your body to do certain movements (most notably, choosing one hand to move the carabiners between cable sections).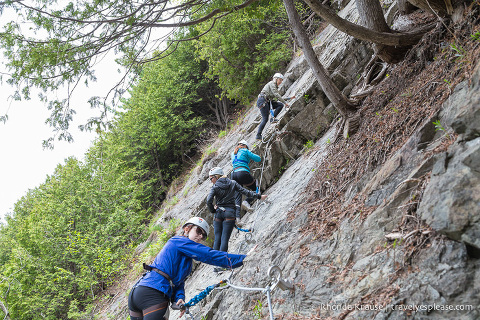 Fresh off the practice route, we timidly began the descent, following our guide into the Boischatel fault.
It was easy going at first. So easy going that I felt ridiculous being strapped to a cable to walk down an ordinary set of stairs. Oh, but that sense of security didn't last long.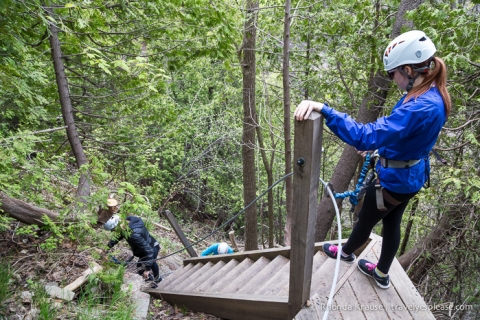 Soon I was scaling down a vertical rock face. Slowly and deliberately I went through the motions- climb down a few rungs, brace myself with one hand, move the carabiner to the next section with the other.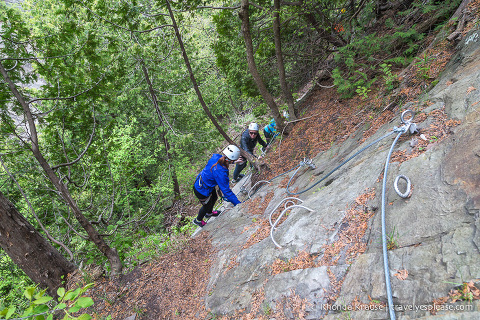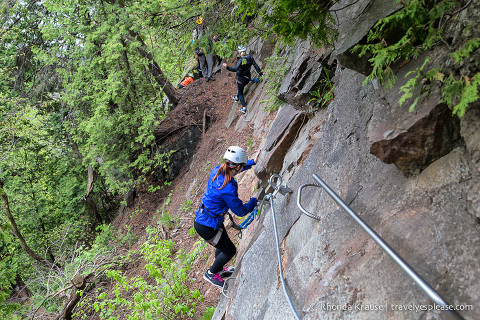 Even though there were steps and pegs to assist my climb, I had to concentrate intently until the movements became more familiar.
After that first steep section I gained a confidence that allowed me to relax and fully enjoy the experience.
Our group as a whole became more trusting too, and picked up the pace as we went along the route.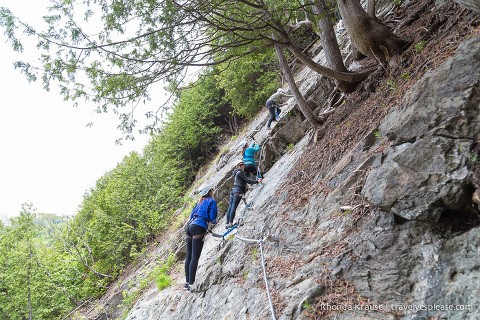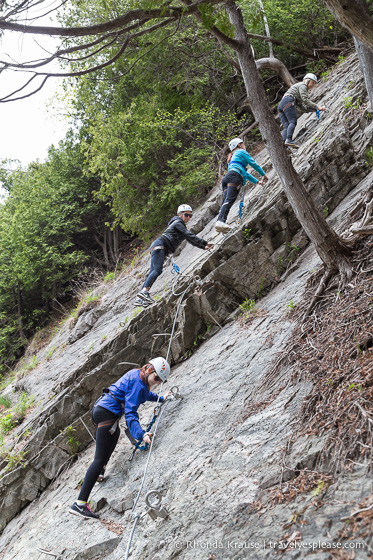 We climbed up, down and across the rocky cliff, sometimes even daring ourselves to lean back and let the cable hold us as we relished the forested scenery around us.
Soon I was not only comfortable, but having an incredible amount of fun. I even began challenging myself to use the grooves in the rock to support myself instead of the metal rungs.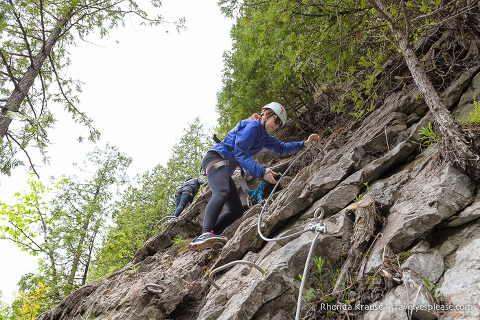 The last leg of the course was the highlight because it was so steep, the views dramatic. I almost felt like a legitimate mountaineer!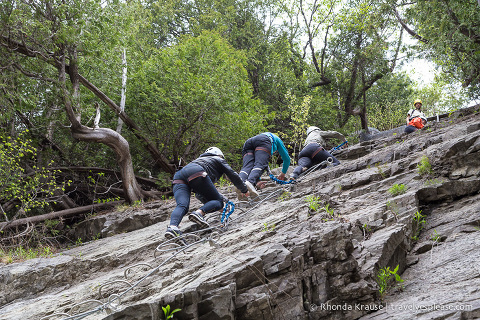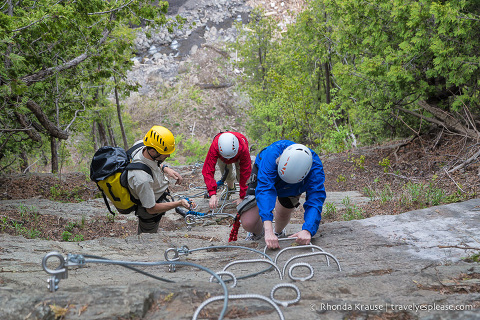 Returning to the top of the canyon, I felt a rush of adrenaline. I wanted to keep going, try a harder course.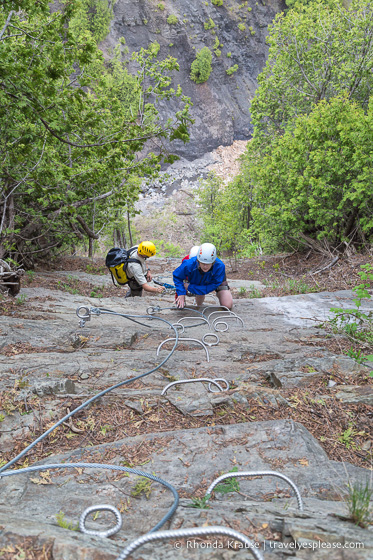 In the span of a few hours, I went from not knowing what via ferrata was, to being self-assured and eager to do it again. It was the perfect step up from hiking, and who knows, maybe even a lead in to rock climbing…if I'm brave enough!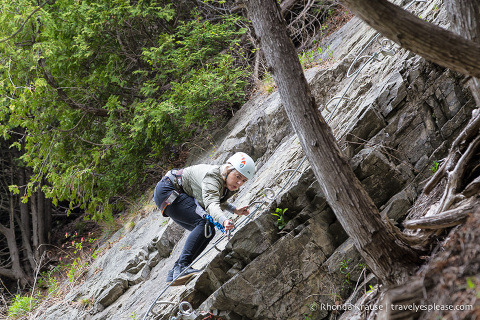 Tips for Doing the Via Ferrata at Montmorency Falls Park
Location: Montmorency Falls Park is a 15 minute drive from Old Quebec. It's also an easy cycle on a dedicated bike path (you can rent a bike in Quebec City).
Dates of Operation: The via ferrata at Montmorency Falls Park is open from June to October (exact dates can change from year to year).
Via Ferrata Routes: There are three circuits- one beginner and two intermediate. The hikes/climbs take place in small groups with a professional guide. They also take place at predetermined times, so plan accordingly.
If you're afraid of heights, this activity might be stressful.
What to Wear: Make sure to wear hiking boots or sturdy athletic shoes with good grips, and comfortable clothes that allow for ease of movement.
More Things to Do: Other attractions at Montmorency Park include the waterfall, zipline, cable car, suspension bridge, panoramic walking route and restaurant.
Information was updated January 2022, but can change without notice. Please confirm directly with the venue.
Accommodations in Quebec City
For your convenience, here is a list of hotels in Quebec City. Please consider booking your Quebec City accommodations through the included link. It costs nothing extra and helps support this website. Thank you!
More Quebec Destinations and Travel Guides