Purchases made through links earn us a small commission, at no extra cost to you.
Early on an August morning, while Tokyo was just beginning to wake up, I was already standing in front of the large wooden torii gate marking the entrance to Meiji Shrine.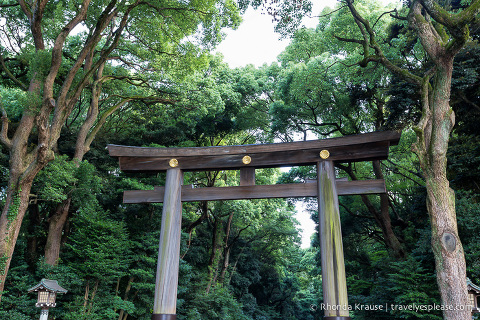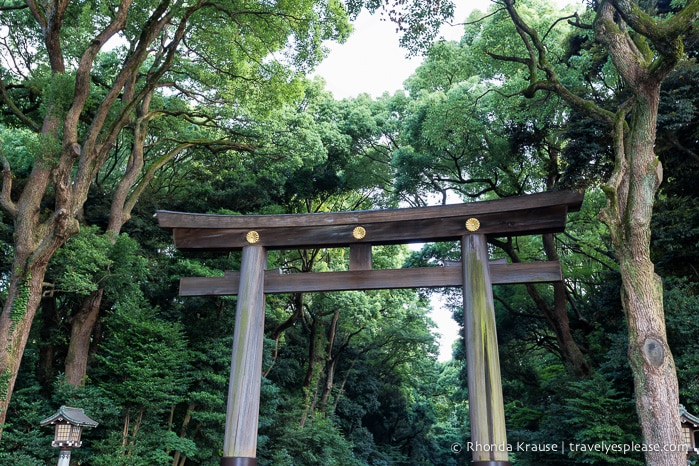 Breathing in the fresh morning air, I happily began walking down the wide graveled path leading to the main shrine building.
Shaded by tall trees and thick foliage, I felt miles away from the modern metropolis of Tokyo. No skyscrapers, no neon signs and no people- just me in the midst of a sprawling forest, sheltered from the fast-paced world that existed just beyond the edge of this tree-lined avenue.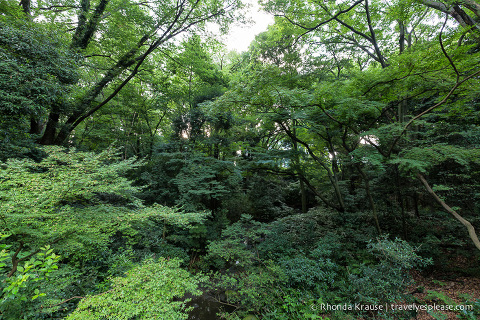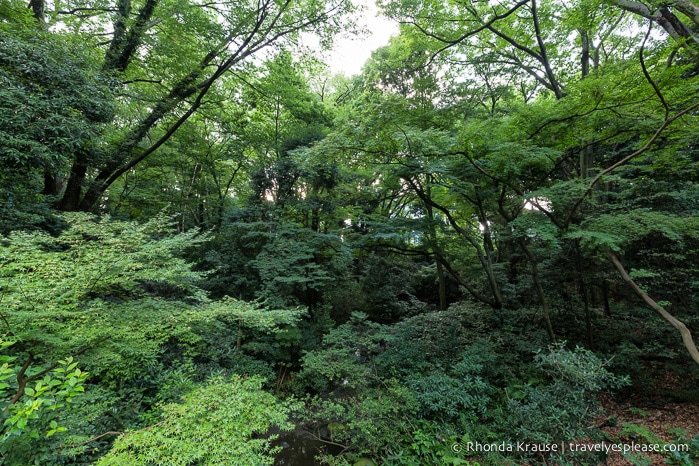 On and on I walked in peaceful contentment, never crossing paths with another individual.
Even though I was alone, I felt surrounded by love. This forest began with 100,000 trees, donated from all across Japan, a gesture commemorating Emperor Meiji, Empress Shoken and the virtues they represent.
I could sense the sincerity, the heart that went into creating Meiji Shrine. I was thankful to be there, without distractions, connecting with that special energy.
Continuing to walk, I soon arrived at a long wall of sake barrels, stacked on top of each other and wrapped in straw. Each year, these barrels are offered as a token of respect to the enshrined deities of Emperor Meiji and Empress Shoken.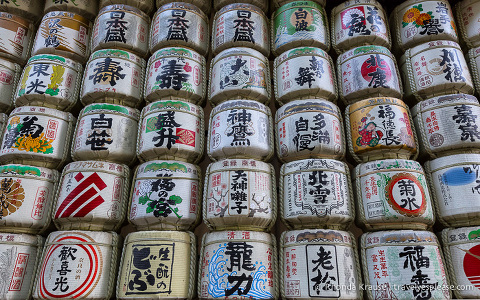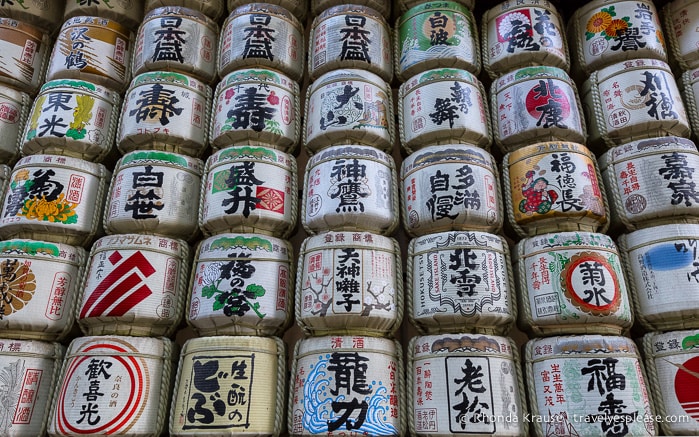 My eyes tracked up one column and down the next, admiring the unique design of each barrel as I slowly strolled past.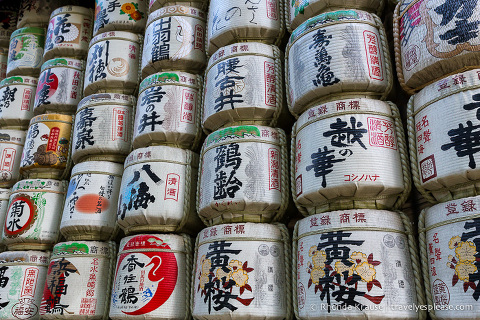 Moving on, it wasn't much longer until I got my first glimpse of Meiji Shrine through the trees. Constructed mostly from Japanese cypress, I appreciated how the shrine blended harmoniously with its surroundings.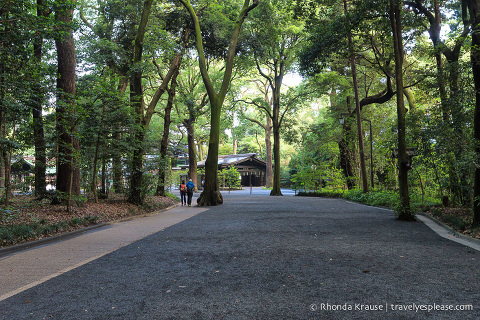 Passing through another smaller torii, I entered into the shrine and was grateful to see I had it nearly all to myself.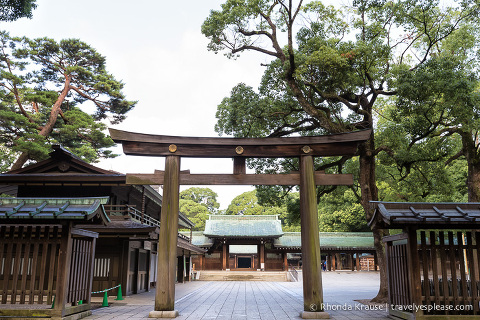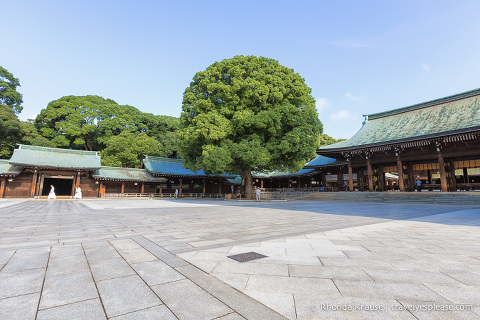 Simple and unadorned, Meiji Shrine looked and felt authentic, even though it was reconstructed in 1958 after the original shrine (from 1920) was destroyed in WWII.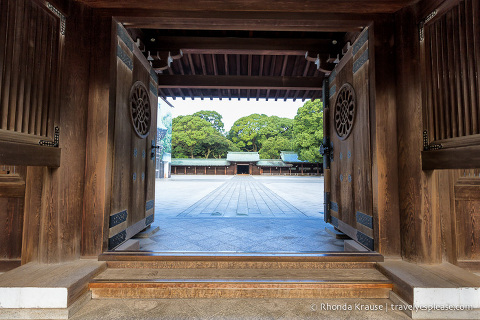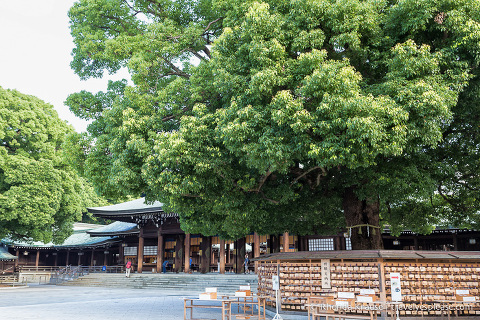 Standing in the centre of the courtyard, I watched as people approached the main shrine building to pay their respects. Two bows, two claps of the hands, followed by another bow and the ritual was complete.
What did they wish for? I wondered.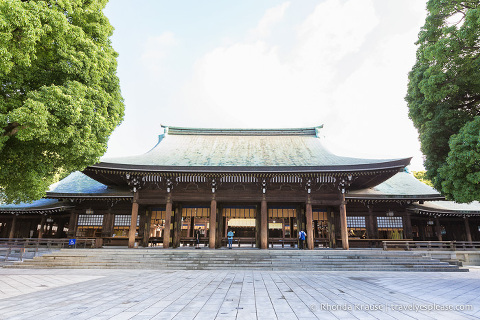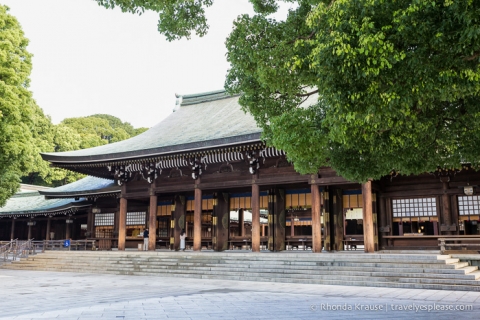 Contemplating my own wish, I quickly became distracted by a perfectly shaped tree in the corner of the courtyard. Bushy, full and round, this tree conveyed flawless beauty.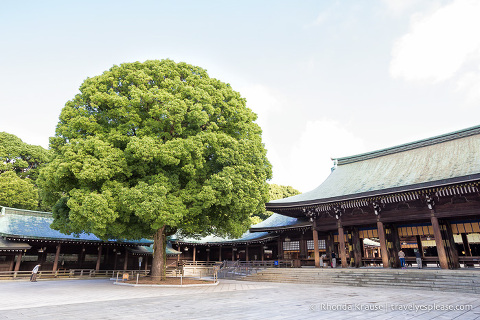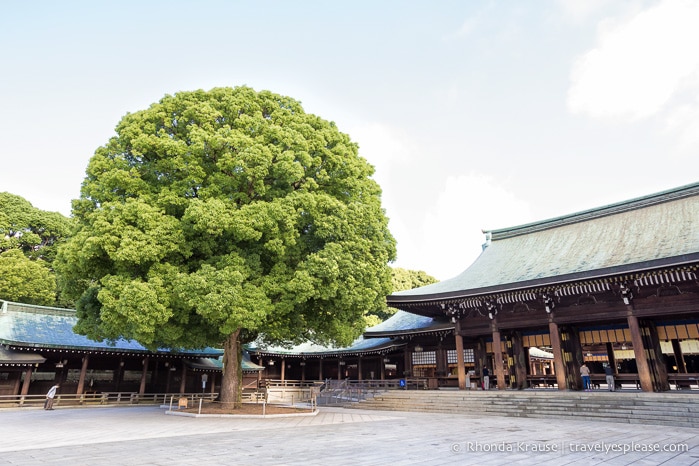 Drawn in for a closer look, I noticed a rope, called shimenawa, tied onto the trunk. The presence of this rope indicated the tree is capable of attracting spirits. To cut it down would bring misfortune.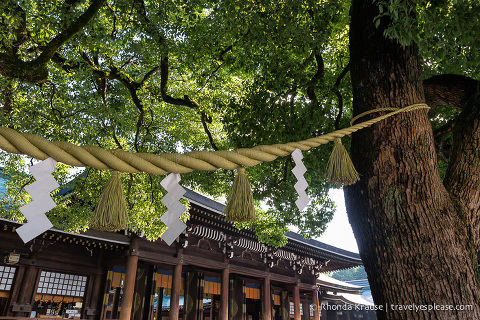 Taking one last look around, I wished I could linger longer at Meiji Shrine, but I had a full day of exploring Tokyo ahead of me. I would have to save The Meiji Jingu Gardens and Treasure Museum for another visit.
As I walked back down the same broad, tree-lined path towards the subway station, there was no doubt that Meiji Shrine had become my favourite place in Tokyo, and one of my most-loved shrines in Japan. Delightfully serene, visiting Meiji Shrine in the early morning hours was an experience I will hold near and dear for many years to come.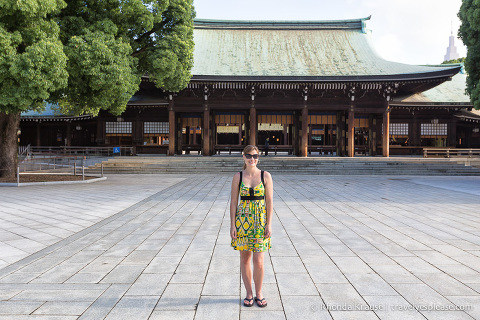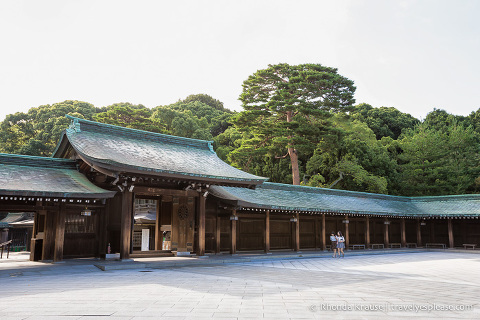 Tips for Visiting Meiji Shrine (Meiji Jingu)
Opening Hours: Meiji Shrine opens at sunrise and closes at sunset, so operating hours change every month. The shrine is open every day of the year. Visit Meiji Jingu's website for specific opening and closing times.
The gardens and museum have shorter opening hours.
Admission Fees: Entrance to Meiji Shrine is free but there is a small fee to visit the Meiji Jingu Gardens (500 yen) and Meiji Jingu Museum (1000 yen).
Getting There: Meiji Shrine can easily be reached on the JR Yamanote line (get off at Harajuku station), or by subway on the Chiyoda line (get off at Meiji-jingumae station). Both these stations are very close to the south shrine gate.
*Information was updated May 2022, but can change without notice. Please confirm directly with the venue.
Accommodations in Tokyo
For your convenience, here is a list of hotels in Tokyo. Please consider booking your Tokyo accommodations through the included link. It costs nothing extra and helps support this website. Thank you!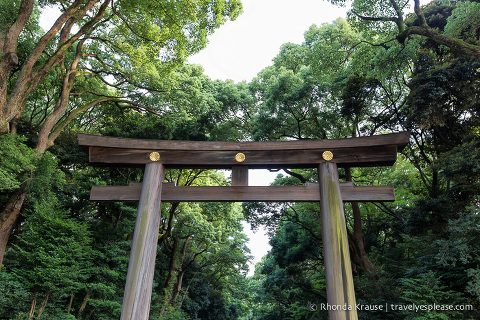 More Tokyo Attractions and Travel Guides