Purchases made through links earn us a small commission, at no extra cost to you.
Away from the busy crowds and ultra-modernity of central Tokyo sits Nezu-jinja, one of Tokyo's oldest shrines. Hidden among tall trees and lush azalea bushes, Nezu Shrine is a place where you can experience the tranquility of nature and recall the traditions of old Tokyo.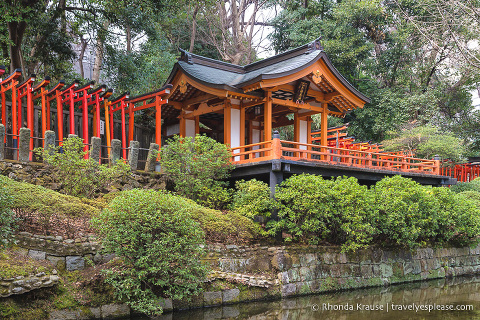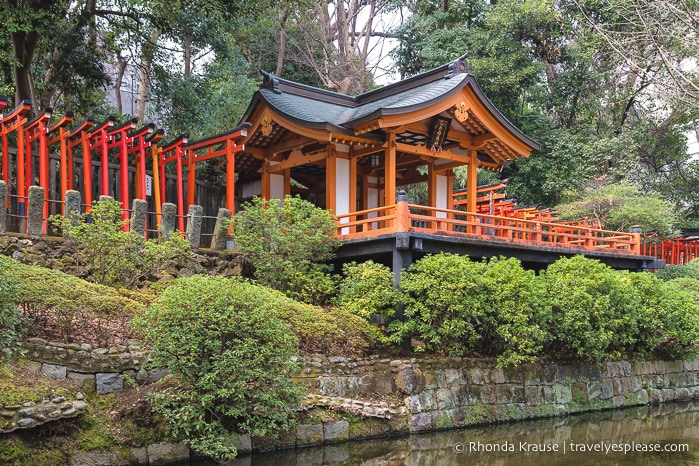 As I wandered around Nezu Shrine, I felt like I had discovered Tokyo's best kept secret, a hidden gem that gets overlooked in favour of larger, more famous places of worship in Tokyo like Meiji Shrine and Senso-ji Temple.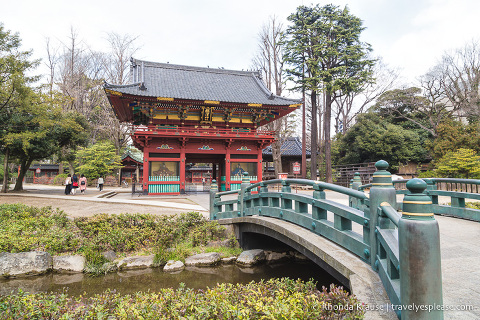 But perhaps being underrated is what makes Nezu Shrine so special.
Since Nezu Shrine wasn't mentioned in both my guidebooks, there were few other foreign visitors. I was able to enjoy the secluded setting in peace and witness locals coming to pray, rather than see of throngs of tourists endlessly posing for photos. However, I expect this might not be the case during the Azalea Festival in April, when the hillside of bushes blooms into vibrant pinks and purples.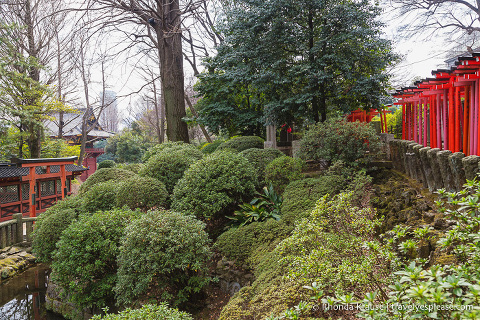 Even on a regular day, Nezu Shrine is worth visiting. The beautiful setting and pleasant, low-key atmosphere made it one of my favourite shrines to visit in Japan!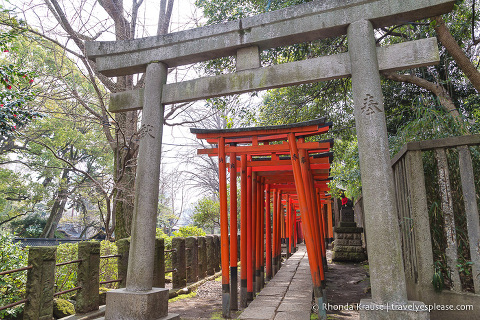 About Nezu Shrine- History and Architecture
Nezu Shrine was established in its current location in 1705, but legend holds that the shrine dates back to the 1st century when it was founded by Yamato Takeru (Prince Osu) in Sendagi, just north of its present site.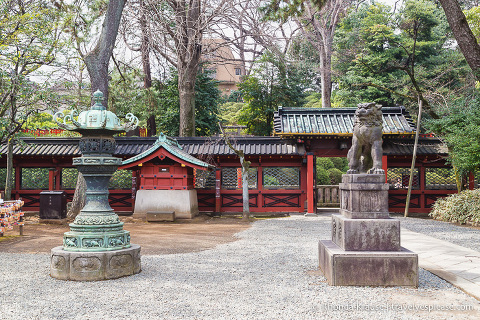 The shrine was relocated to the Nezu area by shogun Tokugawa Tsunayoshi to mark the occasion of him choosing his nephew, Tokugawa Ienobu, as his successor. In 1706, new buildings were constructed in the Ishinoma-zukuri, or Gongen style, taking inspiration from the gilded Toshogu Shrine in Nikko.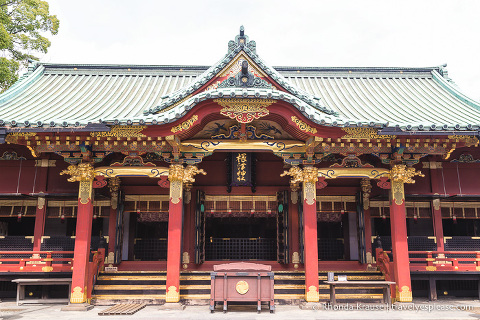 Nezu Shrine's status was further elevated in the 19th century when Emperor Meiji moved his residence from Kyoto to Tokyo, sending envoys to Nezu-jinja to intercede with the gods on his behalf.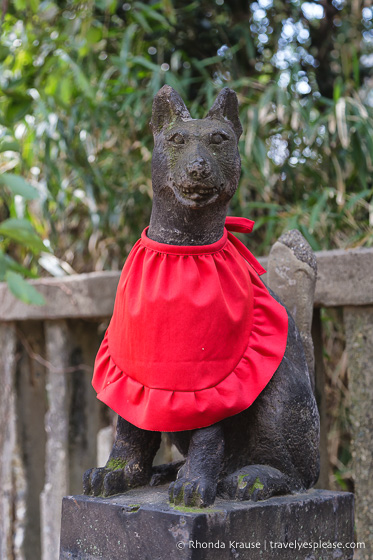 During the air raids of World War II, Nezu Shrine escaped the devastation that led to much of Tokyo being rebuilt, making it one of the oldest shrines in Tokyo. Several structures at Nezu Shrine have since been designated Important Cultural Properties of Japan.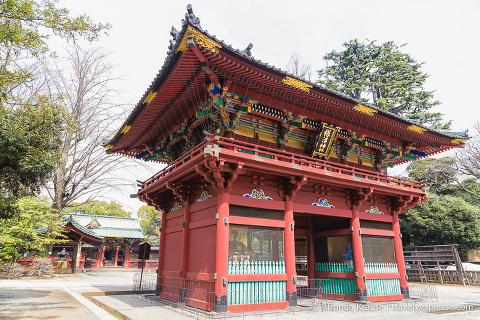 Exploring Nezu Shrine- Features and Points of Interest
I started my visit to Nezu Shrine at the north entrance, passing by some secondary shrines on my way to the main buildings. Here's a look at what there is to see at Nezu Shrine.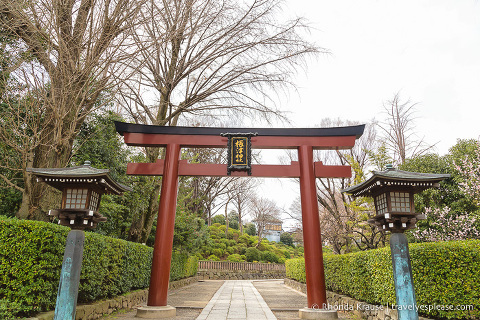 Otome Inari Shrine and its Tunnel of Torii Gates
It was a picture of Otome Inari Shrine that first inspired me to visit Nezu-jinja.
This small secondary shrine is scenically positioned above a koi pond surrounded by dense greenery. The contrast between its vermilion viewing platform and vibrant green bushes make it the most photogenic spot in Nezu Shrine.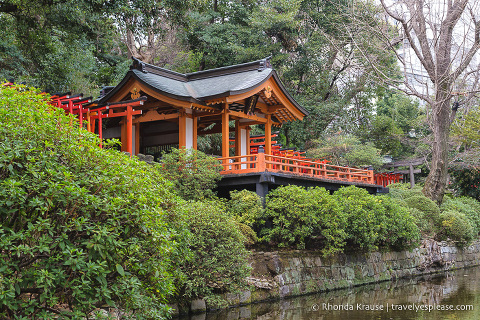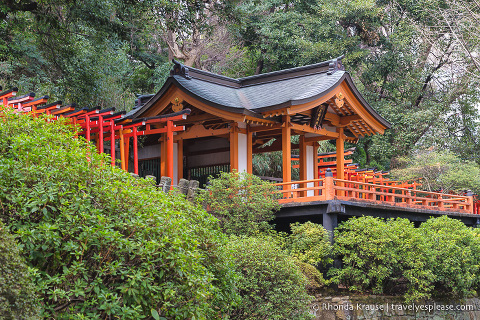 One of the main features of Nezu-jinja is the path of torii gates leading from Otome Inari Shrine. While significantly smaller than Kyoto's famous tunnel of torii at Fushimi Inari Shrine, it was still fun to wander underneath these special gates towards the main shrine precinct.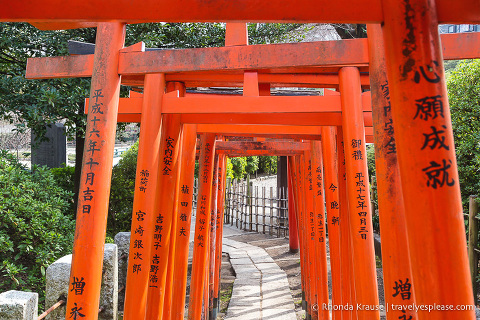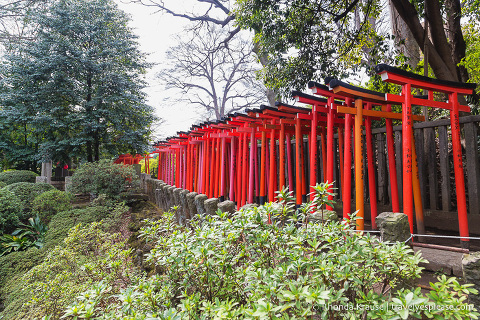 Azalea Garden
There are over 3,000 azalea bushes of numerous varieties covering a hillside near the torii path at Nezu Shrine.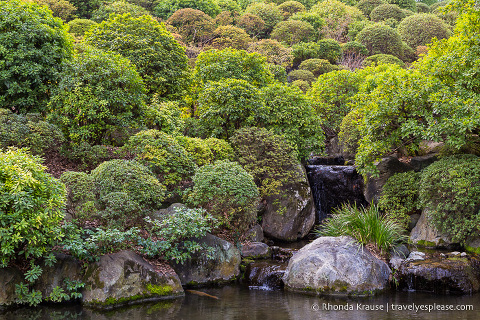 The azalea garden at Nezu Shrine draws a lot of visitors from early April- early May, when the flowers are in bloom, but even without their bright colours, the shrubs still enhance the beauty of Nezu Shrine.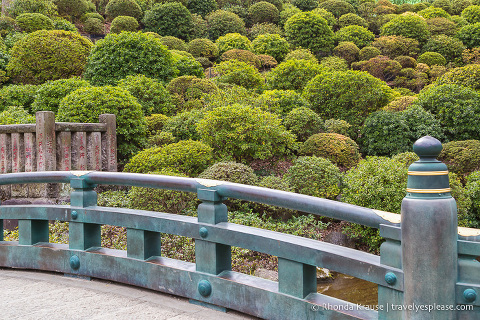 Romon
The most striking gate at Nezu Shrine is the two-storied romon.
Looming large between a little bridge and the shrine's main hall, the gate features two statues of zuishin, kami warrior guardians holding bows and arrows. The plaque above its passageway reads Nezu-jinja.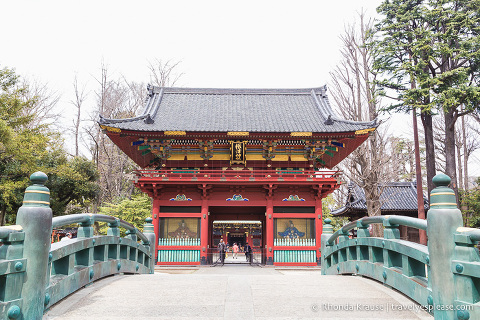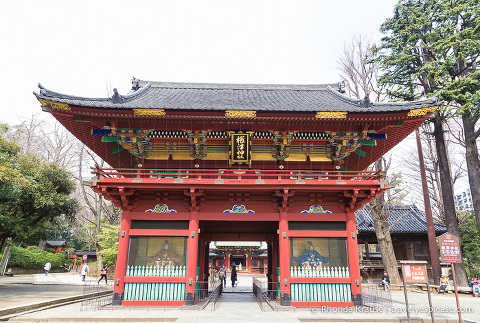 Karamon and Sukibei Walls
The karamon (Chinese gate) marks the entrance to the shrine's main place of worship. Attached to it is a 200 m lattice-windowed wall, known as a Sukibei, surrounding the honden.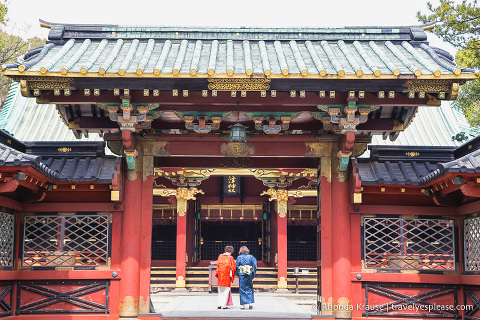 Honden
The honden is the main hall and most sacred building at Nezu Shrine. It contains the worship hall (haiden) and offertory hall (heiden).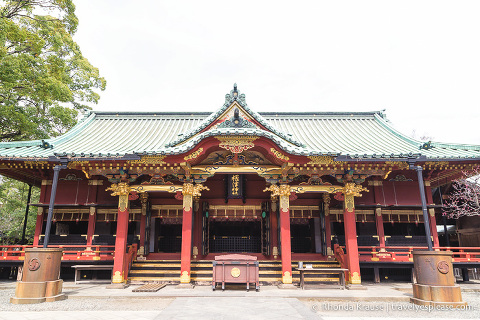 The gold details and bright colours painted on the hall are eye-catching, especially the golden dragons perched across the pillars.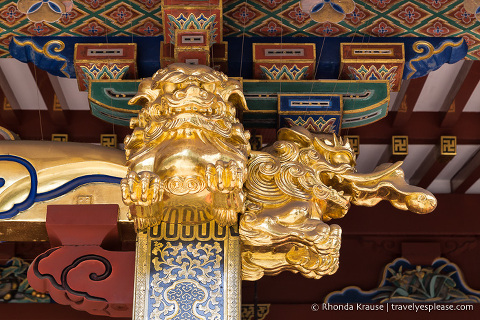 Many locals stopped to worship here as they were passing through the shrine grounds. Some even wrote wishes on wooden plaques, called ema, and left them hanging inside the shrine for kami (spirits or gods) to receive.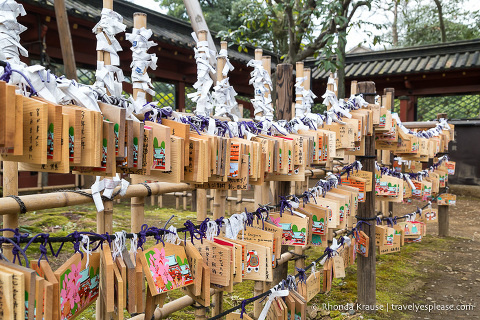 Final Thoughts About Visiting Nezu Shrine
Tokyo can be exhausting for an introvert like myself, but Nezu Shrine was a fantastic place to retreat from the congestion and modern day hustle and bustle.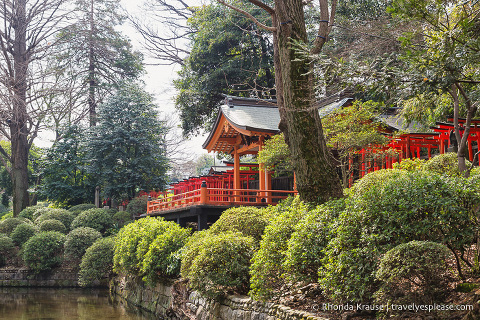 It was relaxing to hang out by the ponds, watching fish and turtles swim, and equally satisfying to be surrounded by classic Japanese architecture in a city of skyscrapers.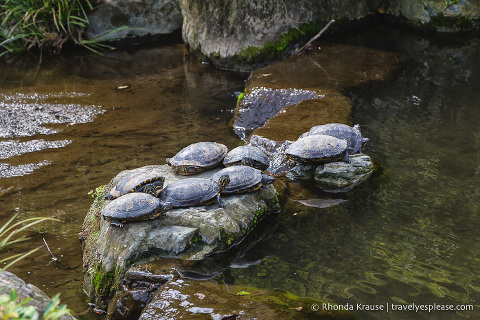 At Nezu-jinja, I felt like I had an authentic experience, getting a glimpse into old-world Tokyo and the daily rituals of the local people.
If you're looking to visit less crowded, more traditional places in Tokyo, then Nezu Shrine is worth including in your Tokyo itinerary.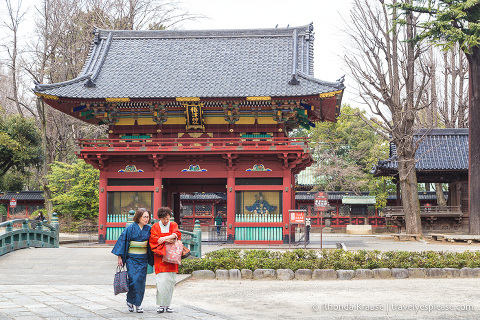 Photos of Nezu Shrine
Here are a few more pictures of Nezu-jinja, one of the most beautiful shrines in Tokyo!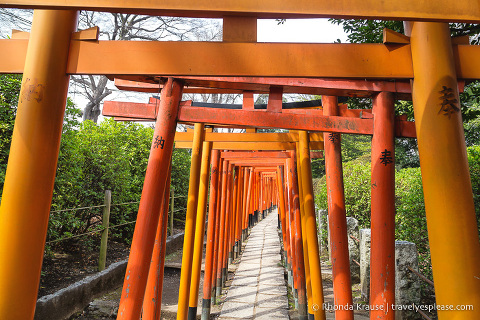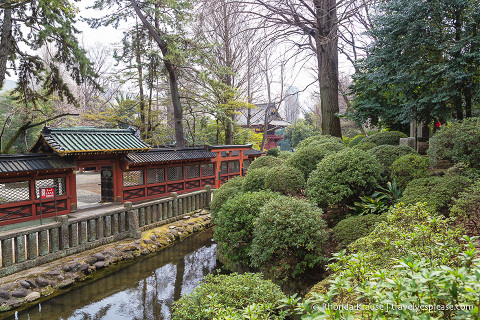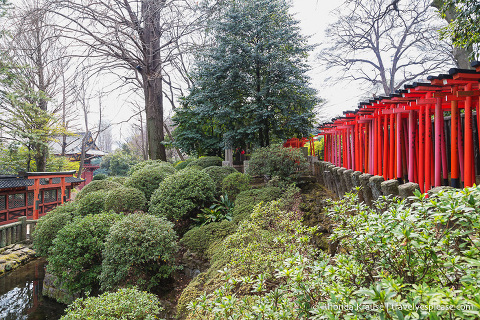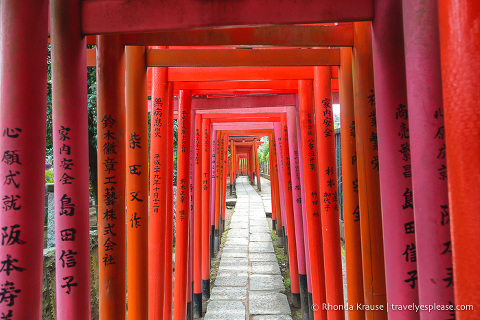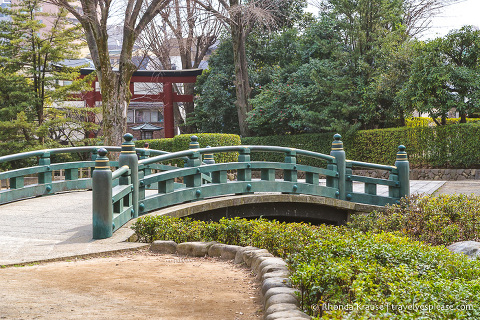 Tips for Visiting Nezu Shrine
Location: Nezu Shrine is located in the historic Yanesen area of Tokyo (short for Yanaka, Zezu, and Sendagi), in the Bunkyo ward. The shrine is not far from Ueno Park.
Getting There: Nezu Shrine can be reached by subway on the Chiyoda Line. From Nezu Station (Exit 1) it's a 5-7 minute walk to the shrine's south entrance and from Sendagi Station (Exit 2) it's an 8-10 minute walk to the north entrance.
You can also take the Namboku Line to Todaimae Station. From Exit 2, it's about a 6 minute walk but not as straight forward as the previous two options.
I walked to Nezu-jinja from Ueno Park in about 20 minutes.
Admission: It's free to visit Nezu Shrine.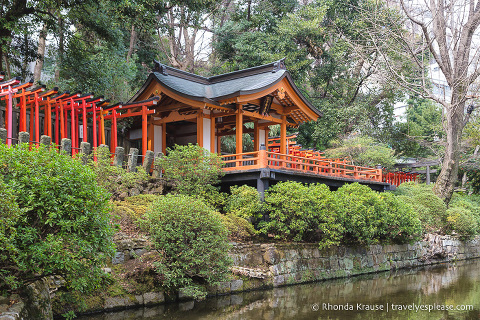 Tours of Nezu Shrine
If you'd like to visit Nezu Shrine with a guide, here is a walking tour of Yanaka that includes a visit to Nezu Shrine.
Accommodations in Tokyo
For your convenience, here is a list of HOTELS IN TOKYO. Please consider booking your Tokyo accommodations through the included link. It costs nothing extra and helps support this website. Thank you!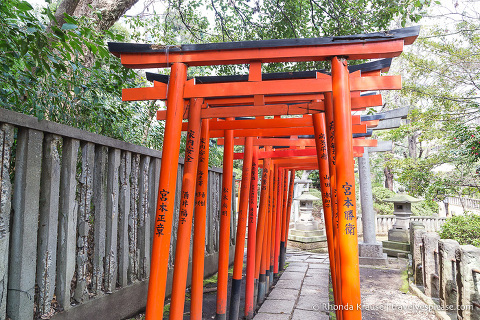 More Tokyo Attractions and Travel Guides