Purchases made through links earn us a small commission, at no extra cost to you.
Valley of Fire State Park is known for its astonishing rocky landscape and there's no better trail to experience the diversity of its beauty than White Domes Loop.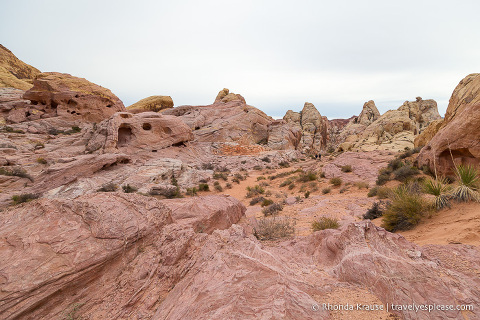 During our hike on White Domes Trail, we walked in the shade of towering sandstone formations, passed through a small slot canyon, and marveled at colourful rock layers.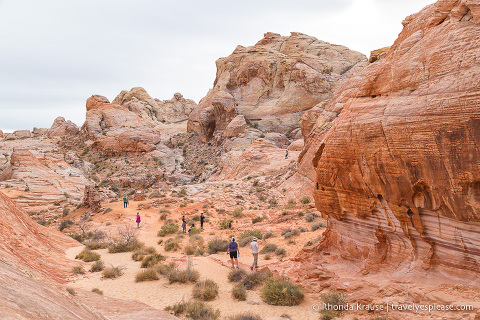 The variety of scenery on White Domes Loop made it the most geologically interesting and enjoyable hike we did during our visit to Valley of Fire State Park.
About White Domes Loop- Valley of Fire State Park, Nevada
White Domes Loop is located at the end of White Domes road, near the day use area. The trail is 1.8 km (1.1 mi) and is a mix of soft sand, packed soil, and a few rocky sections. Apart from a descent at the beginning of the trail, the rest of the hike is relatively easy with gradual elevations changes. Round trip, White Domes Loop takes about 30 minutes to complete.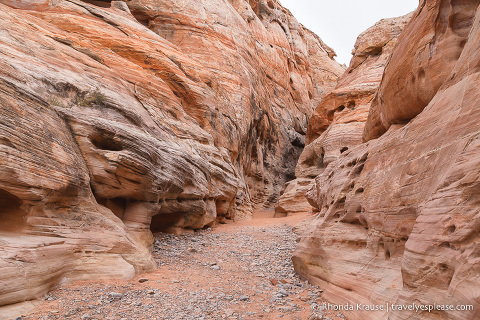 Hiking White Domes Trail- Our Experience
Our White Domes hike started from the unmissable tan-coloured rock formation overlooking the trailhead. An impressive preview of what was to come, I excitedly walked as fast as I could through the loose sand towards the crest ahead.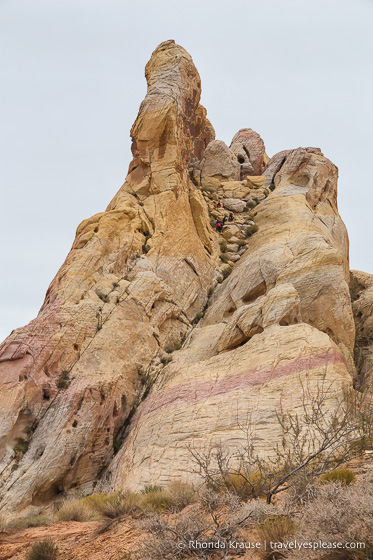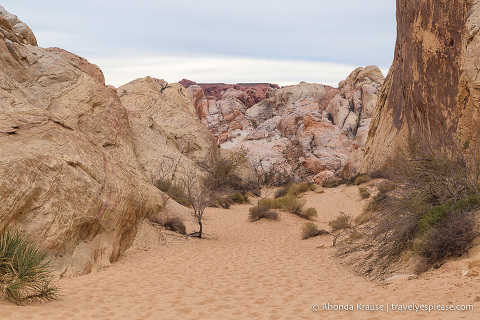 Soon, I was standing in awe at the wide view of domes and ridges spread out before me. There were so many colours in the rocks- oranges, yellows, pinks- that it looked like a work of art.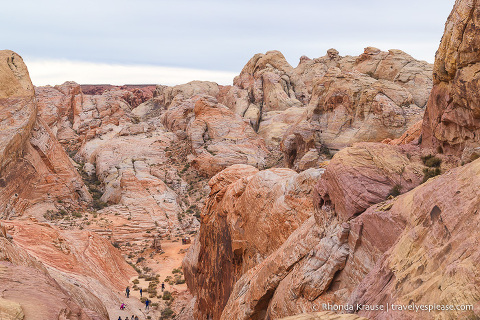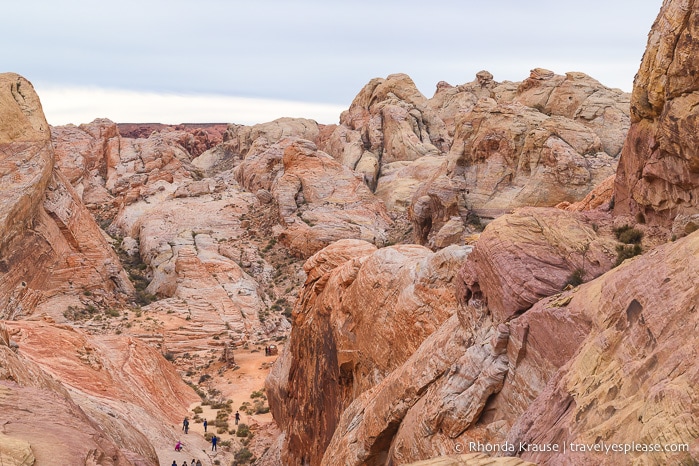 As we walked down to the desert floor, navigating natural stone steps tucked into a little valley of rock, more and more geological features came into view. We even passed by a natural arch in the rock wall.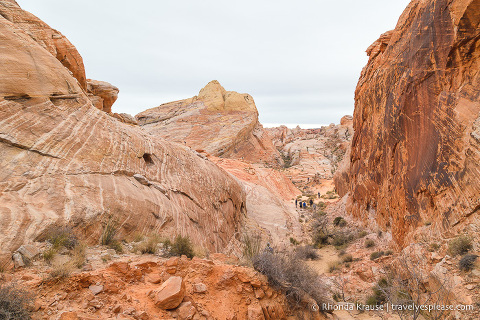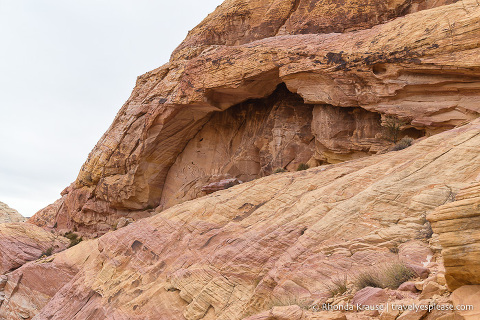 At the bottom of the hill, we walked towards the ruins of an old stone wall. Wood beams were sticking out of plaster and rocks and I wondered why this wall was here.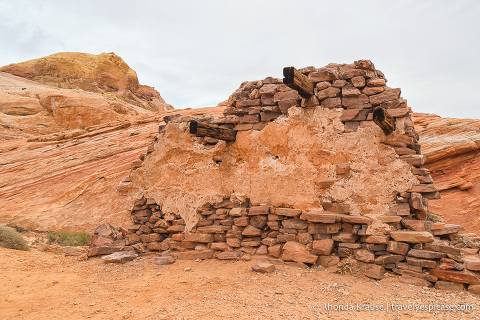 A sign nearby explained that the "ruins" were actually a set piece from the 1966 movie The Professionals. I was a little disappointed that the ruins were fake and not historically significant, so quickly resumed our hike on White Domes Loop.
Beyond the film set, the trail turned right onto Kaolin Wash before coming to the entrance of a short slot canyon.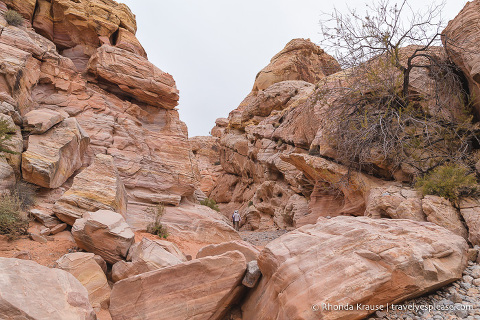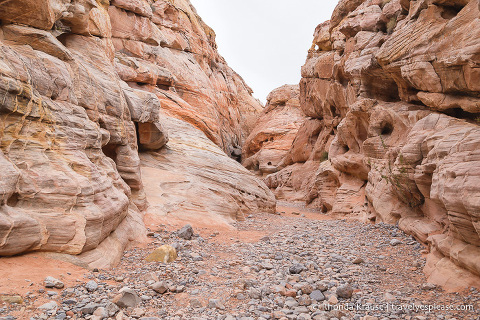 Moving into the canyon, the path became more and more narrow until the tall walls were just a few feet apart. The slot canyon wasn't as colourful or deep as other slots we've visited (especially Antelope Canyon in Arizona) but it was still fun to wander through and see the lines and contours from water erosion.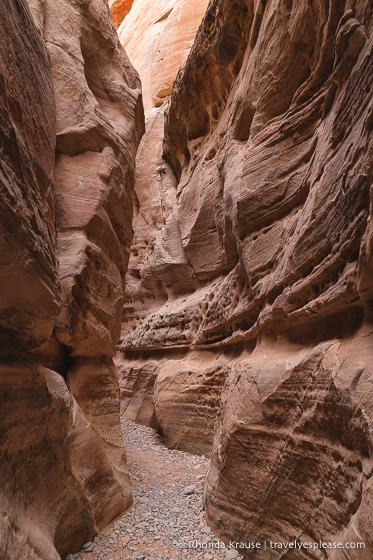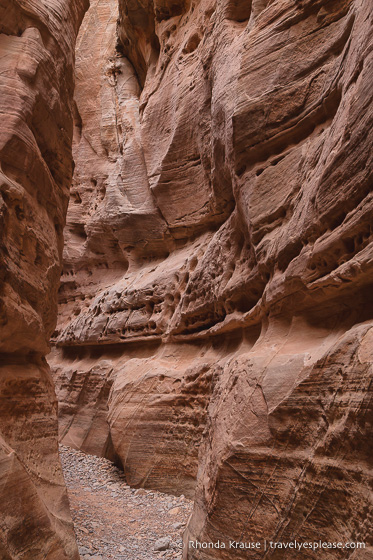 After exiting the narrows, we were in a wide area framed by more intriguing rock formations. We took our time on this part of the hike, appreciating all the shapes, textures, and layers of colour in the rocks.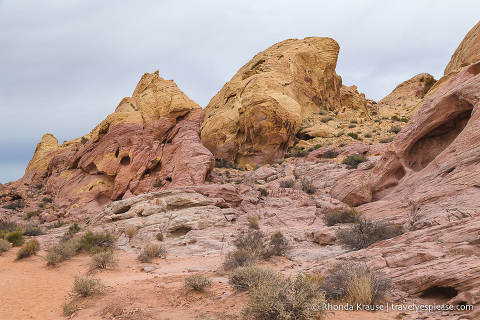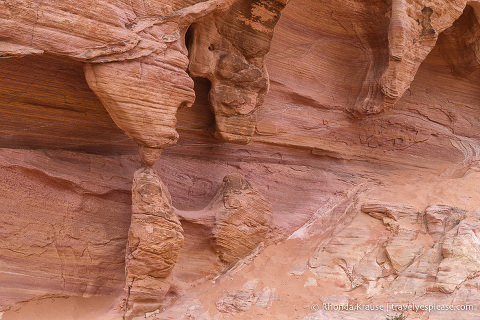 Soon my imagination was active and I started to see different animal figures shaped from stone. I even noticed a formation similar to the famous Elephant Rock that's near the east entrance of the park.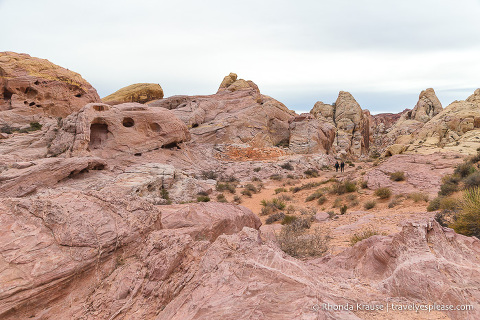 As we approached the final leg of the trail, a ridge of fiery red sandstone appeared in the distance. It was a beautiful vista to enjoy before the trail turned right and headed through a gap in the sandstone.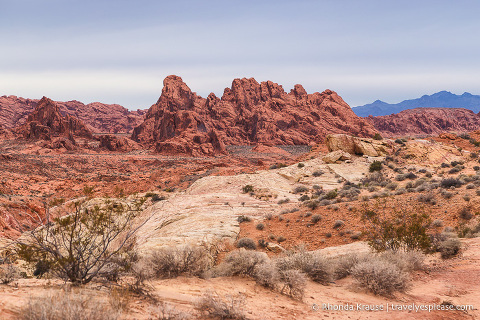 As we followed the trail along White Domes Road, I was sad that our hike was already over. For such a short trail, White Domes Loop had an impressive variety of scenery. I almost wanted to hike it again to see what interesting things I would notice the second time around!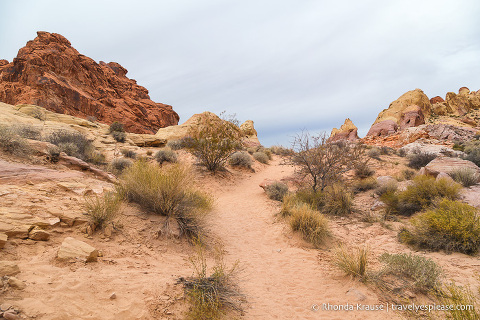 Final Thoughts About the White Domes Hike
White Domes Loop was our favourite hike in Valley of Fire State Park and a great addition to our road trip in the southwest USA.
The trail perfectly showcased Valley of Fire's complex geology and was engaging from start to finish. If you only have time to do one hike in Valley of Fire State Park, it should definitely be White Domes Loop!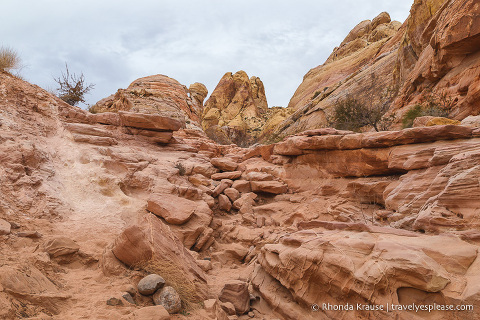 Tips for Hiking White Domes Trail
Location: White Domes Trail is in Valley of Fire State Park, Nevada (USA). The trailhead is at the end of White Domes Road (also called Mouse's Tank Road).
Best Time to Hike White Domes Loop: The White Domes hike is best done in the morning or late afternoon/early evening when the sun isn't too hot and the trail is less busy. The parking lot fills up fast due to the popularity of the day use area and trail.
Facilities: There are toilets and picnic tables at the trailhead.
Gear/What to Bring: Bring plenty of water and sun protection since there are few shaded areas on the trail.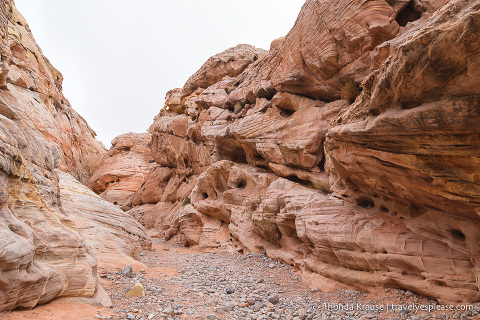 Accommodations Near Valley of Fire State Park
For your convenience, here is a list of HOTELS IN LAS VEGAS. Please consider booking your Vegas accommodations through the included link. It costs nothing extra and helps support this website. Thank you!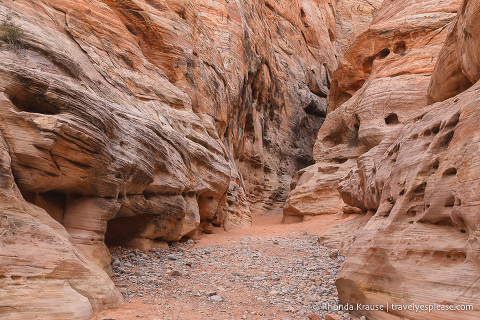 More United States Destinations and Travel Guides