Purchases made through links earn us a small commission, at no extra cost to you.
Last year, Travel Supermarket launched a photo contest for travel bloggers called Capture the Colour. It was so successful, that this year they are doing it again.
I had never heard of this contest before and just started our blog a few months ago, so when I was nominated to participate by fellow Edmontonian and travel blogger Alouise, of Traveler Ahoy, I was thrilled!
We just got back from our honeymoon, so our entries are pictures from our five week trip to Europe.  It was so hard to decide which ones to post, but we were able to narrow it down (we already have some in mind for next year's contest!) Here are our favourites that showcase the colours red, white, green, yellow and blue. Enjoy!
Red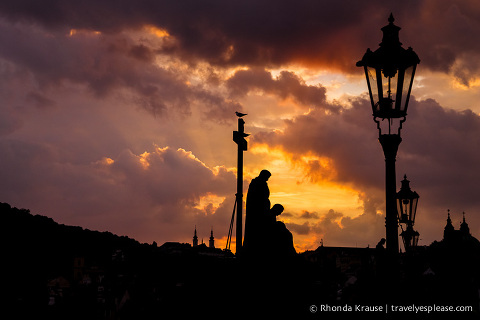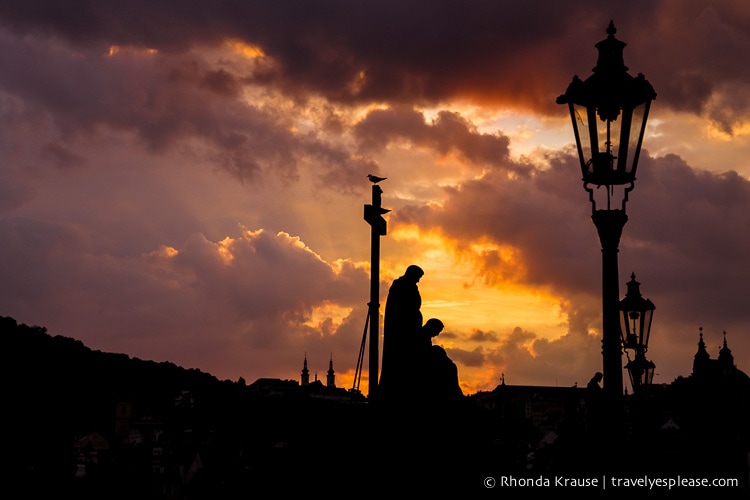 This photo was taken our first night in Prague. We were walking back towards Prague's Old Town Square, when I looked back and saw the setting sun positioned beautifully between the statues and light post. If you've ever been to Charles Bridge, you know that it is very crowded, so I had to wait (anxiously) for the people in front of me to move, all the while hoping the bird on the cross didn't fly away. As soon as the people were out of frame I pressed the shutter button and voila- a gorgeous sunset and silhouetted shapes of Charles Bridge!
White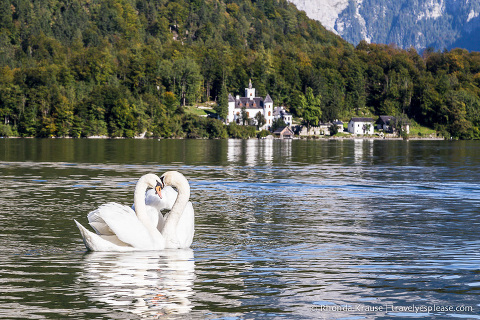 This photo was taken on Hallstatt Lake, in Austria. We were out cruising around in a little electric boat we rented, enjoying one of the few days of sunshine we had on our trip, when we saw two swans swimming towards each other. Soon, they were doing what I called a "love dance".  I quickly snapped a few shots from the rocking boat and was so happy when I caught a photo of them with their heads together in the shape of a heart. Looks like Mike and I weren't the only two lovebirds enjoying the lake that day!
Green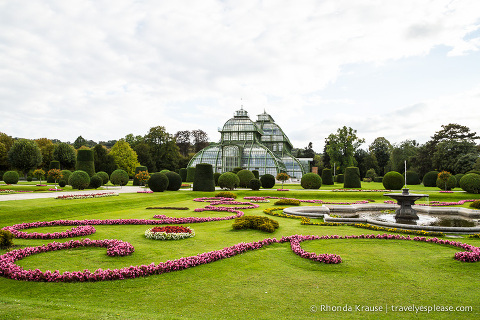 I love gardens, especially the impeccably designed and manicured ones in Europe. They were one of my favourite things to photograph on our trip. This garden is in Vienna, at the park that surrounds Schonbrunn Palace. I loved how the bright greens and pinks brought some colour and vitality to an otherwise grey, rainy day.
Yellow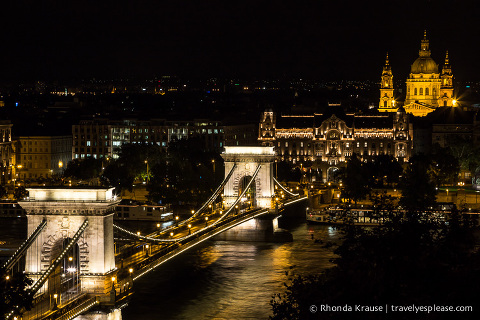 I had such a hard time choosing a photo for yellow, my favourite colour. In the end I went with this photograph from Budapest. Budapest is such a gorgeous city at night, all the bridges, important buildings and monuments are awash in a yellow radiance. We really love this photo not only because of the golden glow, but because of our vantage point. We love that the photo has depth- the line of the Chain Bridge leads your eye through the photograph directly to Gresham Palace and then onto St. Stephen's Basilica in the distance.
Blue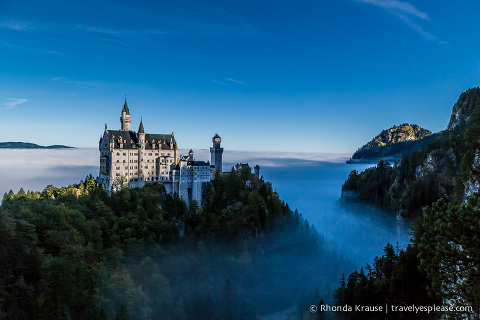 If I could have only had one photograph from our trip, I wanted one of Neuschwanstein Castle. It is such a beauty in a fairy-tale like setting, it's no wonder it was the inspiration for the castle in Sleeping Beauty. However, getting this photograph was not easy.
The first day we went to Neuschwanstein, I was devastated when we got to the viewing bridge and the castle was completely covered in thick fog. I couldn't see it at all (and that's not an exaggeration!) The next morning, the fog was still so thick we couldn't even see out our hotel window. We decided to make our way up to the castle again anyways, thinking that maybe because the fog was so low, it would be clear up in the mountains.
We started speed walking up the mountain as fast as we could, powering through the burning in my calf muscles, to try and beat the rising fog to the top. Soon we were up above the fog and could see the mountain tops peeking through the clouds. It was a beautiful sight but we didn't stop to admire; we still had to hurry a little further to the castle. When we got to the bridge, I saw the castle in its entirety and, no joke, almost cried! It was so spectacular and I was so relieved that we decided to race up here so I could get the picture I was hoping for.
Seeing the fog in this picture rising up through the valley, will always remind me of what an adventure it was to get this photo. We were at the right place at the right time- not long after the castle was once again concealed by the mist.