Purchases made through links earn us a small commission, at no extra cost to you.
On our first day in Vienna, we jumped right in and set off to Schönbrunn Palace, looking to experience the imperial nostalgia Vienna is famous for.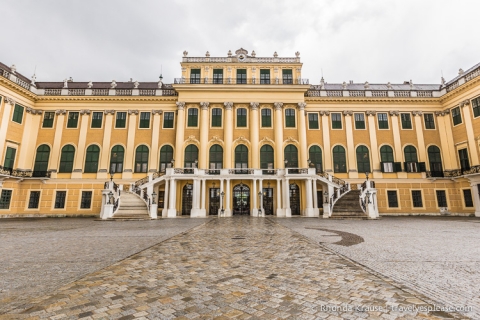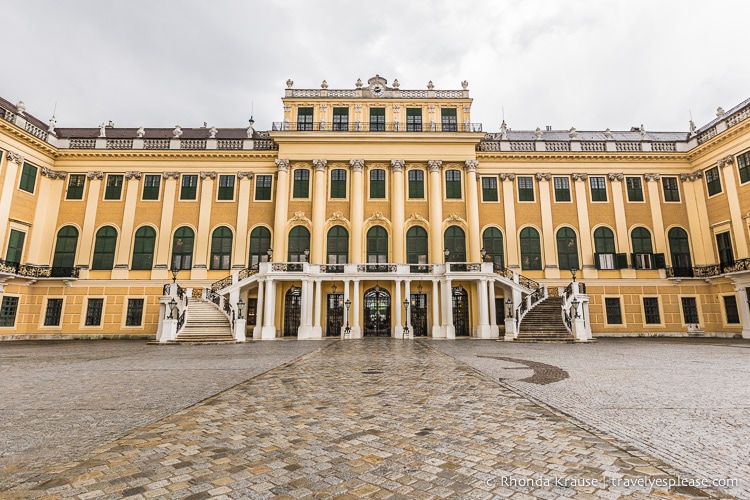 Schönbrunn Palace is a UNESCO World Heritage Site and Austria's most visited tourist attraction. For centuries the palace served as the summer home of the Habsburgs, and to this day reflects the interests and tastes of the Habsburg monarchs. Schönbrunn is considered to be one of Europe's most impressive Baroque palace complexes and Austria's most significant cultural monument.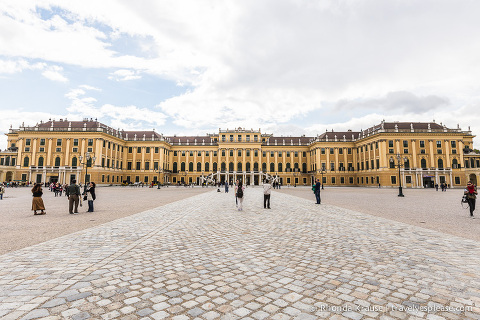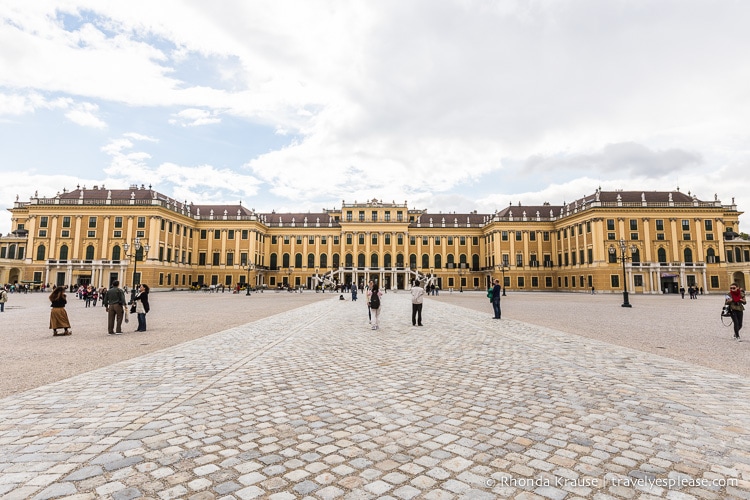 History of Schönbrunn Palace
The Schönbrunn estate came into Habsburg possession in 1569 through Maximillian II. It passed to many successors, who did little more than use it as a hunting ground.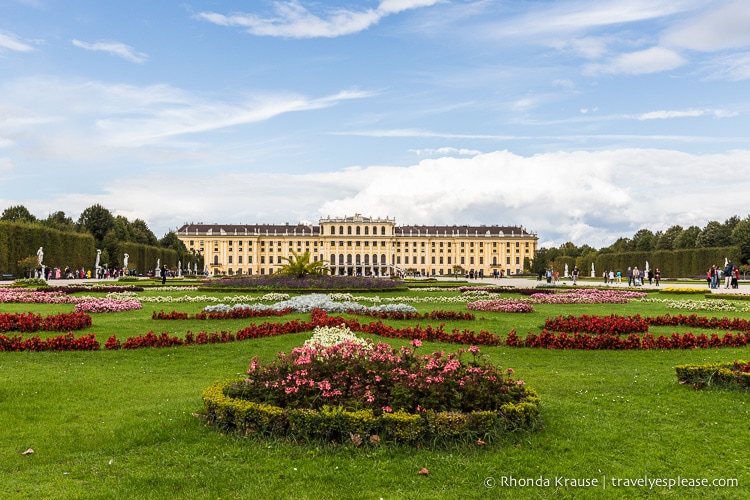 The creation of Schönbrunn Palace can be attributed to Emperor Leopold I. In 1693, he commissioned Baroque architect Johann Bernhard Fischer von Erlach, to build a grand hunting lodge for his son, and heir to the throne, Joseph I. Unfortunately, Joseph died suddenly in 1711 before the palace was completed, halting construction for many years.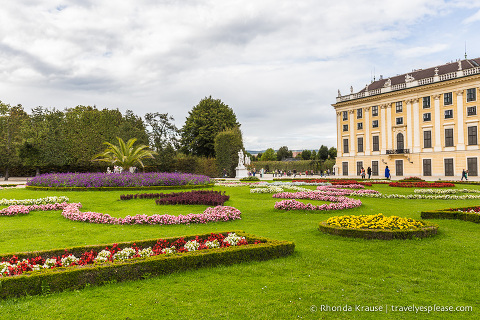 The unfinished palace became the dower residence of Joseph's widow, Wilhelmine Amalie, until Emperor Charles VI acquired Schönbrunn in 1728. Eventually, Charles gifted the palace to his daughter Maria Theresa, who had a fondness for the palace and its gardens.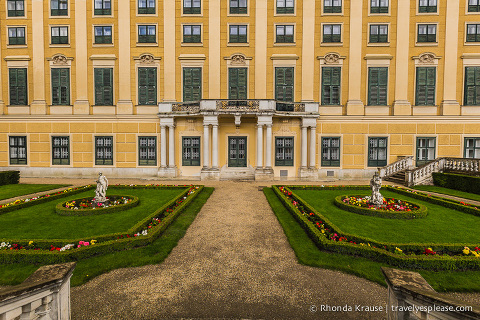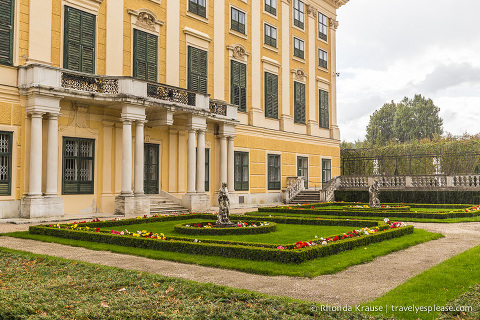 Under Maria Theresa's influence, Joseph I's hunting lodge was extended into a palatial residence. Schönbrunn Palace soon became the focus of court and political life. Since then, the palace has hosted many of Europe's leading statesmen.
Ownership of Schönbrunn Palace was passed to The Republic of Austria at the end of the monarchy in 1918.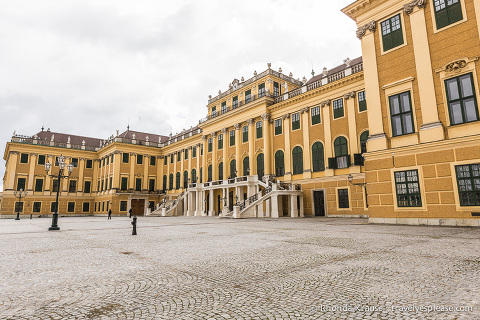 Our Visit to Schönbrunn Palace
We decided to purchase the Classic Pass which included the "Grand Tour" of Schönbrunn Palace. We wandered through 40 authentically furnished rooms, including the state rooms and private apartments of Franz Joseph and his wife Elizabeth, or Sisi as she was commonly called.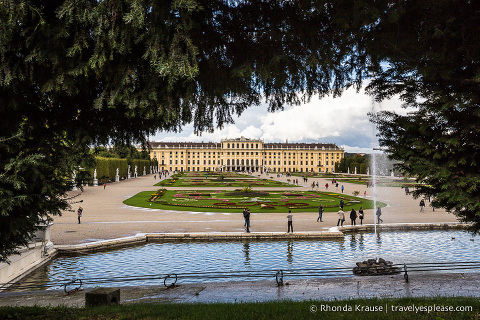 As we expected, many of the rooms were luxurious, but some were surprisingly unassuming. The audio guide said that Franz Joseph liked to live more modestly than other royals.
As we were walking around Schönbrunn Palace, we couldn't help but compare it to the Palace of Versailles. Mike kept calling it a "mini Versailles" but didn't seem as impressed with it as he was Versailles.
I thought the palace was nice, but noticeably less extravagant than Versailles. It's actually strange I thought that because the most interesting room for me was called the "Millions Room". The entire room was covered with rare Palisander wood panelling, decorated with 60 Rococo cartouches. The cartouches framed Indo-Persian miniatures, showing scenes from the life of Mongol rulers in India. It was quite unique!
Another stand-out room we saw during our tour of Schönbrunn Palace was the Great Gallery, a 40 metre long Rococo hall that was used for banquets, balls and receptions. The gallery was decorated with crystal mirrors, ceiling frescos, and golden chandeliers. The tall windows lining the hall gave the room some extra sparkle!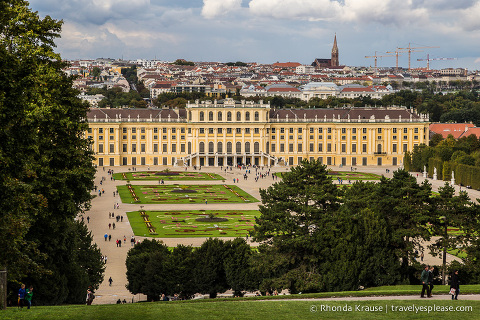 While our visit was pleasant, and the interior was beautiful, the palace didn't leave too much of a lasting impression. Maybe it's because we'd already visited some palaces on this trip to Europe. Or maybe it's because I wasn't allowed to take pictures, which always disappoints me and sometimes even makes me a bit grumpy.
After our tour of the palace we went to explore the Schönbrunn gardens. Gardens are always my favourite part of palaces!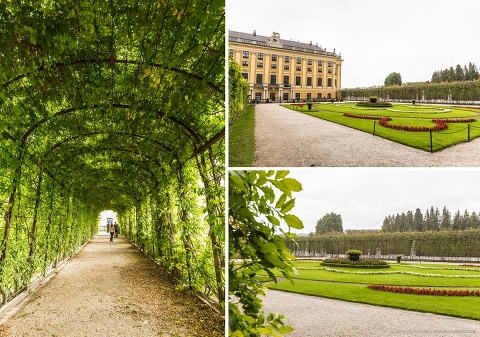 Schönbrunn Gardens
The public was first welcomed to the park at Schönbrunn Palace around 1779. It's a large area (1.2 kilometres east to west and one kilometre north to south) with many different features, making it the perfect recreational area for both visitors and locals.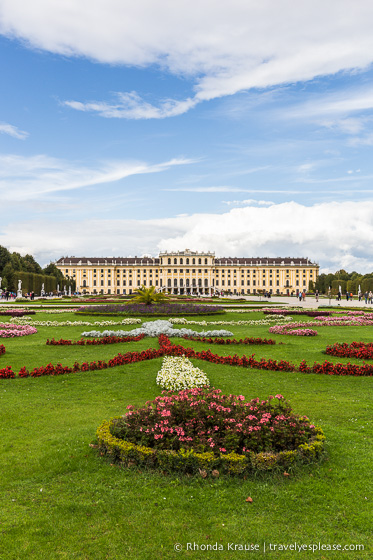 The palace looks out onto a wide pathway, called the Great Parterre. The gravelled path is broken up by eight sections of manicured, symmetrical gardens, known as the Crown Prince Garden.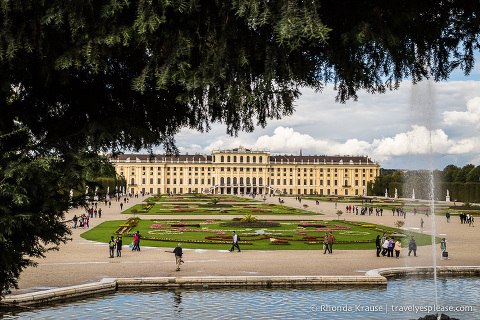 At the end of the walkway is the crowning element of the Great Parterre- the Neptune Fountain.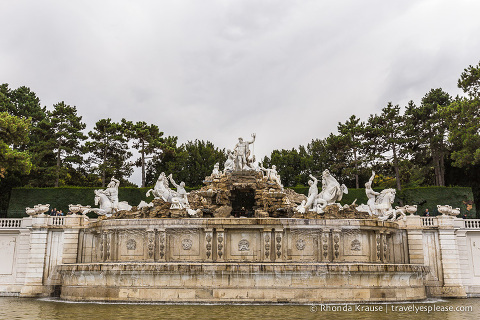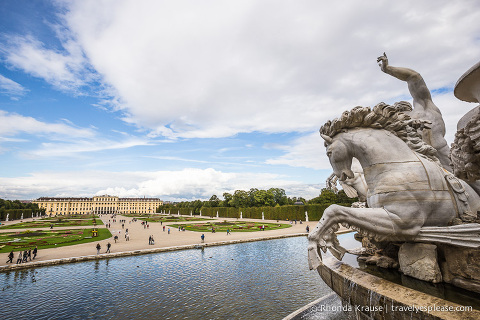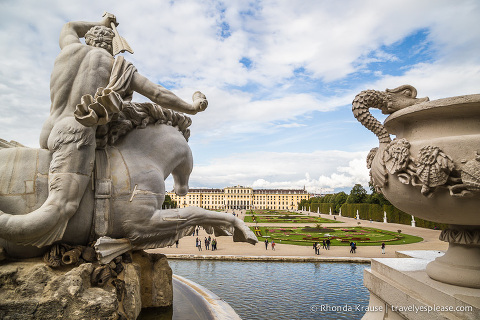 Beyond that, you'll see a vast, sloping lawn leading the way to the Gloriette. Go up to the top and you'll be rewarded with a great view of the palace and city.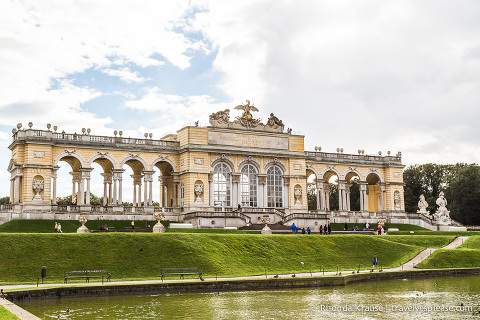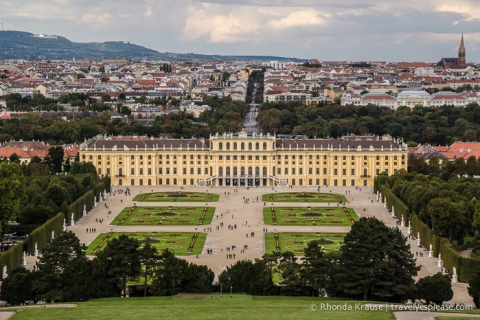 If you decide to explore beyond the immediate vicinity of the palace, you'll find many smaller gardens, fountains and statues. There's even a hedge maze and the world's oldest zoo!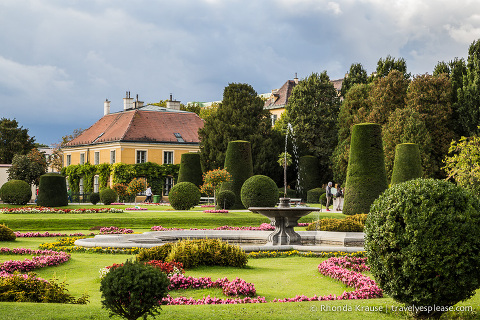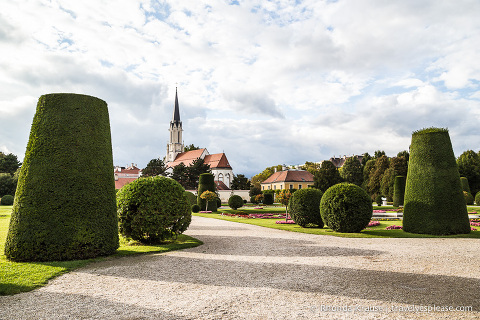 My personal favourite, however, was the Palm House. We didn't go in, but I just loved its unique construction and impressive design. Very elegant looking!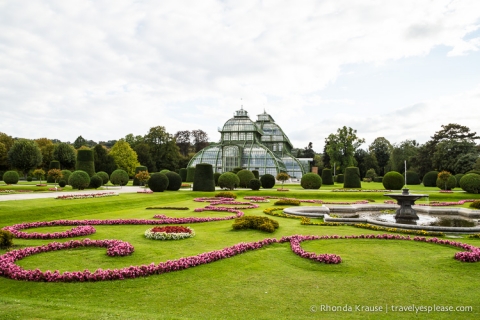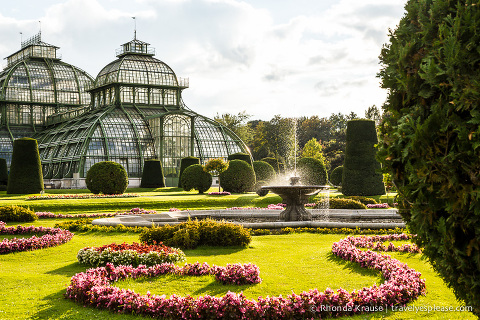 Interesting Facts About Schönbrunn Palace
During our tour of Schönbrunn Palace, we heard some interesting stories and facts about the palace.
The Schönbrunn Palace has 1,441 rooms.
Schönbrunn means "beautiful spring", named after the artesian well from which the court got its water.
Emperor Franz Joseph was born in the palace in 1830. In 1916 he also died there, in his bed, at the age of 86.
Mozart's first concert, at the age of 6, was given for Empress Maria Theresa at Schönbrunn Palace

.

In 1961, the legendary meeting between John F. Kennedy and Nikita Khruschev (Vienna Summit) took place in the palace's Great Gallery.
The palace and gardens were inscribed by UNESCO as a World Heritage Site in 1996.
Eight million people visit Schönbrunn Palace, park and its attractions each year.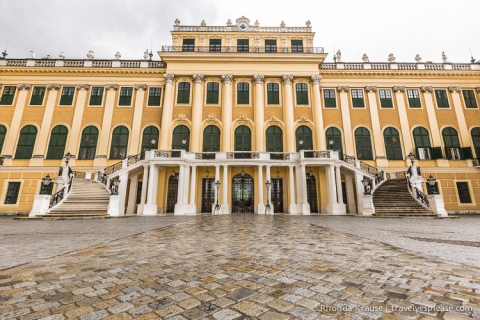 Tips for Visiting Schönbrunn Palace
Tours and Tickets: There are many different tours and ticket options available depending on how much of the palace you want to see. All tours come with an audio guide. Tickets can be bought in advance online.
When you purchase your ticket you will be assigned an entrance time. I was quite impressed with how the entrances were staggered every few minutes, as this prevented huge crowds of people trying to push through the rooms all at the same time.
The Vienna Card will give you a small discount on the price of admission.
If you only want to visit the park you can do so free of charge during opening hours, but special attractions in the garden require individual tickets.
Opening Hours: The palace is open daily, including on public holidays. Current opening times can be found here.
Last admission is 45 minutes before closing time.
Park gates open daily at 6:30 am. Dogs are not allowed in the park.
Restaurants: There are several cafes and restaurants on the property, including one in the Gloriette.
Concerts: The Schönbrunn Palace Orchestra puts on concerts at the Orangery, where Mozart performed in 1786. The concert includes music by Mozart and Strauss along with dance and vocal performances.
Illumination: The palace and Gloriette are illuminated from dusk until 10:00 pm.
*Information was updated November 2021, but can change without notice. Please confirm directly with the venue.
Accommodations in Vienna
For your convenience, here is a list of hotels in Vienna. Please consider booking your Vienna accommodations through the included link. It costs nothing extra and helps support this website. Thank you!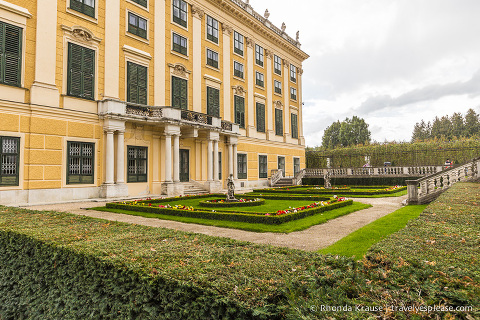 More Austria Destinations and Travel Guides