Purchases made through links earn us a small commission, at no extra cost to you.
After visiting Tokyo's Sensoji Temple, we walked through the Asakusa district towards the Sumida River. Arriving at the riverbank, we were met with this view of unique and intriguing architecture.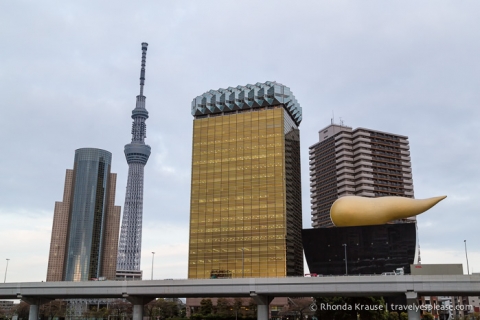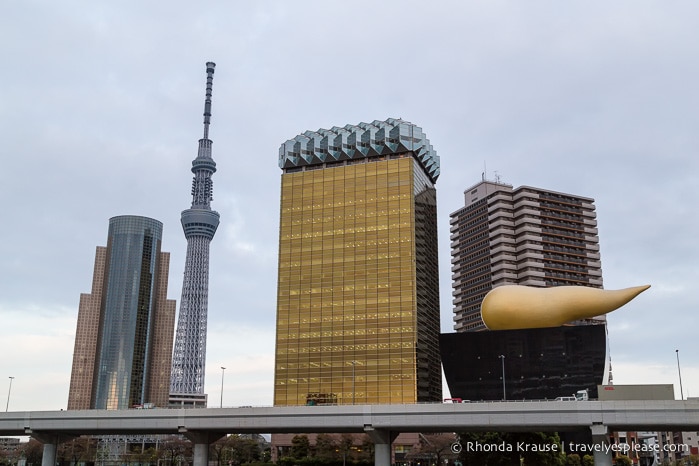 On the left, is one of Tokyo's most modern and well known landmarks, the Tokyo Sky Tree. On the right, is a more perplexing structure that had us immediately wondering, "Why does that building have a golden sperm on the roof?"
Well, not-so surprisingly, that's not a golden sperm (nor a golden "turd" as the locals call it). It's a flame and it prominently tops the smaller of the two Asahi Breweries buildings. The taller building next to it resembles a jug full of beer, topped with a white "foam" roof.
Initially we didn't know that this was the Asahi Breweries headquarters, never mind see any resemblance to beer. Now that I've done some research though, I can definitely see the connection (except for the "flame", that still doesn't make sense!)
Regardless, the Asahi Breweries headquarters was the most talked about building during our 4 days in Tokyo.
More Tokyo Attractions and Travel Guides