Purchases made through links earn us a small commission, at no extra cost to you.
I took this photo early in the morning when we were racing up the hill to Neuschwanstein Castle. We were on a mission to get there before the fog rose and completely covered the castle, which was the case the day before.
I didn't stop long to admire the view, just quickly took this picture and continued to speed walk up the hill. Luckily, we outran the fog and got an amazing view of Neuschwanstein Castle before it once again was swallowed up by fog.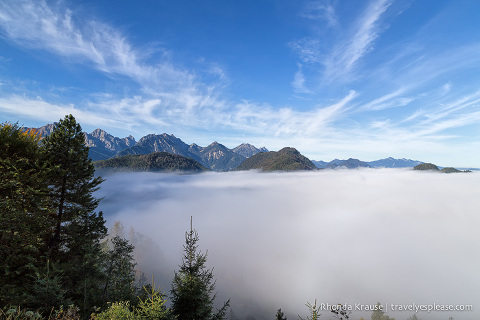 Even though the fog erased the view of Hohenschwangau Castle and the town below, I think the view we got was pretty amazing as well. I like the mountain tops peeking through the dense fog, a reminder of just how fast we had to climb that hill in order to see the castle!
More Germany Destinations and Travel Guides