Purchases made through links earn us a small commission, at no extra cost to you.
Vienna's Karlskirche, or St. Charles Church, was built from 1716-1737 after being commissioned by Emperor Charles VI.
The emperor had promised to build a church after his namesake, St. Charles Borromeo, if the Black Plague that was infecting Vienna in 1713 left the city. Borromeo was an archbishop of Milan in the 16th century who was known for healing plague sufferers, so it was fitting to build a church in his honour.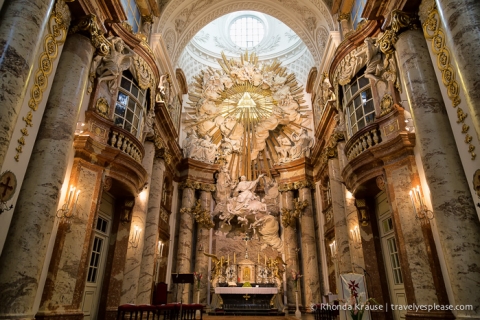 The interior of the Karlskirche is High Baroque style, built with marble and decorated with gold leaf. The altarpiece portrays the elevation of Saint Charles Borromeo to divine status.
More Vienna Attractions and Travel Guides