Purchases made through links earn us a small commission, at no extra cost to you.
A lot of cities nowadays offer tourist cards, a card you purchase that gives you discounts to popular attractions, activities, and even transportation. We've bought these cards in a few places- some are great and have saved us a lot of money, while others have not been such a good deal.
For our trip to Vienna, we decided to give the Vienna City Card a try, even though we weren't sure if the Vienna Card was worth buying. Having now used the Vienna City Card, we wanted to share our experience and review of the Vienna Card to help you decided if it's worth buying for your trip.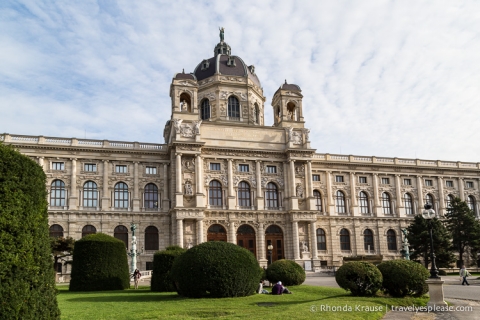 What is the Vienna City Card?
The Vienna City Card is the official Vienna Card that offers tourists free use of public transportation, plus discounts on admission fees, tours, shopping, restaurants, and shows.
The Vienna Card- Our Experience & Review
We had not done any research on the Vienna City Card before buying it. The first time I heard of it was when I was booking our hotel and saw an option to purchase it. I've used cards like this in other cities and had good experiences with them, so we went ahead and bought it without really knowing what we could get from it.
On the surface, the Vienna Card is probably the most comprehensive tourist card we've purchased. When you buy it, you get a coupon book listing more than 200 discounts/benefits available to Vienna Card holders. There were discounts for museums, tours, concerts, cafes and shops.
Wow! Sounds great, doesn't it?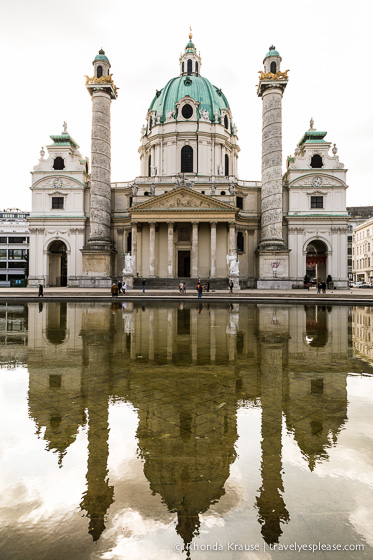 As I flipped through the booklet, I started to realize that most of the discounts were for things we had zero interest in seeing/doing/buying. The few places that we were interested in visiting, offered a very small discount. In fact, most of the discounts were nothing to get excited about…one euro, a surprise "gift", a free drink. Some discounts were even less than a euro!
Not feeling like we were getting our money's worth, we started going out of our way just to try and use the card. But it was a hassle, especially when it came to the restaurants. We didn't feel like searching out these places just to get a free drink or save a euro or two. When I'm hungry, I want to eat right now, not wander the city looking for a place to use a coupon. We ended up eating at TGI Friday's, of all places, just because it was the closest place where we could use the Vienna Card.
The Vienna City Card redeemed itself a little with me when it came to transportation. The card gave us unlimited travel on all public transportation for 72 hours. Since our hotel was not in the centre of town, we used the metro a lot to get around.
We left Vienna feeling like we got ripped off, so when I got home I sat down and did some calculations to see if our feelings were justified.
A Breakdown: What We Spent and Saved with the Vienna City Card
Vienna Card purchase price- €19.90 (in 2013)
Transit– A 72 hour ticket, if bought from the machine at the station, was €15.40. This pass is included in the Vienna card. Savings= €15.40
Schonbrunn Palace– We bought the Classic Pass which regularly cost €18.50, but with the Vienna card was €16.70. Savings= €1.80
Schonbrunn Zoo– Regular price was €15, with Vienna card €13. Savings= €2.00
TGI Friday's– Our bill was €35.70 and with the Vienna card we got a 10% discount, so we paid €32.13 (€16.07/person). Savings= €3.57 (€1.79 each)
The Final Verdict: If we did not buy the Vienna card and had to pay full price for all our activities and transportation listed above, it would have cost us €66.75/person. With the Vienna Card discounts and included transit pass, we spent €45.77 each. Now factor in the €19.90 cost to buy the Vienna Card and we spent €65.67/person. So in the end we saved €1.08 each.
It is worth noting that we could have saved another €3.00 on our Schonbrunn Palace concert tickets had we not bought from a shady salesman. The salesman was selling tickets inside the palace and when I asked if we got a discount with the Vienna card, he said no. I was sure I saw the concert listed in the book, but I didn't have it with me to double check. When I looked it up back at the hotel, I was not happy to see that we were lied to and could have saved some more money.
So, it turns out we did save a little bit of money with the Vienna City Card. If we were interested in visiting a lot of museums, we would have got more value out of it.
Should You Buy the Vienna City Card?
That's a personal choice and one that should be carefully researched. If you plan on doing tours and visiting a lot of museums or other places listed in the book, then it might be a good buy. But if not, you might spend your trip going places you weren't initially interested in visiting, just to get your money's worth.
Would We Buy the Vienna Card Again?
In hindsight, I wouldn't have bought the Vienna Card because we had to consciously make an effort to go places just to use it. I didn't like searching for restaurants where we could use the card and wouldn't have eaten at TGI Friday's if we hadn't been trying to make back our money.
I much prefer city sightseeing cards that include free admission to the main attractions, rather than just a discount. A good example of this is the Paris Museum Pass because it's more straightforward and specialized, rather than trying to be something for everyone, like the Vienna Card.
City cards that include free admission, instead of various discounts for a range of places, make it easier to decide if you will save money buying it. My biggest problem with the Vienna Card is that it's not clear (or quick to figure out) how much you will save by buying it, since the discounts at each place are so different. You need to have a strict itinerary planned in advance to figure out if the Vienna Card will save you money.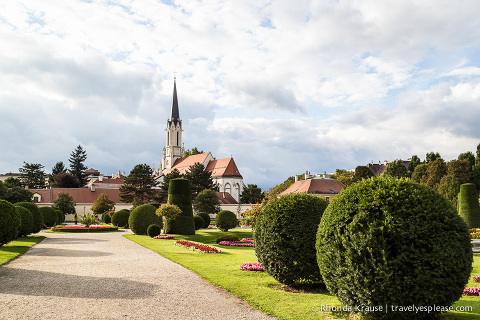 Vienna Card Tips
Vienna City Card Prices: The 72-hour Vienna City Card costs €29.00, the 48-hour Vienna Card costs €25.00, and the 24-hour Vienna Card is available for €17.00.
What the Vienna Card Includes: The Vienna City Card includes a transit pass (valid for the 24/48/72 hour time period purchased) plus discounts at tourist attractions and more (valid for 7 days).
Vienna Card Transit Pass: The transit pass you get with the Vienna Card is valid for exactly 24/48/72 hours from the time of validation/exact date and time you wrote on your card. You can use it on all public transportation services (underground, trams, buses).
Vienna Card Discounts: The Vienna City Card discounts are valid for a maximum of 7 days from your indicated date of arrival in Vienna. It includes discounts at select tourist attractions, museums, music and theatre shows, tours, shopping, restaurants, and sports and leisure activities. The discounts typically are a percentage off regular prices and the amount varies from place to place.
Where to Buy: You can buy the Vienna Card online and at the tourist information offices on Albertinaplatz, in Vienna Main Station, and the airport.
More Tips: The Vienna Card is not to be confused with the Vienna Pass, a sightseeing card that includes free admission to many of Vienna's top tourist attractions.
Information was updated April 2023, but can change without notice. Please confirm directly with service providers.
Accommodations in Vienna
For your convenience, here is a list of hotels in Vienna. Please consider booking your Vienna accommodations through the included link. It costs nothing extra and helps support this website. Thank you!
More Austria Travel Guides