Purchases made through links earn us a small commission, at no extra cost to you.
One of my favourite things about visiting Savannah was seeing the abundance of large oak trees shading Savannah's squares and walkways. Their moss draped branches contributed to the mystery and intrigue of a city well known for its haunted tales.
Yet, as I walked below these aged oaks, stared up at their mighty limbs, I felt relaxed. At peace. You could sense Savannah's long history in the shade of these trees. It's as though all the events that shaped Savannah, the triumphs and tribulations, were nourishment for these trees, absorbed by the roots then slowly released into the quiet air around them.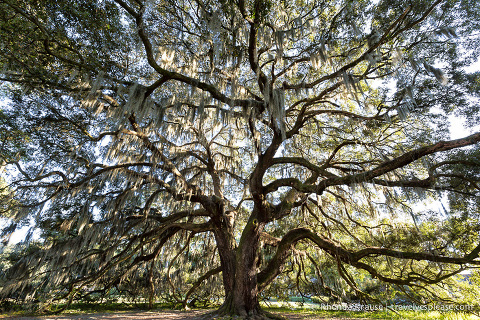 This particular tree, the Majestic Oak, is a beloved member of Savannah's community. Believed to be between 300-400 years old, the Majestic Oak is likely Savannah's oldest, maybe even largest tree. It stands alone, isolated in the centre of quiet cul-de-sac just off La Roche Avenue.
While not much else is known about the tree, popular legend holds that the Majestic Oak may have been part of the Wormsloe Plantation, in the nearby Isle of Hope. The Wormsloe Plantation is home to a lengthy avenue of live oak trees.
This photograph of the Majestic Oak is available for purchase as a fine art print, canvas, greeting card and more.
More Savannah Attractions and Travel Guides