Purchases made through links earn us a small commission, at no extra cost to you.
It wasn't long into our 3 day trip to Savannah that I realized it was going to be a fabulous city for photography. From the moss-draped trees and historic architecture, to the artistic monuments and beautiful beach, there were plenty of scenic photography spots in Savannah.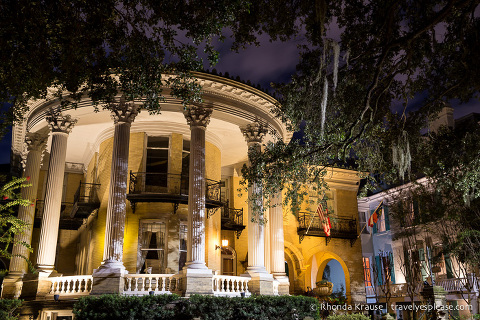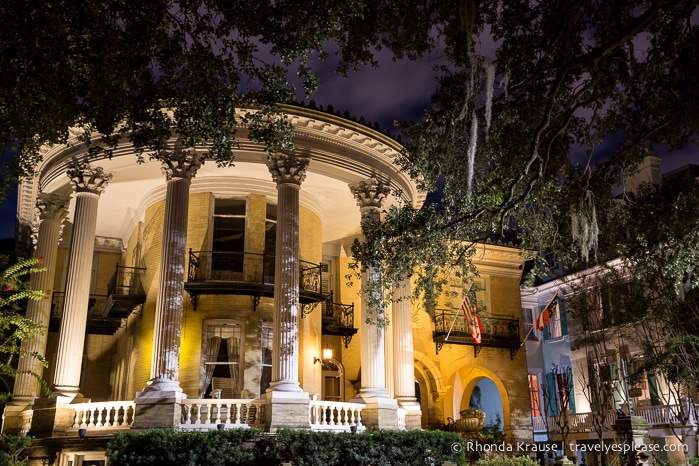 As we wandered the shaded streets and squares of Savannah, I had to remind myself to take in the atmosphere and not just experience the city through my camera's viewfinder. It was tough because there are so many beautiful photo locations in Savannah.
The city quickly charmed me and soon I found myself simply taking it all in, rather than focusing primarily on photography. Still, there were plenty of places that the photographer in me couldn't help but get giddy about.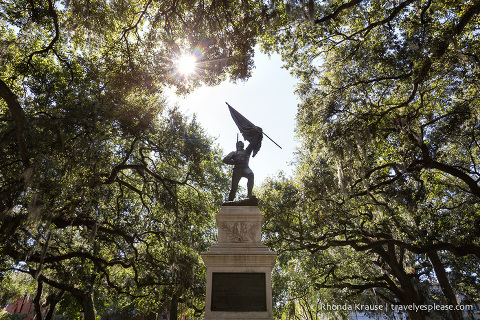 Best Photography Spots in Savannah, Georgia
So, what locations do I get excited to photograph? I'm all about strong compositions so I look for leading lines and framing, then ambience and mood. These elements were not hard to find in Savannah!
Here are what I think are the best places for photography in Savannah!
Forsyth Park
Forsyth Park is probably one of the most photographed locations in Savannah, and for good reason. The main walkway leading in to the park is lined with oak trees, nicely framing a fountain at the end of the path.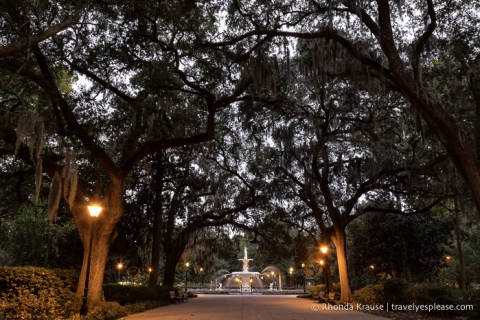 Even at night, Forsyth Park is great for photography. The Forsyth Park Fountain is nicely illuminated, as are some of the elegant homes surrounding the perimeter of the park. When I look at my night photos I can sense the romantic, somewhat mysterious mood of Savannah.
Bonaventure Cemetery
Bonaventure Cemetery is not only a fascinating place, it's great for photography if you love colour and details.
In the spring, bright pink azalea bushes line the cemetery's roads and surround the gravesites, creating a nice contrast to the stone monuments. Even if you don't visit in spring, you'll still see Spanish moss swaying above the tombstones, creating a hauntingly beautiful scene.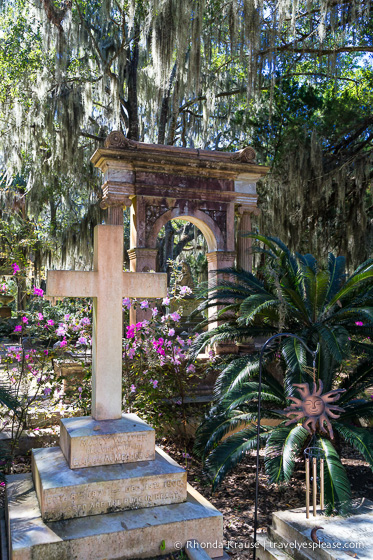 In addition to flowers and hanging moss, there are plenty of sculptures at Bonaventure Cemetery that are enjoyable to photograph. It's those small details that really tell the story of a place, so don't hesitate to zoom in.
Wormsloe Historic Site
Wormsloe Historic Site is hands down, the best place to photograph Savannah's famous oak trees.
The long avenue to the former plantation is lined with 400 live oaks, their mossy branches arching over the dusty driveway. These magnificent trees go on as far as the eye can see, creating a photo that really draws the viewer into the scene.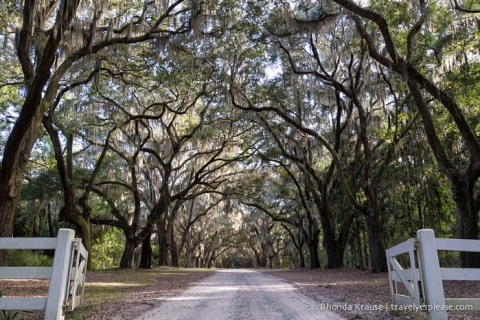 The leading lines and framing by the tree branches make Wormsloe one of the most irresistible photo spot in Savannah.
Johnson Square
Savannah's squares are definitely the jewels of the city, but one that I particularly liked for photography was Johnson Square.
Again, it was a wonderful place to photograph the crooked, intermingling branches of the oak trees, as they make a gorgeous canopy over the square. Johnson Square was also a nice place to set up for night photography, since City Hall was directly up the street from it. Had the right moment came along, this would have been a great location to capture some light trails.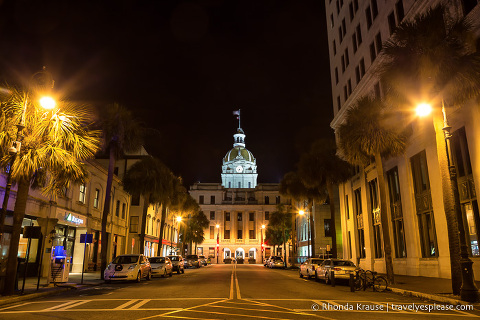 Tybee Island
Just 20 minutes from Savannah, Tybee Island offers completely different photo opportunities than the city does.
Here you can get classic beach shots of the pier at sunset. You can even experiment with long exposures to soften the movement of water flowing in and out on the beach.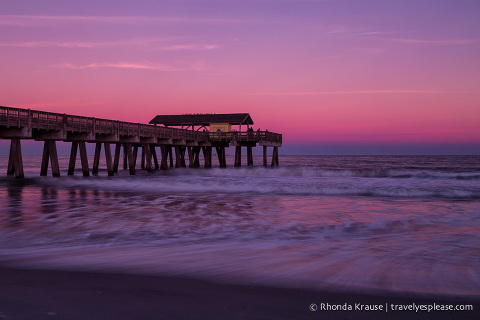 After dark, the Tybee Island lighthouse is fun to photograph, especially on a clear night when you can capture a sky full of stars.
Final Thoughts About Photography in Savannah
So there you have it, my top photo locations in Savannah! As a whole, Savannah is extremely photogenic, but these five locations were an added pleasure to photograph.
Since Savannah is such a gorgeous city, I'd love to go back and scout out more Savannah photo spots. Feel free to leave a comment with your favourite photo spots in Savannah so I have some ideas for my next visit. Let's make it easy for everyone to discover and enjoy the best Savannah photo locations!
Tours in Savannah
Here is a trusted site that has a good selection of tours in Savannah. You can book themed walking tours, food tours, and trolley tours. These are a few well-rated ones I picked out:
Accommodations in Savannah
For your convenience, here is a list of hotels in Savannah. Please consider booking your Savannah accommodations through the included link. It costs nothing extra and helps support this website. Thank you!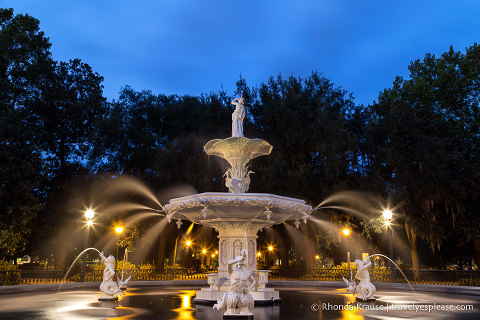 More Savannah Attractions and Travel Guides