Purchases made through links earn us a small commission, at no extra cost to you.
On my solo trip to Ireland I was looking to visit places that combined my two favourite travel activities- exploring nature and visiting archaeological sites. Inishmore (Inis Mór) fit the bill perfectly!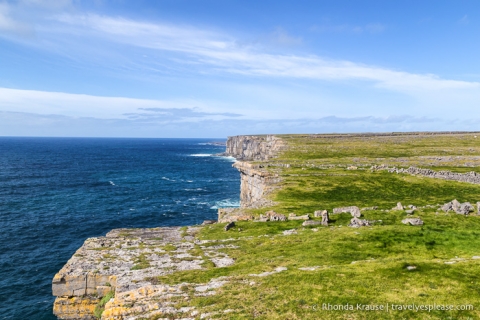 As one of the Aran Islands, Inishmore was a place that I could feel far away from everything while still being connected to Irish culture and heritage.
The island's small size (14.5 km long and 4 km wide) made it easy to explore it by bike and the high concentration of both historic and natural sites meant that there was plenty to hold my interest.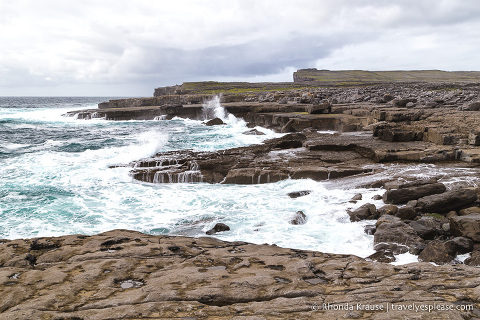 During my day trip to Inishmore I visited a prehistoric fort, reveled in cliff top views, wandered around the ruins of a stone church, hiked along the rocky coast, and discovered a unique geological feature.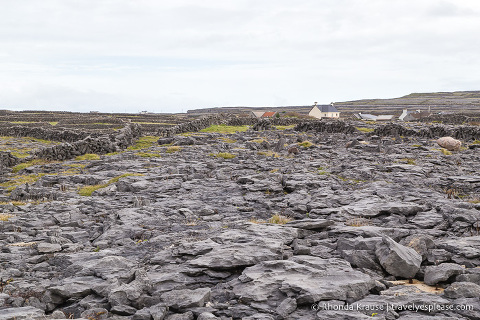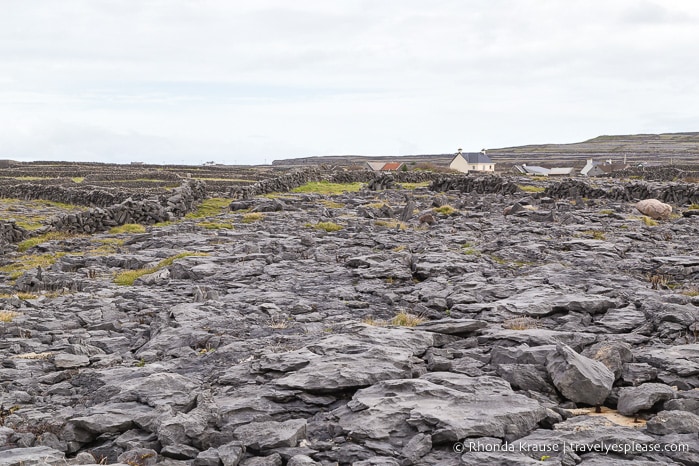 Even though I only spent one day in Inishmore, I left feeling satisfied and fulfilled, with plenty of happy moments and lasting memories to look back on.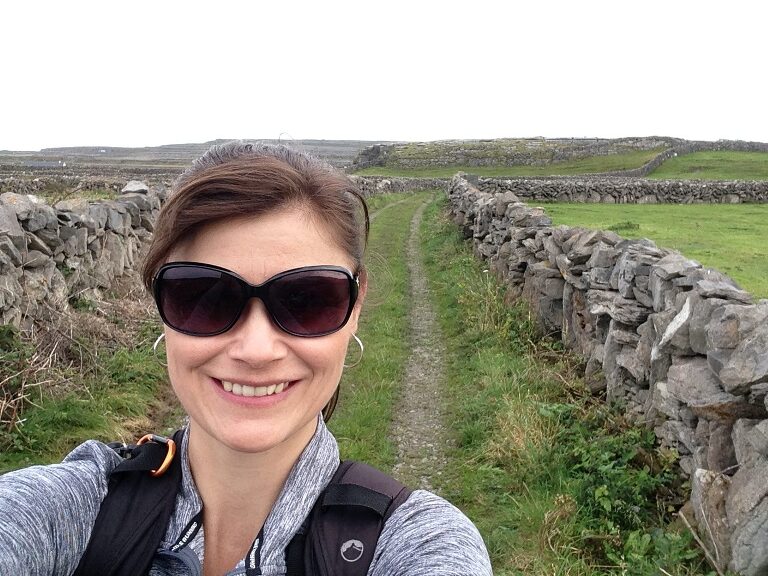 Before I share with you some things to do in Inishmore, here's a brief introduction to this special island.
About Inishmore (Inis Mór)
Inishmore is the largest and most easily accessible of the three Aran Islands.
The landscape is not the typical green fields of Ireland. It's rocky and desolate, an extension of the limestone that forms the Burren, to which the Arans were joined millions of years ago.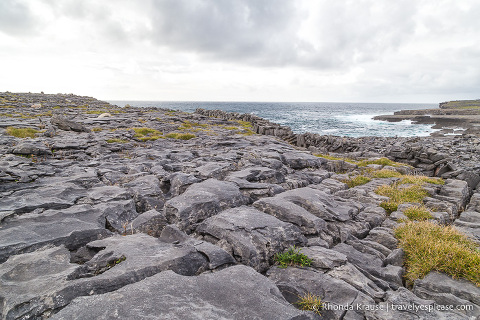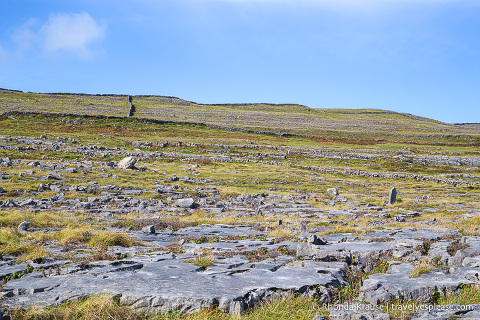 The small patches of green you do see are surrounded by stone walls, segmenting the island into hundreds of tiny fields of shallow topsoil.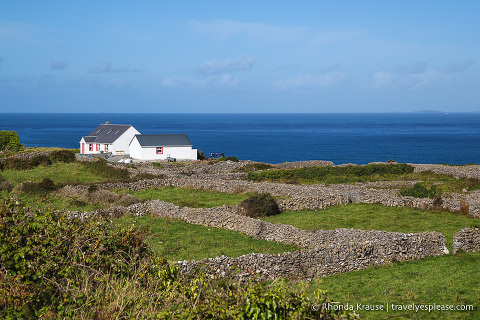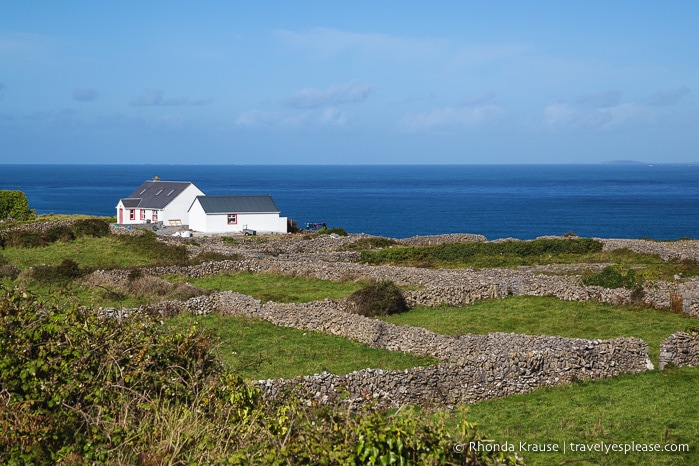 Besides having a distinct landscape, Inishmore is also home to some large Iron Age stone structures. Little is known about the people who built them, giving an air of mystery to the island.
My Day Trip to Inishmore
My day trip to Inishmore started with a 45 minute drive from Galway to Rossaveal, where I boarded a ferry for the 40 minute sail to Inishmore.
Upon arriving in Kilronan, Inishmore's main village, I rented a bike at the pier then set out on my ride across the island. I found plenty of things to do on Inis Mór and had no trouble filling my day.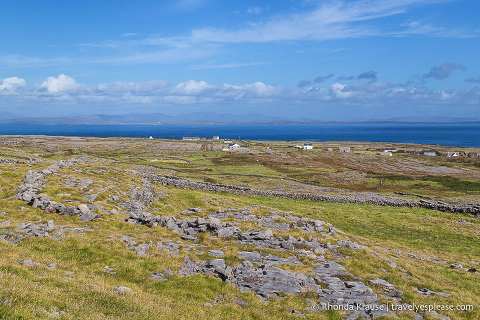 What to See in Inishmore– Exploring Inishmore by Bike
By no means did I uncover everything this fascinating island has to offer, but I did manage to discover quite a bit in only 5.5 hours. Here are the highlights from my day trip to Inishmore, along with a map of my bike route.
Cottage Road
From Kilronan I chose to ride west along Cottage Road, cutting across the middle of the island on my way towards Dún Aengus Fort. The road makes a gentle climb then offers wonderful views of Inishmore's northern coast.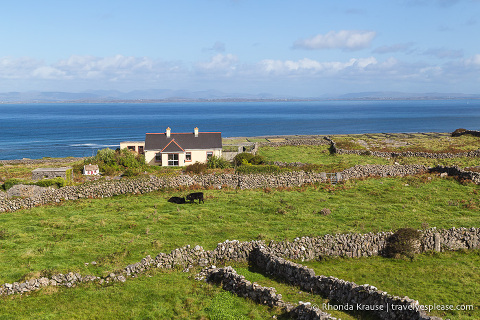 While there were no typical tourist sites directly along the road, I did see a traditional thatched roof cottage and stopped many times to admire the lovely vistas while wishing I lived in such a peaceful location.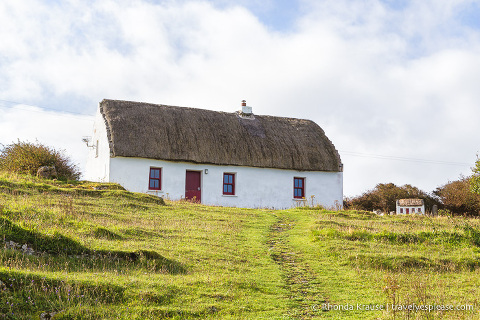 Kilmurvey Beach
At the junction of Cottage Road and the lower road that runs along the north coast, I came to a cove with a small, white sand beach.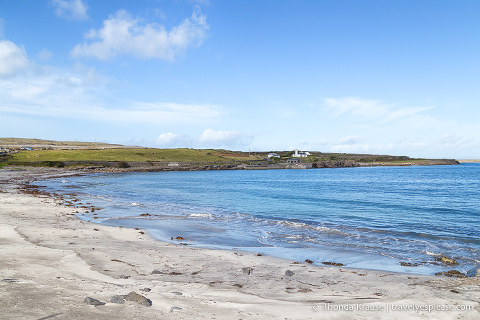 Kilmurvey Beach was nothing more than a photo op for me, but it might be a good place to go for a swim since it doesn't have the strong currents that other beaches on Inishmore have.
Dún Aengus Fort (Dún Aonghasa)
About 30 minutes after leaving the pier I arrived at Dún Aengus fort, the most popular tourist site on Inishmore.
Dún Aengus is one of four prehistoric fortresses in Inishmore, all which date from the late Bronze Age (1100 BC) to the Iron Age.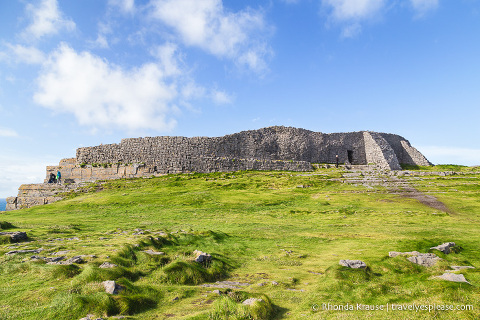 The fort stands guard at the edge of 100 metre high cliff, its semi-circular dry stone walls running right up to a sheer drop to the ocean below.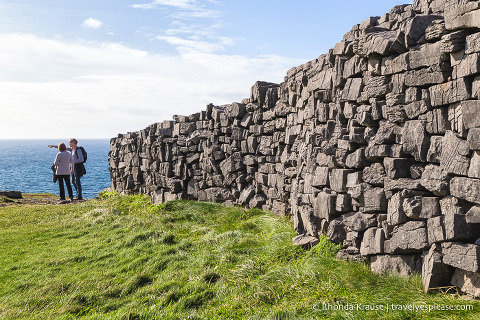 There's no wall at the cliff's edge allowing for wide-open views of the Atlantic Ocean. There's no safety barrier either and some daring people were sitting dangling their feet over the edge. It made me nervous just looking at them!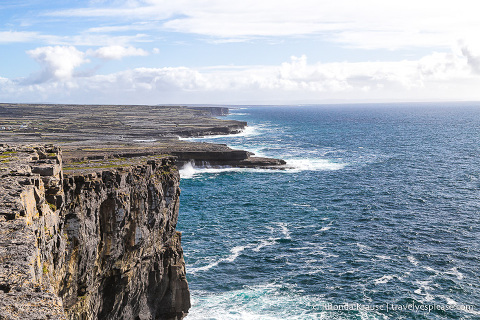 As big and impressive as Dún Aengus is, it was the dramatic views of Inishmore that captivated me most. From the fort I could gaze across nearly the entire island, having a nice vantage point for admiring the rugged cliffs.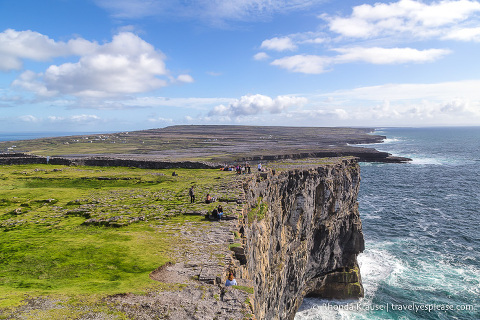 It was such a beautiful day and the vistas were so breathtaking that I ended up simply sitting and taking it all in for much longer than I was expecting. There's something soothing about watching and listening to waves crash against a cliff. It almost made me forget about the other places in Inishmore I wanted to see!
Seven Churches (Na Seacht d'Teampaill)
After Dún Aengus I rode my bike west to Na Seacht d'Teampaill, the Seven Churches. The name is a bit misleading because there are actually only two churches and a number of ruined monastic houses.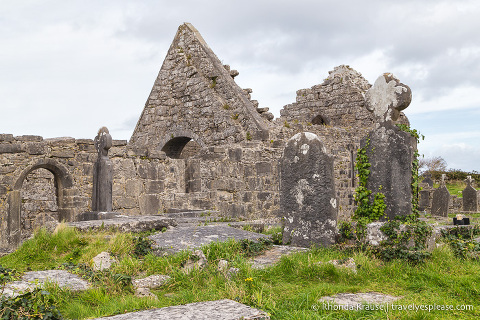 St Breacan's Church (Teampall Bhreacáin) is the most intact building and inside you can still see an impressive arch and nave.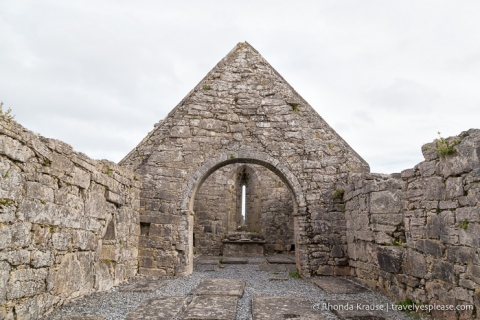 A small graveyard with decorated stone crosses and headstones surrounds the ruins and is worth a quick wander through.
The Worm Hole (Poll na bPéist)
The last place I set out to see was the Worm Hole, or Serpent's Lair, a rectangular pool that has been naturally shaped from the limestone.
Water ebbs and flows into the Worm Hole via an underground channel and spills in from above during high tide.
I was intrigued by the Worm Hole's shape, its edges so perfectly straight it was hard to believe it was formed by nature and not cut from the stone by humans.
As unique as the site was, I was too nervous to stand and enjoy it very long, worried that I'd be swept away by the crashing waves!
The Worm Hole is definitely off the beaten path and somewhat of a challenge to find, but it's interesting to see if you don't mind a bit of an adventure getting there.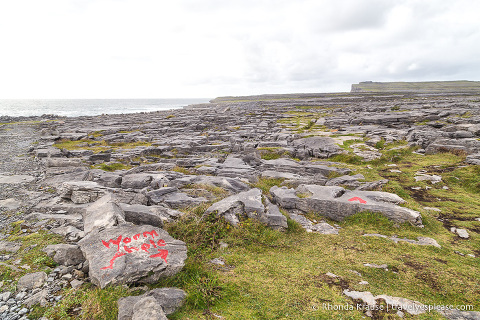 Directions to the Worm Hole
At the junction near Kilmurvey Beach I crossed the main road and went straight towards the opposite coast.
This narrow, gravel and grass lane, was lined on both sides by stone walls and came to an end near the small village of Gort na gCapall.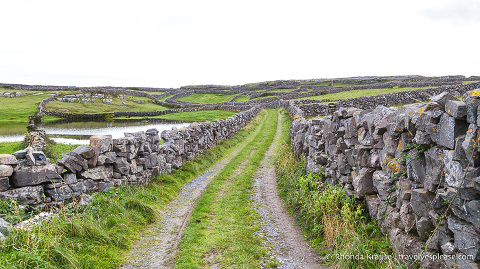 I then turned right and kept going south past the T-intersection. At the two houses (one is white with green trim), I noticed a red arrow painted on the rock wall pointing right. I followed that trail until it came to a dead end surrounded by gated fields.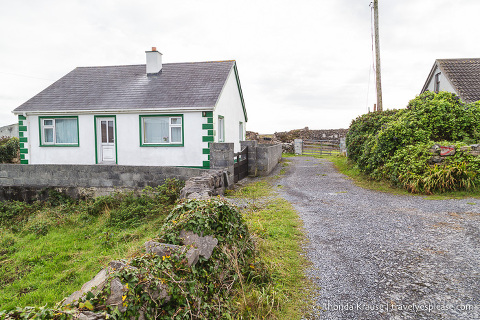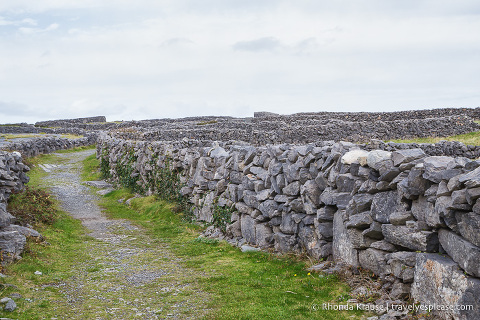 On one of the gates there was a No Trespassing sign but there also was an opening in the wall with a red arrow directing the way. I was a little confused about whether I should continue on.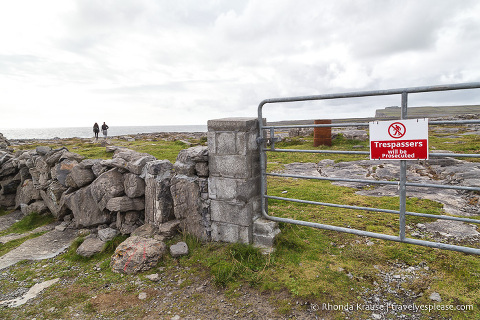 Why would the Worm Hole be listed as a tourist attraction on the Aran Island's website if you have to trespass to get there? I wondered. And why are there red arrows directing the way if this is private property?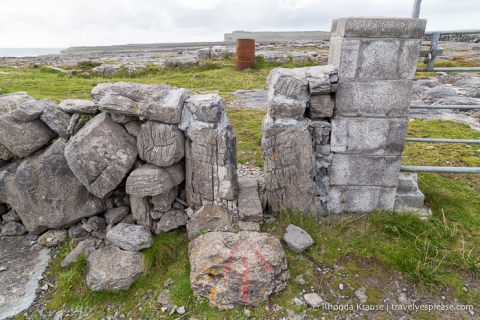 Not sure what to do, I saw that other people had left their bikes here and gone exploring so I decided to take my chances.
From this point on I felt like I was on a scavenger hunt, searching for red arrows in a field of sharp-edged boulders and slippery limestone pavement. There was no path to follow and nothing discerning to landmark my route. I had to constantly be on the lookout for those painted arrows then walk in that general direction.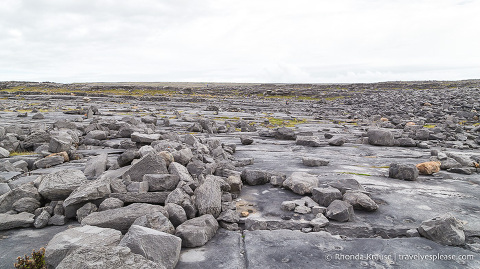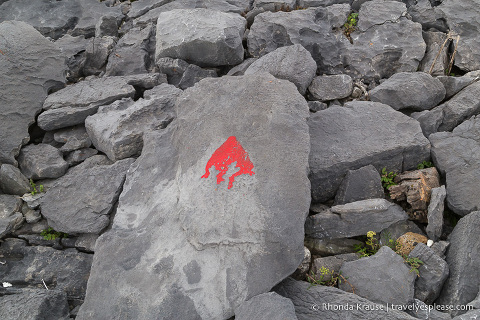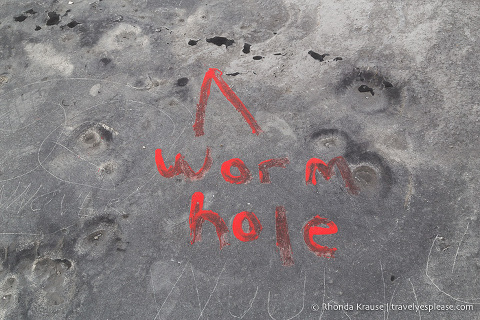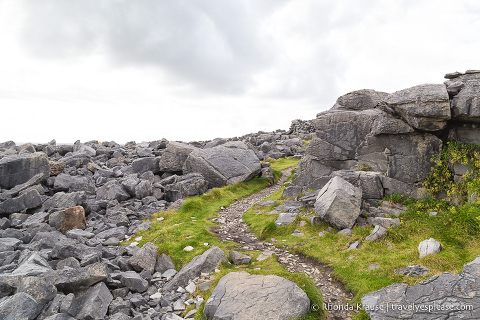 It was a long trek across the rocks but eventually I came to a cliff face painted with "Worm Hole 150m." At this point you can choose to go up the ridge and view the Worm Hole from above, or walk directly to it along the coastline like I did.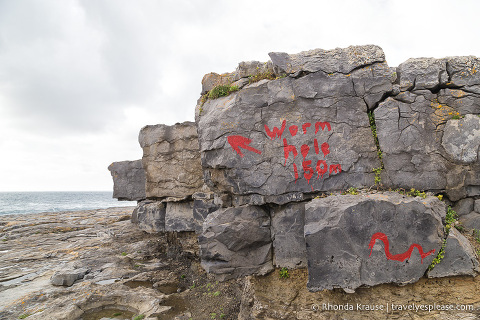 If you take the lower route, be prepared for slick rocks and plenty of small, water filled holes to navigate around.
Bike Ride from Gort na gCapall to Kilronan Village
From the Worm Hole, I rode my bike through Gort na gCapall (which is just a few houses) and began making my way east back to Kilronan.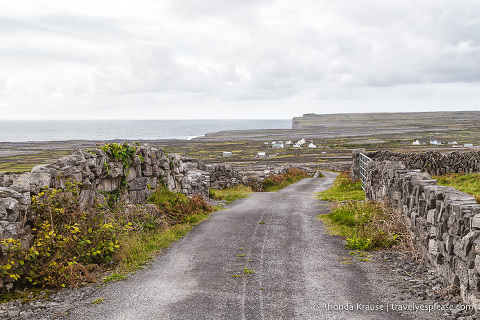 The road had an uphill climb and I ended up having to push my bike to the top. This route was worth the effort though because it offered fantastic views of Inishmore's rocky landscape and the stone walls that crisscross the island.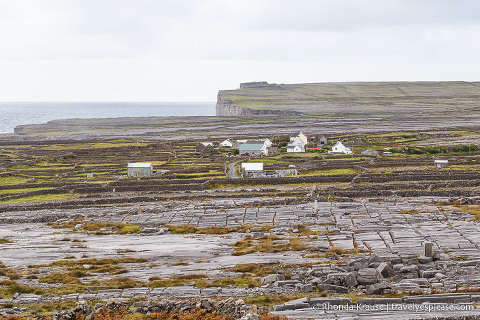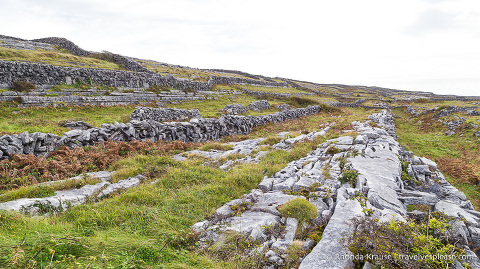 The rest of the way to Kilronan was downhill and I got there with enough time to buy some snacks before returning my bike and boarding the ferry back to Rossaveal.
What I Missed On My Day Trip to Inishmore
On my day trip to Inishmore I didn't have enough time to see all the sights, but I did visit everything that was a priority to me.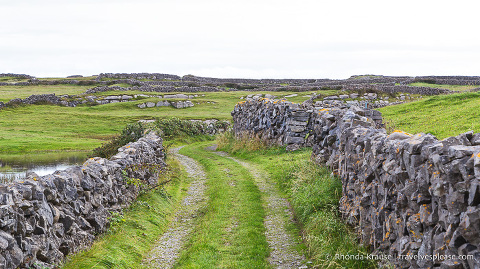 If I were to do another trip to Inishmore I'd like to ride my bike across the entire island. I'd follow the low-lying northern coast and hopefully see some seals at the seal colony.
I'd also like to visit some of Inishmore's less famous forts including Dún Eochla and Dún Dúchathair (the Black Fort).
Final Thoughts About my Day Trip to Inishmore
I really enjoyed my day trip to Inishmore and it was a highlight of my two weeks in Ireland. Inishmore was a perfect destination for active travellers like myself, who also enjoy exploring ancient sites.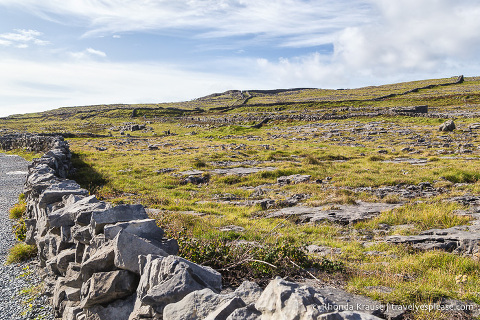 Even though Inishmore is a popular tourist destination, it retains that isolated, off-the-beaten path feeling I love.
I was grateful the weather was perfect for cycling and loved the freedom of exploring by bike. Inishmore looked like a great place to go on a walking vacation as well since there are so many small lanes and trails that can be explored.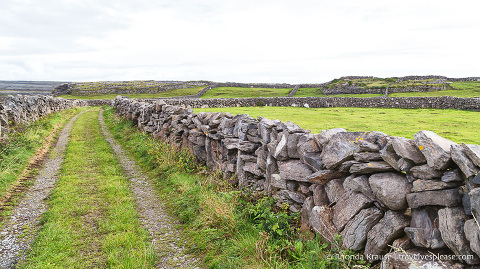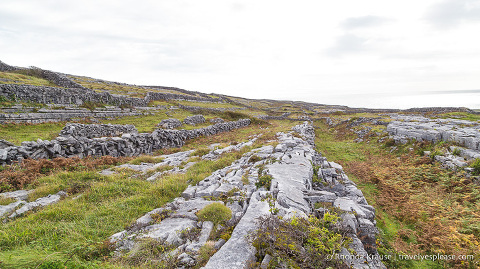 It would have been nice to spend the night, or even another day, because there were a lot of places I didn't get to visit. I'm sure there are plenty of hidden gems still to discover!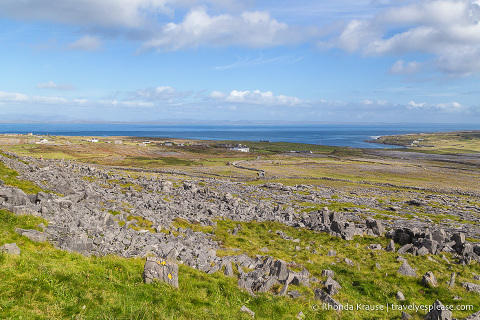 Tips for Visiting Inishmore
Getting There: Aran Island Ferries offers year round service to Inishmore from Rossaveal, 40 km west of Galway. Crossing time is usually 40 minutes, but can take up to an hour depending on the sea conditions. Check the ferry timetable here. I recommend booking in advance in high season and on the weekends. I went on a Saturday at the end of September and my ferry was full. If you book your return tickets online you'll receive a 10% discount.
You can also take a ferry from Doolin or a 10 minute flight from Connemara regional airport.
Getting Around Inis Mór: The most fulfilling way to get around Inishmore is by bike. You can rent bikes at the end of the pier for €15/day (plus a €10 deposit you get back when you return the bike). Check bike availability and current prices here.
If you'd rather not cycle, minibuses greet ferries at the pier and offer 2.5 hr tours of Inishmore.
Language: Irish is the primary language of the Aran Islands but the locals are also fluent in English. Signs are in Irish so it helps to know the Irish name of your destination.
Services: Most of Inishmore's services are located in Kilronan. There's a year round tourist office, some pubs, and one ATM at the Spar supermarket. You'll also find some guesthouses, B&Bs, and a hostel. Public washrooms are located on the waterfront, west of the tourist office.
Dún Aengus: Dún Aengus is open 7 days a week from 9:30 am- 6:00 pm April to October and until 4:00 pm the rest of the year. Confirm opening hours here.
There is a visitor centre, a small restaurant/tea room, public washrooms, and plenty of bike racks.
The bike ride from Kilronan to Dún Aengus takes 30 minutes or more (it's 8 km from the pier). It is then about a 1 km walk from the visitor centre to the fortress. The last section is uphill over natural rock so strong shoes are recommended.
Most visitors go directly to Dún Aengus from the ferry. To avoid the crowds, plan to stop by later in the afternoon.
Worm Hole: I recommend allowing an hour, at the very least, to get to the Worm Hole and back (starting at the gate). It's a challenging walk with very few people around, so make sure you minimize risk of injury by wearing supportive hiking shoes. I wouldn't attempt this walk with young kids.
Information was updated April 2022, but can change without notice. Please confirm directly with service providers.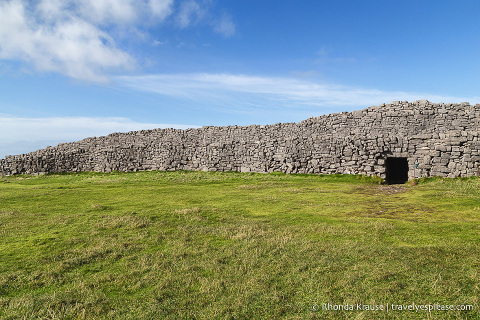 Accommodations in Inishmore
For your convenience, here is a list of hotels in Inishmore. Please consider booking your Inishmore accommodations through the included link. It costs nothing extra and helps support this website. Thank you!
More Ireland Destinations and Travel Guides