Purchases made through links earn us a small commission, at no extra cost to you.
There was only one place during our 3 week trip to South America that I was nervous about visiting- La Paz, Bolivia.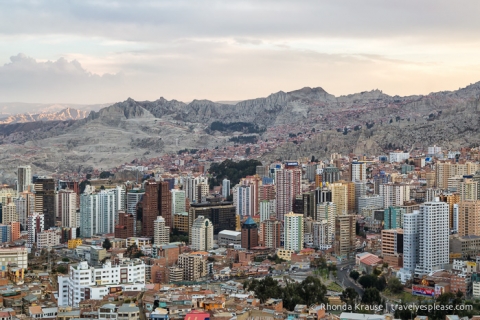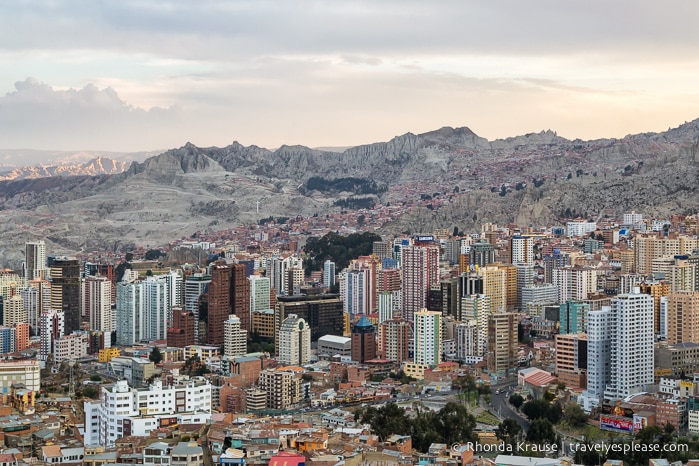 A lot of what I'd heard about the city was not positive. On blogs I read stories about encounters with fake police, and heeded my guidebook's warnings about taxicab "express kidnappings".
Then toss in a side of pollution, noisy traffic congestion, and reputation for unsafe driving, and I wasn't sure I'd even like La Paz at all.
But I did like it.
La Paz turned out to the most interesting city we visited in South America. Its landscape is eye catching, culture diverse, and social customs intriguing.
If you plan on visiting Bolivia, you'll likely find yourself in La Paz at least once, if not a few times during your trip. As a transportation hub, it's a gateway to other Bolivian destinations but very much worth spending at least a day or two here.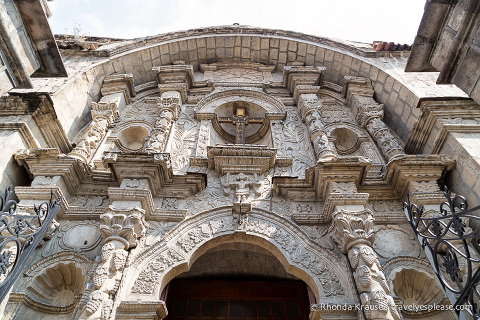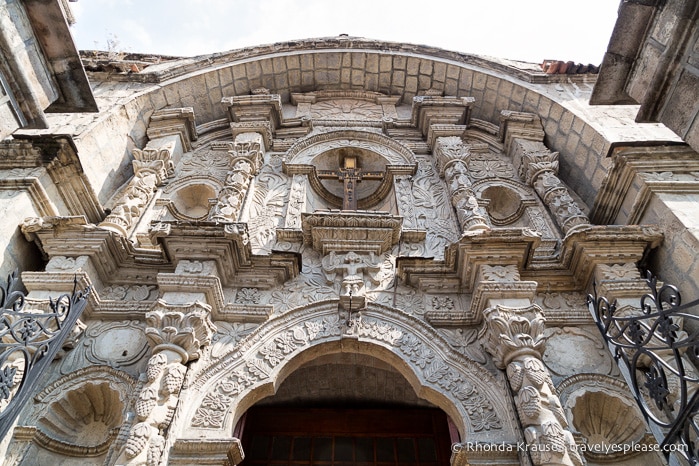 3 Days in La Paz Itinerary- Things to Do in La Paz, Bolivia
With 3 days in La Paz (or more accurately, 2.5), we had time to enjoy a range of experiences. We hiked along the bottom of a canyon, wandered through markets, learned about a lost civilization, and took in exceptional views.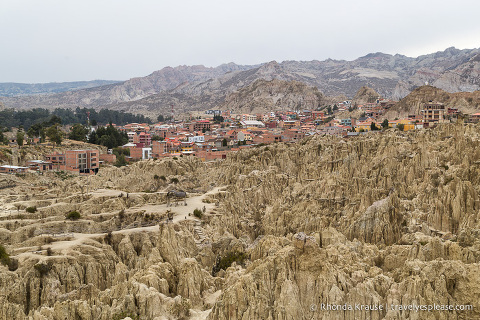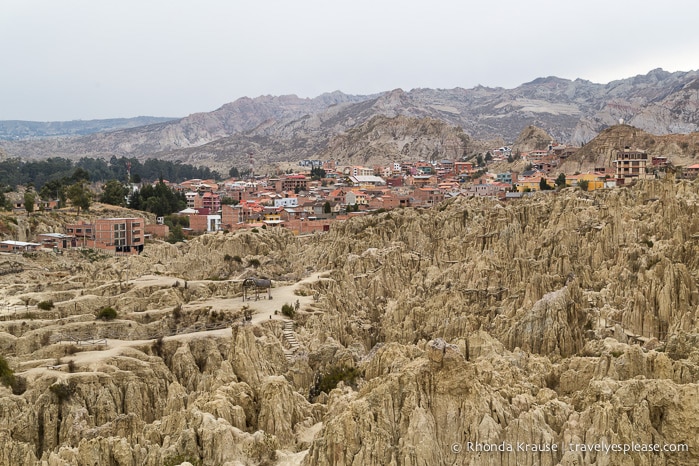 Since many of the places we wanted to visit were on the outskirts of the city (or further), we decided to hire a private guide who could drive us around. Not only was this convenient, I felt safer knowing we were in the hands of an experienced, local guide. We didn't have to worry about wandering into a bad neighbourhood and only had to take a taxi once.
So, here's a look at our La Paz itinerary and how we chose to spend 3 days in La Paz!
Day 1: Cable Cars, Palca Canyon, Moon Valley, Killi Killi Lookout
Our first day in La Paz was largely spent exploring the natural landscape on the outskirts of the city. This involved quite a bit of driving, as we had to cross the city.
Cable Cars
Our visit to La Paz started with a scenic ride on the city's aerial cable car system. We rode two different lines from El Alto (the city where the airport is) down into La Paz, all the while being captivated by the landscape below us.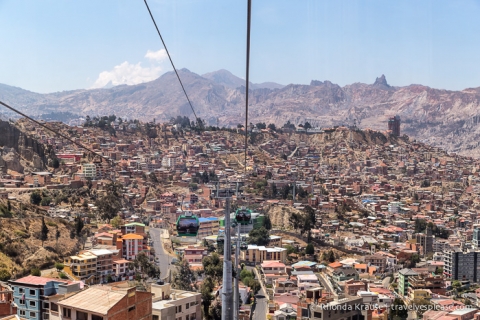 La Paz's location and geography is like no other city I've been before. Crammed into a canyon at around 3650 m above sea level, La Paz is surrounded by steep walls of stone eroded into dramatic formations.
As captivating as the landscape was, it was just as interesting to see the change in architecture as we moved further down the hill. Higher up, the homes were small, simple and not in good condition. As we got closer to the centre of the city, buildings became more modern, colourful, even fancy. It was clear that the wealthy lived lower in the valley.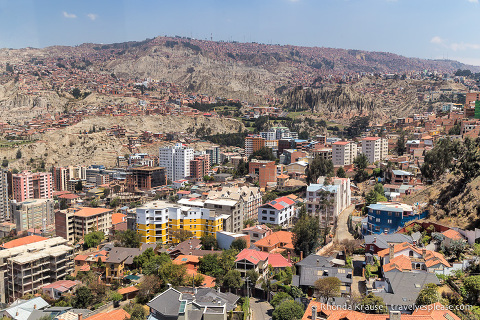 Even though the cable cars are a main form of public transportation for the locals, they offer tourists a great first impression of the city. Riding them was one of my favourite things to do in La Paz because the views were fabulous and allowed us to see what a unique city La Paz is.
Palca Canyon
It may have been out of the way, but Palca Canyon was definitely worth the trip from central La Paz.
As soon as we began our walk down the dirt road to the canyon, I knew it was going to be the highlight of our visit. Passing by small abandoned farmhouses, I couldn't help but love how peaceful and relaxing the area was- the exact opposite of what we left behind in La Paz.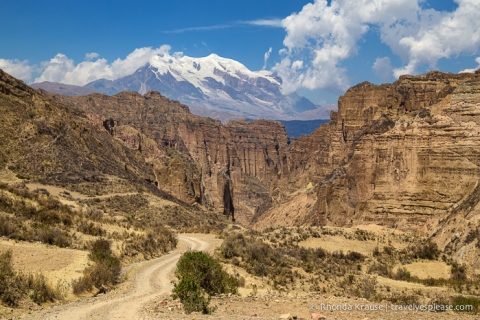 Each step we took offered better and better views of Palca Canyon and the snowcapped Mt. Illimani. Once we reached the canyon floor, we were surrounded by towering red rock. Nature sure has a way of making you feel small!
It was an easy walk to the end of the canyon and didn't take too long, even at a slow pace. Our driver picked us up at the exit then took us into Palca for a short break before heading off on a scenic drive through the mountains back to La Paz.
Moon Valley (Valle de la Luna)
Just 10 kilometres from downtown La Paz is another beautiful location to experience the city's intriguing topography.
Looking like something from another planet, Moon Valley is a maze of clay pinnacles jutting up from an eroded hillside.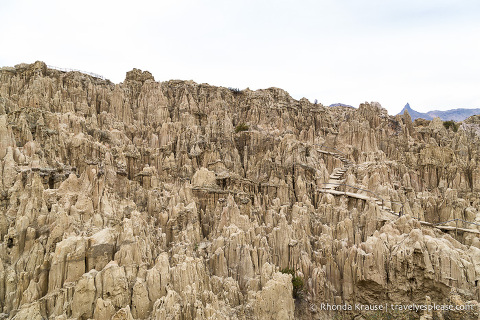 Following the walking paths, we weaved our way through these badlands getting an up-close look at the geological formations.
Even though urban sprawl is encroaching on Moon Valley, it still remains a place of fascination that should not be missed on a trip to La Paz.
Read my full post about Moon Valley.
Killi Killi Lookout
By this point in the day we were pretty tired, but our guide wanted to take us to one more place- Killi Killi Lookout.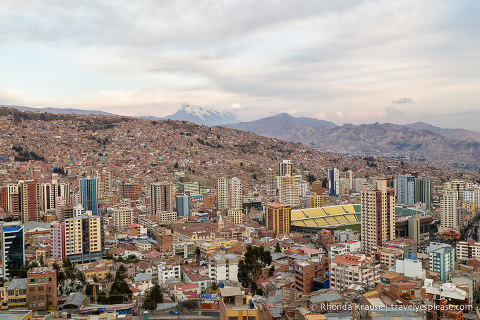 This spot wasn't mentioned in our guidebook, which is a shame because it offers a nearly 360 degree view of the city. We could see La Paz's most prominent buildings, colourful high-rises and brick homes sprawling across the hillsides. And of course, Mt. Illimani loomed in the distance.
Mirador Killi Killi was the perfect spot to end a busy first day in La Paz!
Day 2: Day Trip to Tiwanaku Archaeological Site
For our second day in La Paz we went on a day trip to Tiwanaku, a UNESCO World Heritage Site.
Tiwanaku was the capital of an empire that stretched from Bolivia into areas of Peru and Chile. The remaining ruins and on-site museums give insight into the Tiwanaku civilization and its culture.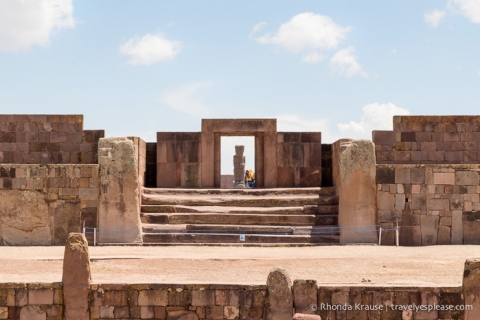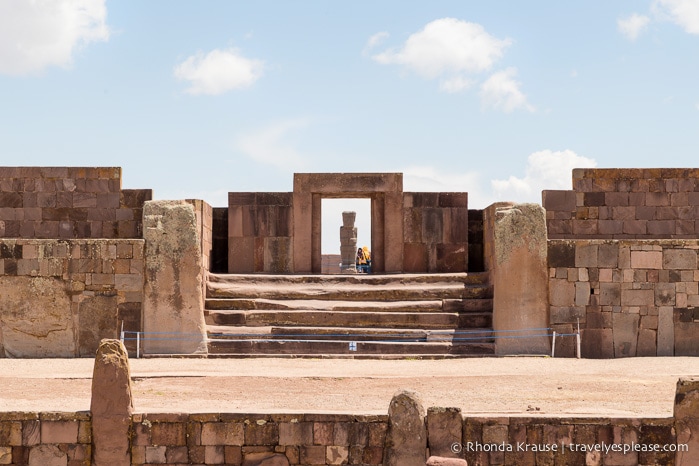 Even though the ruins were not as impressive as I was hoping, we still very much enjoyed our day learning about an ancient civilization that was previously unfamiliar to us.
Read my full post about Tiwanaku.
Day 3: Explore Central La Paz
Our third day in La Paz was actually a half-day, as we went out exploring during a long layover between flights from Uyuni to Sucre.
Calle Jaen
Our last day in La Paz began with a walk down Calle Jaen, the only colonial era street left in La Paz.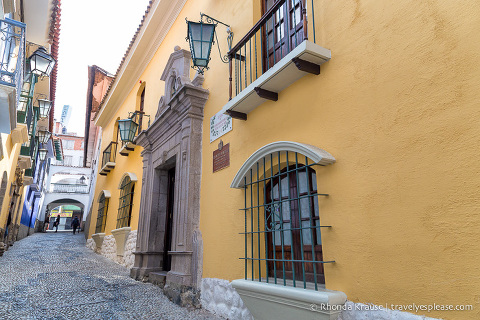 This cobblestone street is lined with colourful buildings and numerous museums. We didn't go into any of them, but the Museum of Precious Metals (a.k.a. Gold Museum) and Museum of Musical Instruments sounded the most interesting.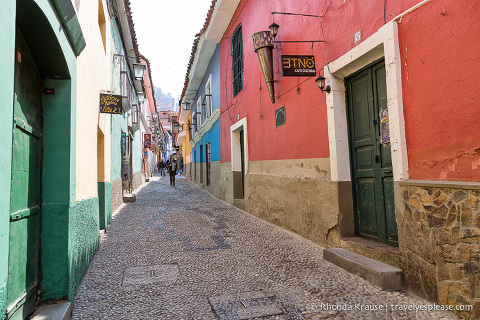 Plaza Murillo
Next we walked to Plaza Murillo, a lively square of political significance as it's been the site of many revolutionary battles and political uprisings.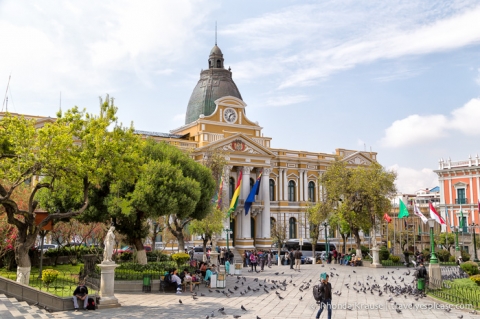 The plaza is surrounded by government buildings, including the National Congress of Bolivia and the Presidential Palace (official residence of the President of Bolivia).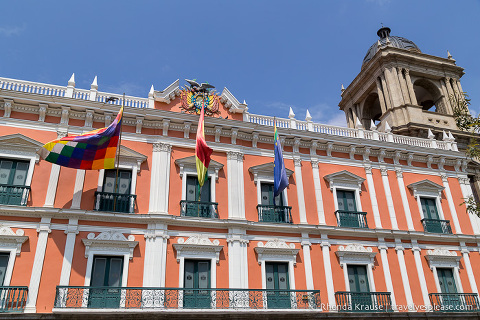 Even though tourists are not allowed inside the palace, it's worth walking by to see the guards dressed in their 19th century uniforms.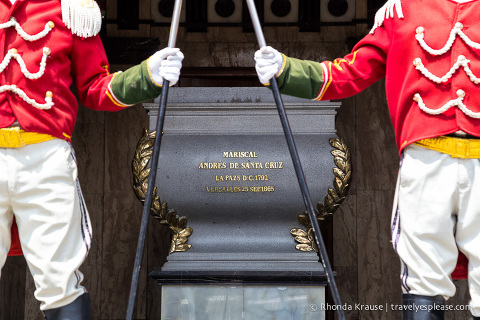 Next door to the Presidential Palace is the Cathedral of La Paz. While the interior is rather simple, it has some gorgeous stained glass windows backing the altar.
Witches' Market
The Witches' Market (Mercado de Hechiceria) is another unique attraction in La Paz, largely because of the types of goods for sale.
Shops here stock a variety of herbal and folk remedies, spells and potions, along with some peculiar ingredients used in rituals to manipulate spirits of the Aymara world.
The most unusual item is the llama fetuses, which are prominently hanging in front of the shops. Llama fetuses are traditionally given as an offering to Pachamama (Mother Earth), often buried beneath the foundations of a new house to bring good luck and protection.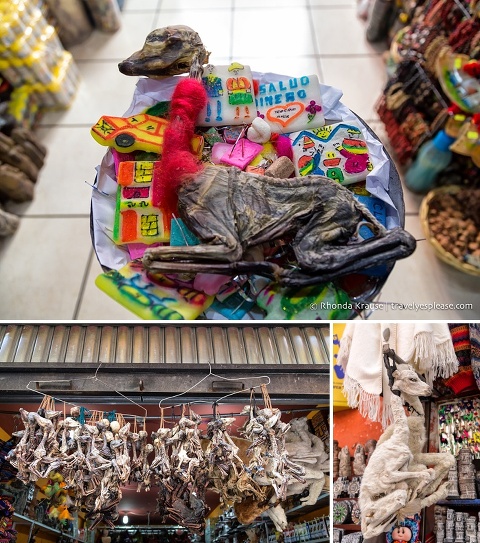 It can be disturbing to see the llama fetuses at first, but I felt better knowing that they were naturally miscarried, not killed in order to sell.
When visiting the market it's important to remember that what may seem like a novelty, or "witchcraft" to us tourists, is actually sacred to the Aymara people and others who practice ancient Aymaran beliefs. Be mindful of this and ask politely before taking any photos.
Plaza San Francisco
The final location we visited in La Paz was Plaza de San Francisco, a popular meeting place for the locals.
The square was quite busy when we were there because it was Dia del Amor, the Day of Love (September 21). The holiday is like our Valentine's Day, but it seemed to be celebrated much more publicly than back home. We saw people walking around with big bouquets of flowers, presents and cakes.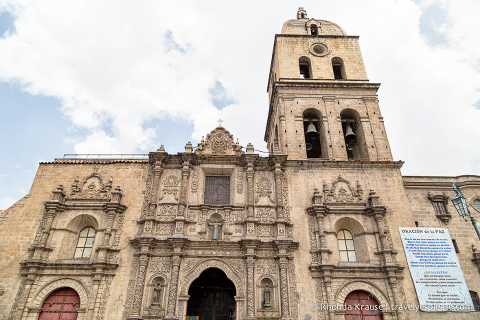 There wasn't much to see here other than the large stone basilica of San Francisco, but it was a decent spot for people watching.
Final Thoughts About Our 3 Days in La Paz
The best part about our 3 days in La Paz was getting to experience a city that is so different than what we are used to in Canada. Instead of a subway, there are cable cars. Markets and vendors selling on the sidewalk are the norm- no big-box stores here. And while the driving is absolutely nuts, we began to notice a method to the madness, something we can only describe as a "special language" of horn honking.
As entertaining as the traffic was, we quickly tired of it and all the incessant honking. At times, it was downright frightening to be in a vehicle. We narrowly (and I mean by a few inches) avoided a head-on collision when our driver went the wrong way down a 3 or 4-lane one-way street! It was surreal, dreamlike even, to watch what could be the end of your life coming right at you. I felt a strange mix of fear and calmness as I sat in the backseat, preparing for the worst, yet trusting that the two drivers involved had it under control and were not going to let this end in a fiery crash.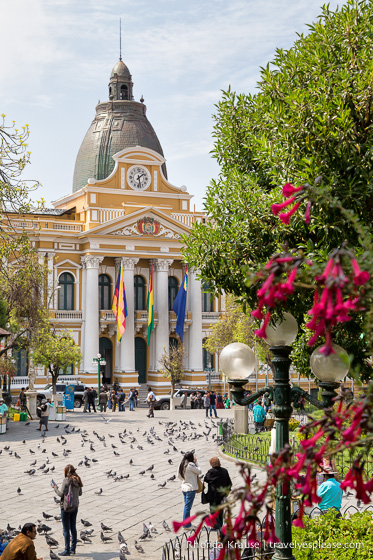 La Paz can be crazy, odd, and even nerve-wracking, but in spite of that, we managed to leave thinking it was a pretty cool city.
However, I don't think I would have enjoyed our 3 days in La Paz as much if we didn't go walking in the natural areas outside the city. If we had more time, I would have liked to do some mountain biking, maybe even on the World's Most Dangerous Road.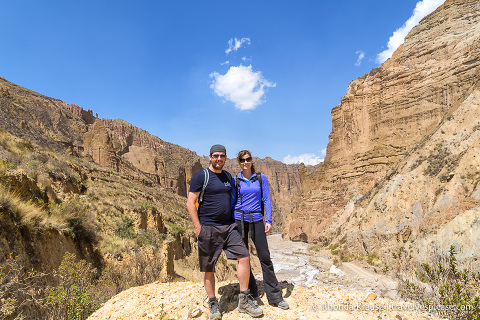 Tips for Visiting La Paz
Airport: Flights to La Paz arrive at El Alto International Airport, which is 10 km from the city centre. It's the world's highest international airport at 4050 m. When leaving, you'll have to pay a departure tax (cash only) in the airport lobby of B$15 for domestic and US$25 for international.
Altitude Sickness: La Paz is located at around 3660 m so altitude sickness is a concern here. We had already acclimated in Cusco, Peru and were taking altitude sickness medication before arriving so didn't feel any effects.
Public Transportation: La Paz has micro and minibuses, but they are overcrowded smoke-spewing machines. If you want to take one, their destination and route is displayed on a sign in the front window.
Shared cars or minibuses called trufi also follow set routes in La Paz.
Radio taxis are recommended if you need to take a cab. They will have a roof "bubble" with their telephone number. Have your hotel or restaurant call one for you and always confirm the price before you leave. Cabs with just a taxi sign (no bubble or phone number) have been known for express kidnappings.
ATMs: We had no trouble finding ATMs in La Paz. You can withdraw bolivianos and US dollars.
Safety: La Paz has a lot of petty theft and pickpocketing, but violent attacks are on the rise. There also have been incidents of "express kidnappings" by taxi drivers who assault victims until they provide their ATM pin. Fake police officers also exist.
Common sense will go a long way in La Paz. Try to travel in groups, don't share cabs with strangers, take radio taxis (especially in the evening), and don't carry large amounts of cash or other valuables. If confronted by what you think is a phony police officer, insist on going to the nearest police station on foot. Do not get into a cab with them.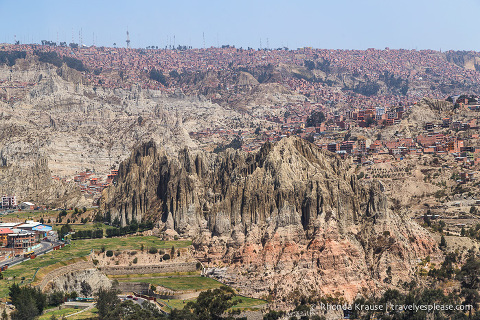 Accommodations in La Paz
For your convenience, here is a list of hotels in La Paz. Please consider booking your La Paz accommodations through the included link. It costs nothing extra and helps support this website. Thank you!