Purchases made through links earn us a small commission, at no extra cost to you.
As with most places I travel to, I was inspired to visit Gokayama by a photograph I had seen.
It was a scene I couldn't resist- a tiny village of thatched roof houses, their steep, sloped tops covered in snow, perfectly complementing the mountainous backdrop in the distance.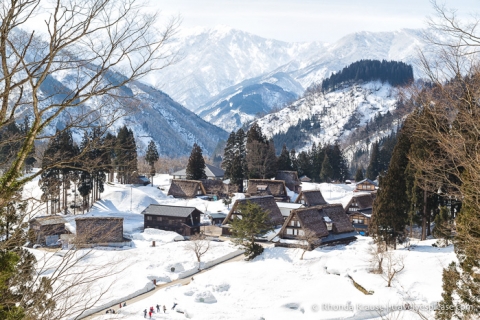 From then on, I often dreamed about visiting Gokayama, specifically Ainokura village, that nostalgic Japanese settlement I had lusted over in photographs.
After travelling to Gokayama, I can say that this area of Japan is as pretty and peaceful as it appears in photographs. But if you look beyond external appearances, you'll find a way of life where Japanese traditions are preserved, practiced, and even shared with tourists wishing to experience the local culture.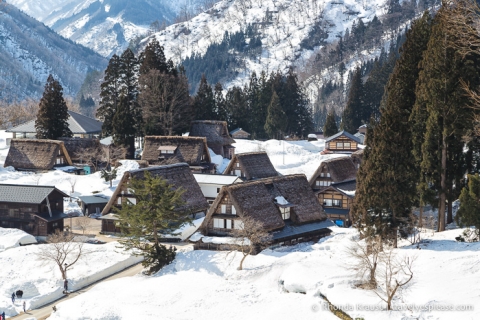 Getting to Know Gokayama
Gokayama is a scenic region in southwestern Toyama Prefecture, in the municipality of Nanto. It is home to 40 villages, but two that are of most interest to travellers are the World Heritage Sites of Suganuma and Ainokura (neighbouring Ogimachi Village in Shirakawa-go is also included in the UNESCO designation).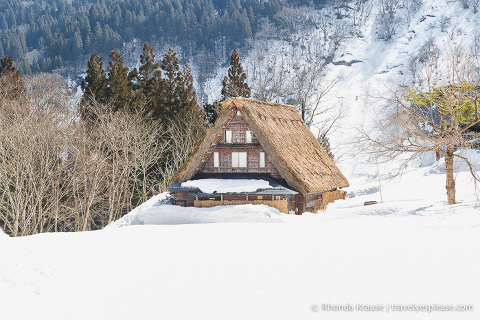 Due to the mountainous landscape, there are few rice paddies in the region so other traditional industries developed in Gokayama. During the Edo period, villagers cultivated silk, handmade paper (washi), and manufactured potassium nitrate for gunpowder (ensho).
In the winter, Gokayama experiences dense, heavy snowfalls and these harsh conditions led to the development of the region's unique gassho-zukuri houses.
Gassho-zukuri Houses
Gokayama is known for its triangle thatched roof farmhouses, a style that was developed during the Edo period.
The steep 60-degree pitch of a gassho-style roof prevents snow from accumulating, allowing it to slide down easily. These large roofs are supported by beams and the frame is lashed together with rope. No nails are used and every 15-20 years the roofs have to be re-thatched, a task that the community works together to complete in only one day.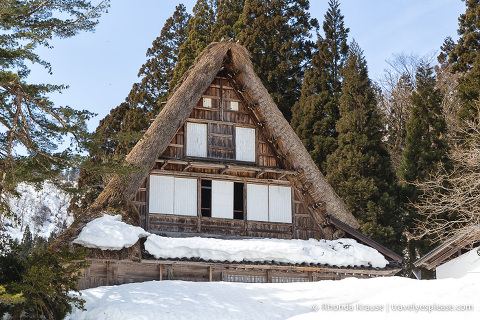 Not only are gassho-zukuri houses architecturally strong, able to withstand the weight of heavy, wet snow, this style provides plenty of space for both living and working. Silkworms were often cultivated in the attic, while papermaking was done on the ground floor.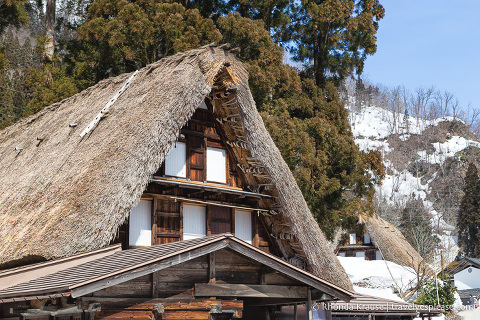 Although this style of house was created hundreds of years ago, people are still living in Gokayama's gassho houses. A few have been turned into museums, while others are also used as inns, providing tourists with the opportunity to experience a traditional Japanese farmhouse stay in Gokayama.
My Visit to Gokayama- What to See and Do
I only spent a few hours in Gokayama, choosing to visit Ainokura village and then Gokayama Washi-no-Sato to experience papermaking.
If you decide to re-create this trip for yourself, I would allot 1-1.5 hours for walking around Ainokura (longer if you want to explore the surrounding nature trails), then an hour for papermaking and browsing the washi paper shop.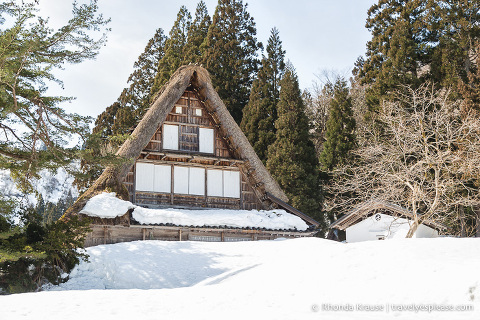 Ainokura Village
The gem of Gokayama is definitely Ainokura, the largest farmhouse village in Gokayama with 20 gassho-zukuri houses. Most of the gassho houses in Gokayama are 100-200 years old, but there are a few that have been around for 400 years.
As soon as I arrived I headed to the photo spot, a lookout point that's about a 5-minute uphill walk from the main parking lot. From here you get a fantastic view of Ainokura and the surrounding mountains- just the scene I came here to see!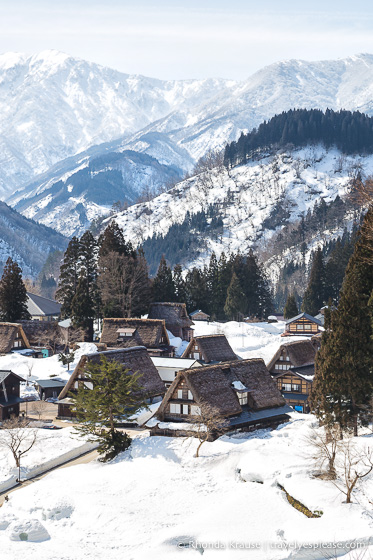 While there are numerous other viewpoints you'll see marked around town, this one is the best I found because it really showcases how Gokayama is one of the most beautiful places in Japan.
After enjoying the viewpoint, I headed back down the hill to start exploring Ainokura. There's only one main road and a few other side streets to walk down, so a tour of the village doesn't take long.
During my walk I passed by gassho houses, some more modern homes, a few monuments, and a shrine.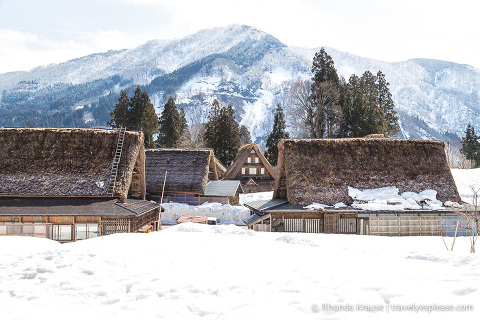 I would have liked to walk the Takatsubo Woodland Path, but there was still a lot of snow and ice on the trail the first week of March. Not surprising, considering that Gokayama gets 2-3 metres of snow in the winter.
Since I was having such a nice time admiring the gassho-style houses, I passed on visiting the Ainokura Traditional Industry Museum and the Ainokura Folklore Museum, instead opting to go inside Yusuke, a farmhouse inn.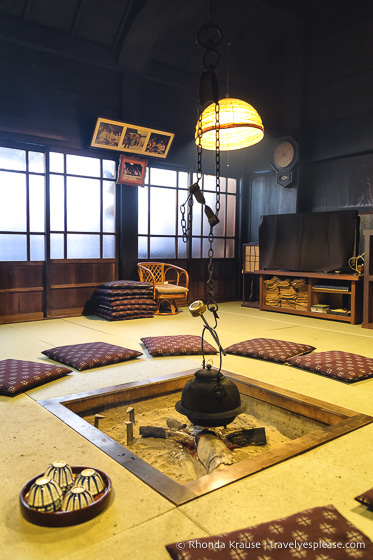 During the day Yusuke doubles as museum, displaying photographs of Ainokura both in the past and present. As a photographer, I found this particularly interesting, especially seeing what has changed over time and what has stayed the same.
The second floor of Yusuke also has a reproduction of a silk farm set up, so you can learn about one of Gokayama's traditional industries.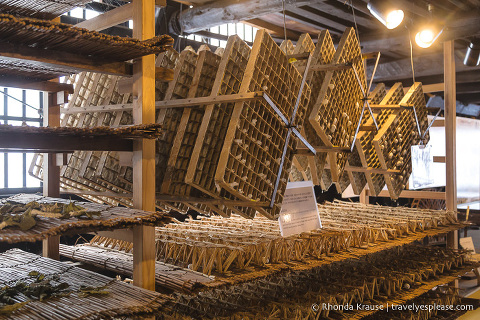 Visiting Yusuke was a good opportunity to get an up-close look at the construction of gassho roofs. I could see the beams connected by ropes, turned black from the rising smoke of the Irori fireplace on the main floor. If I lived in a house like this I'd be so worried about it catching fire. Let's hope that never happens!
Satisfied with my visit to Ainokura, and wanting to learn more about washi paper, I headed 8 kms out of town to Gokayama Washi-no-Sato, where I got some first-hand experience with Japanese papermaking.
Washi Papermaking at Gokayama Washi-no-Sato (Road Station Taira)
Gokayama Washi-no-Sato is a roadside complex that consists of a tourism information centre, souvenir shop, restaurant, washi papermaking facility, and washi paper crafts shop.
I went there primarily to experience Gokayama washi making, which has been designated a national important traditional craft of Japan.
Before heading to the papermaking room, I watched an English video about how Gokayama washi paper is made. It showed all the steps from the harvesting of kozo (a variety of mulberry), to the steaming, cleaning, fibre loosening, and finally papermaking. I had no idea it was such an involved process!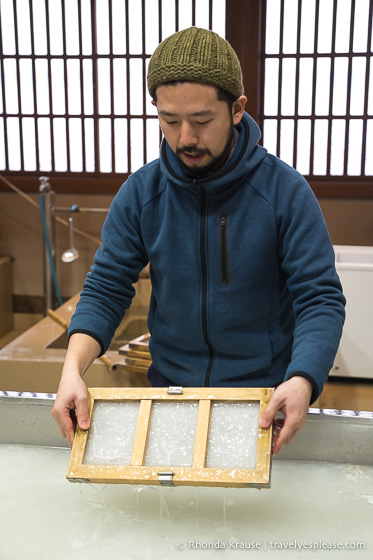 After the video, it was my turn to try making washi. In the papermaking centre, I first picked out some coloured paper decorations for the postcards I was going to make.
Next, I headed over to a trough filled with a mixture of Kozo fibres and extract from Tororo Aoi (hollyhock plant) to watch a demonstration of the scooping technique. All the directions were communicated in Japanese, but even without a translator it's easy to tell what to do just from watching.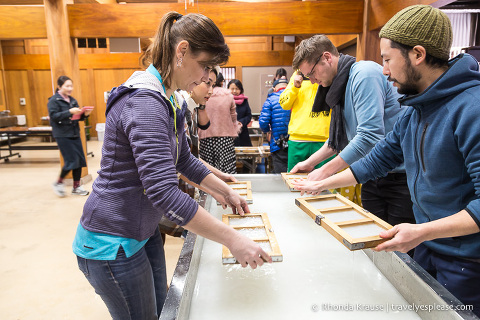 With my wooden frame in hand, I scooped up the mulberry fibres then shook it gently back and forth. Once most of the water drained out, I repeated the process two more times.
Now that my frames were filled, I could add the decorations I picked out earlier by simply placing them on the paper mixture.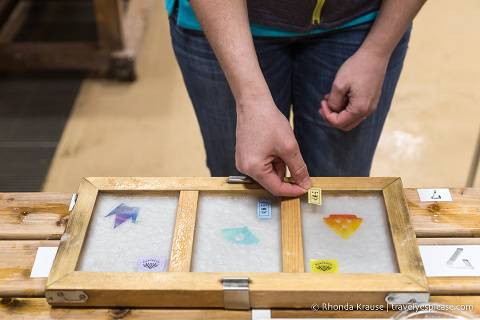 From there, I passed my frame to a staff member who poured a thick mixture of mulberry fibres over my frame to encase my design. The frame was then removed and my postcards were transferred to a heated metal plate to dry.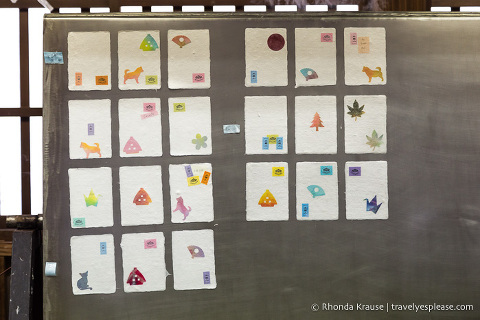 The postcards dried in about 10-15 minutes and were brought to the cash register in the store for pickup.
Making washi was pretty easy and only took about 20 minutes. My favourite part about it was coming home with a souvenir that I handmade myself, which for me is more meaningful and memorable than just buying something from a shop.
Final Thoughts About my Visit to Gokayama
Gokayama was one of the highlights of my Japanese traditions themed trip through the Chubu region. I loved the location in a mountain valley and visiting a traditional Japanese farmhouse gave me a peek inside rural mountain life. Next time I would love to stay overnight in a gassho-zukuri house!
Perhaps what I liked best about Gokayama is that there were few other tourists, as Gokayama has not yet become as popular as the more developed Shirakawa-go, also known for its gassho-style houses. I would like to visit Shirakawa-go too one day, but for now I'm very happy to have experienced similar attractions but without feeling like I'm on the tourist trail!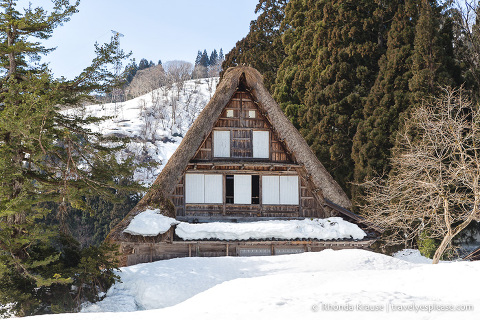 Tips for Visiting Gokayama
Getting to Gokayama: Gokayama is most easily reached by car or bus from Kanazawa, Toyama, or Takayama. Estimated drive times to Gokayama from the three cities above range from 60- 90 minutes.
There is no train direct to Gokayama. The nearest Shinkansen Station is Shin Takaoka on the Hokuriku Shinkansen line. From there you will need to take the Kaetsunou "World Heritage Bus" another 60 minutes to reach Ainokura. The nearest JR (Japan Rail) Station is Johana on the JR Johana line. From Johana Station it's about 23 minutes by World Heritage Bus to Ainokura.
For more detailed information about how to get to Gokayama from various cities visit the Gokayama official tourism site.
Getting Around Gokayama: Ainokura and Suganuma villages are 11 km apart, about a 15 min drive. Your best bet if without a car is to use the Kaetsunou World Heritage Bus. The bus travels between Ainokura, Suganuma, and Shirakawa-go (Ogimachi village). You can even catch the bus from Takaoka Station and Shin Takaoka Station, which is handy if coming from Toyama or Kanazawa.
Gokayama Washi-no-Sato (Road Station Taira): Gokayama Washi-no-Sato is 8 km from Ainokura and 6 km from Shimonashi bus stop, so you'll have to drive or take a taxi.
For the washi paper making experience, you can choose to make postcards or a hand fan. The video and pamphlets are available in English, but instruction is in Japanese. You can get more information about the paper making workshops here.
Information was updated June 2022, but can change without notice. Please confirm directly with service providers.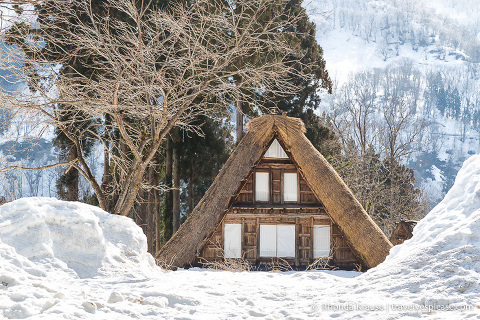 Accommodations in Gokayama
There are 6 minshuku (family run, Japanese-style bed and breakfasts) in Ainokura, so it would be a great place to experience a traditional farmhouse stay. Each gassho-style inn has 3 guest rooms and can accommodate a total of ten people.
For your convenience, here is where you can make reservations for some of the minshuku in Ainokura village. Please consider booking your Gokayama accommodations through the included link. It costs nothing extra and helps support this website. Thank you!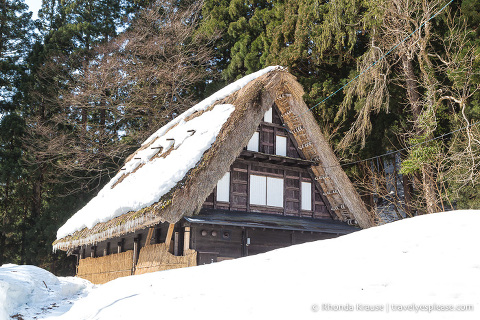 I visited Gokayama as a guest of the Japan National Tourism Organization. As always, I only speak the truth and hosts have no editorial influence on articles.
More Japan Destinations and Travel Guides