Purchases made through links earn us a small commission, at no extra cost to you.
Nagano was familiar to me as the host of the 1998 Winter Olympics, but beyond that I didn't know what there was to see and do besides winter sports.
What I discovered during my one day in Nagano was a pleasant city surrounded by low mountains, with a relaxed vibe that quickly drew me in. It was a place I could experience the best of two worlds- nature and wildlife in the surrounding areas, then culture and history at Zenko-ji Temple, the city's prime attraction.
Nagano- A Temple Town at the Gate of Zenko-ji
Nagano City is known as a monzen-machi, a town that developed around a temple.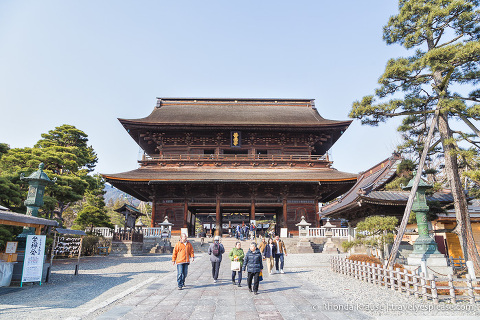 Nagano began in the Nara Period (710-794) as a small settlement built at the entrance of Zenko-ji Temple, growing and evolving until it reached city status in 1897.
The 2 km approach to Zenko-ji Temple (omotesando) is typical of a monzen-machi, lined with lodgings, restaurants, and shops.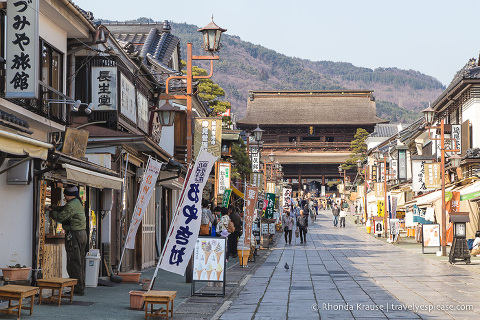 In Nagano's case, the omotesando (Chuo-dori Street) is an interesting combination of old and new. During the walk to Zenko-ji Temple you'll see several smaller temples and shrines, stone guideposts and lanterns, and converted storehouses and merchant houses selling food and gifts.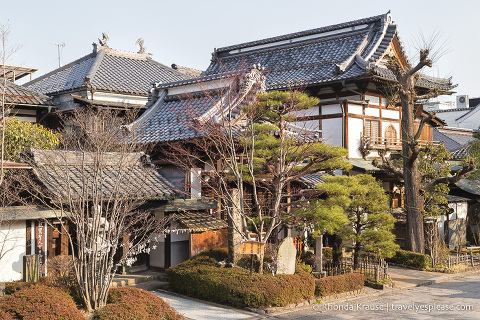 History of Zenko-ji Temple
For 1,400 years Zenko-ji Temple has been a centre of Buddhism in Japan, attracting millions of pilgrims and visitors annually.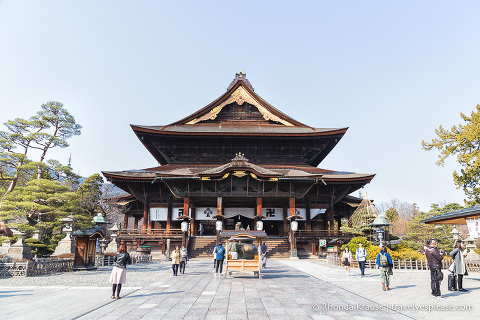 Zenko-ji Temple was founded in 642 when Yoshimitsu Honda enshrined one of the first Buddhist images brought to Japan, a statue of Amitabha (Amida), the Buddha of Infinite Light and Life. The Amida Triad is the temple's principal image but it remains hidden from the public. A replica of the hidden Buddha is shown every 6 years, only for a few weeks.
Zenko-ji is not affiliated with any sects so all branches of Buddhism are welcome to worship here.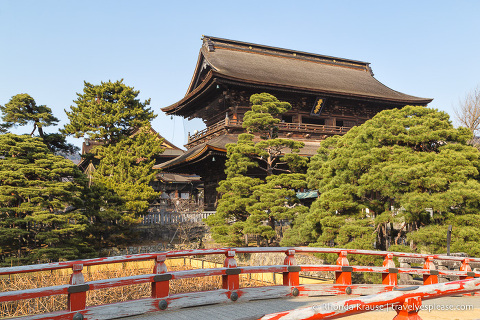 Visiting Zenko-ji Temple- Inside the Temple Grounds
I spent a surprising amount of time at Zenko-ji Temple, considering the size of the grounds.
During my visit I admired the two wooden gates, went inside the main hall and rubbed a statue of Obinzuru-sama for good health, watched the ritual ringing of the temple bell, and spent some time chatting with a friendly local who wanted to practice his English.
Here are my favourite points of interest at Zenko-ji Temple.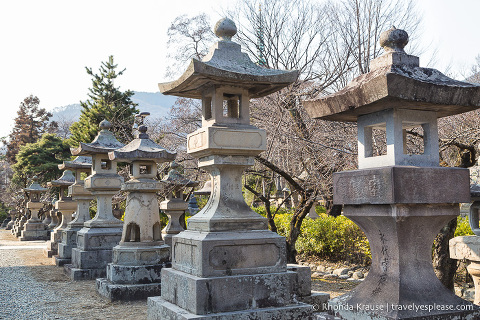 Nioman Gate
Nioman is the first gate you pass under to enter Zenko-ji Temple. There are two guardian statues, Agyo and Ungyo, standing 4.8 metres tall framing the pathway.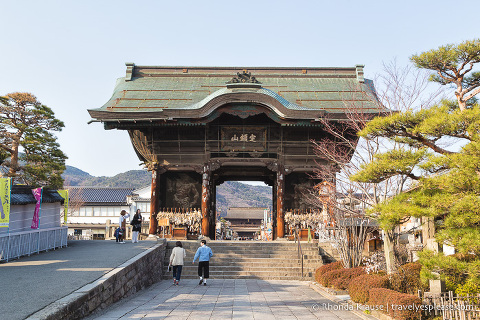 Nakamise Street
Nakamise is a stone-paved street leading from Nioman Gate towards Zenko-ji's main hall. It's said that 7,777 paving stones were used to make the walkway.
The street is lined with shops and restaurants where you can try local specialties like oyaki dumplings, miso flavoured ice cream, and soba crepes.
Roku Jizo (Six Jizo)
Across from the pond is a platform of six Jizo statues. Jizo is a guardian deity believed to rescue souls in the six realms: hell, the purgatory of hunger, the purgatory of animal passion, the Asura realm, the human realm, and the heavenly realm.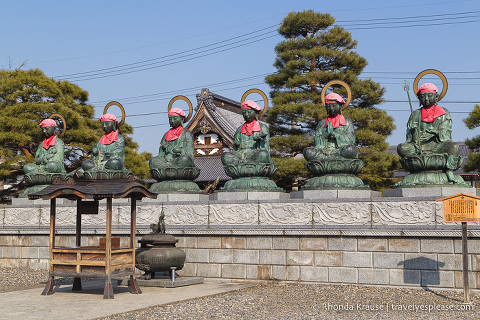 Jizo are also regarded as the protectors of travellers and children, specifically those that are unborn or who have died at a young age.
Sanmon Gate
Sanmon is Zenko-ji's main gate. Standing 20 metres tall, Sanmon Gate has a double layered roof, with a second level that's accessible for worship, or just to get a good view of the temple grounds.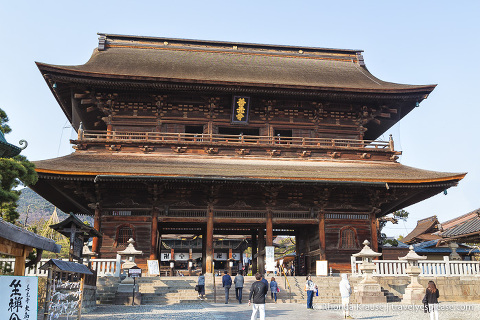 Incense Burner
I thought the incense burner at Zenko-ji Temple was really interesting because of the fierce mythical lion on top of it. It looked like it had drool dripping from its mouth!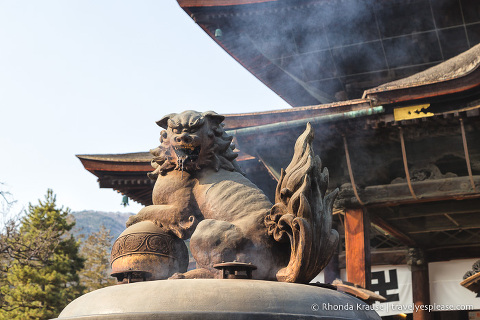 It's customary to fan the smoke over your body when visiting a temple, an act believed to ward off illness.
Hondo (Main Hall)
Zenko-ji's main hall was designated a National Treasure of Japan in 1908. It was rebuilt in 1707 in a Buddhist style typical of the middle Edo Period.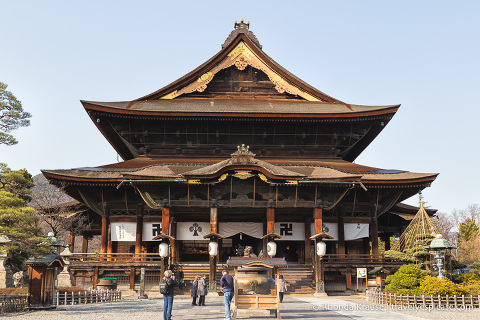 Inside there are various Buddhist statues and an ornamented inner temple that you can pay to enter if you want a closer look at the main altar. I didn't go inside the inner chamber, but in the basement visitors can walk through a pitch-black passageway in search of a key that's believed to secure entry into paradise for anyone who touches it.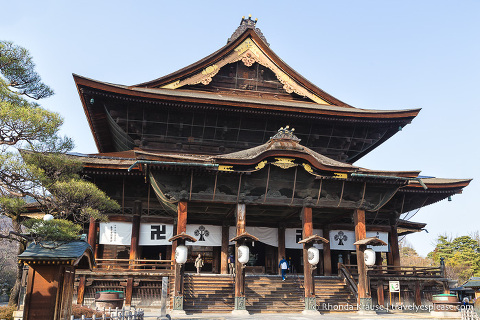 Shoro (Bell Tower)
The bell at Zenko-ji was cast in 1667 and the tower housing it was reconstructed in 1853.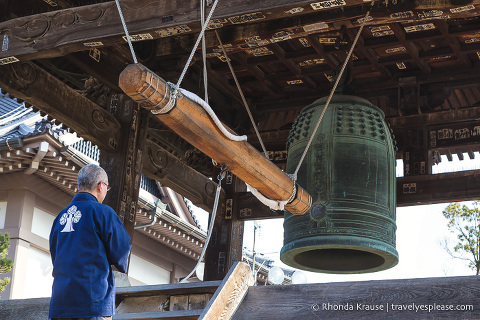 Make sure you're here at the top of the hour (from 10:00 am to 4:00 pm) to see the ringing of the bell. It was chosen as one of the 100 Soundscapes of Japan and even rang in the start of the '98 Winter Olympics.
Final Thoughts About Zenko-ji Temple and My Visit to Nagano
Even though Zenko-ji is one of the most popular temples in Japan, it has stayed connected to its religious roots. During my visit I felt a calming air of Buddhist contemplation, which is probably why I was in no hurry to leave.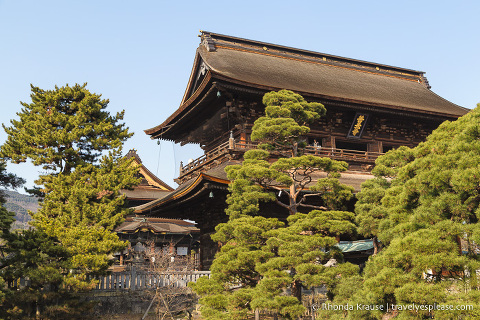 As for Nagano, I felt so content and happy here, even though there was nothing really notable about the city, apart from Zenko-ji Temple. It was simply a nice place and I would return here again to explore more of the surrounding areas.
Side Trips From Nagano
Nagano City makes a great base for exploring some of Nagano Prefecture's popular tourist attractions. Enjoyable day trips from Nagano include a visit to Matsumoto Castle, and a trip to Jigokudani Monkey Park to see wild snow monkeys bathing in a hot spring.
Tips for Visiting Nagano and Zenko-ji Temple
Location: Nagano is the capital city of Nagano Prefecture in the centrally located Chubu region of Japan.
Getting to Nagano: From Tokyo, Nagano is about 80-100 minutes by Shinkansen train. There are multiple trains per hour and the ride is covered by the Japan Rail Pass (buy the pass here).
Getting to Zenko-ji Temple: Zenko-ji is an enjoyable and easy 30 minute walk from Nagano Station or a 10 minute bus ride (Zenko-ji Line).
Zenko-ji Temple Opening Hours and Admission: Visiting Zenko-ji Temple is free of charge, however there is an admission fee to enter the hall's inner sanctuary/Naijin (ticket includes the Okaidan crypt passage and Zenkoji History Museum).
Zenko-ji Temple is open 24 hours but the Hondo (hall) is only accessible from sunrise until 4:00 or 4:30 pm depending on the season.
Confirm current hours and prices here.
Information was updated June 2022, but can change without notice. Please confirm directly with the venue.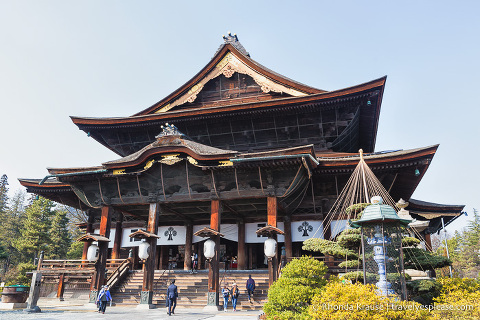 Accommodations in Nagano
For your convenience, here is a list of hotels in Nagano. Please consider booking your accommodations through the included link, as it costs nothing extra and helps support this website. Thank you!
More Japan Destinations and Travel Guides