Purchases made through links earn us a small commission, at no extra cost to you.
Each country has its own unique culture, but there's something really compelling about Japan, a place that widely respects and complies with tradition.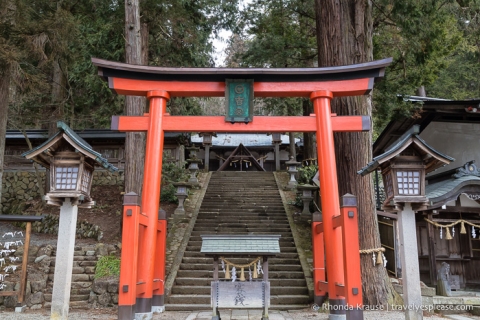 Japanese traditions, whether it be those associated with architecture and craftsmanship, ceremonies and celebrations, or etiquette and hospitality, are a big reason why I keep returning to Japan.
On my previous two trips to Japan, I primarily visited areas known for their natural beauty and interesting history. Japanese culture and traditions were always evident, but on my third trip I wanted to learn about and experience those traditions on a deeper level.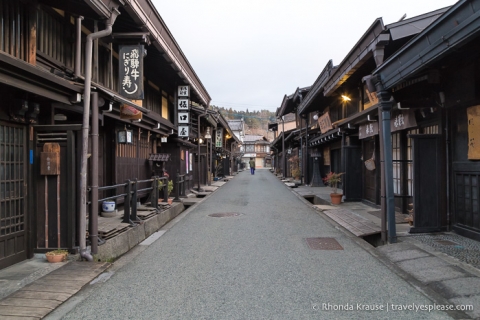 Discovering Japanese Traditions in the Chubu Region of Japan
You can see Japanese traditions all across the country, but the Chubu region of Japan (in central Honshu, Japan's main island) is especially interesting. I discovered traditional industries and architecture that are unique to specific areas, learned about a popular festival, and participated in centuries old customs.
My Japanese traditions themed trip in Chubu was more than just sightseeing- it was also about having experiences.
During my tour of Chubu I got to experience Japanese traditions first-hand, decorating chopsticks with gold leaf, wearing a kimono, soaking in an onsen, and handmaking paper. Of course, sightseeing is fun too, so I visited many places where I could enjoy the Japanese tradition of nature appreciation.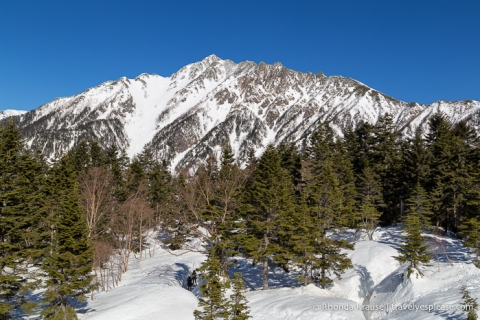 Things to Do in Chubu- Cultural Experiences in Japan
Here are some of my favourite ways to experience Japanese traditions in the Chubu Region of Japan!
Visit a Gassho House and Make Washi Paper in Gokayama
Nanto Municipality, Toyama Prefecture
A visit to Gokayama will have you feeling like you stepped into a Japanese folktale. Traditional thatched roof farmhouses, known as gassho-zukuri, are clustered in small villages throughout the region, their steep roofs resembling hands held in prayer. Some of these gassho houses have been turned into museums or family run inns, welcoming travellers to experience a traditional farmhouse stay.
Besides unique architecture, Gokayama is known for its handmade washi paper, a local industry that has been in existence for at least 1,200 years. Over its history, Gokayama washi paper has been gifted to the Imperial Court and clan lords, as well as been used in restoration projects for properties of the Imperial Household Agency.
Today, Gokayama washi paper is used in various Japanese artworks. The tradition of making Gokayama washi is so respected that it has been officially designated as a national important traditional craft of Japan.
In Gokayama you'll find shops selling many beautiful creations made with washi paper. More fun than shopping though, is participating in the washi making experience yourself.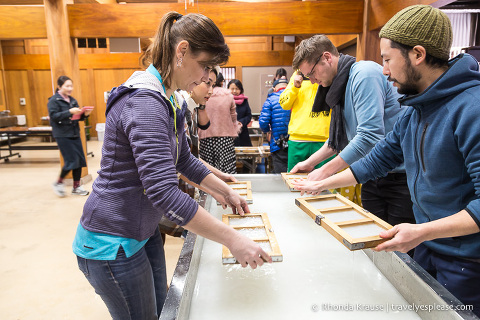 At Gokayama Washi-no-Sato, I took part in a short workshop where I learned how washi paper was made and then got to try it out for myself. It was a fun activity and afterwards I came home with 3 handmade washi paper postcards, a perfect souvenir from my visit to Gokayama!
Read More: Visiting Gokayama- Enjoying Historic Architecture and Traditional Crafts in Ainokura Village
Getting There: Gokayama is most conveniently accessed by car or bus from Kanazawa, Toyama, or Takayama. Estimated drive times to Gokayama from the three cities above range from 60- 90 minutes.
Admire the Senmaida Rice Terraces Illumination
Wajima City, Ishikawa Prefecture on the Noto Peninsula
One thing I've noticed during my trips to Japan is that the Japanese love to hold illumination events, dressing up popular attractions and landmarks with dazzling light displays.
One such illumination is Aze no Kirameki ("Twinkling of the Ridges"), an annual event that transforms the Shiroyone Senmaida rice terraces into a seaside maze of colourful lights.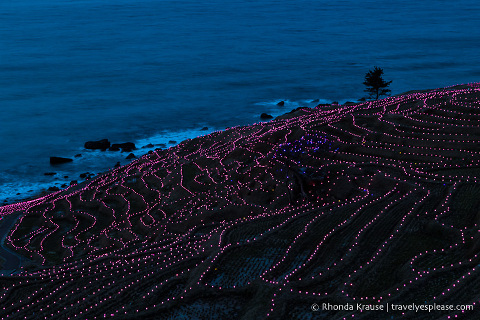 It's a fantastic display, but pictures can't convey just how captivated I was by the location. I arrived just as the sun was setting over the Sea of Japan. My excitement rose as darkness began to fall, the 21,000 LED lights slowly twinkling on. Soon the 1,004 tiny rice paddies were outlined in pink lights, facing the crashing waves.
There's a path you can follow down to the terraces if you want to wander through the light display, but I was happy viewing the display from above. I couldn't help but think this would be a romantic place to go on a date!
Every 30 minutes the lights change colour and once they turned yellow, it reminded me of the old arcade game Pac-Man. Don't you think the lights look like a maze of Pac-Dots?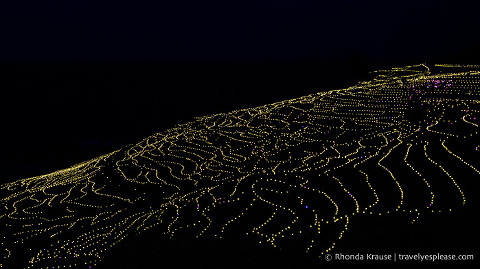 The annual Senmaida light up event happens from mid-October to mid-March and is free to attend. The illumination starts at sundown and turns off 4 hours after sunset.
Getting There: Wajima can be reached by bus (Hokutetsu, on the Wajima Express) from Kanazawa Station in about 2 hrs. From Wajima Station "Furatto-homu", catch another bus (Hokutetsu, Machino Line) to Shiroyone Senmaida, which is 15-20 minutes away. There's a Tourist Information Centre in Wajima Station if you need more information and they apparently have staff that speak English, Chinese, and Taiwanese.
Other Illumination Events in Japan: Nabana no Sato Winter Illumination
Stroll Kanazawa's Higashi Chaya District in a Kimono
Kanazawa, Ishikawa Prefecture
Higashi Chayagai is the largest of Kanazawa's three preserved teahouse districts. Its cultural interest dates back to the Edo Period, when geisha would regularly perform Japanese arts for guests in the many chaya (teahouses).
In Higashi Chayagai today, you will still find a few teahouses that are open to the public, along with some cafes and shops housed inside the historic wooden buildings.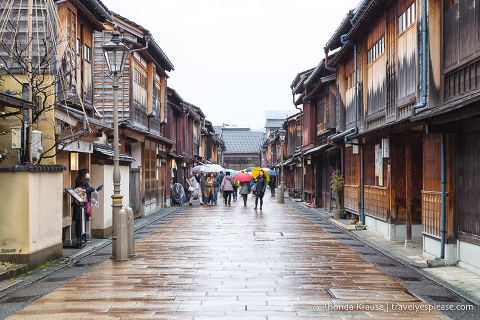 A fun way to explore the Eastern Teahouse District is dressed in a formal kimono, a traditional Japanese garment.
I rented a kimono at a shop called Kanazawa Kirara, which was only a block away from Higashi Chayagai. Getting dressed in a kimono is no easy task, so luckily there was a staff member who dressed me. Kimonos are made to a standard pattern and the fit is adjusted during dressing, so this meant there was plenty of ties and sashes being pulled tight. The dressing process was just as interesting to see as the teahouse street!
Once I was dressed in my kimono, my hair was styled and I was allowed to pick out some hair ornaments, a bag, shawl, umbrella, and sandals. Once I saw the final product, I couldn't believe that was me. I felt so pretty!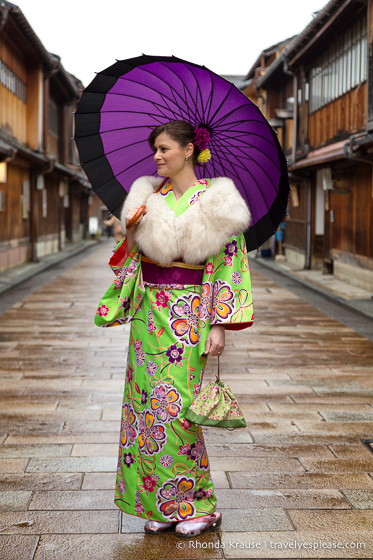 Wearing a beautiful kimono really put me in the mood to explore Higashi Chayagai. I felt like I had gone back in time, especially since there were many others, both men and women, strolling the street in kimonos. As I slowly walked around Higashi Chayagai (because the socks and sandals combination wasn't the easiest to move in), I was deep in the moment, thinking about what a wonderful experience this was.
I didn't want it to end, and I definitely didn't want to return my vibrant and stunning kimono.
At first I thought I would feel silly renting a kimono in Kanazawa, but it turned out to be my favourite part of my Japanese culture and tradition themed trip in Chubu. I'd even say it was one of my most delightful experiences in Japan.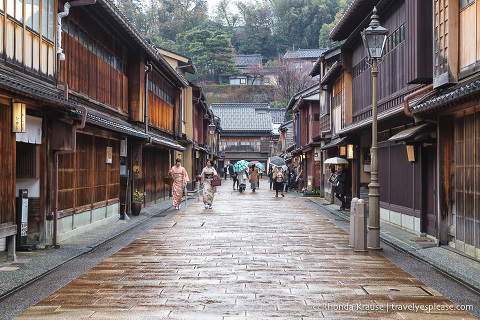 Getting There: Higashi Chayagai can be accessed by the Kanazawa Loop Bus (take the Right Loop). It's about a 10 minute ride from Kanazawa Station then a 5 minute walk. The Kanazawa Kirara kimono rental shop is close by at 1-3-18 Higashiyama.
Experience Gold Leaf at Hakukokan Museum
Kanazawa, Ishikawa Prefecture
On a trip to Japan, you'll likely notice that gold leaf is a common element in Japanese art, crafts, interior design, and even architecture (Kinkakuji Temple, the gold leaf covered pavilion in Kyoto comes to mind, as does the lavish Toshogu Shrine in Nikko).
Almost all Japanese gold leaf (99% of it) is made in Kanazawa. A leading manufacturer of gold leaf is Hakuichi and a visit to their main shop/museum provides many opportunities to learn about and experience Japanese gold leaf.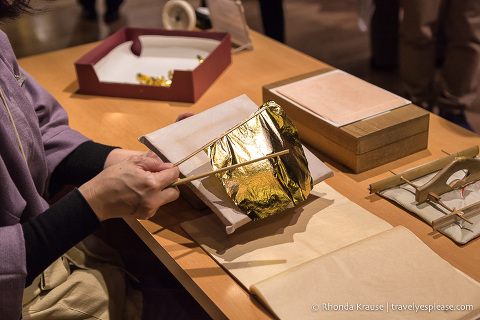 At Hakukokan Museum I got some first hand experience with gold leaf application, decorating a pair of chopsticks with gold and silver.
The workshop instructor modeled how to work with gold leaf, demonstrating the different techniques used to make the sample chopstick designs. The instructor spoke only Japanese, but her actions were clear enough that I could understand what to do.
I picked a design I wanted to replicate and began to work. Turns out it was a lot harder than it looked thanks to the delicate nature of gold leaf. It didn't help that I was trying to copy the most advanced design. Even though my chopsticks didn't turn out how I envisioned, I still had fun trying!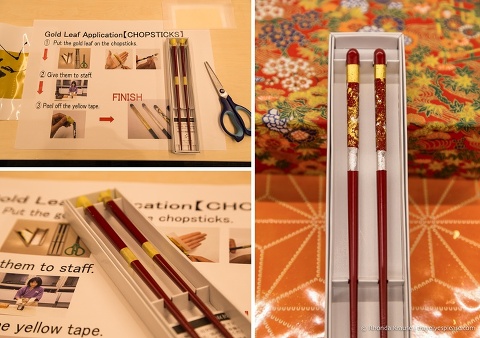 Before leaving Hakukokan Museum, I made sure to stop by the café to try the house specialty- gold leaf ice cream. This soft-serve creation is crafted like a work of art, complete with gold dust, a cherry blossom candy, and a gently transferred sheet of edible gold leaf.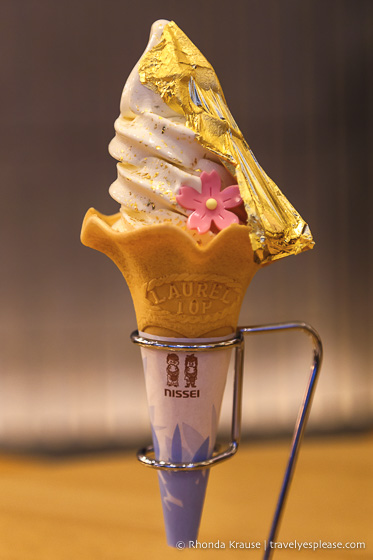 I had no idea gold was edible until visiting Kanazawa. As long as the gold is 23-24 karats (as pure as possible), it's considered chemically inert and will pass through your digestive system without being absorbed.
So what does gold taste like? It tastes like nothing, has no flavor whatsoever. Eating gold is purely a novelty, providing some good laughs when it sticks to your lips!
Getting There: Hakukokan Museum is located at 2-1-1 Morito, a 15 minute drive from Kanazawa Station. To get there by local bus, I was told to get on one at Korinbo bound for Shin Kanazawa Yubinkyoku. This is the last stop, so from there you need to walk 15 minutes. I didn't take the bus myself, so I would check with your hotel if this is correct. Hakuichi also has a shop in the Higashi Chaya District where you can buy gold leaf ice cream.
Relax at Kenrokuen Garden
Kanazawa, Ishikawa Prefecture
One of my favourite traditions in Japan is the art of the Japanese garden. Classic Japanese gardens consist of four types- paradise garden, dry-landscape garden, tea garden, and stroll garden. A common principle of Japanese gardens is to create a miniature idealized landscape, often with symbolic elements, that is appealing in every season.
A fine example of a stroll garden is Kenrokuen Garden in Kanazawa. In fact, it's considered one of Japan's Three Most Beautiful Gardens.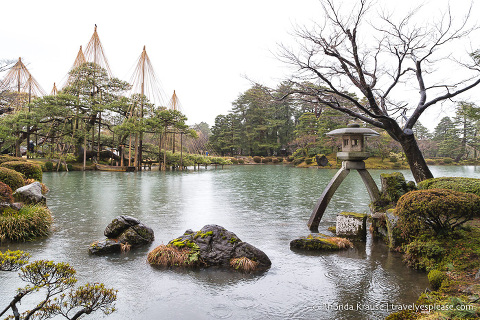 Kenrokuen Garden is characteristic of a typical landscape garden of the Edo period. There are large ponds, winding streams, bridges, and teahouses. Kenrokuen means "garden of six qualities", and I must say, it lives up to the name. As I strolled around I noticed the six attributes of a perfect landscape garden- spaciousness, seclusion, artifice, antiquity, watercourses, and panoramas.
The best-known tree of Kenrokuen Garden is the Karasakinomatsu pine. In the winter you'll see their branches held up by ropes (yukizuri) to protect them from breaking under the weight of heavy snow.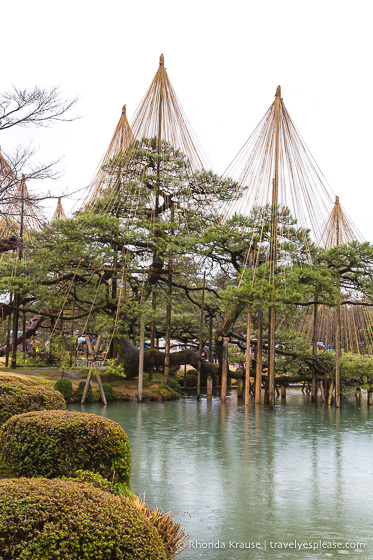 Another famous spot in Kenrokuen Garden is the Kotojitoro lantern. This lakeside, two-legged stone lantern is shaped like the bridge of a koto, a traditional Japanese stringed instrument.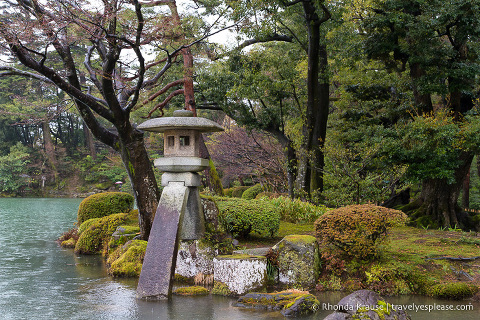 Unfortunately, when I visited it was a very rainy day in early March and the plum blossoms were just starting to bloom. I really want to come back to Kenrokuen Garden on a future trip so that I can I can explore it more in-depth, hopefully with better weather and more colour. Even though you can see plum and cherry trees here in spring, I really would love to see the garden in autumn colours.
On my next visit, I also would like to explore Kanazawa Castle Park across the street.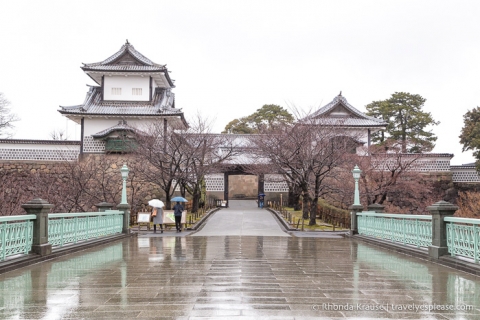 Getting There: Kenrokuen Garden can be reached by the Kanazawa Loop Bus and the Kenrokuen Shuttle Bus, which departs from Kanazawa Station. There also is a JR bus from Kanazawa Station that goes to Kenrokuen and is covered by the Japan Rail Pass.
Retreat to an Onsen Resort in Gero
Gero, Gifu Prefecture
A treasured pastime in Japan is communal bathing in an onsen, a natural hot spring. Onsen bathing has been a custom for centuries and involves a specific etiquette, most notably, bathing in the nude.
You can find onsen all over Japan in many different forms, including indoors and outdoors, natural pools and man-made, gender separated and mixed.
A popular hot spring resort town in the Chubu region is Gero. In the Edo period, Gero Onsen was referred to by Confucian poet Hayashi Razan as one of Japan's three best onsen, a reputation it holds to this day.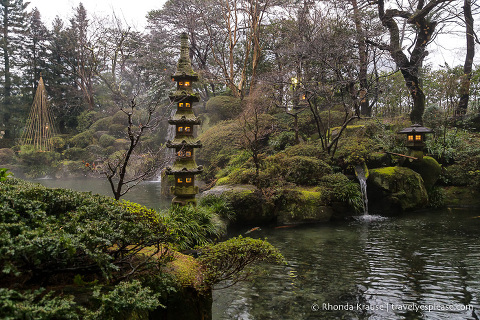 Gero has public bath houses and some open air spas, but my favourite way to enjoy an onsen is at a hot spring ryokan (Japanese style inn).
In Gero I spent the night at Suimeikan Ryokan, a large onsen resort that offers three hot spring baths, Japanese-style rooms, and a selection of restaurants. There was no better way to relax after a long day of travel than to put on a yukata (lightweight kimono) and go "hot spring hopping", trying out the different spas throughout the resort.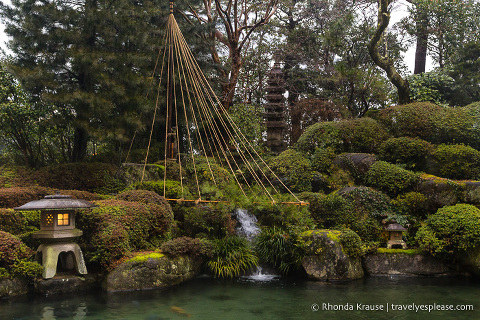 Getting There: Gero can be reached in 90 minutes by train from Nagoya. From Takayama, you can reach Gero by limited express train in 45 minutes, or local train in 60 minutes. You can also catch a local bus to Gero from Takayama (90 minute trip).
Book a stay at Suimeikan Ryokan
Enjoy a Japanese Foot Bath (Ashiyu)
Awara City, Fukui Prefecture
If you're not keen on communal bathing in the nude, a more modest way to enjoy Japan's onsen tradition is with a foot bath (ashiyu).
You'll find free public foot baths all over Japan. They are often set up on street corners in onsen towns, and sometimes in train stations and parks. Unlike a normal hot spring, at an ashiyu you only need to remove your socks and roll up your pants to the knees. Then you simply sit at a bench and soak your feet.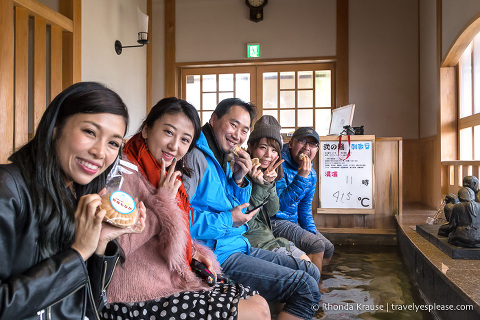 I tried a few foot baths in Japan but my favourite one so far is the Awara Onsen Ashiyu in Awara City. There are 5 pools with different temperatures of water, all coming from Awara's natural hot springs. The water is constantly flowing so is kept nice and clean. You can even buy snacks and drinks to enjoy while soaking your feet.
Even though you're not fully immersed in the water, a foot bath still warms the entire body. I was so relaxed I didn't want to leave!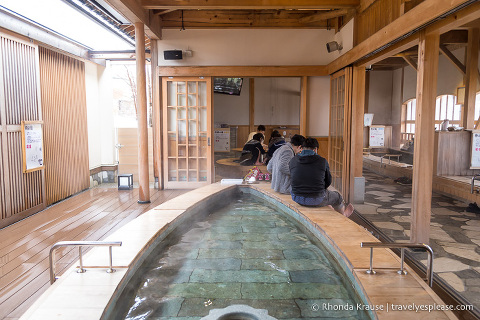 Getting There: From Kanazawa Station you can take a train to Awara Onsen Station. A local train on the Hokuriku Line should get you there in about 70 minutes and limited express service in 35 minutes. From Awara Onsen Station, take a bus to Echizen Railway Awara-Yunomachi Station, near the hot spring town area (15 minute travel time). If you have a car, the drive from Kanazawa should take 1 hour.
Appreciate Mountain Views at Shinhotaka Ropeway
Takayama, Gifu Prefecture
Appreciation of nature is an intrinsic part of Japanese culture, a concept that is core to Shinto, Japan's oldest religion.
A fantastic way to enjoy nature during a tour of Chubu is to ascend the Shinhotaka Ropeway in Chubu Sangaku National Park.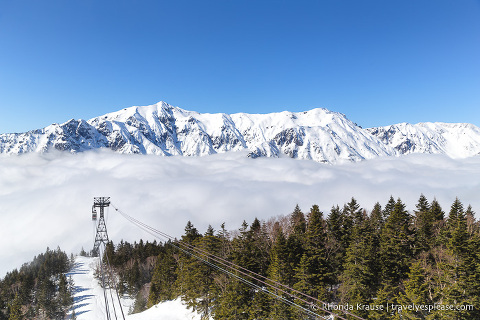 From the observation deck on Mt. Nishihotakadake, you get a panoramic view of Japan's Northern Alps. The scenery was especially atmospheric when I was there since a sea of cloud was covering the valley below.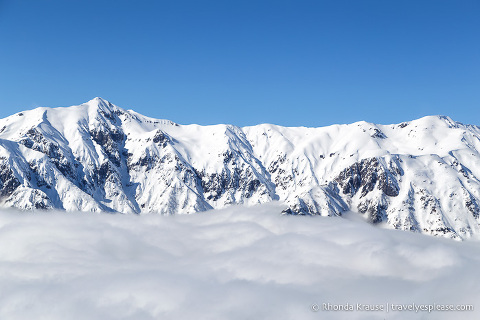 Besides wonderful alpine views, there are also nature trails and hot springs nearby the ropeway's two upper stations.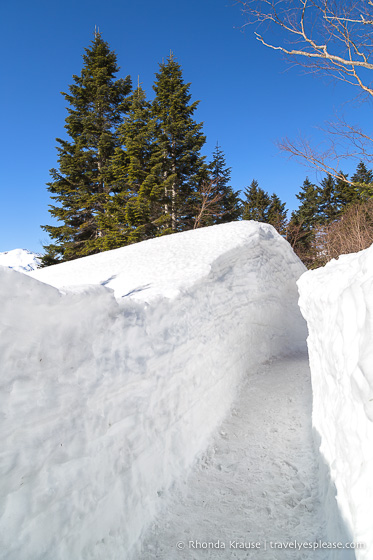 Getting There: From Takayama, the Shinhotaka Ropeway can be reached in 90 minutes by bus or 70 minutes by car.
View the Takayama Festival Floats
Takayama, Gifu Prefecture
The Takayama Festival is considered to be one of the three most beautiful festivals in Japan, but if you're not lucky enough to attend the spring or autumn celebration, a satisfying alternative is to view replicas of the festival floats at the Matsuri no Mori festival museum (part of the Takayama Art and Festa Forest).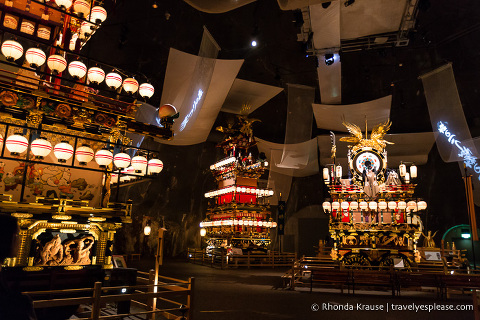 During the spring celebration of the Takayama Festival, elaborately decorated floats (yatai) are carried by people dressed in Edo-period costumes from Hie Shrine through Takayma's old town. The autumn festival is similar, but starts at Hachiman Shrine.
At Matsuri no Mori Takayama Festival Museum, you can see life-sized replicas of six floats used in the Takayama Festival. I was blown away by how detailed and ornate they were, decorated with carvings, gold, and most interestingly, mechanical marionettes (karakuri dolls).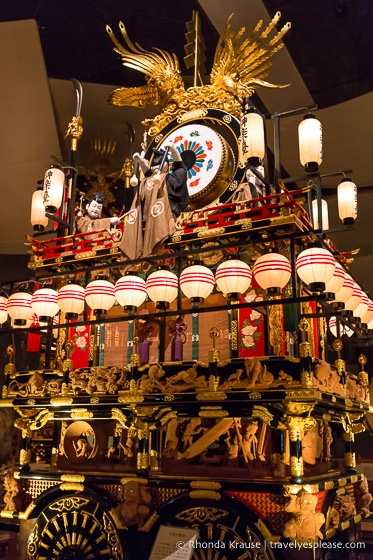 Throughout the day, "performances" are held where you can see the puppets in action on their respective floats. The craftsmanship of both the floats and marionettes was extremely impressive and made me want to see the festival in person one day.
Also on display at the Takayama Festival Museum are miniature festival floats, gold lacquer folding screens, and the world's largest taiko drums, which are played a couple times a day by robotic dolls.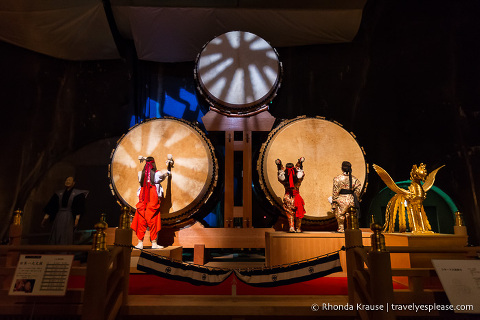 Getting There: The Takayama Art and Festa Forest is on the outskirts of the city, but can be reached in 15 minutes by bus from Takayama Station.
Final Thoughts About My Trip to Chubu
My tour of Chubu was different than my usual trips, in that it had more focus on culture and tradition than outdoor adventures, but it was great to return home feeling like I had learned some things about Japan and not just seen a lot of pretty places.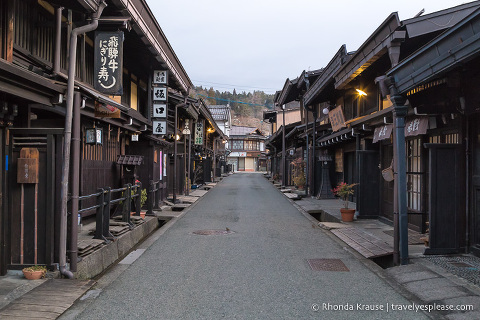 Although I'm not particularly talented at arts and crafts, I enjoyed making washi paper and decorating chopsticks with gold. Since I don't like shopping, these workshops gave me an opportunity to bring home souvenirs with special meaning because I made them myself.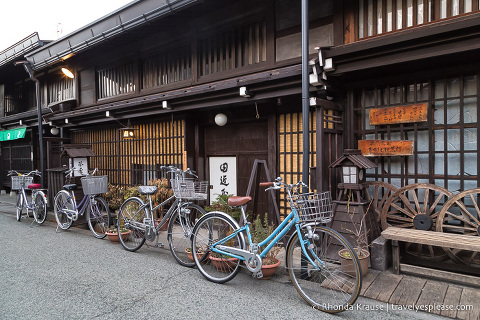 I can see myself returning to both Takayama and Kanazawa because I feel they are worthy of spending more time at. I just scratched the surface of what these two cities and their surrounding areas have to offer.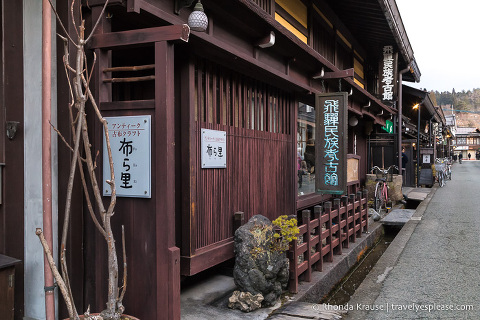 Tips for Visiting Chubu
Nagoya is a pleasant and convenient starting point for exploring Chubu because it's a major transportation hub for the region. Before setting out on a trip around Chubu, I recommend visiting Nagoya Castle.
For this 5 day Chubu itinerary, I got around by private vehicle, which was most convenient for exploring the mountainous rural regions. However, you could do this trip using a combination of trains and buses.

I started and ended in Nagoya, spending nights in Gero, Takayama, Wajima, and Kanazawa.
If you like to have a home base, I would do this tour of Chubu as side trips from Takayama and Kanazawa.

Chubu is a large region, with many fantastic destinations that weren't included in this Japanese traditions themed trip. Other interesting places to visit in Chubu are Matsumoto Castle, Nagano and Zenko-ji Temple, the Jigokudani Monkey Park, and Mt. Fuji and the Fuji Five Lakes.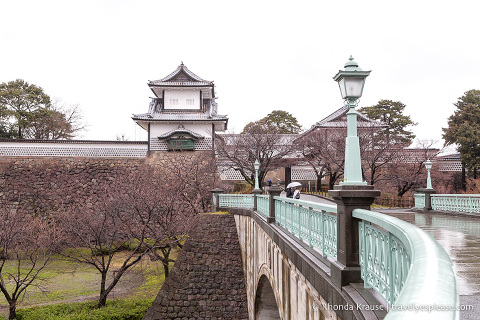 Accommodations in Chubu
For your convenience, here is a list of hotels in Kanazawa, Takayama, and Gero. Please consider booking your Chubu accommodations through the included link. It costs nothing extra and helps support this website. Thank you!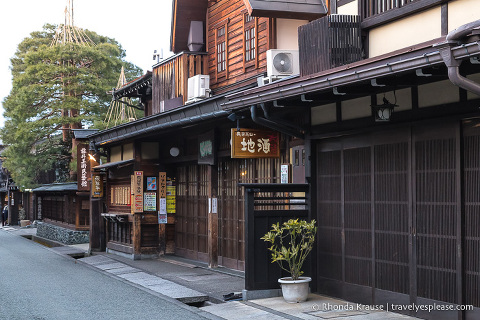 I visited Chubu as a guest of the Japan National Tourism Organization. As always, I only speak the truth and hosts have no editorial influence on articles.
More Japan Destinations and Travel Guides