Purchases made through links earn us a small commission, at no extra cost to you.
Cienfuegos was just a quick stop on our excursion to Trinidad, but as soon as I stepped off the bus at Parque Marti, I was wishing we could stay at least a few hours.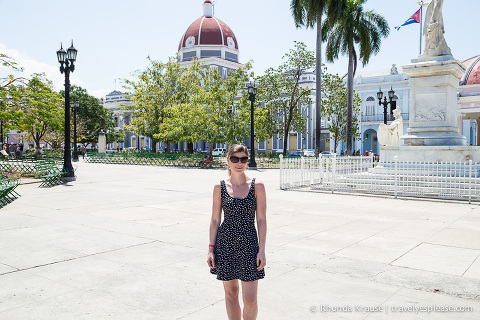 A UNESCO World Heritage Site, Cienfuegos was lovingly nicknamed in colonial times the "Pearl of the South". The seaside city still retains much of its colonial delight, thanks in part to a well preserved historic centre and José Martí Park.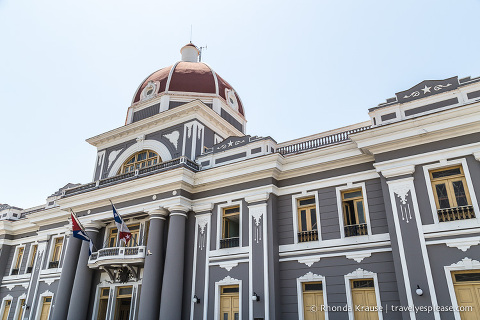 Exploring Parque Marti in the Historic Centre of Cienfuegos
As the centre of Cienfuegos, Parque Marti is revered both for its historical importance and symbolic significance.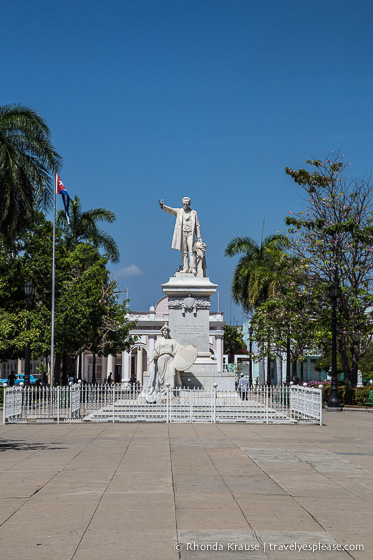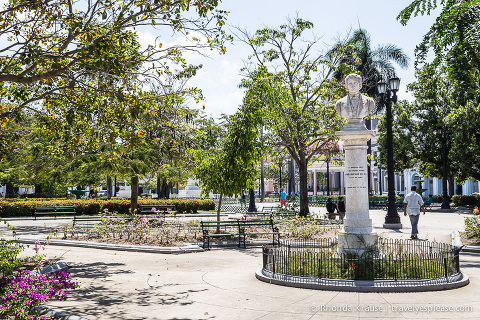 The establishment of Cienfuegos was quietly celebrated here, under the hibiscus tree chosen as the marker for laying out the city's first 25 blocks. Inlaid in the cement of this former parade ground is a compass rose, called the "zero kilometre", marking the central point of Cienfuegos.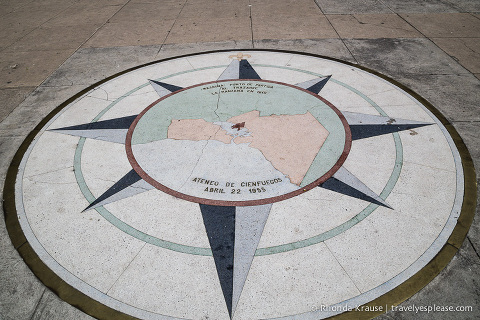 Lions on marble pedestals flank the entrance to the park, framing a monument in the distance dedicated to Cuban national hero José Martí, who played a significant role in the liberation of Cuba from Spain. This monument to José Martí was erected in 1906, 11 years after his death.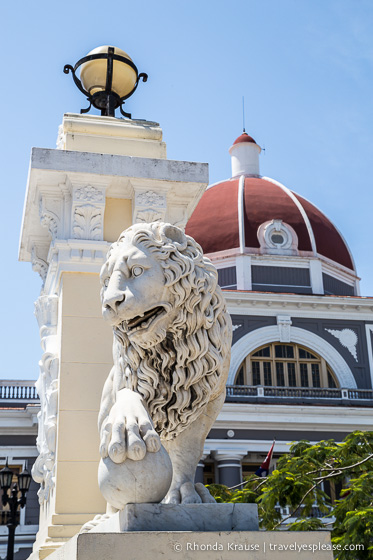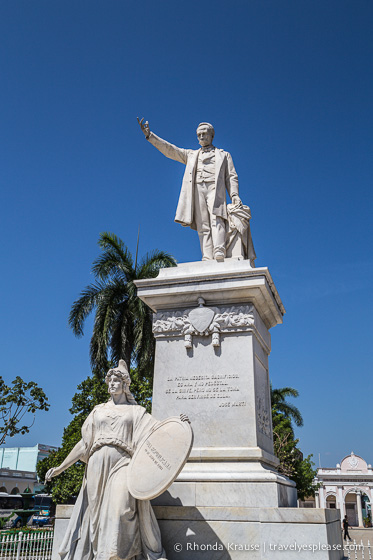 Further down the path, at the west end of the park, stands Cuba's only triumphal arch. Commissioned in 1902 by the local workers' corporation, it commemorates the creation of the Republic of Cuba.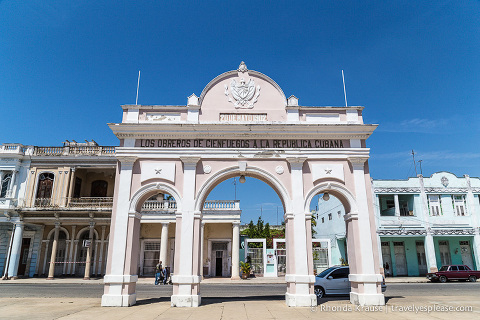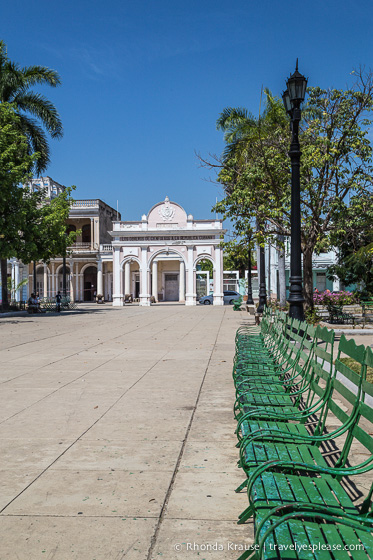 Buildings Around Parque Marti
Parque Marti is surrounded by many important historical buildings and fine examples of Neoclassical architecture, which is another reason why the plaza has been declared a national monument. Here are some of the buildings you'll see around the perimeter of Parque Marti.
Antiguo Ayuntamiento
Bordering the southeast side of Parque Marti is Antiguo Ayuntamiento (Old Town Hall). This elegant building is said to be modeled after the Capitolio in Havana and is home to the provincial government assembly.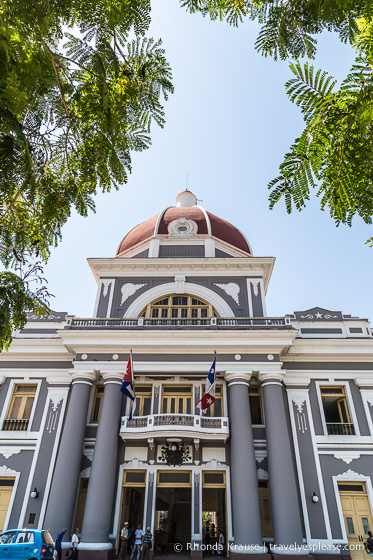 Catedral de la Purisima Concepción
On the east side of Parque Marti is Catedral de la Purisima Concepción, also known as Cienfuegos Cathedral. It was built from 1833-1869 and features two dome-covered bell towers of differing heights, French stained glass windows depicting the 12 Apostles, and a Neoclassical façade.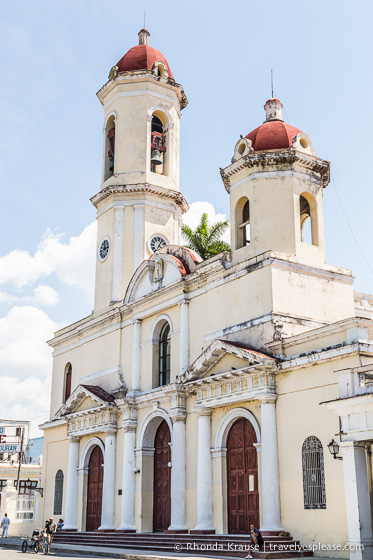 Teatro Tomás Terry
On the northeast side of the square is Teatro Tomás Terry. This late 1800s theatre is named after Tomás Terry Adams, a wealthy sugar factory owner who later became mayor of Cienfuegos. It was in his last will and testament to have this Italian-style theatre built after his death. World famous singers, such as Italian tenor Enrico Caruso, performed here in the early 1900s.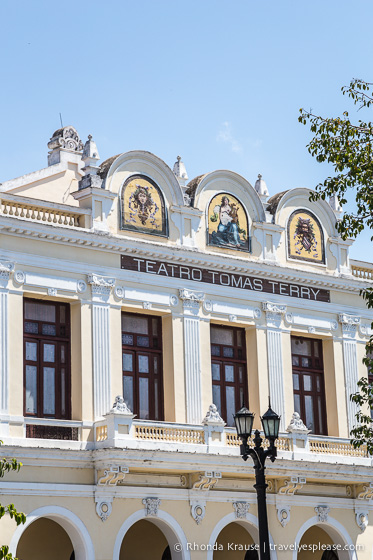 Some of the theatre's notable architectural features include three made in Venice Byzantine mosaics on the pediment, five entrances framed by five arches, and a two tiered U-shaped auditorium.
Collegio de San Lorenzo
Next to the theatre is another Neoclassical building, Collegio de San Lorenzo. This school was built thanks to a generous donation from Nicolás Jacinto Acea, an academic who valued accessible education for all.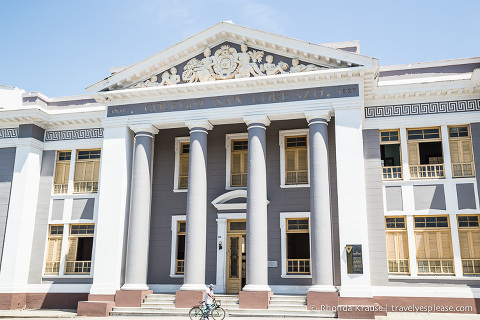 Palacio Ferrer
On the western end of the plaza is Palacio Ferrer. This blue and white palace was built in the early 1900s by sugar magnate José Ferrer Sirés. Rumour has it that Enrico Caruso stayed here when he performed at Teatro Tomás Terry. Visitors can climb up a winding staircase into the cupola for nice views of Parque Marti and Cienfuegos.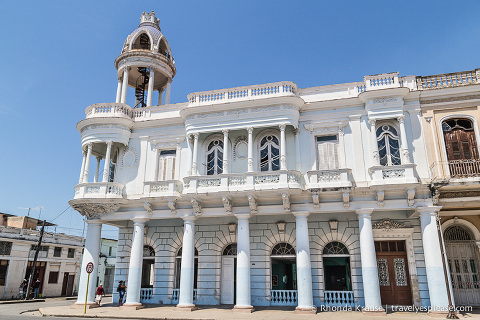 Final Thoughts About Our Visit to Parque Marti
We liked seeing Parque Marti in Cienfuegos, even though our visit was brief. We enjoyed a short walk around the square, learned a little bit of history, and saw some beautiful buildings. Had the park not been a quick stop on a tour to other destinations, I would have liked to spend some time inside the historic buildings.
Tips for Visiting Cienfuegos
Cienfuegos is located in west-central Cuba on the southern coast. It is 250 kilometers from Havana.
Some resorts in Varadero offer guided tours/excursions to Cienfuegos. Our visit was part of an overnight excursion to Trinidad and Guanayara National Park.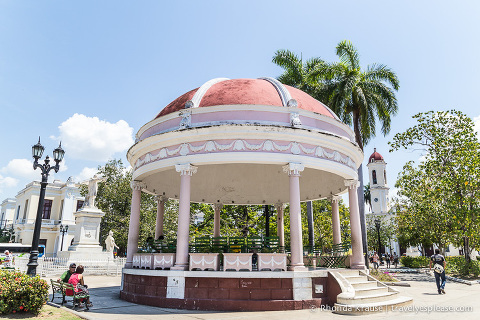 More Cuba Destinations and Travel Guides