Purchases made through links earn us a small commission, at no extra cost to you.
Standing alone in a field, overshadowed by the popular Rock of Cashel, are the ruins of Hore Abbey.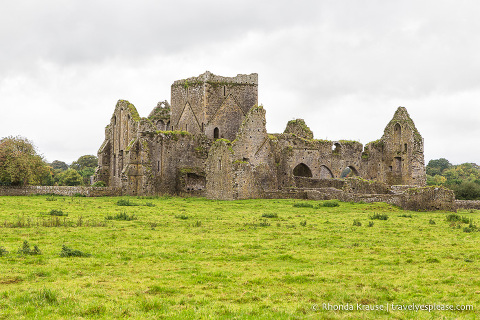 The remains of this 13th century monastery are delightfully gloomy, its stone walls crumbling away as plants invade the cracks between rocks.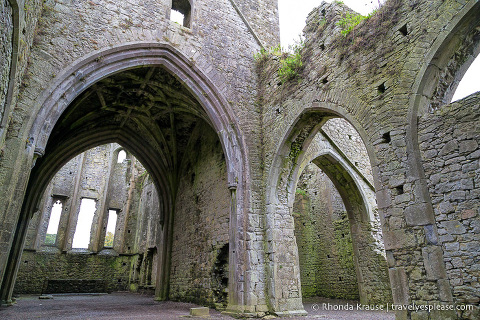 It's a place I loved visiting, even with wind, rain, and spooky looking black birds flying above my head. The ominous mood emanating from Hore Abbey was both chilling and thrilling, making it all the more fun to explore these ancient Irish ruins!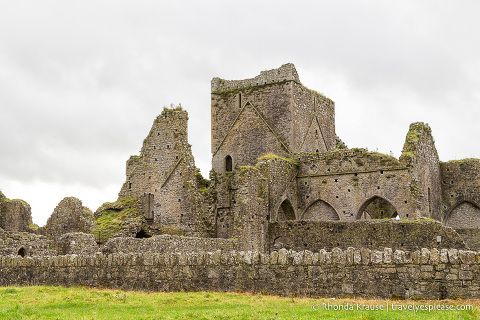 History of Hore Abbey
Hore Abbey was originally a Benedictine monastery, founded in 1266 just west of the town of Cashel.
In 1272, Archbishop David McCarvill banished the Benedictines from the monastery and the reason why is the stuff of legends- he dreamed they were plotting to murder him!
The Archbishop then invited Cistercians from Mellifont, in County Louth, to come and take over the abbey. Hore Abbey was the last Cistercian foundation in Ireland.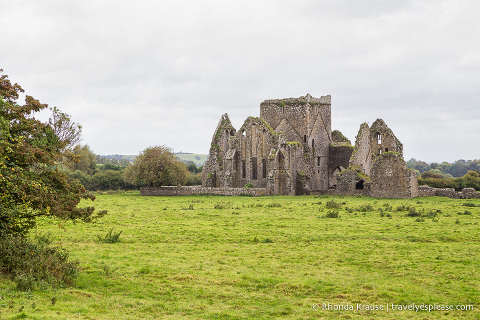 Hore Abbey was built out of limestone and consisted of a cruciform Gothic church, square cloister, living quarters, and a tower that was added in the 15th century.
Much of the church remains today, along with sections of the east side of the monastery and fragments of the cloister.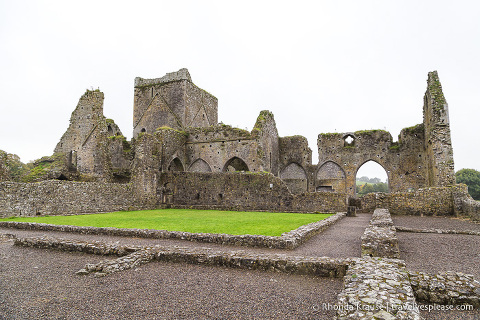 My Visit To Hore Abbey
I ended up at Hore Abbey after missing my turn to the Rock of Cashel parking lot. I was planning on visiting the monastery later in the day, but decided to do it first, since I was already there.
After chuckling at the name ("hore" is actually derived from "iubhair", which means yew tree), I bundled up and set out to explore the abbey.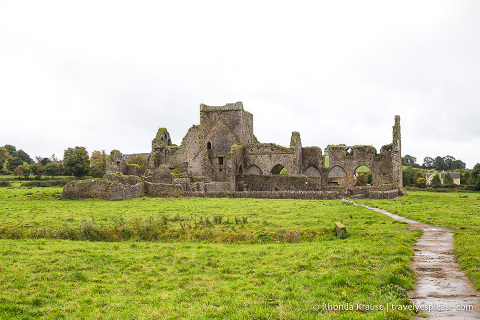 It was raining quite hard when I arrived, so I had the ruins all to myself. As I quietly walked from room to room in the centuries old stone building, I felt like maybe I wasn't alone after all.
Is the monastery haunted, or am I letting my imagination run wild? I wondered.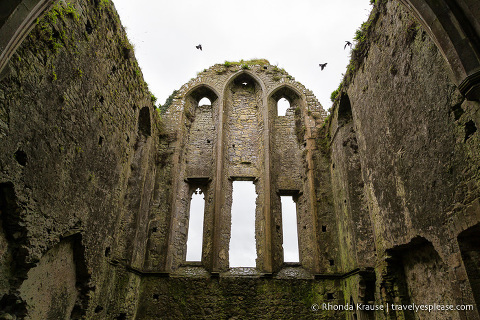 In an effort to chase away those thoughts, I started to admire the architecture of the abbey. Archways and window frames had impressively withstood the test of time, while some sections of walls had fallen away. Even in a ruined state, Hore Abbey was a beautiful building.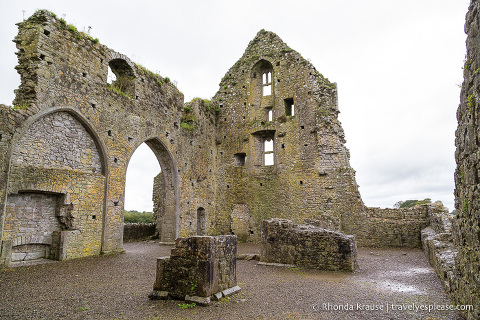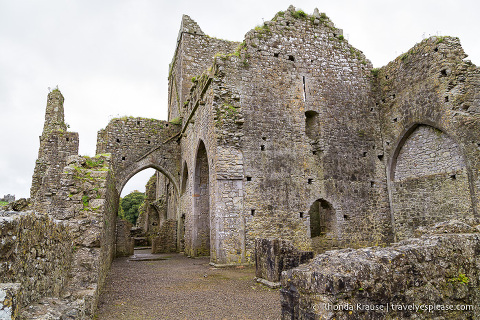 From inside the abbey I could see the Rock of Cashel, its medieval buildings looming above the field I was standing in. Soon I would head over there, but I wasn't quite done exploring Hore Abbey.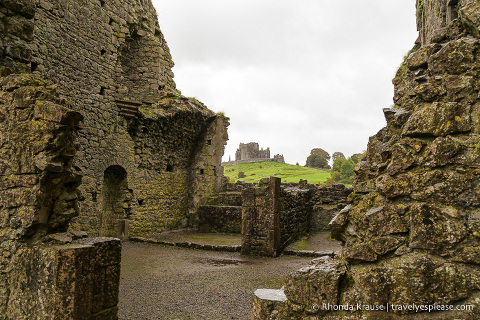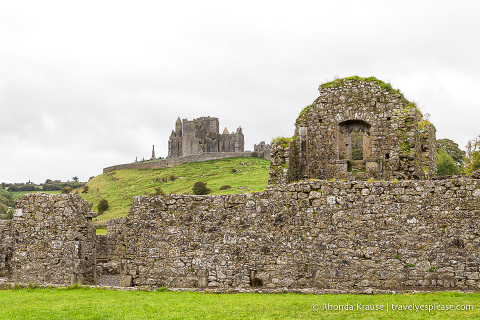 As I turned a corner, a flock of black birds flew overhead and landed on a tree in the small cemetery. Being scared of birds, I took this as a sign that maybe it was time to leave.
So I made my way back to the front of the abbey and returned to my car feeling like I'd discovered a special place just for me- creepy birds and all!
Final Thoughts About Visiting Hore Abbey
I absolutely loved the ruins of Hore Abbey! The mysterious, moody atmosphere was just the type of vibe I like to experience when visiting places like this. Hore Abbey was one of the most enchanting, atmospheric ruins I visited during my two weeks in Ireland.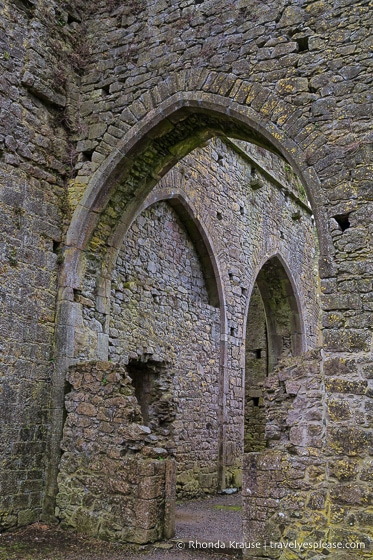 The best part was that there were no tour groups- just a quiet, undisturbed building that could be experienced in an authentic way, without the distractions of tourism.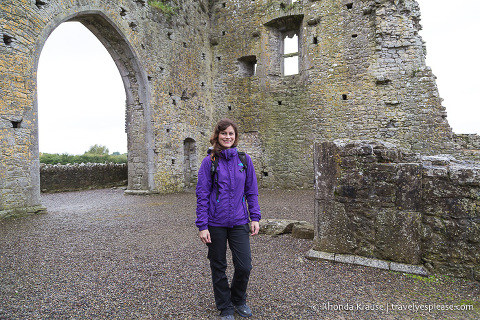 Tips For Visiting Hore Abbey
Location: Hore Abbey is located near the town of Cashel in the county of Tipperary, Ireland. It's less than 1 km west of the Rock of Cashel (about a 10 minute walk).
Parking: There's not a proper parking lot, just a very small pullout big enough for one car at the entrance to the field.
Admission and Opening Hours: Hore Abbey is always open and there is no admission fee.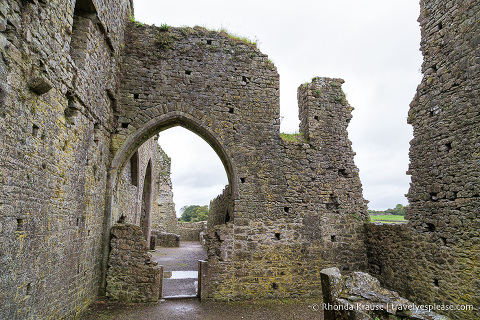 Accommodations Near Hore Abbey
For your convenience, here is a list of hotels in Cashel and Kilkenny (a larger town less than an hour away). Please consider booking your accommodations through the included link. It costs nothing extra and helps support this website. Thank you!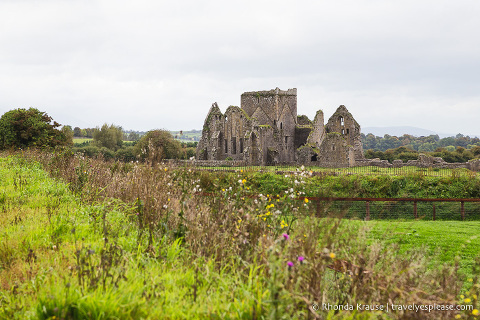 More Ireland Destinations and Travel Guides