Purchases made through links earn us a small commission, at no extra cost to you.
Miyajima may be known as "shrine island", but there is just one that takes centre stage- Itsukushima Shrine.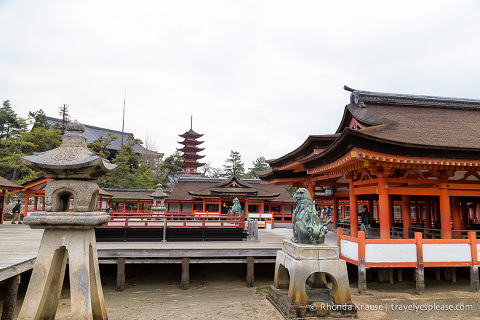 You may not know Itsukushima Shrine by name, but you probably have seen photos of the shrine's famous torii gate, standing in the waters of the Seto Inland Sea.
It was photos of this torii gate, seemingly floating in the water, that introduced me to Itsukushima Shrine and made Miyajima a must-visit on our first trip to Japan.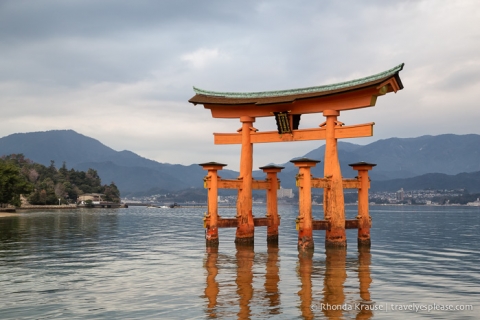 Itsukushima Shinto Shrine (Itsukushima-jinja) is without a doubt a special place. Much of its attraction is because of its location. The shrine is tucked into a small inlet, built above the waters of the Seto Inland Sea and backed by Mount Misen. It is most picturesque at high tide when the shrine looks as though it is floating above the water.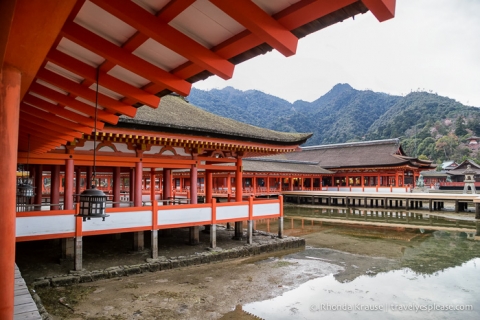 Based on the crowds we saw at the shrine, I think it's safe to say that Itsukushima Shrine is the most visited place on Miyajima Island. For this reason, we waited until the morning of our departure to visit the shrine.
We arrived at Itsukushima Shrine just after it opened at 6:30 am. The mood was exactly what I wanted to experience- peaceful, calm and serene. There was only a handful of other people (and some deer) visiting the shrine, so it definitely paid off to get up early.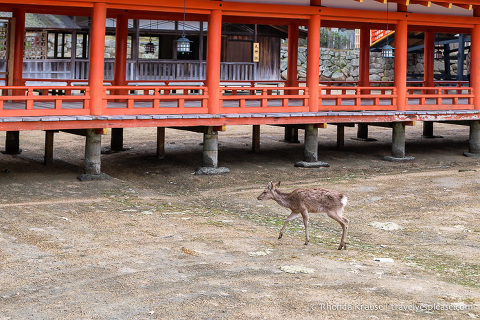 A gentle rain fell as we quietly wandered down the vermilion coloured corridors, visiting the different buildings and smaller shrines that make up Itsukushima Shrine. There wasn't one part of the shrine that stood out in my mind above others, but rather our visit felt like a unified experience- all the parts blended beautifully together, creating one last wonderful memory of our time in Miyajima.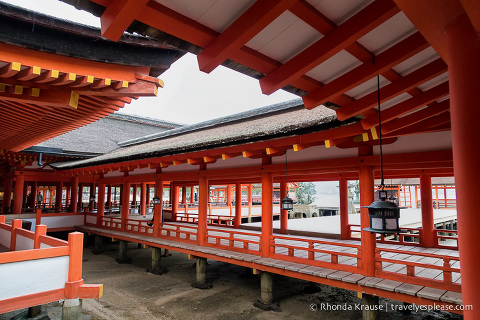 History of Itsukushima Shrine, Miyajima
Itsukushima Shrine was first built in 593 and was remodeled into the grand structure we see today by powerful military leader Taira-no-Kiyomori in 1168.
The main shrine is dedicated to the three Munakata goddesses- Ichikishima-hime, Tagitsu-hime and Tagori-hime. They are worshipped as deities of the sea, traffic safety, fortune and accomplishment.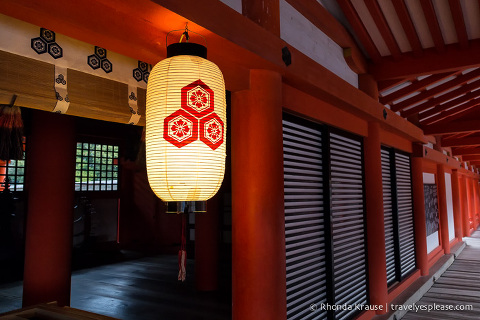 The shrine was an important place of worship for Kiyomori's Heike ("House of Taira") clan and eventually became well known around Japan, attracting visits from the emperor and members of the Imperial Court.
Itsukushima Shrine remained popular even after the fall of the Heike clan, but later experienced misfortune having being damaged by two fires (1207 and 1223) and a typhoon (1325).
Restorations were done but the shrine's importance continued to decline due to political unrest during a time of civil wars.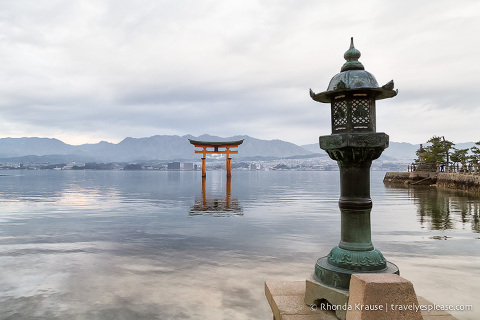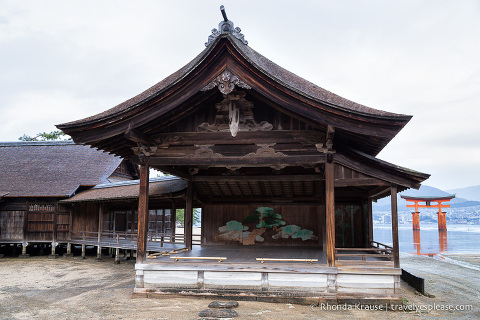 It wasn't until 1555, when Mori Motonari won the Battle of Itsukushima, that the shrine was saved from ruin. It was restored to its former grandeur and regained the deep respect it was shown many years ago.
Itsukushima Shrine's exceptional architecture and representation of Japanese spiritual culture led to UNESCO naming it a World Heritage Site in 1996.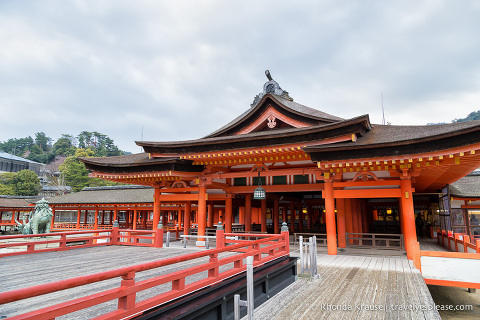 Architecture of Itsukushima Shrine
Itsukushima Shrine was one of the more unique shrines we visited during our two weeks in Japan largely because of its location (standing in the sea) and its style of architecture.
As is typical of Shinden-style architecture, Itsukushima Shrine is a collection of multiple buildings connected by long corridors covered by a roof, but without walls. I thought it was a great design because no matter where you were in the shrine, you could always look out onto the sea.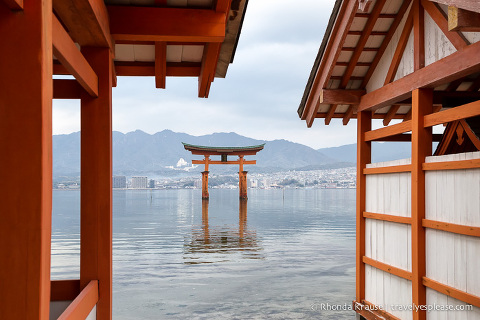 There are 37 buildings that make up the main (inner) shrine and 19 buildings for the outer shrine. All the buildings are raised above the water by wooden pillars. There is no tatami flooring like in other shrines. Instead, the floor was made up of wooden planks.
This Shinden style of architecture was popular during the Heian period and was typically used for estates of the noble class. I've read that Itsukushima Shrine is considered the finest example of Shinden architecture in Japan.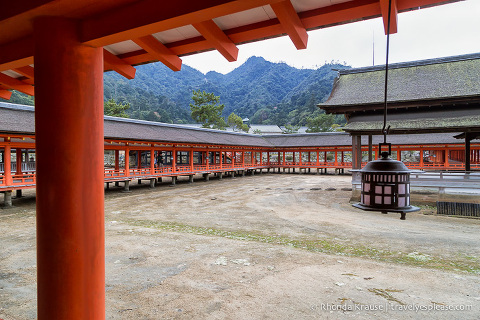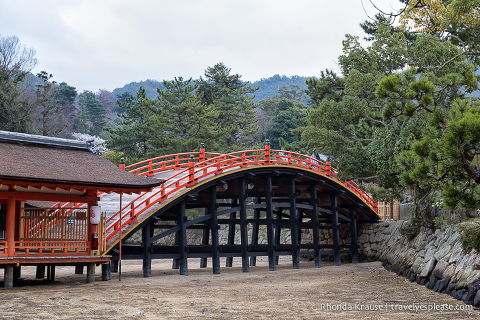 Why Was Itsukushima Shrine Built Over the Water?
There are two theories why Itsukushima Shrine was built standing in the sea. It could have been built to reflect the Buddhist belief of Pure Land. It's thought that when people die, their soul crosses into the next world by boat.
Another theory is that the shrine's design was an attempt to build the mythical Dragon Palace (Ryugu-jo) since Itsukushima Shrine is dedicated to the goddess of the sea.
Final Thoughts About Our Visit to Itsukushima Shrine
It was quite exciting to sail up to Miyajima Island on the ferry and see the floating torii gate of Itsukushima Shrine come into view. The unique architecture of the shrine and the beautiful scenery surrounding it had us eager to start exploring.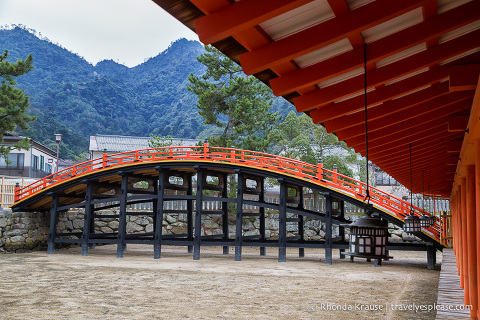 As enthusiastic as we were to visit Itsukushima Shrine, I'm glad we saved it for last. Visiting early in the morning, before the ferries full of tourists started to arrive, meant we had the place almost all to ourselves. Seeing how packed the shrine was in the afternoon the day before, I knew it wouldn't have been the quiet, reflective experience I was hoping to have. The shrine was much more tranquil early in the morning, especially in the rain.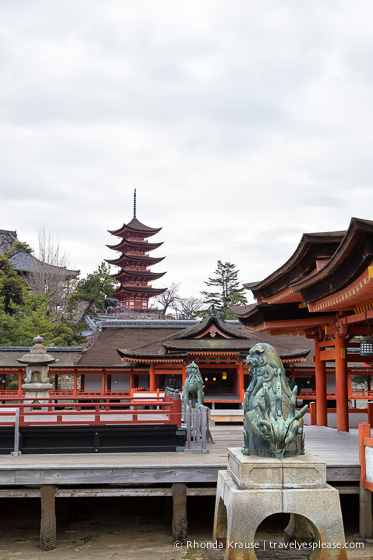 The only thing I wish was that it had been high tide when we visited the shrine. It would have been neat to be surrounded by water! Regardless, we left Itsukushima thinking it was one of the best shrines in Japan we visited.
Tips for Visiting Itsukushima Shrine
Location: Itsukushima Shrine is located on Miyajima Island, in the prefecture of Hiroshima.
Getting There: Itsukushima Shrine can be reached by taking a train from Hiroshima to Miyajimaguchi Station (JR Sanyo Line, 25-30 minutes), then a ferry to Miyajima (10 minutes). The Japan Rail Pass is valid on the JR ferry only. Once you arrive in Miyajima, Itsukushima Shrine is about a 10 minute walk from the ferry pier.
You can also take a direct boat from the Hiroshima Peace Park (45-50 minutes) and Hiroshima Port (30 minutes) but won't be able to use the JR Pass.
Itsukushima Shrine Hours: The shrine is typically open from 6:30 am- 6:00 pm, but the closing time changes depending on the season. To avoid the crowds, we suggest visiting just after it opens. Confirm current hours here.
Itsukushima Shrine is open every day of the year.
Admission: Admission fee to Itsukushima Shrine is 300 yen. For combined entry with the Treasure Hall it's 500 yen.
Information was updated September 2022, but can change without notice. Please confirm directly with service providers.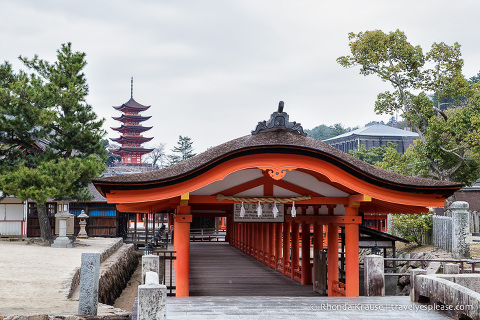 Accommodations in Miyajima
For your convenience, here is a list of hotels in Miyajima. Please consider booking your Miyajima accommodations through the included link. It costs you nothing extra and helps support this website. Thank you!
More Japan Destinations and Travel Guides