Purchases made through links earn us a small commission, at no extra cost to you.
Less than an hour from Hiroshima is Miyajima, a small island selected centuries ago as one of the Three Most Scenic Spots in Japan (Nihon Sankei). A claim like that can lead to big expectations, but Miyajima Island has no trouble living up the high praise.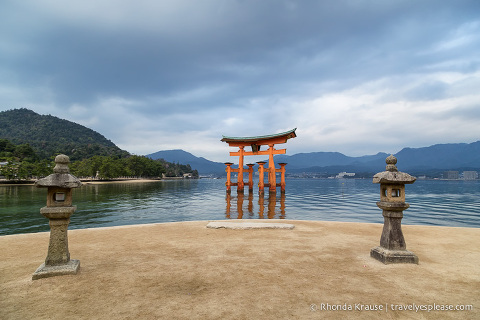 Mountains and forests back the island's historic shrines while gorgeous views of the Seto Inland Sea are never far away.
Some call Miyajima Shrine Island. Others call it Island of Gods. I simply call it special.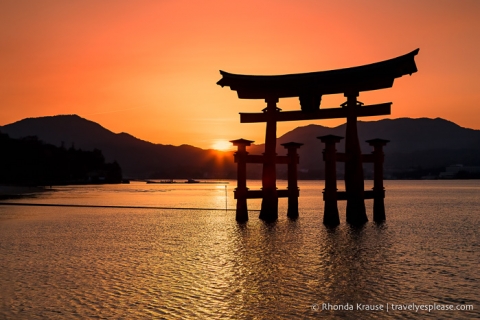 Things to Do in Miyajima- Our Trip to Miyajima Island
Miyajima Island turned out to be my favourite place in Japan. I'm not really surprised, since it also was one of the places I was most looking forward to visiting.
Not only were there plenty of things to do in Miyajima, the island had everything we look for when travelling- an interesting culture, historical sites, beautiful landscapes and opportunities for outdoor adventures. The cute deer everywhere and spectacular sunsets were icing on the cake!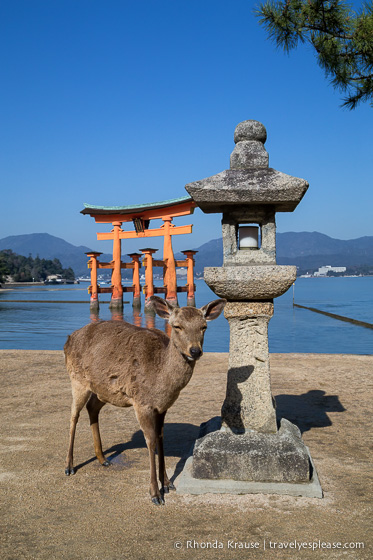 With only one day in Miyajima, we managed to see quite a lot of the island. Not everything, of course, but all the places we were most interested in. During our self-guided walking tour of Miyajima, we visited temples and shrines, hiked up a mountain, and hung out with the local wildlife.
Here are our recommendations for fun things to do in Miyajima!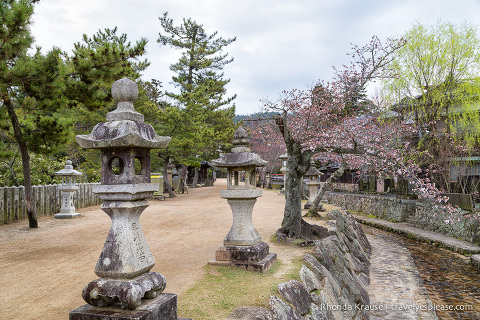 Enjoy Miyajima's Deer, but Keep Your Eye on Them!
Walking from the ferry terminal to our hotel, it wasn't long until we came across Miyajima's famous deer, walking down the same road as us. These wild deer were everywhere on the island! They were accustomed to people, but maybe a little too comfortable.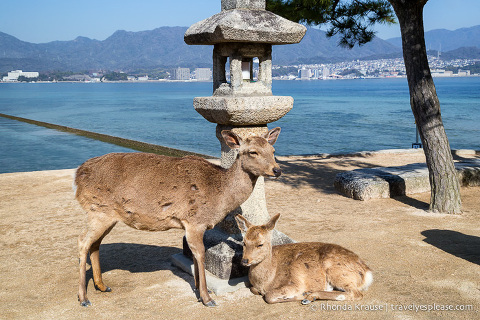 Miyajima's deer aren't shy about following you around, nosing through your backpack or stealing food right out of your hands. I had a deer pull a flyer out of the pocket in my camera bag. We had quite the tug-of-war over it but eventually I got most of it back. I even saw a deer walk up to a lady and take a bite out of her corn-on-the-cob, while she was eating it!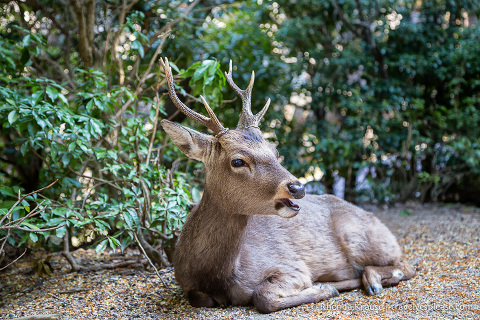 Marvel at the O-torii Gate
Miyajima's "floating" torii gate was impossible to miss, as it's the first thing we saw when approaching the island by ferry.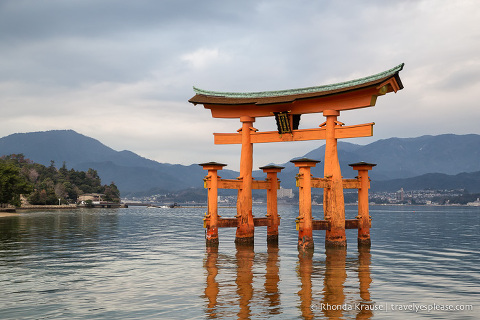 The Great Torii is Miyajima's most recognizable site and is especially popular at sunset, when photographers and tourists alike line the shoreline to capture their own version of the iconic photograph.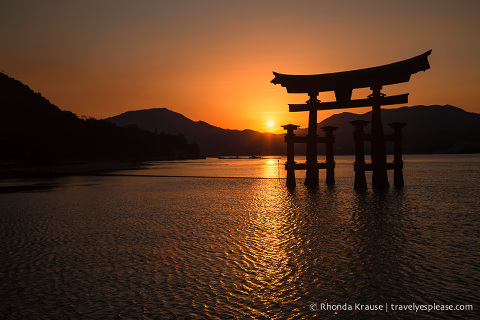 We recommend walking past it a few times a day. At high tide, the torii looks as though it is floating in the water. When the tide is out, you can walk right up to it. Of course, don't miss it at sunset, but it's also worth sticking around until after dark when the torii is illuminated by warm light.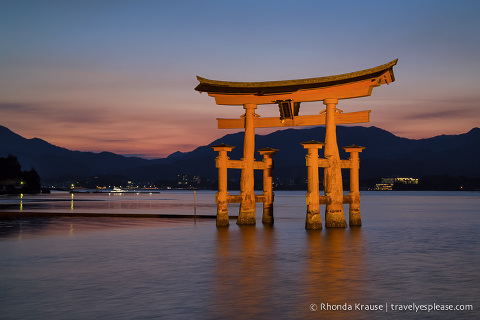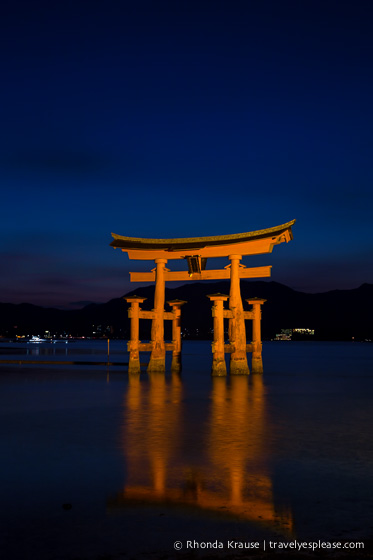 Read our full post about Miyajima's Great Torii.
Wander Through Itsukushima Shrine
Just up the path from the O-torii is Itsukushima Shrine, another one of Miyajima's most popular sites.
Itsukushima shrine is built standing in the sea and is a fine example of Shinden-style architecture. The shrine has been an important place of worship throughout history and was named a UNESCO World Heritage Site in 1996.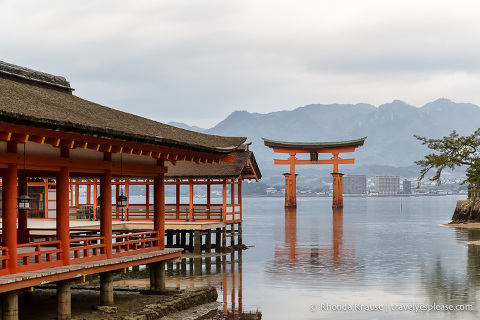 For the most rewarding experience, we recommend visiting the shrine early in the morning before the ferries start delivering tourists to the island, as it's the first place many people go when visiting Miyajima.
The shrine's unique construction and location make it one of the most BEAUTIFUL SHRINES IN JAPAN and best places to visit in Miyajima.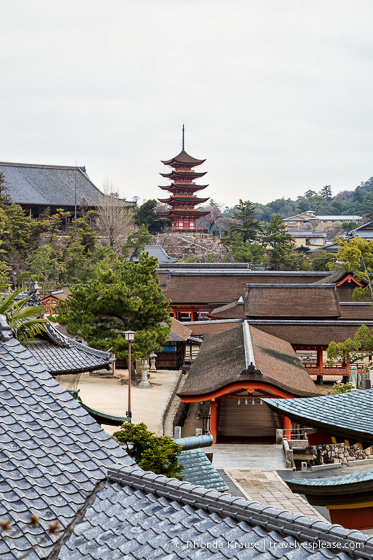 Read our full post about Itsukushima Shrine.
Visit Toyokuni Shrine
On top of a small hill across from Itsukushima Shrine is Toyokuni Shrine, also known as Senjokaku (Hall of One Thousand Tatami Mats).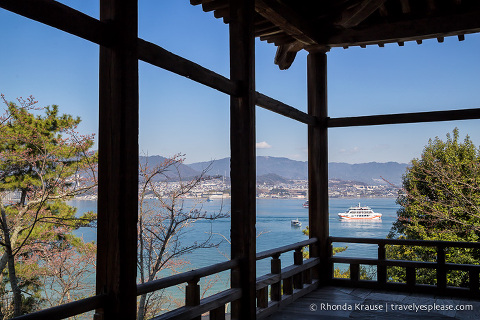 Toyokuni Shrine is the largest building on Miyajima Island and is dedicated to Toyotomi Hideyoshi, a warlord who helped unify Japan in the 16th century. Construction started in 1587 but when Hideyoshi passed away 11 years later, the project was discontinued. It remains unfinished and unpainted.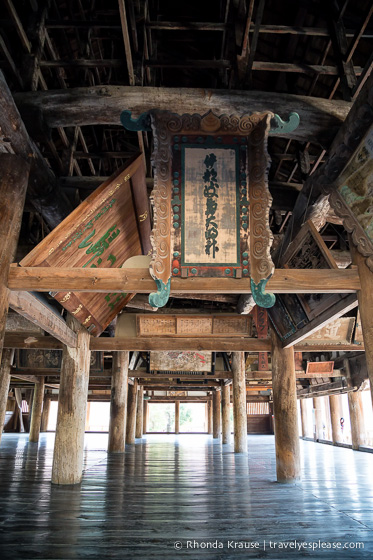 When you step inside the temple, you can sense the temple's age in the worn wooden pillars and beams. Even more intriguing are the large artworks painted on wooden tablets, faded by time. It was interesting to stare up at them and imagine the stories they might tell.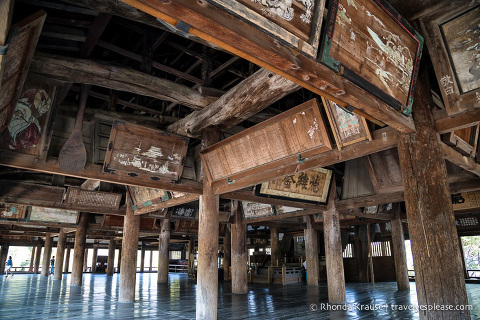 Admire the Five Storied Pagoda
Right next door to Toyokuni Shrine is Gojunoto, the Five-storied Pagoda. This 27.6 metre tall pagoda was built in 1497 and restored in 1533.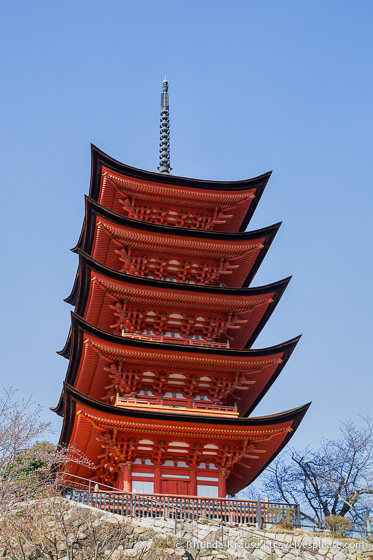 The interior is not open to the public, but enshrined here is the Buddha of Medicine along with Buddhist saints Fugen and Monju.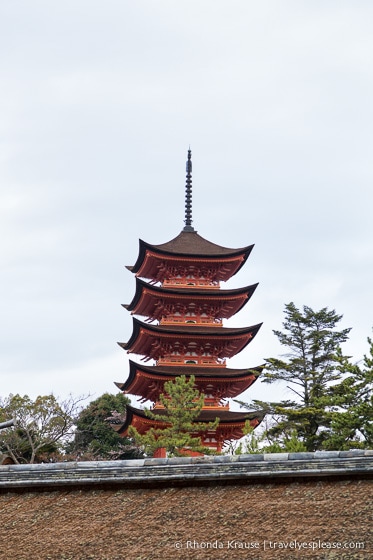 Hike Mount Misen
Hiking Mount Misen was our favourite part of our visit to Miyajima. It was a great way to enjoy the beauty of nature while experiencing the culture of Miyajima.
Mount Misen has been worshipped since ancient times and is home to many spiritual sites that you can visit along the way to the summit. However, nothing tops the outstanding views you get from the two observatories!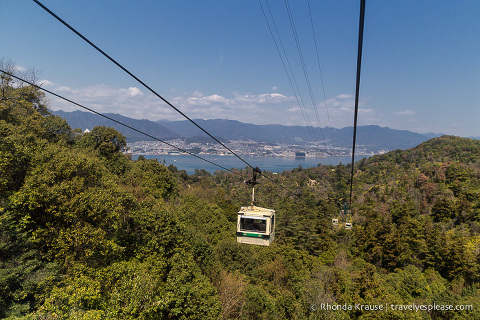 If you're not much of a hiker, or just short on time, you can take a cable car up to the Shishiiwa Observatory. From there you can hike to the summit and then follow the path back to town.
Read our full post about Mount Misen.
Explore Daishoin Temple
Our hike down Mount Misen ended at Daishoin Temple, headquarters for the Omuro branch of Shingon Buddhism.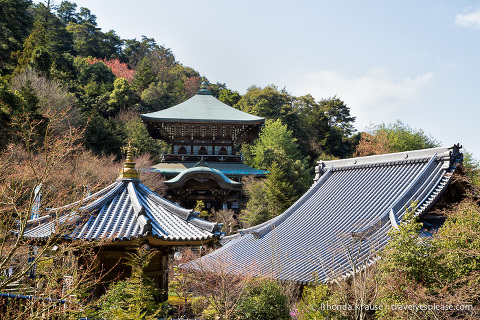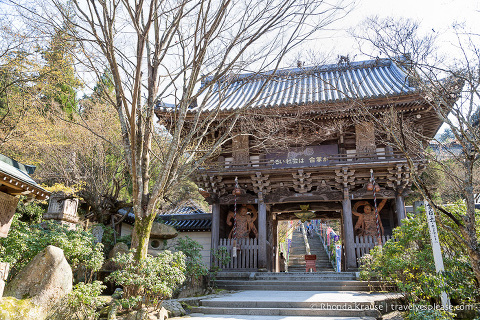 Daishoin Temple has a prestigious past, enjoying close ties with the Imperial Family until the 19th century. Emperor Toba founded his prayer hall here in the 12th century and Emperor Meiji stayed here in 1885.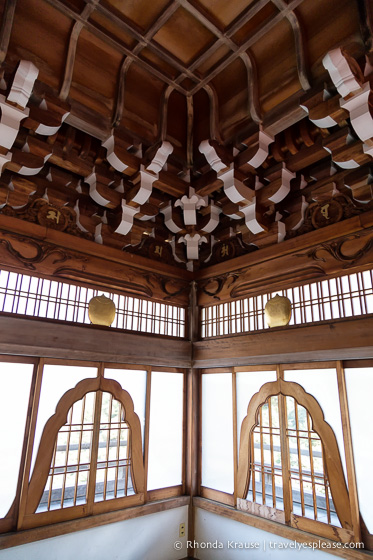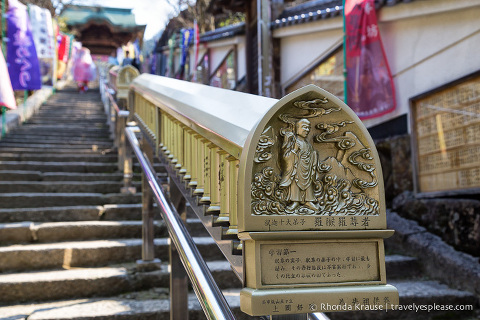 This temple has many different buildings and monuments you can visit, far more than what we had time to see. A few things that stood out were the Rakan statues and Henjyokutsu Cave.
The Rakan statues are carvings of Shaka Nyorai's (the historical Buddha) disciples. There are 500 of these statues, each with a unique facial expression, that line the steps to the temple.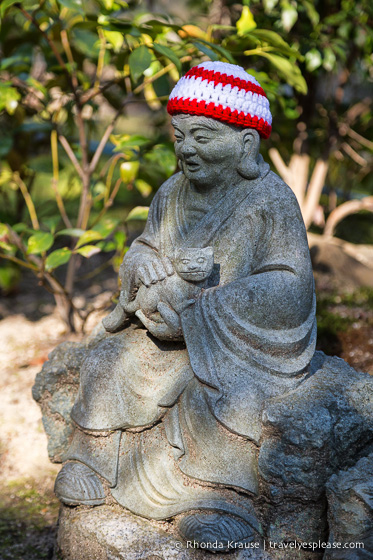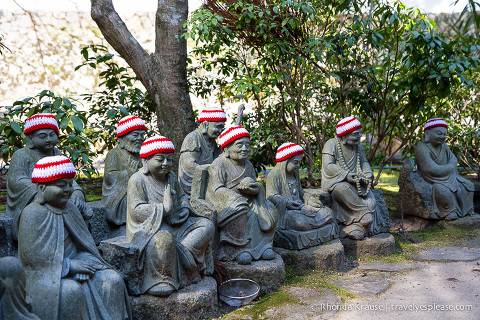 The Henjyokutsu Cave contains Buddhist icons of the 88 temples along the pilgrimage route on Shikoku Island. My favourite part though, was the rows of dimly lit lanterns hanging from the ceiling.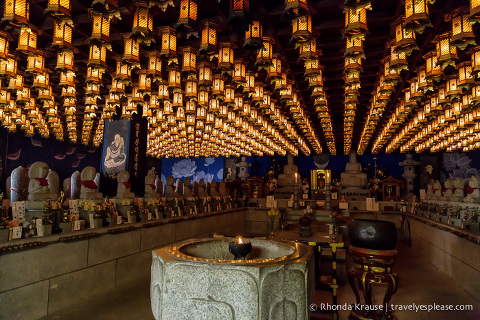 Enjoy a Rest at Tahoto Pagoda
The Tahoto Pagoda is much smaller than the Five-storied Pagoda, at only 15.6 metres. Its construction is also quite different in that it has a square base and a round upper level.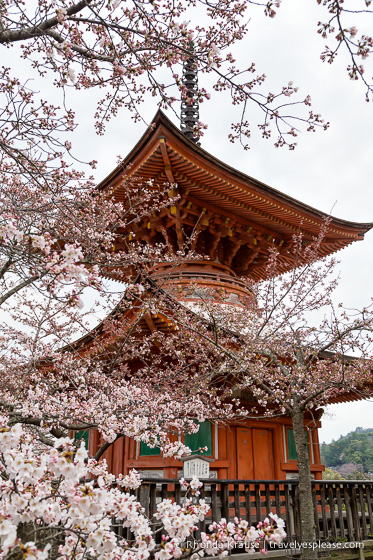 We couldn't go inside the pagoda, but this was still a nice place to enjoy some quiet time while looking out on the cherry blossoms.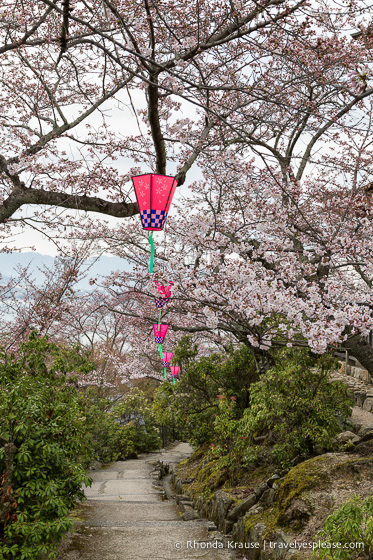 Stay the Night…in a Ryokan!
While most people visit Miyajima on a day trip, we highly recommend staying the night. After sunset the island is almost deserted. It's peaceful and romantic to wander the empty streets, enjoying Miyajima's landmarks illuminated at night.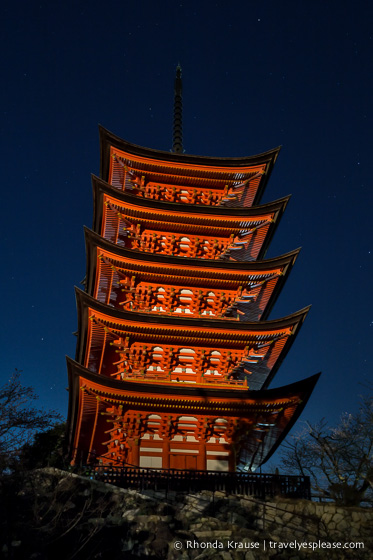 Since Miyajima is so rich with culture and tradition, it's a great place to stay in a Ryokan, a Japanese style inn. We loved our traditional room, complete with tatami mats and futon beds. I honestly slept so well laying on the floor!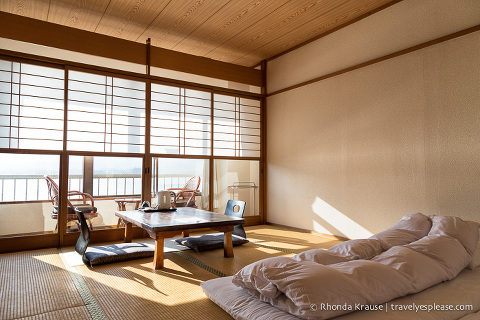 Pictures of Miyajima Island
I couldn't help myself, so here are some more pictures of the beautiful places to see in Miyajima. I hope they convince you to add Miyajima to your Japan bucket list!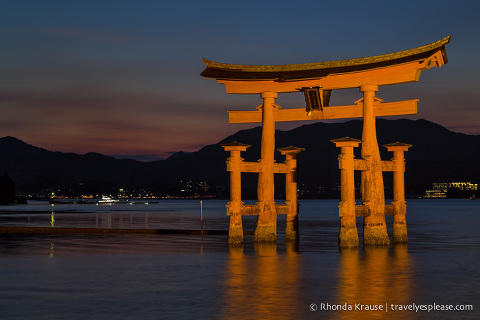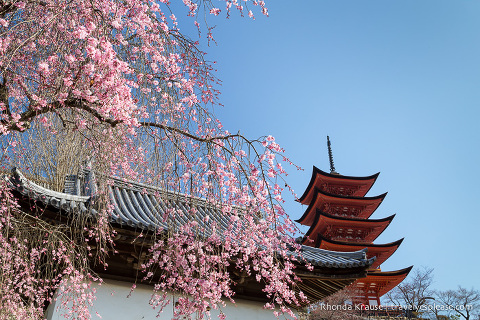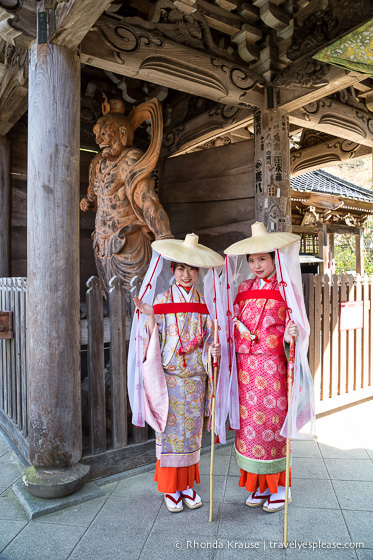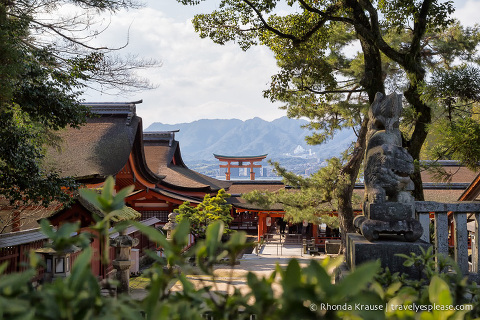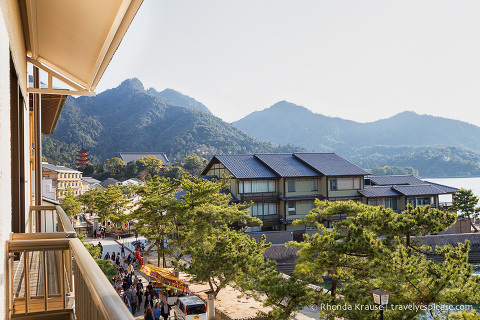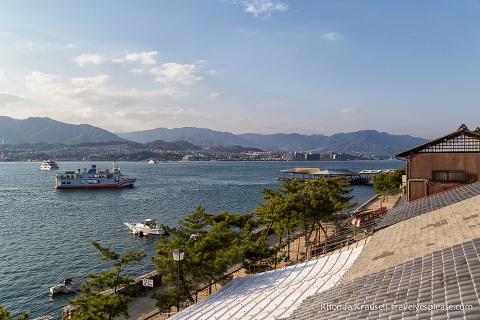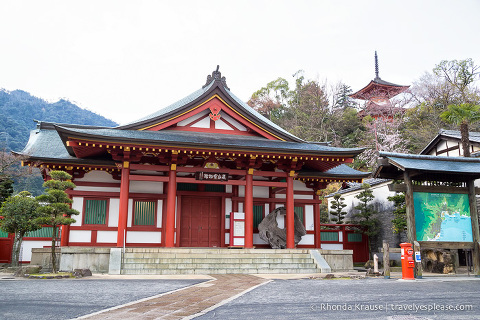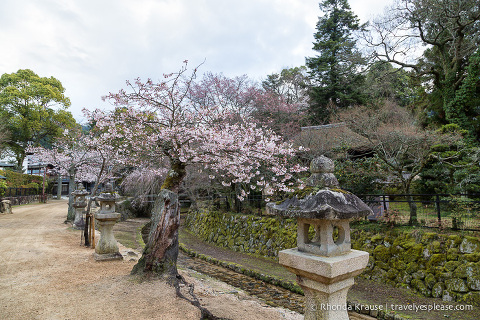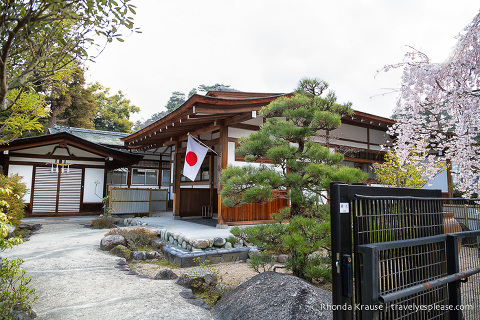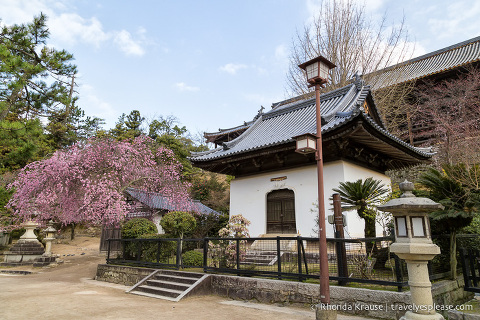 Final Thoughts About Our Trip to Miyajima
Even though we visited Miyajima near the start of our two weeks in Japan, it remained a favourite memory throughout the duration of our trip.
I'm glad we chose to spend the night (instead of doing a day trip to Miyajima) because the island was so peaceful and relaxing after dark. Plus, there are so many attractions in Miyajima that it would have been hard to appreciate them all if we had to rush around and worry about getting back to Hiroshima. Miyajima is definitely a place that deserves to be savoured!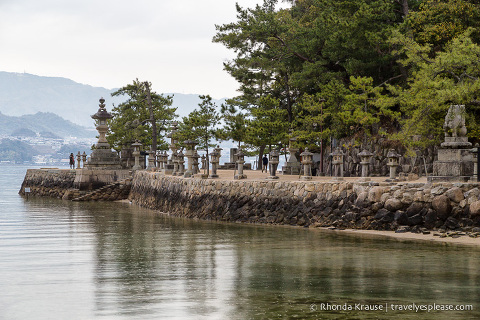 Tips for Visiting Miyajima Island
Getting to Miyajima from Hiroshima: Miyajima is easily reached from Hiroshima by a combination of train and ferry. First, we took the train to Miyajimaguchi (about 30 mins on the JR Sanyo Line). From Miyajimaguchi station, it was a very short walk to the ferry terminal. The ferry trip to Miyajima Island takes only 10 minutes. If you have a Japan Rail Pass, you can use the JR ferry to Miyajima for free. Ferries run every 15 minutes.
Another way to get to Miyajima from Hiroshima is to take a direct boat from the Hiroshima Peace Park. These boats run once or twice an hour (depending on the time of year) and take about 50 minutes to arrive at Miyajima Island. There are also direct boats from Hiroshima Port (30 minutes, 6-8 round trips a day).
Best Time to Visit Miyajima: Spring (March, April, May) is a pleasant time to visit Miyajima because the weather is warming up, but isn't too hot or humid. The cherry trees usually start to blossom in late March and peak a week later (this can change from year to year), so early April can be a popular time to travel to Miyajima. We visited at the end of March and got pleasant weather and pretty blossoms!
Fall (October, November) is the other best time to visit Miyajima since the summer heat is gone, but it's still warm and sunny. The colourful fall foliage is on full display in November, making it peak season for tourists.
If you want to avoid the crowds but still have comfortable weather, try travelling to Miyajima in September.
Miyajima's Deer: The deer in Miyajima are wild and might try to eat paper, cloth and food. Keep an eye on your belongings, especially tickets.
Information was updated September 2022, but can change without notice. Please confirm directly with service providers.
Accommodations in Miyajima
For your convenience, here is a list of hotels in Miyajima. Please consider booking your Miyajima accommodations through the included link. It costs you nothing extra and helps support this website. Thank you!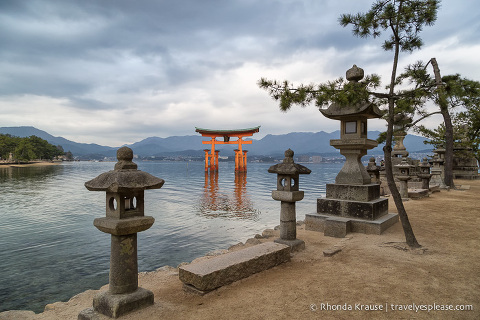 More Japan Destinations and Travel Guides