Purchases made through links earn us a small commission, at no extra cost to you.
"Ooh…it's so elegant," I exclaimed as we approached Himeji Castle, the largest castle in Japan.
Its bright white walls, delicate decorations and grey roof tiles gleamed brightly, even through the light mist of a rainy spring morning.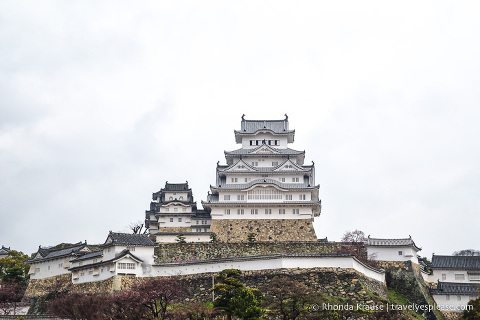 Himeji Castle, as we would soon find out, is a popular place. It survives as one of Japan's 12 original castles and is widely considered to be among Japan's three premier castles.
Bestowed with plenty of praise, Himeji Castle has been declared a National Treasure, a Special Historic Site and a UNESCO World Heritage Site.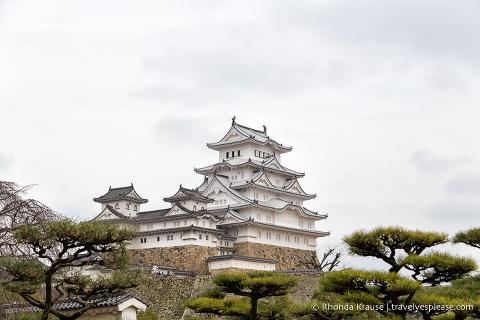 With all those accolades, it was only natural to have high expectations for our visit. So, did Himeji Castle live up to the hype or leave us hoping for more?
Before we share thoughts on our visit, let's introduce you to Himeji Castle. Here's a little bit about the castle's history, architecture and the ever-so important system of defense.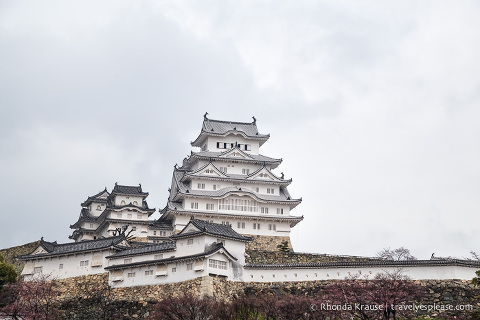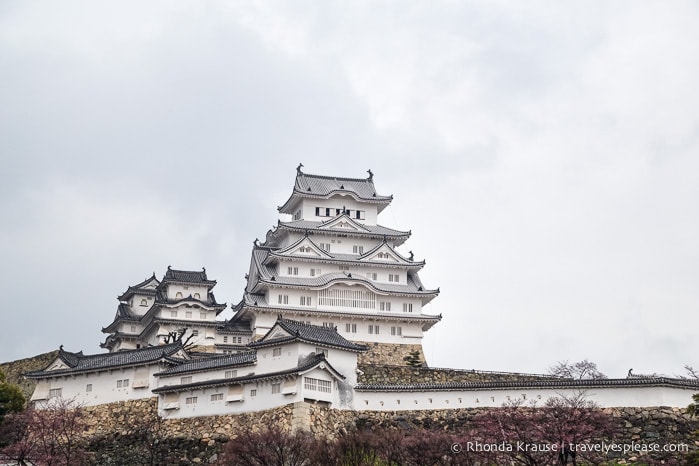 History of Himeji Castle
Construction on the current form of Himeji Castle began in 1601, under Ikeda Termuasa, lord of the castle at the time. By 1606, the 7-floored main keep had been completed.
Over the next 262 years, various people took control of Himeji Castle until 1868 when Sakai Tadakuni, the castle's last lord, proposed that the land be returned to the Emperor.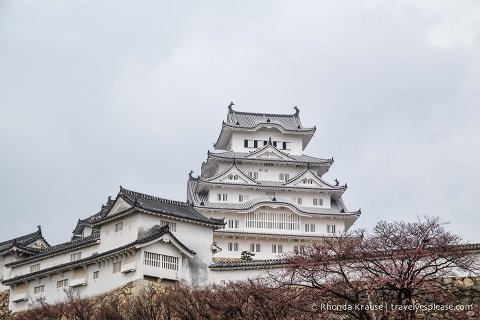 In 1874, the 10th infantry regiment was relocated onto the grounds of Himeji Castle, followed by the establishment of Himeji City in 1889.
Himeji Castle went on to be designated a National Treasure in 1931. Fourteen years later, in 1945, the castle miraculously survived the WWII air raids that destroyed the surrounding city.
In 1993, Himeji Castle was inscribed on UNESCO's World Heritage list, becoming Japan's first World Cultural Heritage Site.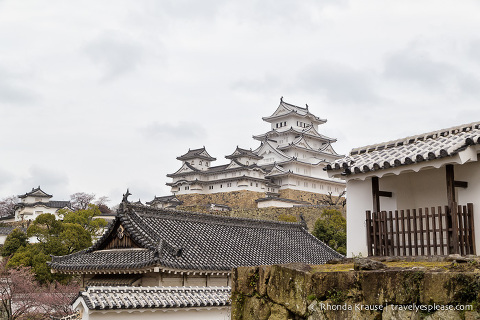 Architecture and Defense System of Himeji Castle
The design of Himeji Castle is considered by many to be the highest achievement in Japanese castle architecture.
Famed for its brilliant white plaster walls, stretching on either side of the main keep, Himeji Castle is often compared to a bird taking flight. This resemblance gave the castle the nickname "White Egret Castle."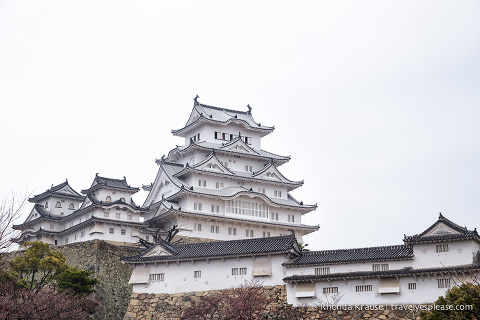 From the outside, the main keep appears to be 5 stories but it actually has 7 floors, including a basement. The roof is covered with both round and flat tiles and eight family crests, indicating the castle's past lords, can be seen on the ridge-end and eave-end tiles.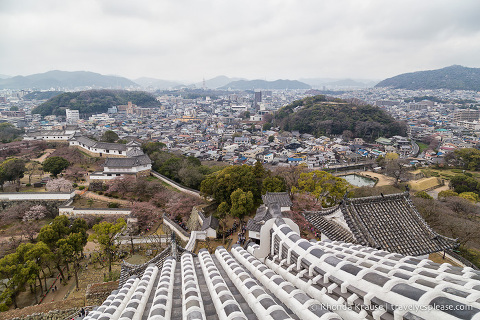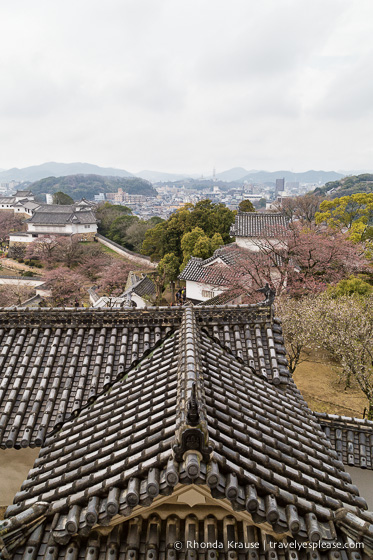 To help protect the castle, there were 21 gates and 32 mud walls built around the castle. The castle also makes use of "fan curve" stone walls, which makes it harder for intruders to climb up.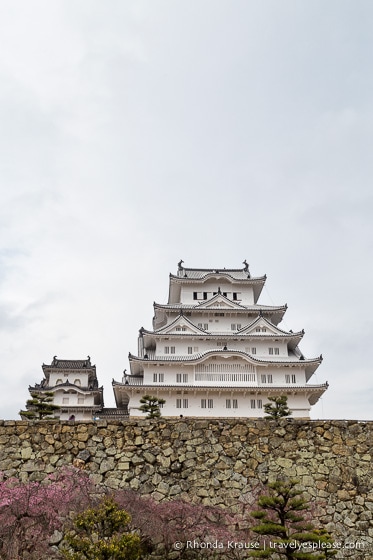 If intruders were to overcome the initial defenses, they could be shot at through small openings in the walls of the keeps and towers. There are 997 shooting holes in four different shapes: oblong for bows, round, triangular and square for guns. The castle's windows are thickly latticed to protect against incoming arrows and bullets.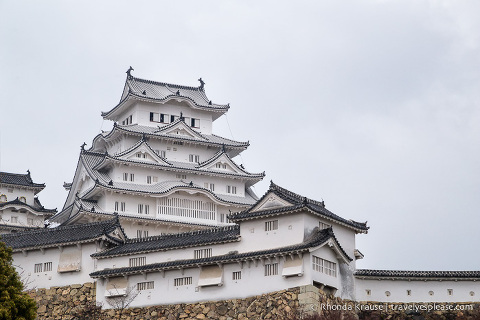 Our Visit to Himeji Castle
The timing of our visit to Himeji Castle couldn't have been more perfect, or any worse, depending on how you look at it.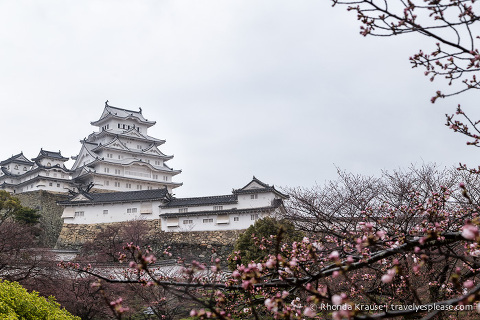 On the weekend that we visited, the main keep was unveiled after being closed for 5 years of restoration work. This meant that HUGE crowds of people came out to see the castle's bright and shiny appearance.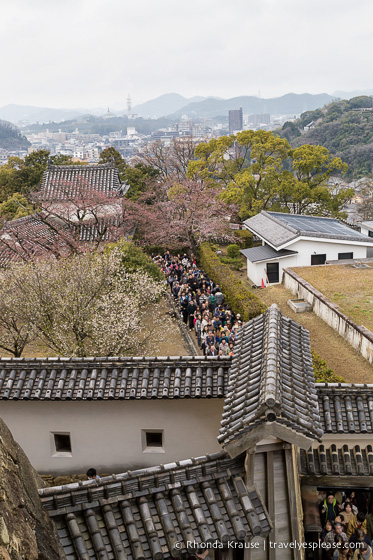 As someone who does not like crowds, or standing in line, I was not able to fully enjoy our visit. But before I get into that, let me back track to my initial impressions.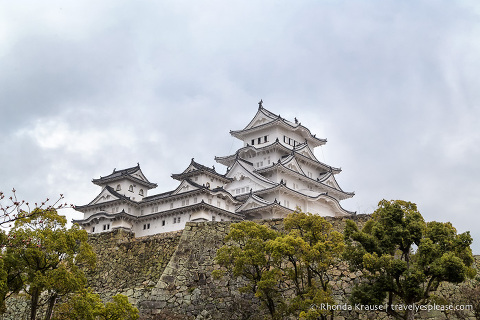 Without a doubt, Himeji Castle wowed me when it first came into view. High on a hill, the gleaming white castle stands like a beacon for all to see.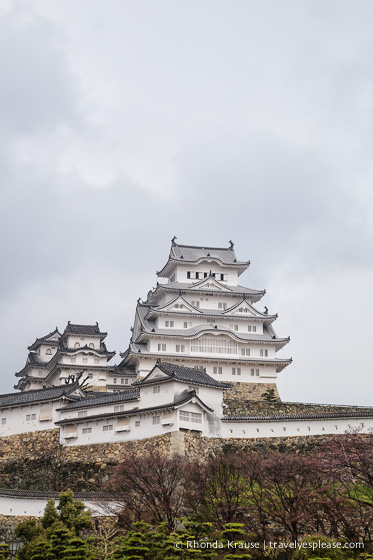 As we got closer we noticed the intricate, ornamental designs that adorn the castle, giving it its elegant appearance. I had read that Himeji is considered Japan's finest castle and now I could see why.
I couldn't help but be completely enamored with the architecture of Himeji Castle. While Mike was standing in the long line to get in, I was off happily taking picture after picture of this beautiful structure. Unfortunately, my enthusiasm would quickly drain out of me once we got inside.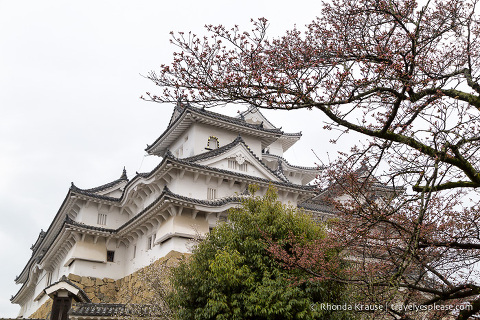 It's a shame to have to say this, but we did not enjoy our "tour" of Himeji Castle. I don't even want to call it a tour because there was nothing to see inside main keep. No displays, no information boards, just floor after floor of barren wooden rooms.
I kept wondering if maybe there were artifacts and displays that just hadn't been put back yet after the restoration. Either way, I was hoping to get a better sense of what daily life was like in the castle, much like what we experienced at Hiroshima Castle.
Instead of getting to learn about the castle and discover some of its finer details, we aimlessly shuffled through the castle shoulder-to-shoulder with hundreds of other tourists. I'm not even exaggerating- look at these pictures!

We were trapped, having to funnel through the hallways and narrow, steep staircases at a snail's pace. I was so worried that someone would accidentally push and send me, and everyone in front of me, crashing down the stairs. With no end or escape in sight, I kept mumbling, "this is a complete nightmare!"
My mood wasn't helped by the fact that we had to take our shoes off, as is required in most Japanese castles and temples, and walk around in our socks. My feet were already painfully sore from our hike on Mount Misen the day before, so it was borderline excruciating to have to walk around on wooden floors without shoes.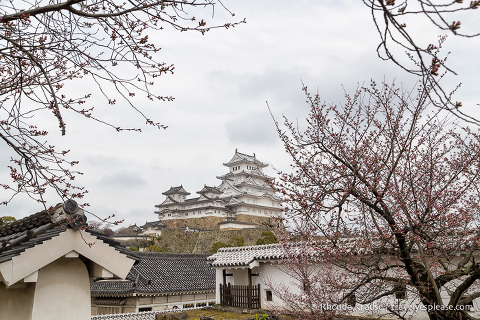 I was so anxious to get out of there, that I felt like I was going to burst. After what seemed like an eternity, we finally got through the castle and were back outside, free from the crowds. What a relief!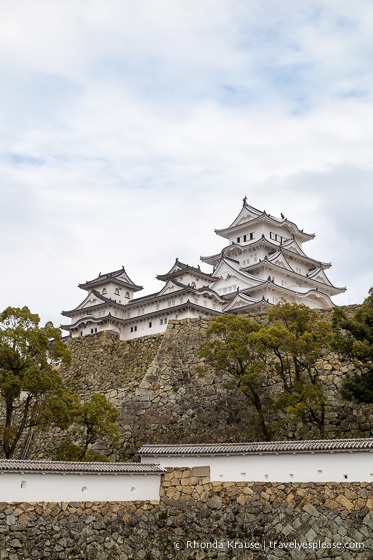 Shaking off our frustration, we decided to walk around the grounds a bit more and enjoy the castle from some different angles. Seeing the castle again from the outside, framed by newly blossoming cherry trees, helped put me in a better mood and reminded me of how much I love Japan, crowds and all!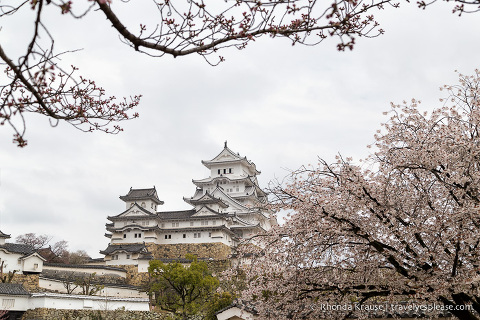 Final Thoughts on Our Visit to Himeji Castle
In the end, our visit to Himeji Castle was quite polarizing. We very much loved the elegant architecture and beautiful grounds, but disliked the actual experience of visiting the interior.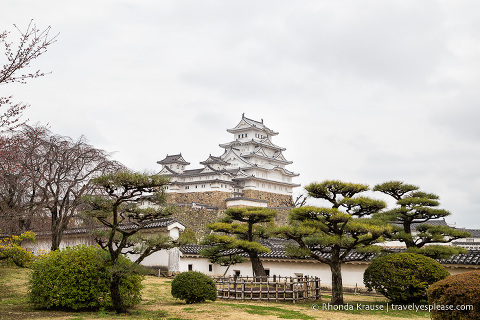 Part of me wishes we had skipped going inside, instead spending more time in the grounds. On the other hand, we came all this way so why stop short of having the full experience?
I'm sure Himeji Castle isn't always horrifically busy, even though it is the most visited castle in Japan. The re-opening after a long restoration, coinciding with cherry blossom season, might have inflated the usual visitor numbers. Or maybe not- I just noticed that the castle's website has a congestion forecast calendar!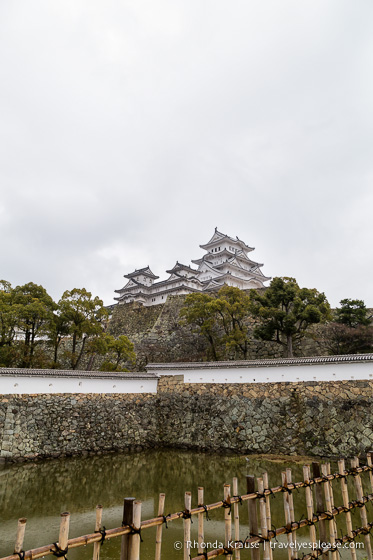 Although our visit to Himeji Castle wasn't the best experience we had during our two weeks in Japan, seeing the castle covered in scaffolding would have been a way bigger disappointment!
Our visit may not have been perfect, but we still think that Himeji Castle is one of the most beautiful places in Japan and worth including on a Japan bucket list.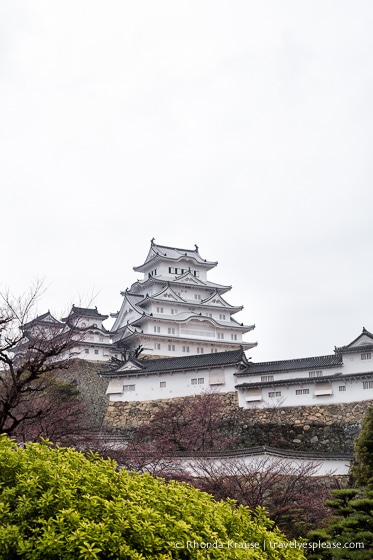 Tips for Visiting Himeji Castle
Getting There: We visited Himeji Castle as a stopover between Miyajima and Osaka. From Miyajima, Himeji is a 1.5-2 hour train ride. To get to Osaka it's another 40-60 minute train ride from Himeji.
Himeji Castle is a 15-20 minute walk up the boulevard directly in front of the train station. The castle can also be reached by a 5 minute bus ride.
Luggage Storage: There are luggage storage lockers just outside of the train station, near the tourist information office. It was a good thing we caught an early train because there weren't a lot of lockers big enough for our large suitcases.
Opening Hours: Himeji Castle is open 9:00 am- 5:00 pm and until 6:00 pm in the summer (July 23- August 28). Last entry is one hour before closing time. The castle is closed on December 29 and 30. Confirm current hours here.
Admission Fees: Admission to Himeji Castle is 1,000 yen for adults and 300 yen for children (elementary to high school students).
Information was updated September 2022 but can change without notice. Please confirm directly with service providers.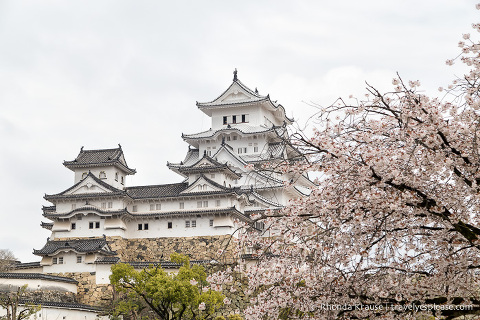 Accommodations in Himeji
For your convenience, here is a list of hotels in Himeji. Please consider booking your Himeji accommodations through the included link. It costs nothing extra and helps support this website. Thank you!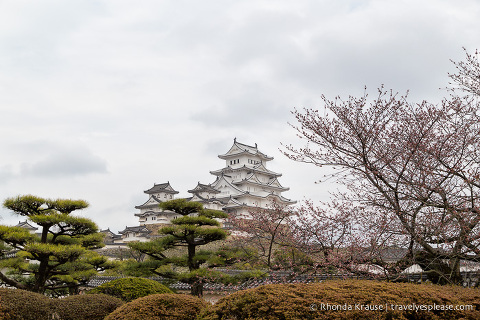 More Japan Destinations and Travel Guides