Purchases made through links earn us a small commission, at no extra cost to you.
In a world where things seem to change in a blink of an eye, Deadwood remains much as it was in 1876 during the height of the Black Hills Gold Rush.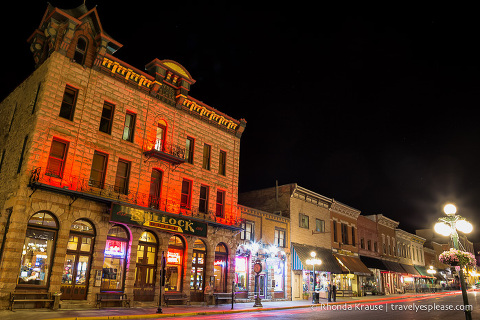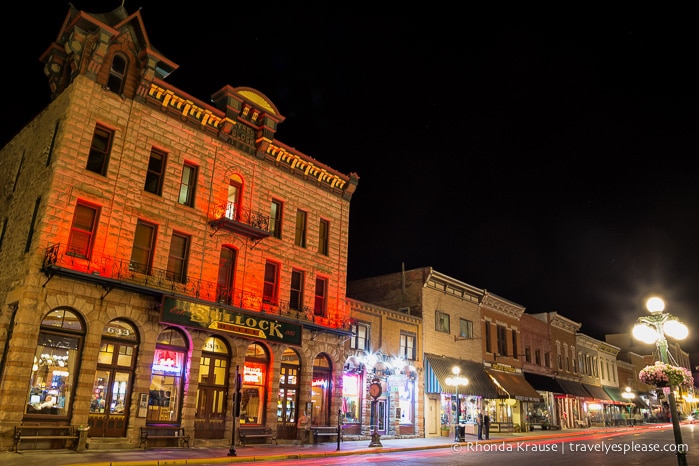 Once a lawless town that attracted gamblers, gunslingers and gold seekers, the Deadwood of today still is a destination for people looking to experience the excitement of the Wild West.
Of course there are laws now, and the last of the brothels that once occupied an entire city block have been shut down, but Deadwood still offers up plenty of gambling halls, saloons and street shootouts (yes, you read that right).
Visiting Deadwood, South Dakota– Our Experience
Deadwood is a small town that doesn't take long to see, as most everything is on one main street, but to truly experience it you'll need at least a few hours.
We arrived late in the afternoon, which gave us plenty of time to stroll both sides of Main Street before taking in some of the evening entertainment.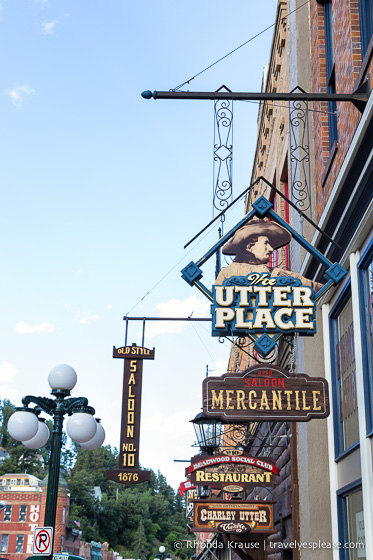 After grabbing a bite to eat at a saloon, we popped into some casinos. Not being a gambler, I was more interested in seeing the legends and characters of Deadwood come to life in the street shows.
Throughout the afternoon, the Deadwood Alive troupe puts on free shows outside the historic buildings. It's a fun way to get to know the history of Deadwood and some of the town's eccentric personalities.
We watched a Main Street Shootout that seemed so realistic I felt myself getting nervous about what was going to happen. The loud pow-pow of the smoking guns made my body jump and jaw drop as I vicariously experienced a Wild West gunfight.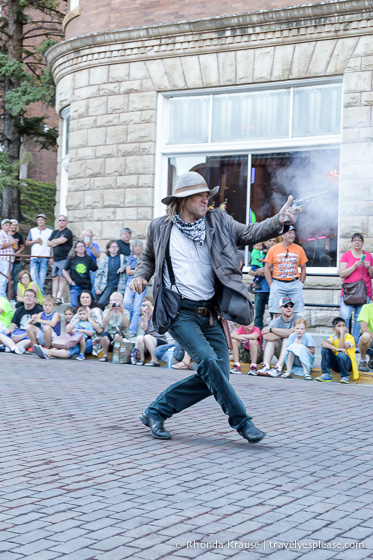 After the gunfight, we made our way down to Nuttal & Mann's Saloon No. 10 to watch the capture of Jack McCall, Deadwood's most infamous murderer. It was here that Jack shot notorious gunslinger and gambler Wild Bill Hickok from behind while he played poker.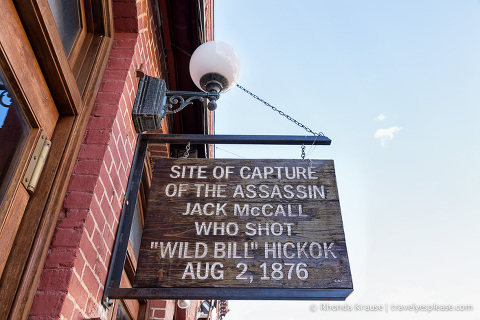 Now that I was so wrapped up in the uncivilized escapades of Deadwood, I had to follow the action down to the Masonic Temple to watch the Trial of Jack McCall. Would he be found guilty of murder? I couldn't wait to find out!
Our night ended with a ghost tour of the historic Fairmont Hotel, said to be one of the most haunted places in South Dakota. Built in 1895, this former brothel attracted many "interesting" people over the years, some of whom paranormal investigators say still haunt the property.
The upper floors where the tour took place were in shambles (which made it all the more creepy), but the ghost stories we heard were fascinating.
The most memorable story was about a girl named Maggie who threw herself from a third-floor window. Nobody knows for sure why she did this, but the rumours are interesting nonetheless.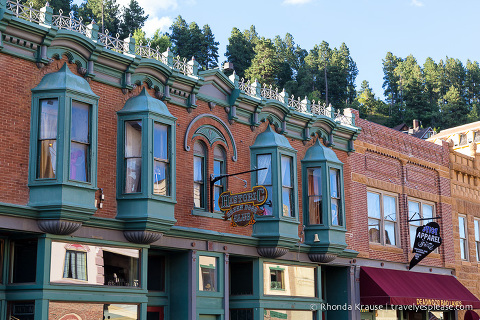 Final Thoughts About our Trip to Deadwood
Deadwood is a fun place to visit if you like "themed" towns. I've travelled to a few gold rush settlements, including Skagway and Dawson City, but what made Deadwood memorable was how history was brought to life in the street.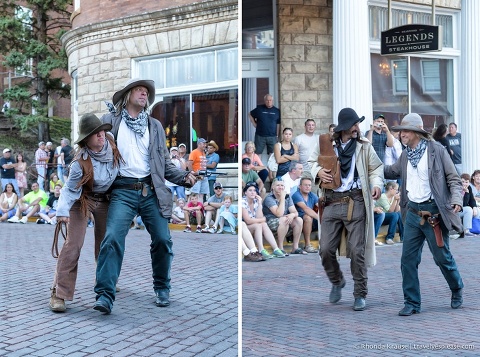 These historical re-enactments are truly what make Deadwood unique. If it weren't for Deadwood's colourful characters and their stories, the novelty of the town would have worn off more quickly.
However, if you're someone who enjoys gambling or hanging out in bars, then Deadwood will hold your attention a little longer.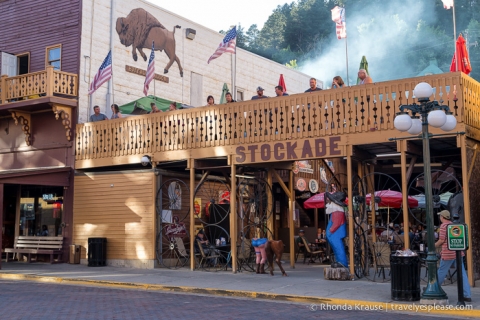 Fun Facts About Deadwood
The entire town is a registered National Historic Landmark.
Deadwood has survived three major fires.
Notable past residents of Deadwood include Wild Bill Hickok (a legend of the Old West), Calamity Jane (a beer-guzzling frontier woman), Jack McCall (the cowardly murderer) and Potato Creek Johnny (a prospector who is credited with finding a leg-shaped gold nugget, the largest ever found in the Black Hills.)
The Trial of Jack McCall is one of the nation's longest running plays, being performed in town since the mid-1920s.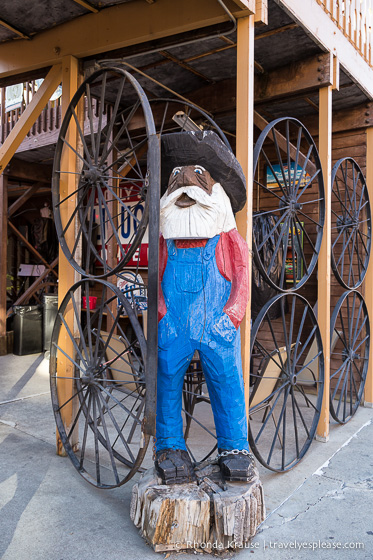 Tips for Visiting Deadwood
Location: Deadwood is located in South Dakota, in the northern part of the Black Hills. It is surrounded by the Black Hills National Forest.
Things to See and Do: The main attractions in Deadwood are the Gold Rush-era buildings, casinos and shows, but there are also trails nearby for hiking and biking.
Shows and Shootouts: The historical re-enactments are performed by Deadwood Alive from the end of May to the end of September (exact dates change year to year). Confirm the current Deadwood Alive schedule here.
The Main Street Shootouts are held three times a day (Mon-Sat) in the summer and twice a day in spring and fall. You can catch one at 2:00 pm, 4:00 pm and 6:00 pm (there's no 6:00 pm shootout in the spring and fall). The shootouts are free to watch.
Other free shows takes place throughout the afternoon at various locations on Main Street.
The Trial of Jack McCall is performed at 8:00 pm (Mon-Sat) at the Wild Bill Theatre on Main Street. Admission is $8 for adults, $7 for seniors and $4 for children. You can book tickets online, buy them from the information chuckwagon on main street, or get them at the door starting at 6:15 pm. Confirm current prices and times here.
Nearby Attractions: Other things to see near Deadwood include Mount Rushmore (1 hour drive) and Devils Tower National Monument in Wyoming (1 hour 15 minute drive).
Information was updated January 2022, but can change without notice. Please confirm directly with service providers.
Accommodations in Deadwood
For your convenience, here is a list of hotels in Deadwood. Please consider booking your accommodations through the included link. It costs nothing extra and helps support this website. Thank you!
More United States Destinations and Travel Guides