Purchases made through links earn us a small commission, at no extra cost to you.
One of my favourite things about road trips is finding unique small towns, especially ones with some sort of fun "theme". Most often, these themed towns make me feel like I've travelled back in time, but I've also found ones with international flair that transport me to another place entirely.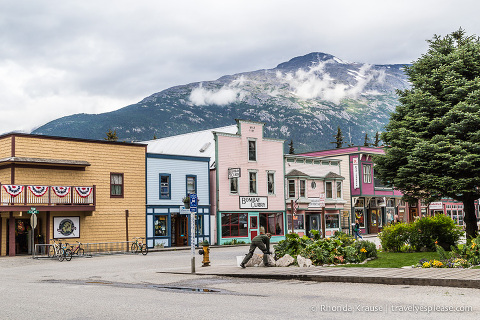 Themed Towns in North America
There are a lot of themed towns in the United States, and a few in Canada, that make for enjoyable stops on a road trip. Some have been designed with the intention of attracting tourists, while others are authentic, living towns that have been restored to preserve their heritage.
Here are some interesting, unconventional, and exciting themed towns in North America that we've discovered over the years!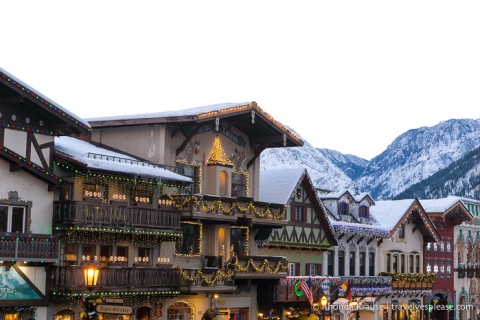 Dawson City, Yukon (Canada)
Dawson City is a quirky northern town in the Yukon that was established during the Klondike Gold Rush. What you'll experience there today is not much different from how the town looked and felt in the late 1800's.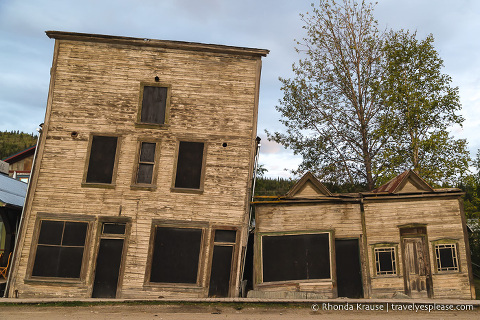 The streets are dirt, sidewalks made of wood, and vintage false front buildings line the streets, some lovingly restored, others in a state of neglect. As you walk around town, you can still sense the adventurous spirit that turned Dawson City into a gold rush boomtown.
Every trip to Dawson City should include a visit to Diamond Tooth Gerties gambling hall to see the Gold Rush gals perform a cancan/cabaret inspired show. For the real adventurous types, stop by the Downtown Hotel for a Sourtoe Cocktail- a shot of alcohol garnished with a shriveled up human toe. Yuck!
Read more about my visit to Dawson City
Skagway, Alaska (USA)
Skagway is another gold rush-era town that developed during the Klondike Gold Rush. It was the gateway for prospectors embarking on the Chilkoot Trail and White Pass in their hunt for gold in the Yukon.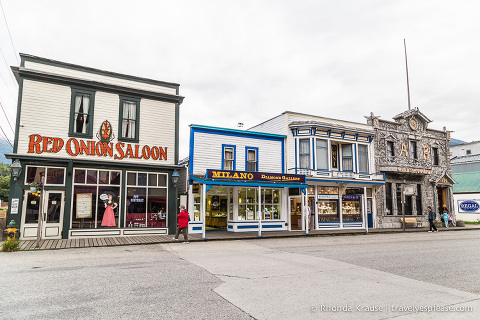 Skagway has many early 20th century buildings that have been nicely restored, including the finest dancehall/brothel at the time- the Red Onion Saloon. The only "goodtime-girls" you'll find there today are costumed guides sharing tales of the women who used to work upstairs in the celebrated bordello.
Skagway is often included as a port of call on Alaska cruises, but it can also be visited on a road trip of the Klondike Highway.
Read more about our visit to Skagway
Deadwood, South Dakota (USA)
At the height of the Black Hills Gold Rush, Deadwood attracted its share of prospectors, gamblers, and unruly gunslingers. The town is more lawful now, but still provides a taste of Wild West excitement.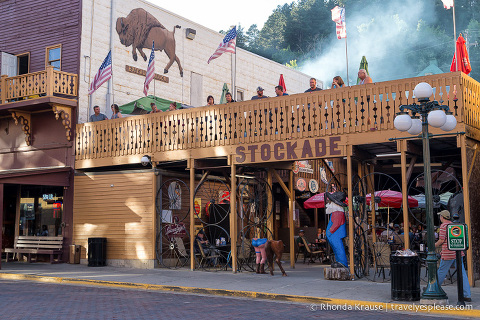 From old-timey gambling halls and saloons, to costumed re-enactments of Deadwood's history, you'll surely feel like you've gone back in time. To really sense the drama of the Old West, don't miss the Main Street Shootout and Capture of Jack McCall, Deadwood's most infamous murderer.
Besides being a fun place to learn about the area's colourful characters and gold rush history, Deadwood is also a convenient base for visiting Mount Rushmore.
Read more about our visit to Deadwood
Winthrop, Washington (USA)
Winthrop is a small town in Washington's Methow Valley, on the North Cascades Highway, that was restored into an early 1900's western theme town to attract travellers and preserve the area's spirit.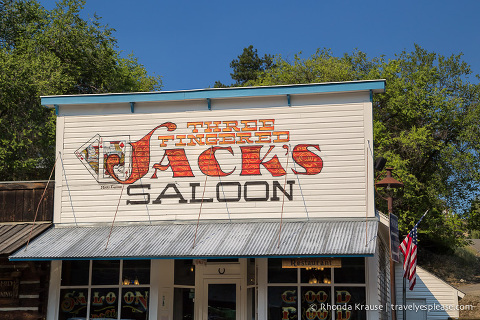 There's only one main street to explore, but it's a cute one at that! Lining a wooden boardwalk are western-style buildings housing shops, galleries, restaurants, and saloons. Even the interiors stay true to the western theme.
There are so many little details that enhance the Old West feel of Winthrop, my favourite being the wanted posters at the Marshal's Office!
Read more about our visit to Winthrop
Leavenworth, Washington (USA)
Leavenworth is a Bavarian-themed town in the Cascade Mountains of central Washington.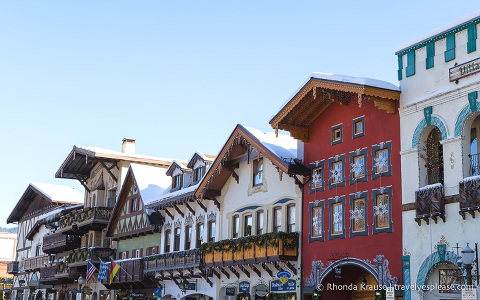 The town's concept was conceived in the 1960's after a re-routing of the railroad killed local industry, leaving the town nearly abandoned. In an attempt to attract tourists and improve the economy, the community agreed to transform Leavenworth into a Bavarian village.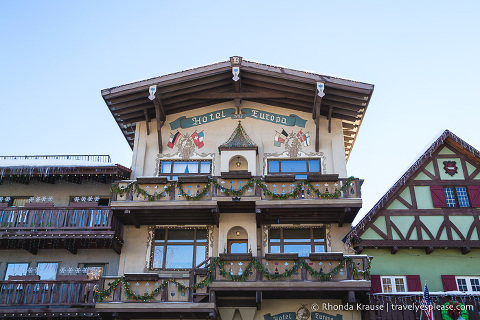 The rebranding of Leavenworth went far beyond a facelift that included half-timbered buildings, alpine chalets, decorative murals, and a maypole. There are German restaurants, beer gardens, stores selling cuckoo clocks, and a series of festivals that complement the Bavarian motif (we highly recommend the Christmas light-up event).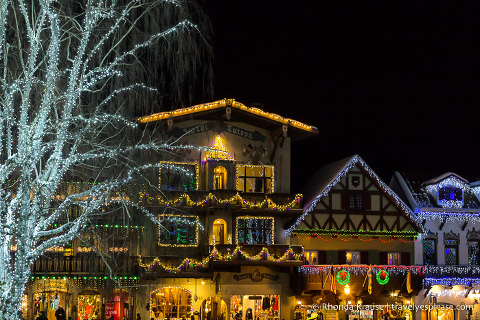 Without knowing the town's backstory, it would be hard to tell that Leavenworth, as it exists today, was deliberately created. The town has wholeheartedly adopted the Bavarian theme, making a visit to Leavenworth feel like a celebration of German culture.
More Themed Towns in North America
There are a few more themed towns in the United States we haven't visited yet, but hope to see one day. The first is Helen in northeast Georgia, which is a recreation of a Bavarian alpine village. The second is the Danish village of Solvang in southern California.
Final Thoughts About Visiting Themed Towns in North America
So far I haven't met a themed town I didn't like. They have all been attractive, full of personality, and make for good conversation during a road trip.
While I definitely prefer original, historic towns like Dawson City and Skagway, I realized in Leavenworth that a purposefully themed town, if done right, won't come off as a cheesy tourist trap!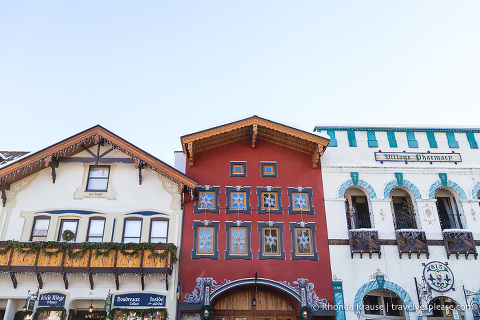 Accommodations in Themed Towns
For your convenience, here is a list of hotels in the themed towns mentioned in this post. Please consider booking your accommodations through the included link. It costs nothing extra and helps support this website. Thank you!