Purchases made through links earn us a small commission, at no extra cost to you.
Oshino Hakkai was a place I missed out on during my first visit to the Fuji Five Lakes region, so on my second trip I made it a priority to visit.
What piqued my interest was a photo I saw of thatched roof houses on the shoreline of a pond, backed by a snow-capped Mt. Fuji. It was mesmerizing!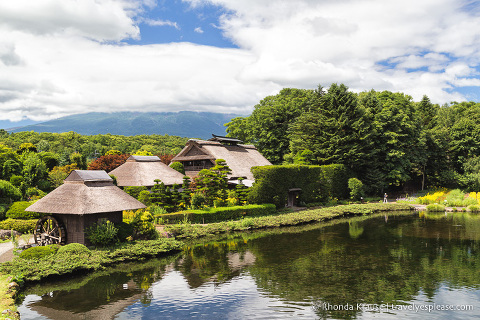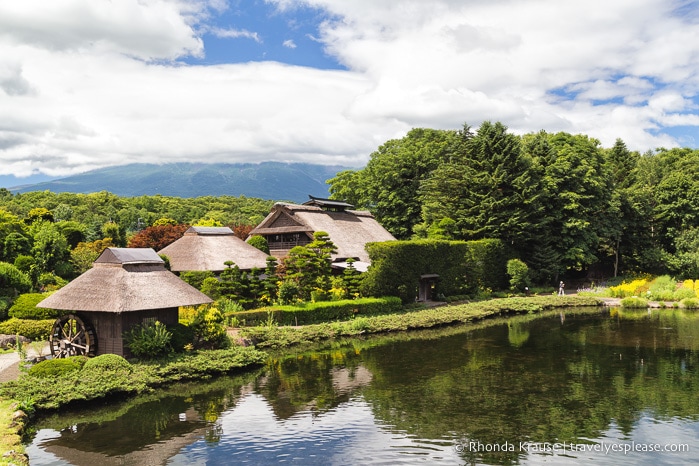 Although I wasn't lucky enough to get my own version of that photo (Mt. Fuji was half covered by clouds), I still instantly fell in love with the scenery before me.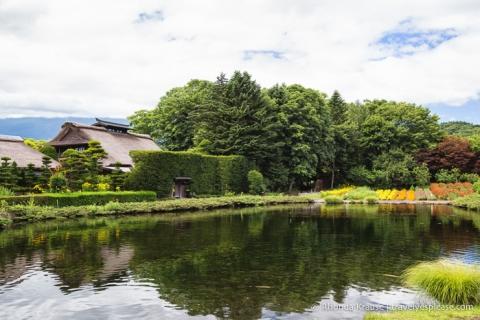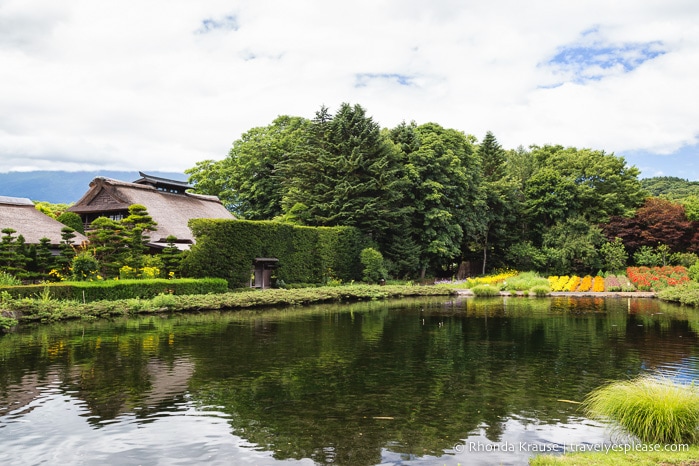 About Oshino Hakkai- The Eight Springs of Oshino
Oshino Hakkai is a set of eight sacred ponds in the small village of Oshino.
The ponds are located between Lake Kawaguchiko and Lake Yamanakako, and are all that's left of a sixth lake that dried up hundreds of years ago.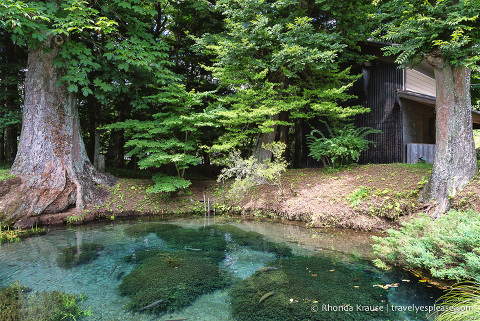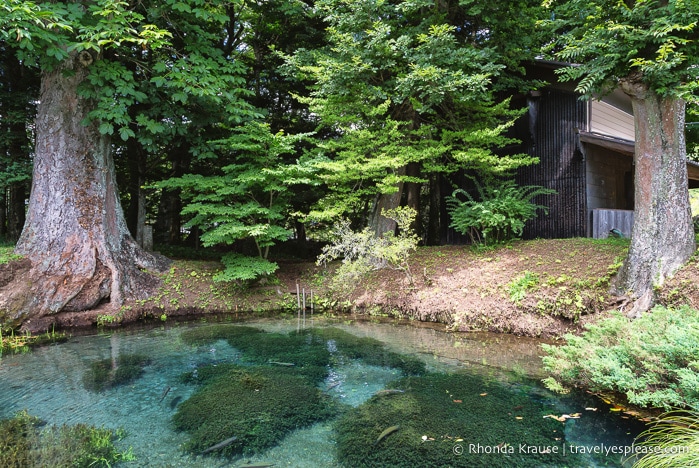 The eight springs of Oshino were used during the Edo period by an association of Mt. Fuji worshipers, called Fuji-ko, to purify their body and soul before climbing.
The Oshino Hakkai springs were, and still are, revered because their water originates from Mt. Fuji.
When the snow on Mt. Fuji melts, it enters the ground and passes through porous layers of lava. The water is filtered over several decades (one source I read said 80 years) before it arrives in the ponds as impeccably clear spring water.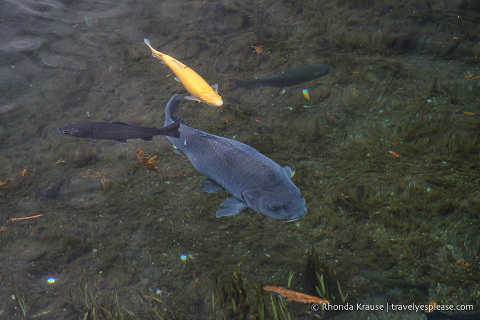 The superior water quality and surrounding natural beauty contributed to Oshino Hakkai being designated a Japanese Natural Monument in 1934.
My Visit to Oshino Hakkai
My first impression when I arrived at Oshino Hakkai village was that it was quite touristy for a place of sacred ponds.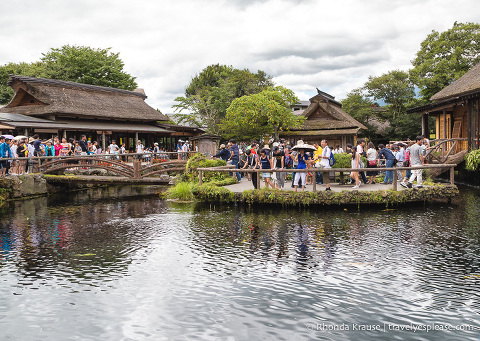 Crowds walked the streets, popping in and out of shops then chatting with vendors selling produce and other treats. Groups of people gathered around the popular Wakuike pond, enthusiastically watching fish swim in the clear waters.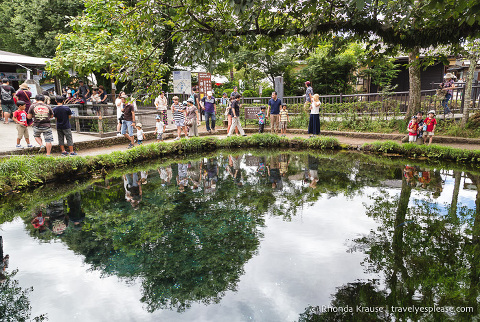 Even though I prefer places with less people, I found myself enjoying the lively atmosphere on the main street of Oshino Hakkai village.
Walking further away from the main road, I found areas that were quieter and less developed. I sat and watched ducks swim while an old man and two young boys fished nearby.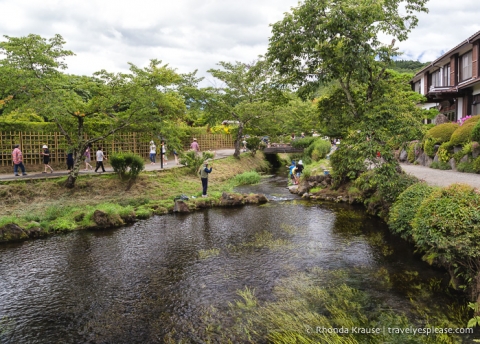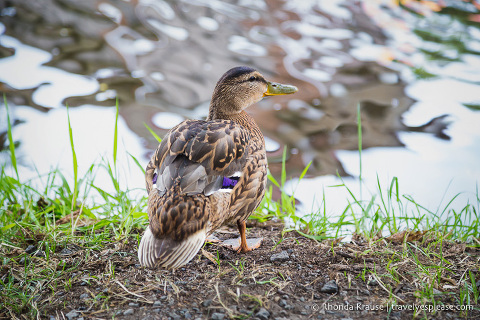 After a nice break from exploring the village area, I set off to see more of Oshino's eight ponds.
As I visited the Oshino Hakkai springs, I enjoyed reading about the folklore surrounding them. The most interesting thing I learned was that in 1983, water from Wakuike Pond was carried by the Space Shuttle Challenger and used for an experiment to make snow in space.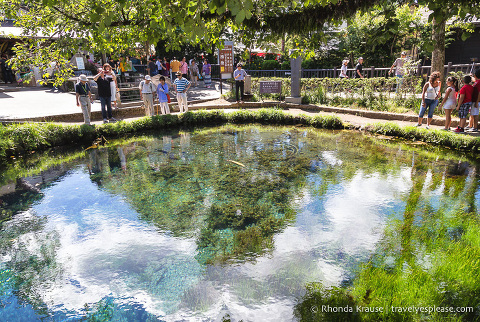 The ponds may be Oshino's main attraction, but the highlight for me was the open-air museum, Hannoki Bayashi Shiryokan.
Hannoki Bayashi Shiryokan
Hannoki Bayashi Shiryokan is the place that inspired me to visit Oshino Hakkai.
The thatched roof farmhouses, large pond, colourful garden and backdrop of Mt. Fuji formed one of the most beautiful sceneries I saw at the Fuji Five Lakes.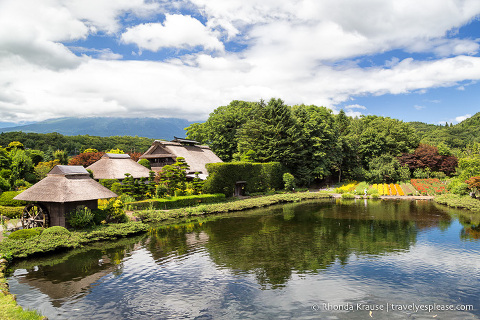 Inside the traditional farmhouse I browsed displays of farming tools and other household items. The museum didn't take long to explore and I soon found myself lingering across the pond, admiring the understated beauty of the architecture.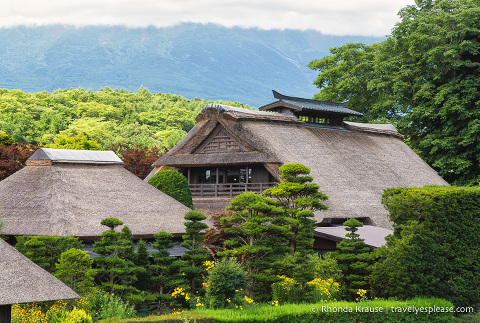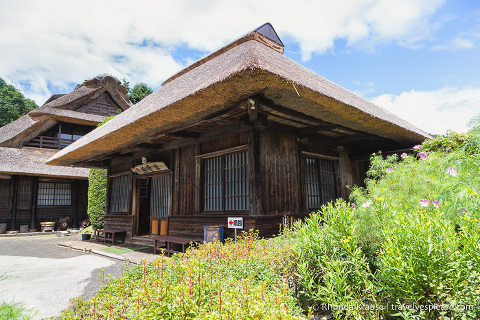 As beautiful as the buildings were, they weren't the only draw. The landscaping was also attractive, inviting me to take a second lap around the property.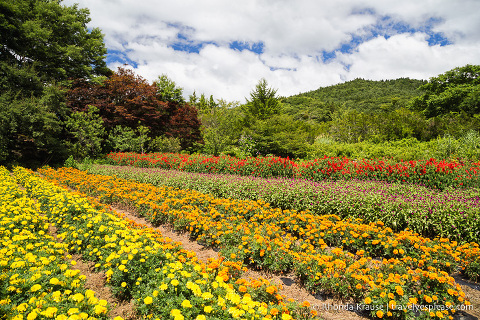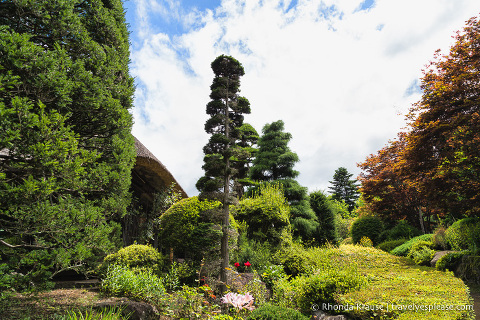 Final Thoughts About Oshino Hakkai Village
Even with the crowds, Oshino Hakkai was a place I enjoyed visiting. It was relaxing to watch the fish swim around and the thatched roof buildings were a welcome change from the skyscrapers I left behind in Tokyo.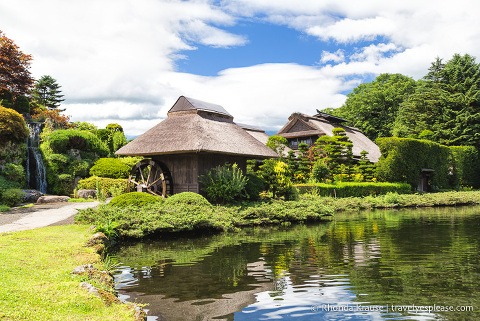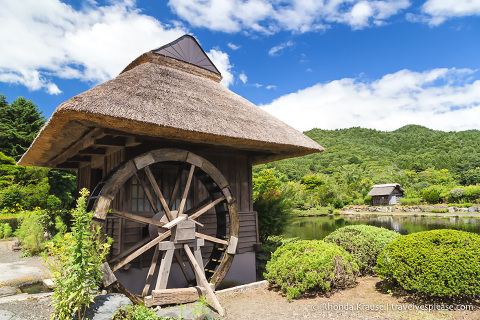 I would go back to Oshino Hakkai if I was in the area again, but hopefully next time I can get a full view of Mt. Fuji behind the farmhouses.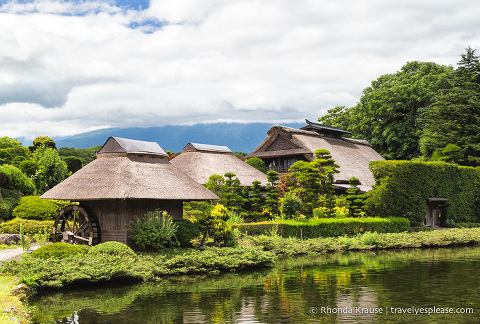 Tips for Visiting Oshino Hakkai
Getting to Oshino Hakkai: To get to Oshino Hakkai from Tokyo, you can take a bus, train, or combination of both. Some highway buses from Tokyo will make a stop at Oshino Hakkai. If coming by train, the closest station is the Fujisan Station on the Fuji Kyuko line, and the next closest would be Kawaguchiko Station. From those two stations, you will have to take a bus.
From Fujisan Station, buses bound for Uchino and Hirano, the Fujikko-go tourist buses, and the Mt. Fuji World Heritage Loop buses make stops at Oshino Hakkai once or twice per hour. Get off at the "Oshino Hakkai" bus stop or the "Oshino Hakkai Iriguchi" stop.
From Kawaguchiko station, you can take a sightseeing bus to Oshino Hakkai or rent a car to explore the area (what I did). Fujikyu has buses that run eleven times daily from Kawaguchiko Station to Oshino Hakkai, Fujiyoshida, and Lake Yamanakako. Also, some buses travelling between Kawaguchiko Station and Gotemba make a short detour to Oshino Hakkai.
Here is a route map, timetable, and fare information for buses to Oshino Hakkai from Kawaguchiko.
If you arrive by car, there are many private lots you can pay to park in nearby.
Hours and Fees: There is no fee to view the ponds or visit Oshino Hakkai Village, but there is an admission fee of ¥300 for Hannoki Bayashi Shiryokan. The museum is open every day from 9:00 am- 5:00 pm. Confirm current hours and prices here.
Signage: Each pond has an information sign in both English and Japanese.
Information was updated June 2022, but can change without notice. Please confirm directly with service providers.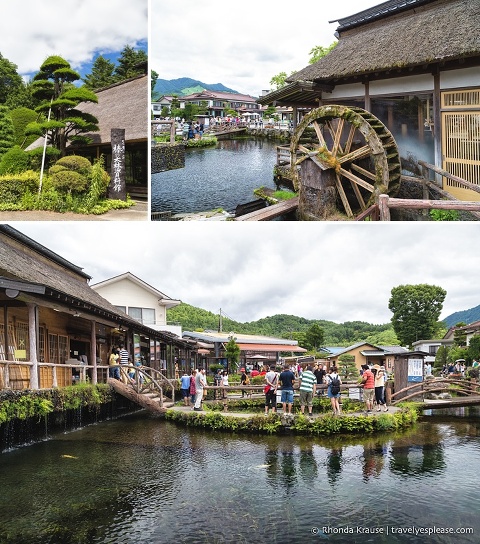 Accommodation in Kawaguchiko
Kawaguchiko is the most convenient place to stay in the Fuji Five Lakes region. For your convenience, here is a list of hotels in Fujikawaguchiko. Please consider booking your Kawaguchiko accommodations through the included link. It costs nothing extra and helps support this website. Thank you!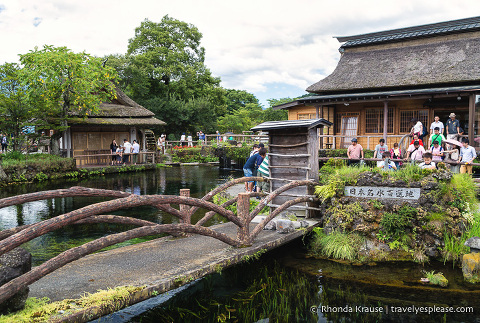 More Japan Destinations and Travel Guides