Purchases made through links earn us a small commission, at no extra cost to you.
Perhaps no other place in Japan is iconic as Mt. Fuji. The allure of this sacred volcano attracts many tourists to the Fuji Five Lakes, an ideal area for viewing Mt. Fuji's perfect cone.
There's just one problem. Mt. Fuji is notoriously shy, often hiding behind low hanging cloud.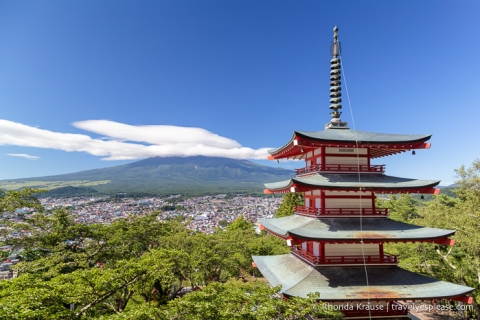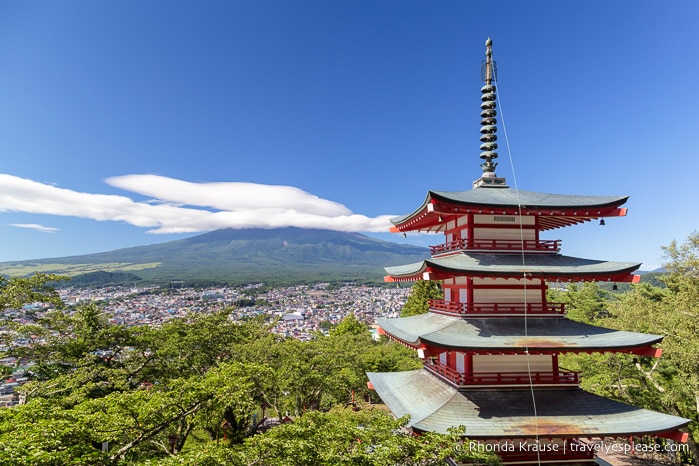 Where Are You Mt. Fuji?
I've made two visits to the Fuji Five Lakes area and both times didn't get a full view of Mt. Fuji.
My first visit was in early April when we spent two days in Kawaguchiko. It rained and snowed the entire time, bringing with it so much cloud and fog that we couldn't even guess which direction Mt. Fuji was, never mind get a picture of it.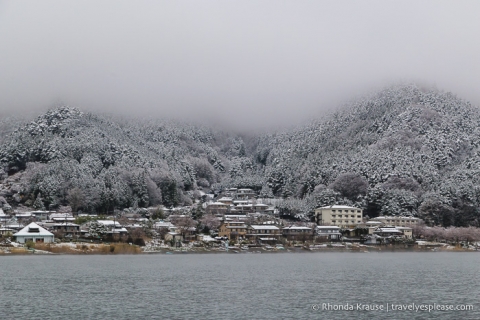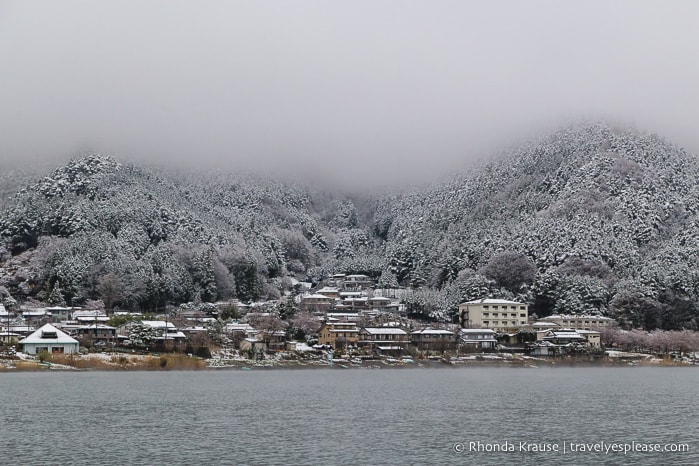 My second attempt to see Mt. Fuji was in August, when I visited Kawaguchiko on a day trip from Tokyo. This time I could see Mt. Fuji, but clouds covered the top all day. Still, I'll take what I can get and was thrilled nonetheless!
What to Do at the Fuji Five Lakes When You Can't See Mt. Fuji
Even though I didn't get to experience the classic views of Mt. Fuji, my trips to the Fuji Five Lakes area (Fujigoku) were by no means a waste.
There is an incredible amount of things to do around the Fuji Five Lakes, especially near Kawaguchiko, the most developed lake in the region.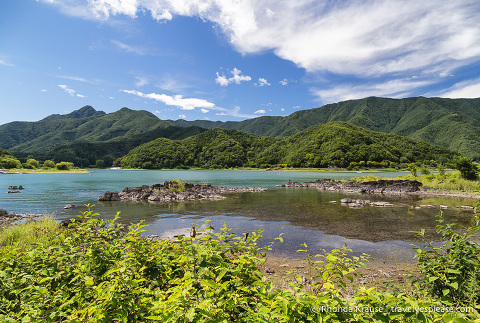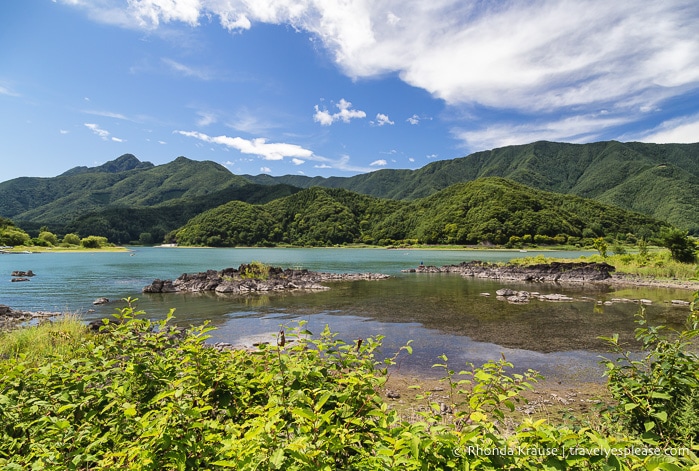 There are hiking trails, museums, shrines, parks, caves and many great places to eat.
So, if you're one of the unlucky ones who can't get a clear view of Mt. Fuji, try not to be too depressed- there are still plenty of things to do in Kawaguchiko and the Fuji Five Lakes (far more than guidebooks mention).
Exploring the Fuji Five Lakes- Things to See and Do
Here are some attractions in the Fuji Five Lakes region that I visited during my trips to Kawaguchiko.
Chureito Pagoda
The Chureito Pagoda is my favourite place in the Fuji Five Lakes area because it has the potential to offer postcard-worthy views of Mt. Fuji (when it's not obstructed by clouds).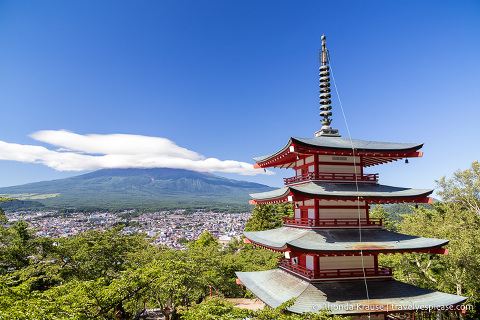 Even though I couldn't see the top of Mt. Fuji, the 5-storied pagoda was still lovely to look at, as were the views of Fujiyoshida City. It would be especially beautiful in spring when the cherry blossoms are in bloom, and also in fall when the leaves change colour.
Chureito Pagoda is part of the Arakura Sengen Shrine and is about 400 steps up the hill from the main shrine buildings. It was built in 1963 as a peace memorial honouring the 960 citizens from Fujiyoshida who died in wars after 1868.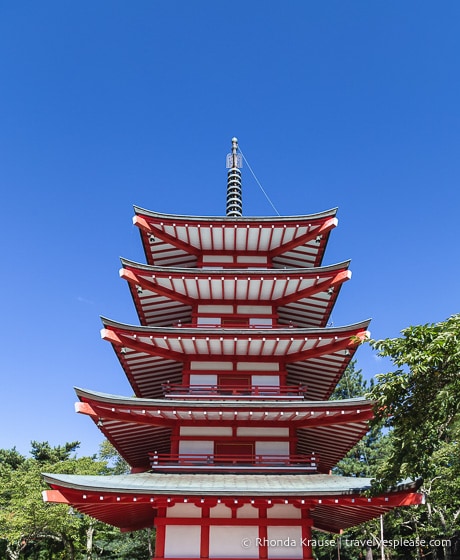 Oshino Hakkai
Between Lake Kawaguchiko and Lake Yamanakako is the small village of Oshino, notable for its spring water ponds.
The eight ponds of Oshino Hakkai are beloved because they are filled by underflow water from Mt. Fuji. The water is exceptionally clear, allowing for good viewing of fish that live in the ponds.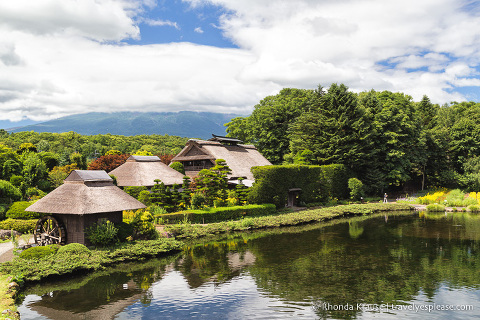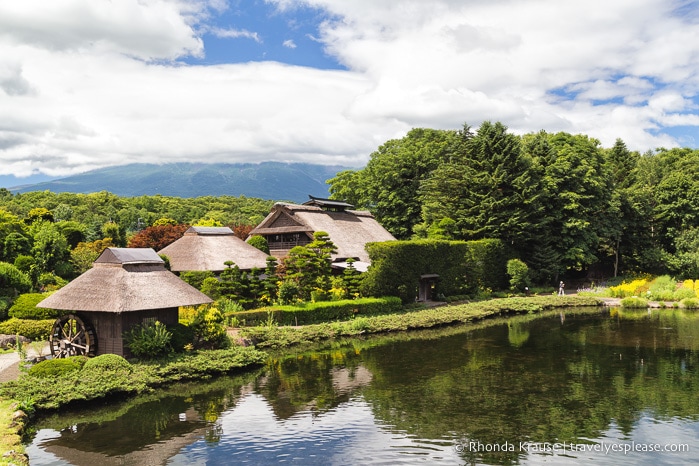 Besides the ponds, you'll find many restaurants, shops and street vendors selling local products.
My personal favourite attraction was Hannoki Bayashi Shiryokan, the open-air museum surrounding a large pond. I loved the thatched roof farmhouses and had Mt. Fuji not been so shy that day, it would have been a great spot to view it!
Read my full post about Oshino Hakkai.
Fuji Pines Park
Fuji Pines Park lies at the north foot of Mt. Fuji, a short ways up the road from the Fuji Sengen Shrine (on the 701).
The park is surrounded by 300 year old red pines and was a peaceful place to go for a walk on a snowy spring day.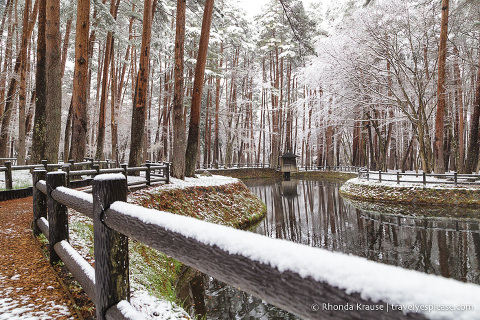 An information sign in the park told us that the views of Mt. Fuji from here are "splendid" but unfortunately all we could see was a thick wall of cloud.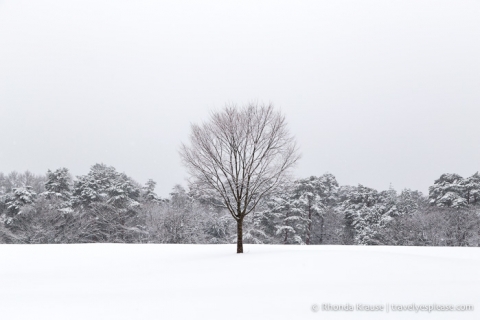 Kitaguchi Hongu Fuji Sengen Shrine
Fujiyoshida Sengen Shrine is the traditional starting point used by pilgrims embarking on a climb up Mt. Fuji. They would pray here before beginning their ascent on the Yoshidaguchi Climbing Trail.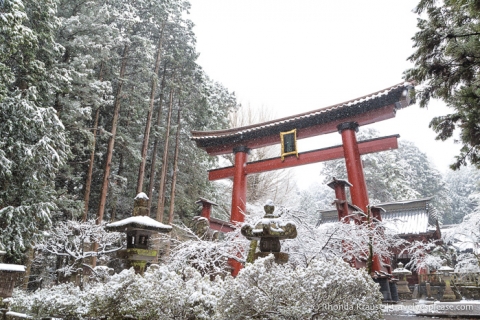 Surrounded by tall cedar trees, the shrine's location is atmospheric, especially in the snow.
The shrine includes a main hall, some auxiliary buildings, a platform of sake barrels, and three sacred trees over 1000 years old. It also has one of the tallest wooden torii gates in Japan, which, as tradition dictates, is rebuilt slightly larger every 60 years.
Read my full post about Fujiyoshida Sengen Shrine.
Fuji Visitor Centre
If you happen to be in the Fuji Five Lakes region on a bad weather day when Mt. Fuji can't be seen, head to the Fuji Visitor Centre to learn about Japan's most famous mountain.
The exhibits give a nice introduction to Mt. Fuji and there's even a short English video about its geological history. However, seeing Mt. Fuji in film made me even more disappointed that I couldn't see it in real life!
Lava Caves
There are said to be about 80 caves around Mt. Fuji formed by lava flow from its eruptions. As the outer edges of the lava streams cooled and hardened, they formed tubes through which the remaining lava could drain out, leaving behind a cave after the eruption.
We visited two tunnel-like caves near Lake Saiko- the Fugaku Fuketsu Wind Cave and the Narusawa Ice Cave.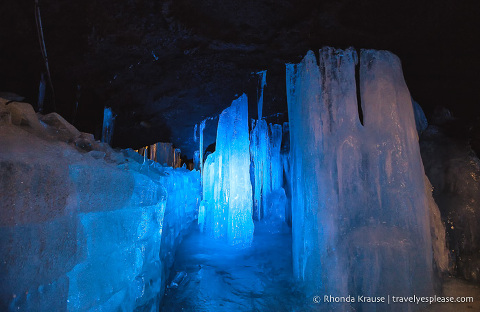 While they were too claustrophobic for my liking, Mike seemed to enjoy them. Had the weather been better, we probably would have skipped the caves, but it was something to do that got us out of the rain.
Saiko Iyashi no sato Nenba
Saiko Iyashi no sato Nenba is a traditional Japanese village on the northwest side of Lake Saiko. The village scenery has been recreated and turned into a museum after a typhoon destroyed the original Nenba settlement in 1966.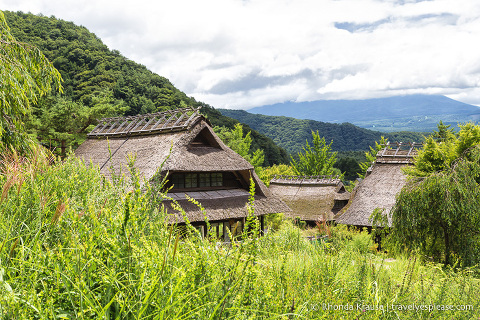 Saiko Iyashi no sato Nenba had the thatched roof houses that I loved at Oshino Hakkai, but without the crowds. Inside the buildings you could view traditional craftworks and try local dishes such as Houtou and hand rolled Udon noodles.
Once again, this would have a nice spot to view Mt. Fuji in the background had it not been cloudy.
Read my full post about Saiko Iyashi no sato Nenba.
Drive Around Lake Kawaguchiko
We drove multiple laps around Lake Kawaguchiko during our time in the Fuji Five Lakes region.
There are many parks on the shoreline you can stop at to enjoy seasonal flowers and views of Mt. Fuji. For a nice break from driving, walk a section of trail on the north side of Lake Kawaguchiko to enjoy some popular views of Mt. Fuji.
My Next Visit to the Fuji Five Lakes- More Things to Do
Even after two visits to Kawaguchiko and the Fuji Five Lakes, there are still plenty of things I'd like to see and do, number one being to see a snow-capped Mt. Fuji in full view (I'd be thrilled to finally cross that off my Japan bucket list!)
Here are some more things to do at the Fuji Five Lakes that I'd like to experience on a future trip to Kawaguchiko:
Climb Mt. Fuji
Visit Hana-no-Miyako, a flower park near Lake Yamanakako with a view of Mt. Fuji
Attend the Mt. Fuji Shibazakura flower festival
Ride the ropeway up Mt. Tenjo
Enjoy views of Mt. Fuji from Lake Yamanakako
Relax at a hot spring/onsen
Hike up Mt. Mitsutoge for a panoramic view of Mt. Fuji
Enjoy some thrills at the Fuji Q Highland amusement park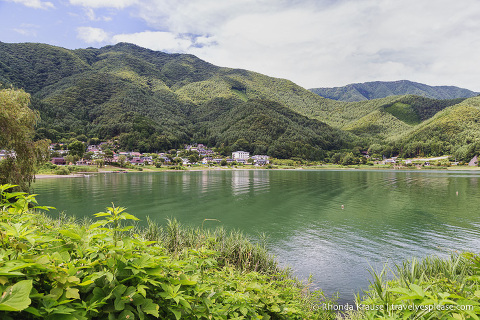 Final Thoughts About My Trips to the Fuji Five Lakes
I very much enjoyed visiting Kawaguchiko and the Fuji Five Lakes, even though I didn't get to witness that iconic view of Mt. Fuji. Still, just the potential to see Mt. Fuji is reason enough to include the Fuji Five Lakes on a Japan trip itinerary.
Having done both a day trip to the Fuji Five Lakes and an overnight trip, I would recommend the latter. There are plenty of things to do in the Fuji Five Lakes, so it's hard to experience the best places around Kawaguchiko in one day. Plus, the area is one of Japan's most scenic spots, so it would be a shame to rush around and not fully appreciate the beauty of the Fuji Five Lakes.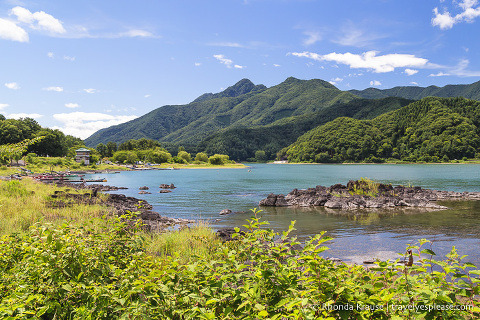 Tips for Visiting the Fuji Five Lakes
Getting There: The easiest way to get to the Fuji Five lakes is by highway bus from Tokyo. Buses leave from the Shinjuku Express Bus Terminal and arrive at Kawaguchiko station in 1 hr 45 mins. Most will stop at Fuji Q Highland and Fujisan station before Kawaguchiko, so don't get off too soon! Fujikyu and Keio Bus operate one or two direct buses per hour and you can reserve a seat online here.
To get to Kawaguchiko by train from Tokyo, take the JR Chuo line to Otsuki Station. At Otsuki, transfer to the Fujikyu Railway line to get to Kawaguchiko Station. The entire trip should take about 2 hours if you catch the limited express train. The Japan Rail Pass is not valid between Otsuki and Kawaguchiko.
There are also two direct limited express trains per day between Shinjuku and Kawaguchiko in each direction. Travel time is 112 minutes and seat reservations are mandatory.
Tourist Information: There is a tourist information centre at Kawaguchiko Station. Both my guidebooks had limited information about the Fuji Five Lakes, so before our trip I contacted the Japan National Tourist Board's Canadian Office for information and they mailed some pamphlets and maps to me.
Luggage Storage: There are a few rental lockers at Kawaguchiko station if you need to store your luggage for the day. If they are all full, ask at the information centre if there are shops nearby offering storage services.
Where to Stay: Kawaguchiko is the most popular place to stay because it has the best selection of accommodations, restaurants and public transportation. Fujiyoshida would be a decent second option.
Getting Around: Renting a car is the best way to get around the Fuji Five Lakes. You'll have freedom and flexibility not being bound by bus schedules and routes. There's a rental place across the street (to the right) from Kawaguchiko station. If you're doing a day trip, there's an option to rent for less than 24 hours.
If you'd rather use public transportation, the Retro buses have hop-on-hop-off service to sightseeing areas around Kawaguchiko, Yamanakako and Saiko lakes. However, the schedule is really limiting with only a few buses per hour.
There are some shops in Kawaguchiko where you can rent bicycles.
Where to Eat: I normally don't talk about food, but every meal we had was so fantastic that I have to mention our favourite places to eat in Kawaguchiko.
Café Partita is in a small house on the lakeshore and served delicious pasta. We were the only customers one night and ended up having an entertaining evening with the owner.
If you like Korean BBQ, stop in at Amiyaki Hana. It was fun to grill the meat at our table while enjoying views of Lake Kawaguchiko.
You can't leave Kawaguchiko without trying Houtou (hoto), a local specialty of the Yamanashi prefecture consisting of flat udon noodles, pumpkin and other vegetables in miso soup. We shared a huge cauldron of houtou at Hoto Fudou Kita-Honten, a restaurant located inside a traditional folk-style wooden building.
Best Time to View Mt. Fuji: Your best chance to see Mt. Fuji is early in the morning or late in the afternoon. Conditions are usually clearer during the colder winter months and Mt. Fuji's white peak is typically visible from November to May.
Accommodations in Kawaguchiko
For your convenience, here is a list of hotels in Fujikawaguchiko. Please consider booking your Kawaguchiko accommodations through the included link. It costs nothing extra and helps support this website. Thank you!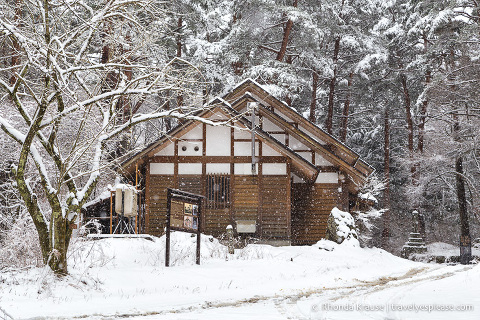 More Japan Destinations and Travel Guides