Purchases made through links earn us a small commission, at no extra cost to you.
In the midst of a dense, old growth forest at the foot of Mt. Fuji, sits a small shrine complex with a special connection to the sacred volcano.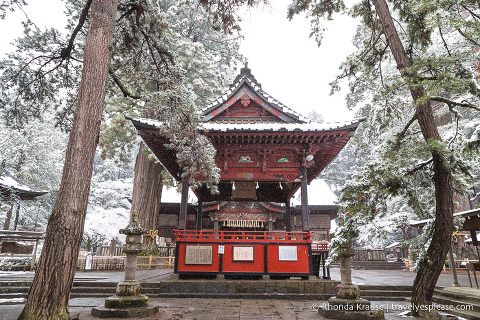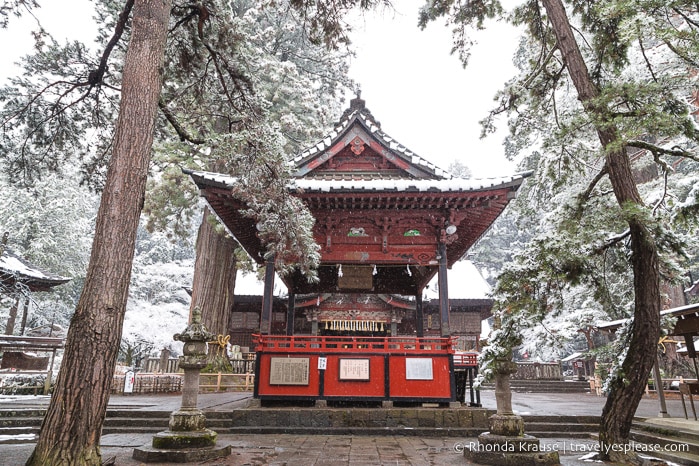 Kitaguchi Hongu Fuji Sengen Shrine (Fujiyoshida Sengen Shrine) is the traditional starting point of the Yoshidaguchi Climbing Trail. Pilgrims would come here to pray before beginning their ascent up the north side of Mt. Fuji.
While most people nowadays start their climb at the Fuji 5th Station, halving the distance to the summit, the shrine is very much worth a visit if you are in the Fuji Five Lakes area.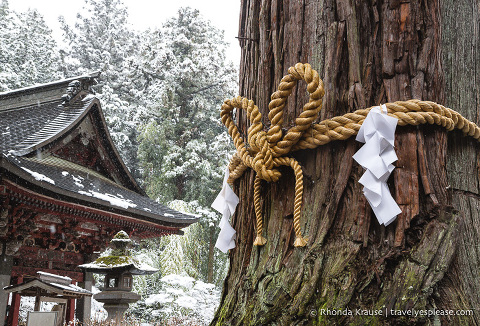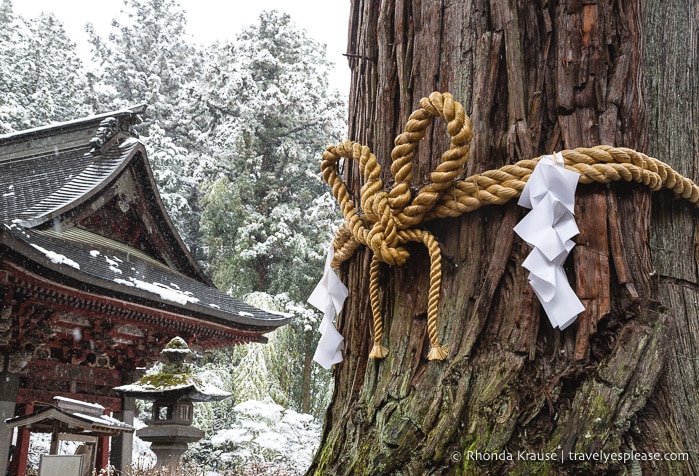 Fujiyoshida Sengen Shrine
Kitaguchi Hongu Fuji Sengen Shrine was built in 1615, but its location is believed to be the site of a shrine since as early as 788.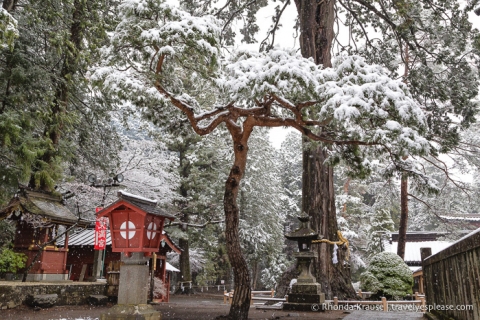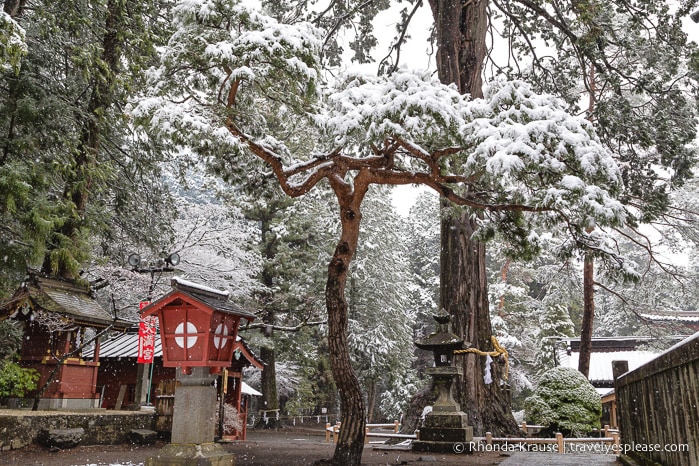 A focal point of Mt. Fuji worship during the Edo Period, the shrine has attracted many pilgrims over the years. Even today, the shrine is an important gathering place, hosting many events including the Yoshida Fire Festival and the opening ceremony for the Mt. Fuji climbing season.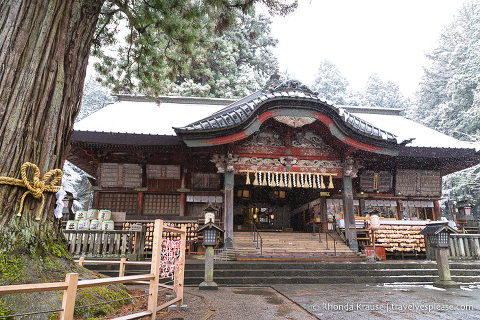 Princess Konohanasakuya (Konohanasakuyanohime), Mt. Fuji's main deity, is thought to be enshrined here with her husband and father.
Fujiyoshida Sengen Shrine was inscribed alongside Mt. Fuji on UNESCO's World Heritage List in 2013.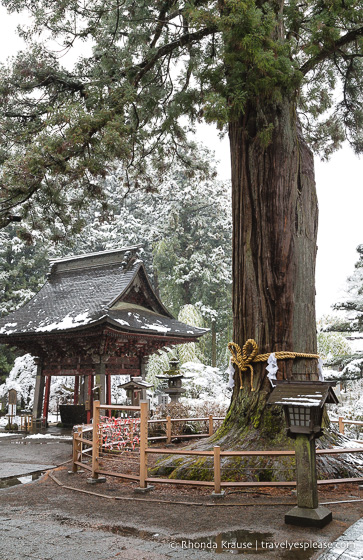 Our Visit to Fujiyoshida Sengen Shrine
The approach to Fujiyoshida Sengen Shrine is a long, shaded pathway lined with tall cedar trees and moss covered stone lanterns.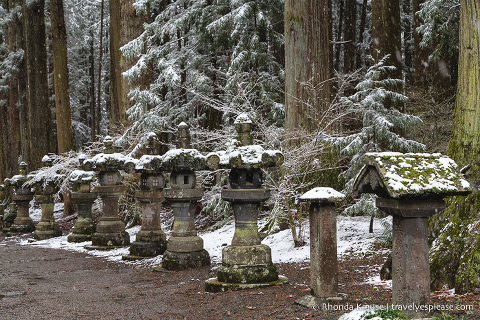 At the end of the trail marking the entrance to the shrine, is a large wooden torii gate over 18 metres tall. Even though it's one of the tallest wooden gates in Japan, tradition dictates that it be rebuilt slightly larger every 60 years.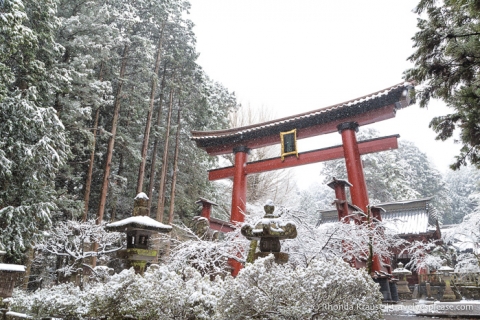 As soon as we entered the shrine, I fell in love with its atmospheric location. It looked so pretty under the gently falling snow, giving it a different feeling from other Shinto shrines we visited during our two weeks in Japan.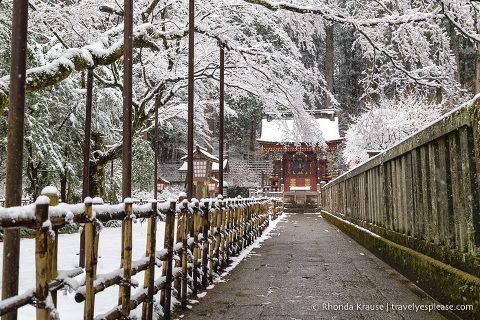 The main hall is the focal point and next to it is a small platform of sake barrels, a common site at Shinto shrines.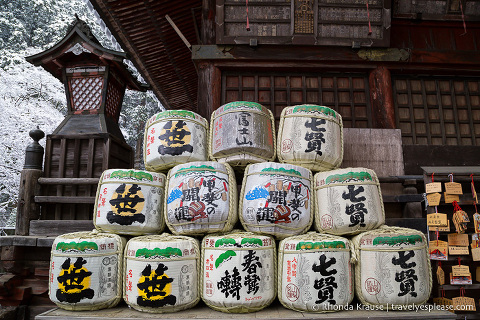 We walked around the main hall to see some of the auxiliary buildings, but my attention kept coming back to three specific towering trees.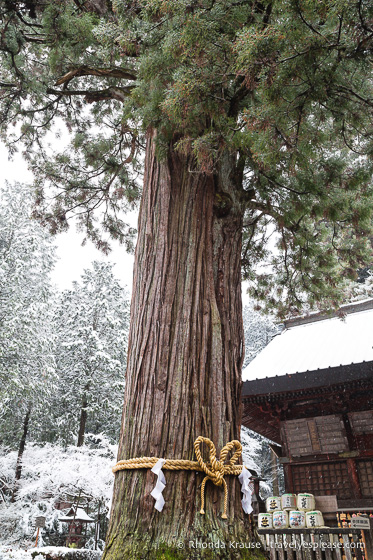 Each of these trees was marked with a rope bow-tied around its trunk. Known as Goshinboku, they are three of the original sacred trees believed to protect the shrine. Being over 1000 years old, it's no wonder they are held in high regard!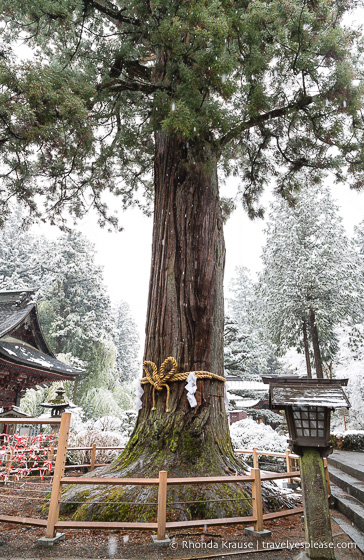 Even though it didn't take long to explore the shrine, it was a place I was in no hurry to leave. Good thing, because when we returned to our car we were met with a flat tire (but that's a whole other story!)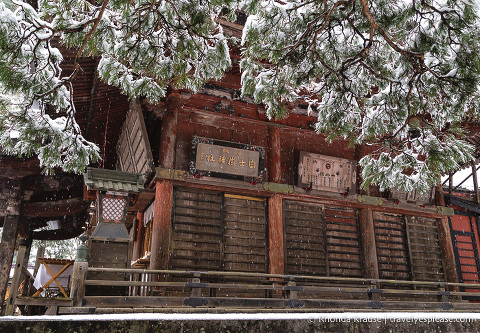 Tips for Visiting Fujiyoshida Sengen Shrine
Getting There: Kitaguchi Hongu Fuji Sengen Shrine is about a 15-20 minute walk from Fujisan Station or 10 minute drive from the Chuo Expressway Kawaguchiko IC. Buses leaving from Kawaguchiko Station and Fujisan Station in the direction of Lake Yamanakako will stop at the shrine. Get off at the Kitaguchi Hongu Fujisengen Jinja-mae bus stop.
Admission: There is free parking and free admission.
Information was updated June 2022, but can change without notice.
Accommodations in Kawaguchiko
Kawaguchiko is the most convenient place to stay in the Fuji Five Lakes region. For your convenience, here is a list of hotels in Fujikawaguchiko. Please consider booking your Kawaguchiko accommodations through the included link. It costs nothing extra and helps support this website. Thank you!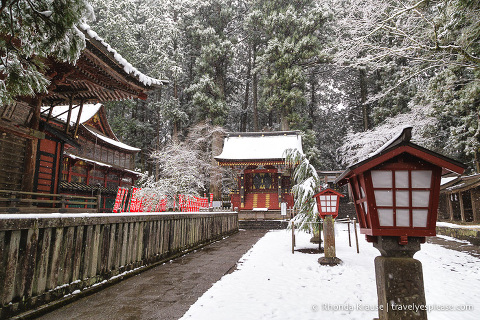 More Japan Destinations and Travel Guides