Purchases made through links earn us a small commission, at no extra cost to you.
Ah… romantic Paris. The "City of Love," the "City of Light." Paris has captivated me since my first trip to Europe in the eleventh grade. It was the city that sparked my passion for travel. Paris was my first love. And just like first loves do, Paris always lingered in my heart, even long after I'd gone.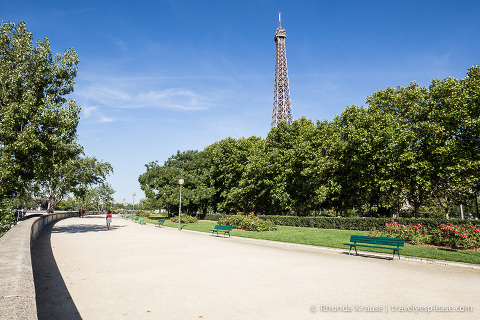 It had been 15 years since my first trip to Paris. Fifteen years spent dreaming of my return, lusting over photographs of Paris' beautiful monuments, wanting to experience the amour and intrigue of one of the world's most romantic cities. So when it came time for Mike and I to plan our 5 week European honeymoon, Paris quickly came to mind as a place we should go.
A romantic trip to Paris was the absolute best way to start our honeymoon. It had just the right mix of monumental sights and gorgeous outdoor spaces for me, delicious food and drink and local markets for Mike. We were easily able to combine our interests with Paris' inherently romantic atmosphere to find romance in Paris. Paris really does have all the perfect settings for living out a love story!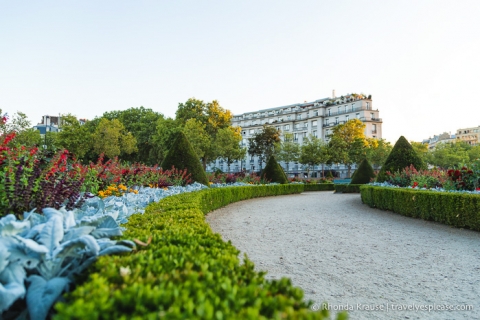 Romantic Trip to Paris- Six Things to Do for Romance in Paris
We think almost everything about Paris is romantic, but we managed to narrow it down to six ideas for a romantic trip to Paris. Here are our favourite romantic things to do in Paris for couples!
Explore à Deux
Paris is easily explored by foot, hand in hand of course. We enjoyed a walk through the Latin Quarter where we browsed some open air markets and even came across the stairs from the movie Midnight in Paris. The Latin Quarter is the perfect neighbourhood to enjoy a french pastry, a coffee and just people watch.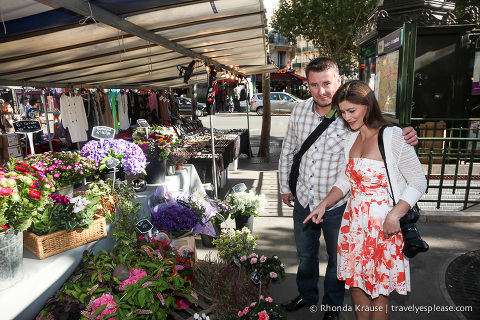 Montmartre is a fun place to get lost (and we did get lost) among the narrow, steep winding streets. Even though it was crowded and touristy, it was still fun to visit Place du Terte and browse the masterpieces of local artists.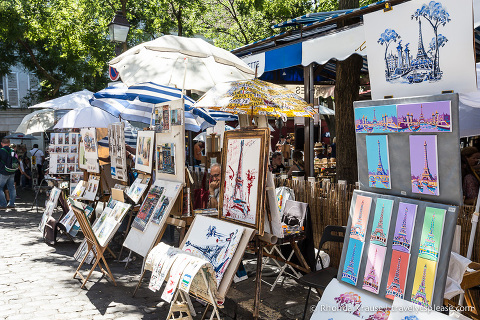 A romantic trip to Paris would not be complete without a walk along the Seine. The riverbanks around Ile St. Louis and Ile de la Cite offer some beautiful scenery and is a great place to just sit and relax. Locals are fond of hanging out down by the river too. We could not believe how many people were out enjoying a picnic and some wine, even very late at night. Definitely a romantic thing to do in Paris!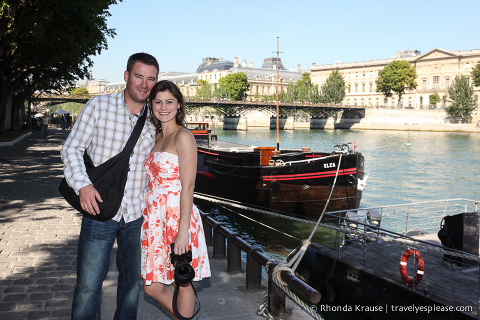 When your feet get sore from all the walking, rent a bike! Paris has a lot of cycle paths and an inexpensive bike share program. Riding around the city was one of our favourite things to do and made us feel young at heart.
Picnic in the Park
Paris has a lot of beautiful parks, perfect for relaxing or enjoying a picnic with your sweetheart. There's the Jardin des Tuilleries with its statues, Jardins du Trocadero and Parc du Champ de Mars with great views of the Eiffel Tower, and our favourite, Jardin du Luxembourg.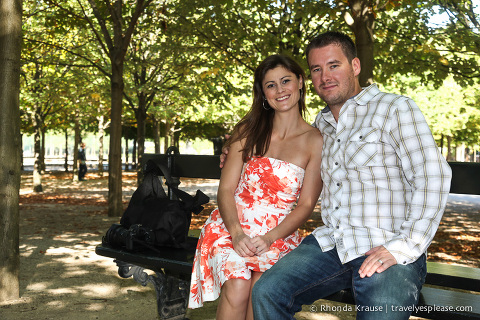 The Luxembourg Gardens have long been a favourite of artists and I've even heard that Napoleon used to bring Josephine here. Beyond the Italianate palace of Henry IV's widow, you will find picturesque tree shaded paths, colourful flowerbeds, fountains, ponds and over 80 statues.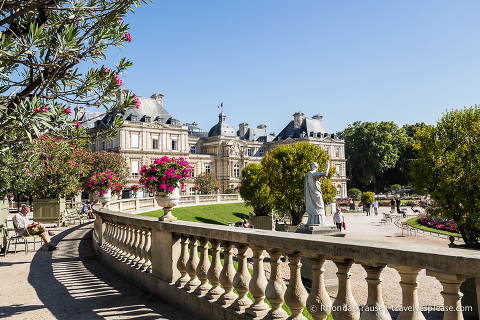 We didn't spend as much time at the Luxembourg gardens as I would have liked, and came across the Tuilleries after dark, so they are the first places I want to return to if I we ever do another romantic getaway to Paris.
Table for Two
French food is some of the finest food in the world. In Paris, a meal is to be savoured, enjoyed slowly surrounded by good company. We indulged in crepes a few times, but our favourite and most romantic meal was when we shared a late night fondue. Feel free to linger at your table while you enjoy some good conversation because the staff are definitely in no rush to kick you out.
During the day, take a break from sightseeing and stop in one of the many boulangeries. The choices are vast- fresh bread, cakes, pies, colourful macaroons, and other sweet pastry treats. I am always a sucker for lemon tarts and they did not disappoint in Paris!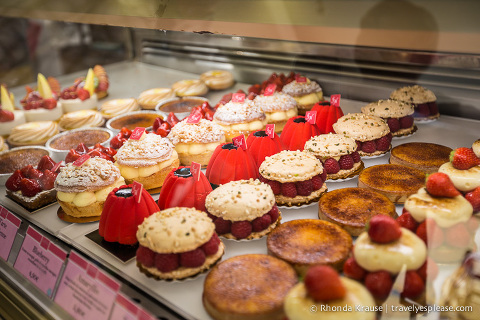 Enjoy the Views
Another romantic thing to do in Paris is admire the views together. Paris has so many places where you can get up high and enjoy a unique vantage point of the city. The steps in front of Sacré-Coeur Basilica, which crowns Paris' highest hill, is a nice option. Great views can also be had from the top of the Arc de Triomphe and Notre-Dame Cathedral.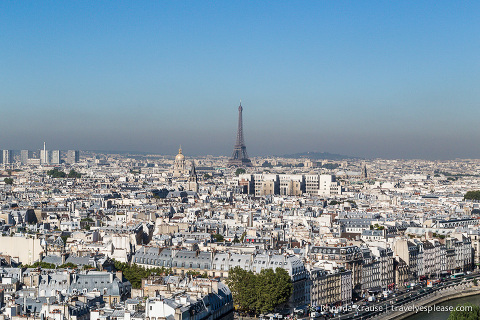 Our favourite place to enjoy the views was the top of the Eiffel Tower. We spent most of our first day in Paris up there just taking in the sights and thinking, we're really in Paris!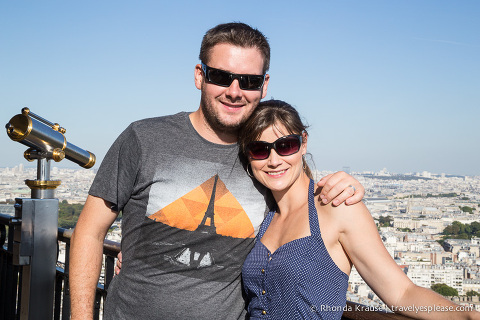 Love Locks
(Update: As of June 2015, the love locks on Pont des Arts have been taken down. The railings on the bridge have been replaced with panels to prevent more locks from being attached).
Touristy? Yes. Somewhat of an eye sore? Yes. Romantic? Strangely so.
Love lock bridges are popping up everywhere around the world now, but I think the most famous one is still the Pont des Arts. Get a lock, write your initials on it, then make a wish so your love will last forever (or at least until the city replaces the section of fence where you placed your lock!)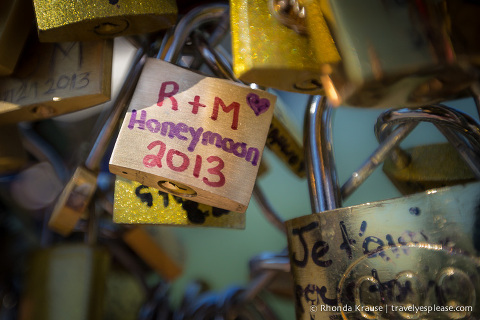 After you lock your love, take some time to enjoy the great view of the Ile de la Cite.
Night Lights
Paris isn't nicknamed the "City of Light" for nothing- all of the important buildings and monuments are beautifully illuminated at night creating an alluring cityscape. Admiring the lit up buildings was one of my favourite romantic things to do in Paris.
We had a great evening at the Louvre, not so much in the museum, but afterwards when we had a hot drink at Cafe Marly. It's a chic, pricey venue but has the best views of the Louvre pyramid. You can either grab a table on the terrace overlooking the pyramid, or a seat out on the Cour Napoléon like we did. We hung out there for a long time just enjoying each other's company, people watching, and admiring the lights. We enjoyed the atmosphere so much so that our plans for the rest of the evening got pushed aside. The Louvre really is an enchanting place at night!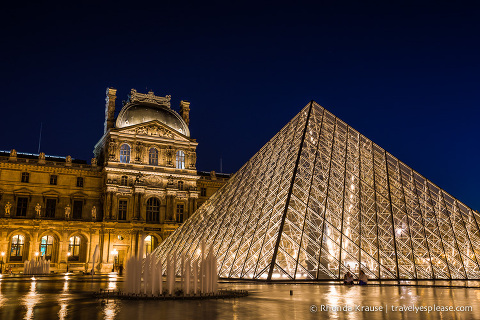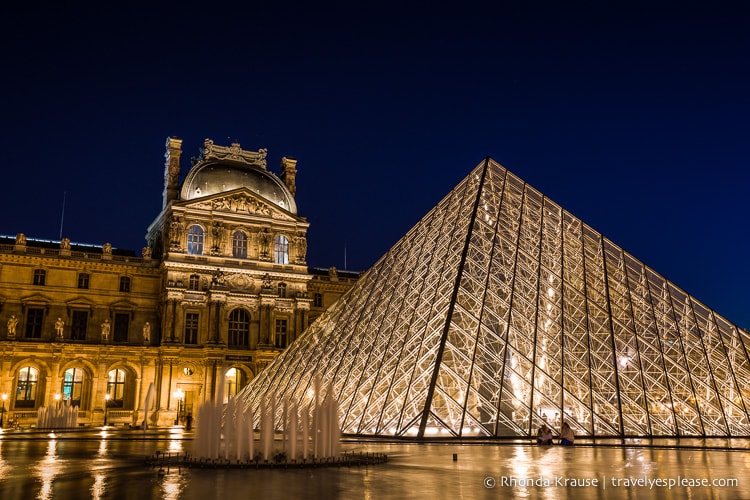 My all time favourite romantic Paris moment was seeing the Eiffel tower twinkle at night. We saved this moment for our last night in Paris, but it almost didn't happen! It's a long story, but we didn't get to the tower until 10 minutes before the lights went off at 1:00 am. We hurried across the city like crazy people, coming across all sorts of obstacles, trying to get to Esplanade Trocadero before the lights went out. When we got off the metro I ran faster than I probably ever have in my life. Once that dazzling tower came into view, I exclaimed while still running, "It's so beautiful!" and then burst into tears.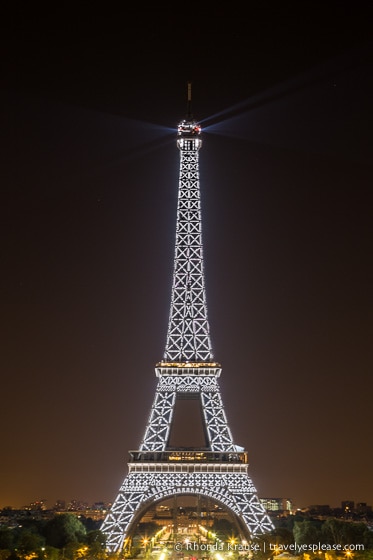 I quickly snapped a few photos before watching in amazement as the tower sparkled for the last time that night. Then one by one we saw the lights go out across Paris, the famous landmarks disappearing into darkness. It was the perfect finale to our romantic four days in Paris!
Tips for Enjoying a Romantic Trip to Paris
Take advantage of Paris' bike share program. Vélib' is a self-service bike system that is available 24 hours a day. For a small fee you can take a bike from any stand (there are 1,400 stations and 20,000 bikes), use it, then return it to any stand. The first 30 minutes are free, so if you return your bike every 30 minutes, you never pay more than the initial rental fee. If you forget to return your bike every 30 minutes (like we did), you will be charged a usage fee. We misunderstood how the program worked the first day and ended up with a huge bill because we kept our bikes for the whole day!
After nightfall, the Eiffel Tower lights glitter at the top of the hour, for five minutes. Seeing the Eiffel Tower sparkle is the one of the most romantic things to do in Paris and not to be missed! But remember, the lights go off at 1:00 am.
Hire a local photographer. As part of my wedding gift, Mike hired a local photographer to take us around the city and snap some pictures of us enjoying Paris. It was so much fun because we had a private tour plus came home with some great candid photos of us (he took most of the ones of us in this post). It sure beats asking a stranger to take your picture!
Information was updated January 2022, but can change without notice. Please confirm directly with service providers.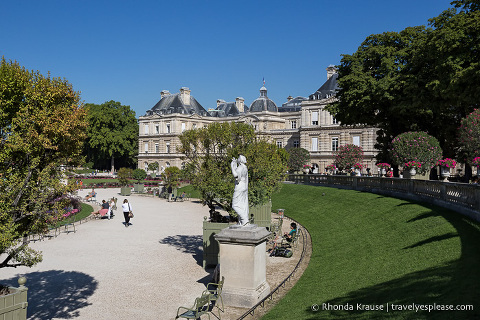 More Romantic Things to Do in Paris
Even though Paris and romance go hand-in-hand, there are some romantic things to do in Paris we missed out on. Here are some activities we'd like to do on our next romantic trip to Paris, including links to a trusted site where you can buy digital tickets and have them immediately delivered to your smartphone (no need to print).
Accommodations in Paris
For your convenience, here is a list of hotels in Paris. Please consider booking your Paris accommodations through the included link. It costs you nothing extra and helps support this website. Thank you!
Check out our traveller's guide to the best neighbourhoods to stay in Paris to help you choose between districts. 
More Paris Attractions and Travel Guides