Purchases made through links may earn us a small commission, at no extra cost to you.
Melk Abbey is one of those places I decided to visit solely because it was a UNESCO World Heritage Site. I didn't know much about it all, or really even heard of it before. I just knew it was close to Vienna and that Melk was the gateway to the Wachau Valley, which I had always wanted to see.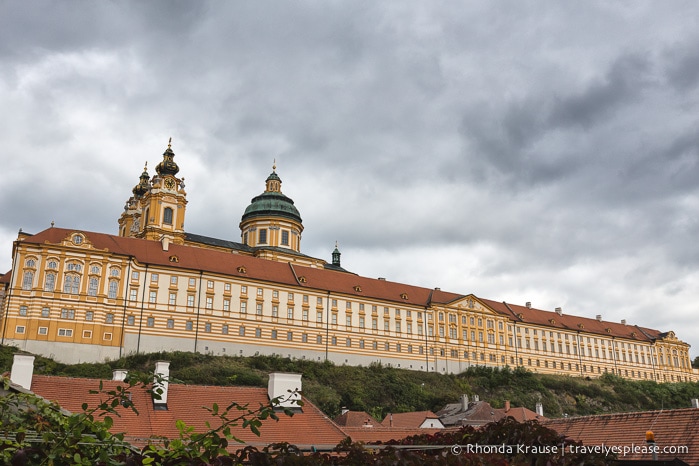 Since we were going to be in Vienna, it would have been a shame to miss out on seeing Melk. So, onto our Europe itinerary it went! We would do a day trip, visiting Melk Abbey in the morning and cruising the Wachau Valley in the afternoon.
As I did more research about Melk Abbey, I learned that not only is it a World Heritage Site, it had won many accolades, including being named Best Historical Destination by National Geographic Traveler Magazine (2008).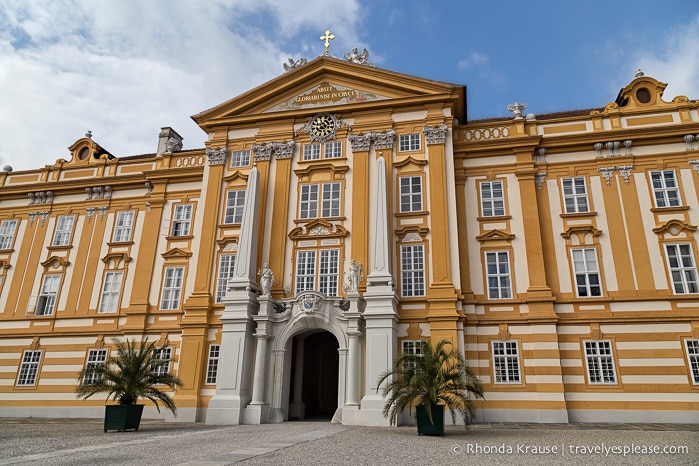 How have I not heard about this place? Had I been living under a rock?
Sometimes not knowing a lot about a destination makes for a great visit. There's the surprise of not knowing what to expect, the awe of seeing a place for the first time. Plus you don't have any expectations, which as I've learned before, can leave you feeling disappointed.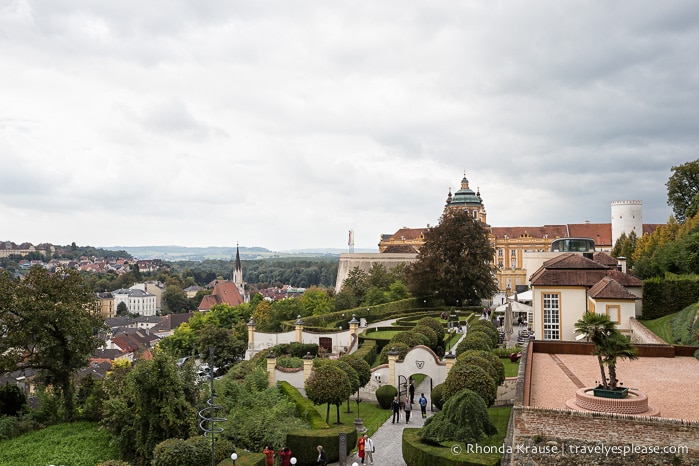 Our Visit to Melk Abbey
As we walked from the train station into Melk, the abbey quickly came into view. High on a bluff, the massive Baroque building dominates the skyline, overlooking both the town and the Danube River below.
"Wow!" was my initial reaction, a little taken aback by its size and opulence. The building is extremely long, its bright yellowy-orange trim making it even more eye catching. I had visited monasteries in Greece and they were not this extravagant!
We hurriedly weaved our way through town and up the abbey's rocky pedestal. A beautiful courtyard, embraced by the abbey's striking architecture, greeted us.
After buying our tickets for a guided tour, we had some time to wander the courtyard. I'm really glad we got there early so I could get some photos without a bunch of tourists in the frame!
Soon, our tour of Melk Abbey began and we were off to explore the interior of this historic, and still active, Benedictine abbey!
Tour of Melk Abbey
Here are the highlights from our tour inside Melk Abbey.
Abbey Museum
Our visit began in the Abbey Museum, situated in the former Imperial Rooms (Austria's first ruling dynasty, the Babenbergers, used to live here). We were taken through a rather unique exhibition of art and multi-media illustrating the monastery's 900-year history.
It was a bit of information overload for me, but there were some really beautiful relics and other interesting objects on display.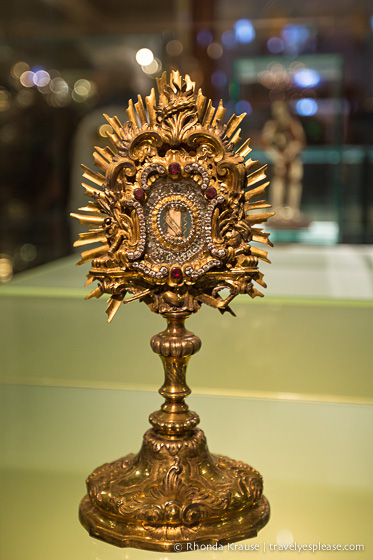 Most memorable was the re-usable coffin. Yes, I said re-useable! The coffin had a bottom that would open up, dropping the body out as it was retrieved for another use. I can't remember why this was invented in the first place but I don't think it was very popular!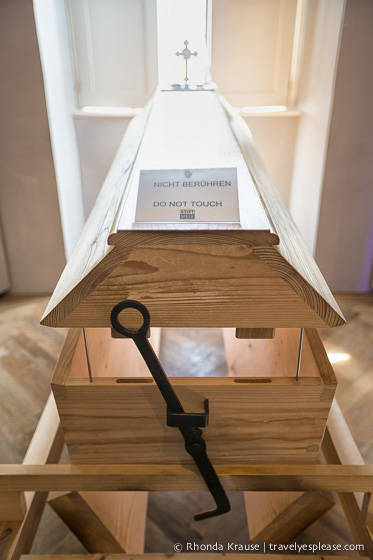 Another unique thing we saw was a highly complicated treasure chest. There were so many parts on the underside of the lid that had to move together (quite noisily) in order to lock the box.
Marble Hall
Once we entered into the Marble Hall, I really started to enjoy our visit. I appreciate exquisite, detailed architecture and this room was the first masterpiece of many we would see on our tour.
The hall's showpiece is a remarkable ceiling fresco by Paul Troger (1731). I say it's remarkable because the architectural painting framing it (done by Gaetano Fanti), creates an optical illusion making the ceiling look as though it rises and curves up, when in fact it is flat. Amazing!
The room doesn't have much in the way of furniture these days, so you'll have to use your imagination to picture it being used as a dining hall for the imperial family and distinguished guests.
Library
Next up was the library, one of the most beautiful rooms I have ever seen! It literally pains me that I can't show you a picture (photography was not allowed). Some people snuck photos, and as much as I wanted to, I decided it was more important to be respectful by following the rules.
So picture this: A long, elegant room, with shimmering gold and glistening wood, completely circled by books. From the floor to the ceiling, books on every wall! About 16,000, in fact, meticulously arranged between columns of decoratively carved wood. The antique, golden bindings blend almost seamlessly with the room's golden architectural touches. On either side, are two giant globes, bathed in natural light seeping through the windows behind them.
I was awestruck. I hope nobody caught me in one of their forbidden photos because you'd see me standing there with my mouth wide open- not very flattering!
The artistic decoration reflects the high regard the monks have for their library. It is one of the most important rooms in a Benedictine monastery, second only to the church.
This marvelous room is actually only a small part of the Melk Abbey's library. There are eleven other rooms housing approximately 100,000 volumes in total.
Coloman Courtyard
St. Coloman is the patron saint of Melk and the Melk Abbey, so this courtyard is dedicated to him.
Coloman was an Irish pilgrim en-route to Jerusalem, when he was accused of being a spy near Vienna. His strange clothing and different language made him look suspicious, so he was imprisoned and later hanged from a tree.
Soon after his death, miracles were reported at his grave. This led the locals to proclaim Coloman a saint and his corpse was brought to Melk for a ceremonial funeral in 1014.
Coloman was also Austria's first patron saint and there many other churches dedicated to him, including the Pilgrimage Church of St. Coloman in Bavaria.
Abbey Church
The final stop on our tour was the church, the most important room in Melk Abbey.
The church is a textbook example of High Baroque architecture and is considered to be one of the most beautiful Baroque churches in the world.
Much like the rest of the abbey, frescoes and golden ornaments make the room dazzle. Beyond all the shine, the church portrays the theme of "Without a legitimate battle there is no victory." This message can be seen inscribed on the high alter and portrayed in the ceiling frescoes.
The church also has two altars dedicated to Saints Coloman and Benedict. St. Coloman's skeleton is actually kept in a sarcophagus at one of the altars.
Some of Austria's first rulers are also buried in the abbey church, including several members from the House of Babenberg, the ruling noble family from 976 to 1246.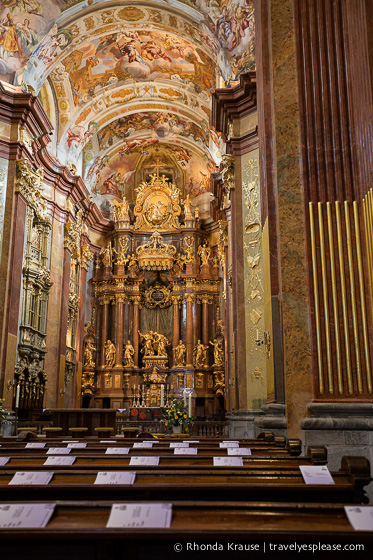 Final Thoughts About Melk Abbey
We really enjoyed our visit to Melk Abbey and would definitely recommend it as a day trip from Vienna. I wasn't too interested in the museum portion, but loved visiting the different rooms and admiring the architecture.
The guided tour of Melk Abbey gave a lot of interesting information, but I still would have preferred to explore on my own, at my own pace. That's just the way I am, nothing against the tour!
The only thing that would have made our visit better was if I could have taken pictures of the library!
Tips for Visiting Melk Abbey
Getting There: It took us roughly 1 hr 20 mins to reach Melk by train from Vienna.
Hours: Melk Abbey can be visited daily, year round. Hours are as follows:
April to October: 9:00 am – 5:30 pm
November to March: Visit by guided tour only at 11:00 am and 2:00 pm. Tours for groups can be arranged between 9:00 am – 4:00 pm.
The Park and Pavilion are open daily from May to October 9:00 am- 6:00 pm.
Admission Prices: Admission is €12.50 without a guided tour or €14.50 with a guided tour. Tickets include admission to the Abbey Park, Garden Pavilion and Bastion.
Admission to the Park/Bastion without abbey visit is €4.50.
Tours: English tours are offered at 10:55 am and 2:55 pm (April- October). Guided tours are about one hour long.
* Information was correct at the time of publishing, but can change without notice. Please confirm directly with service providers.
Accommodations in Melk
For your convenience, here is a list of hotels in Melk. Please consider booking your Melk accommodations through the included link. It costs nothing extra and helps support this website. Thank you!