Purchases made through links earn us a small commission, at no extra cost to you.
When I signed us up to go on a snowshoeing excursion in Jasper National Park, both Mike and I didn't know what to expect. In all honesty, we were kind of skeptical whether we would like snowshoeing at all.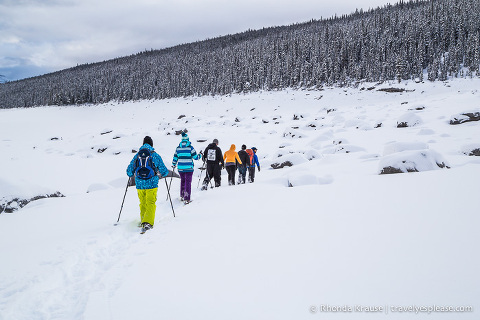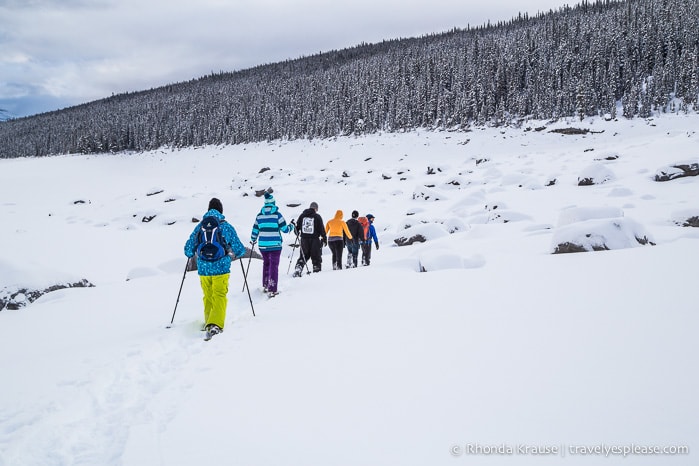 "It seems kind of silly to strap on big shoes just to walk around in the snow," we'd say. "Why would anyone want to do that?"
Well, to answer our own question- because it's really fun!
Snowshoeing turned out to be way more adventurous than we imagined. Our guide took us to places that the average visitor to Jasper wouldn't know about, including a spectacular canyon that would be difficult, if not impossible, to maneuver without snowshoes.
When it was all said and done, the scenery we saw, the people we met and the fantastic workout we got, made snowshoeing our favourite activity of the weekend! Here's a look at our first, and probably not our last, snowshoeing trip in Jasper.
Snowshoeing in Jasper
Our four hour snowshoeing adventure started in downtown Jasper where we met our certified guide, Chris, from Canadian Skyline Adventures. After gathering our equipment, our small group headed out to Medicine Lake where we would begin our trek.
After showing us how to properly put on our snowshoes, Chris led the way down to Medicine Lake.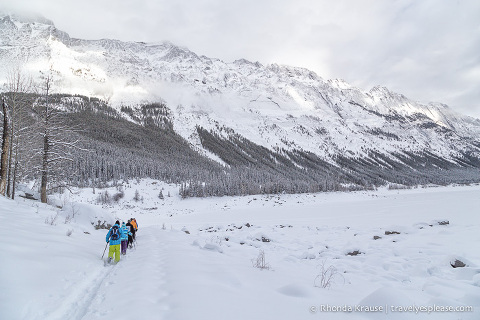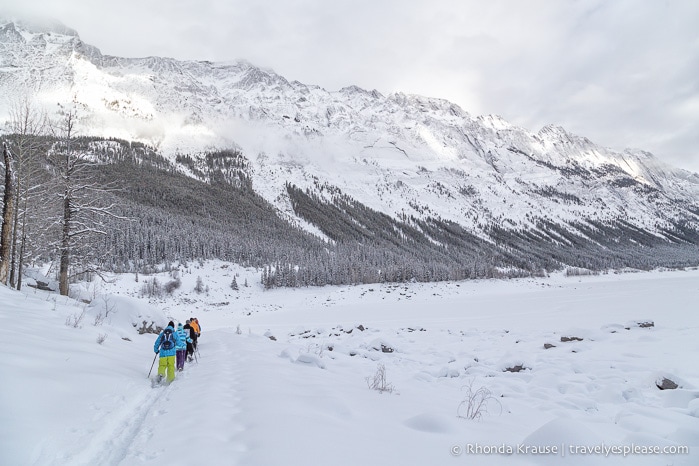 Soon, we were traversing across the bottom of this "disappearing lake", blazing a trail in the freshly fallen snow. Every so often, Chris would stop to tell us a little history about the area.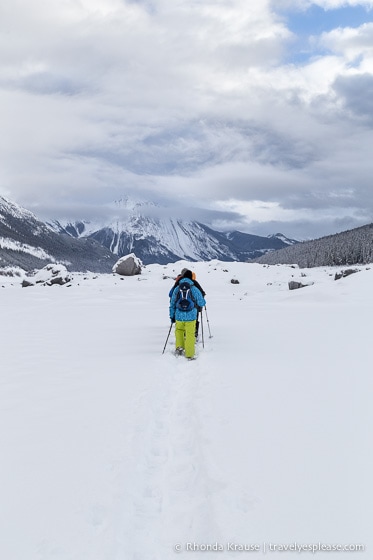 We learned that Medicine Lake is unique because there isn't a river or stream draining the lake. Instead, water drains from the bottom out sinkholes, leaving a mudflat every autumn. The water then makes its way through a cave system until it surfaces 16 kilometers away at the Maligne Canyon.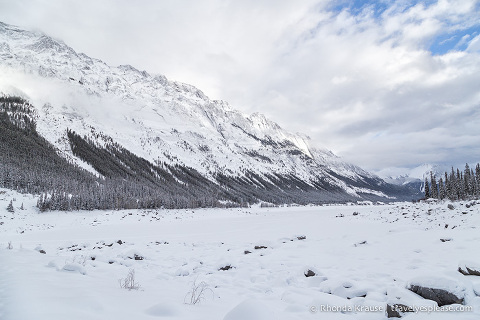 Continuing across the lake, we climbed over a pile of boulders and towards the forested shoreline. A few more steps and we were inside a spectacular, undisturbed canyon, about to embark on some backcountry snowshoeing!
The Watchtower Canyon was our favourite part of the snowshoeing trip. We weaved between trees and rocks, carefully following the trail Chris was making for us.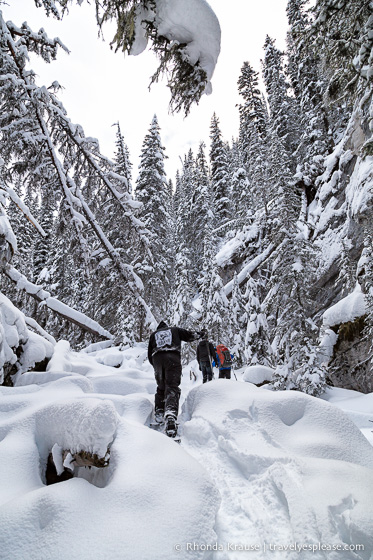 It was incredible to hear water rushing underneath the thick blanket of snow we were walking on! Every so often, we'd pass a hole in the snow revealing the icy stream below our feet.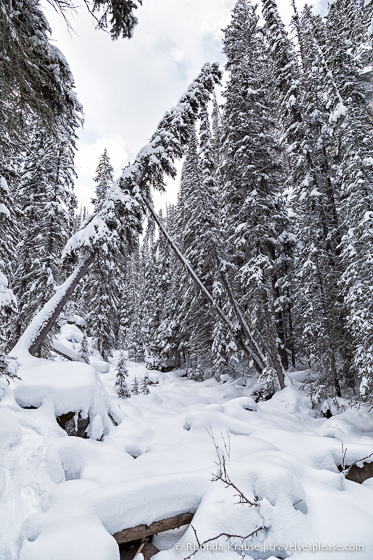 At times it was hard to concentrate on snowshoeing because I was so enamoured with the beautiful scenery around me. I kept thinking that this was a side of Jasper I had not seen before, and probably would never have seen, if we hadn't gone on this trip. That's the benefit of hiring a local guide- they can take you places you never knew existed!
The climax of our trip was reaching a small frozen waterfall partway up the canyon. It was the perfect place to stop for a short rest and snack.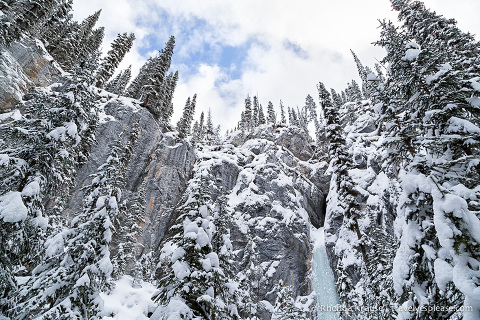 Chris pulled out some foam squares for us to sit on and then passed around some homemade cookies and hot chocolate for us to enjoy.
After our little winter picnic, we turned around and headed back to Medicine Lake. I think the views were even better on the way down canyon!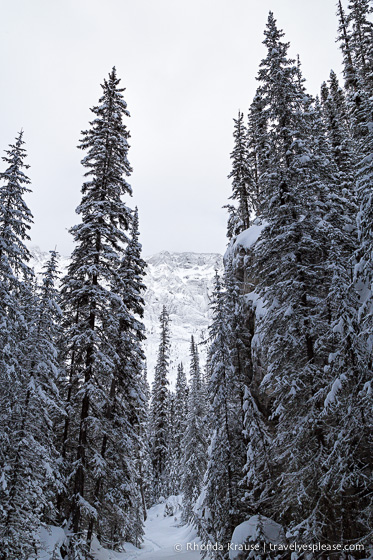 Back on the lake, everyone was joking and laughing as we completed the final portion of our journey. I think it's safe to say, a fun time was had by all! I know Mike and I were very happy we decided to give snowshoeing a try.
Why You Should Go Snowshoeing in Jasper National Park
You can explore Jasper's backcountry and see areas that can't be reached on cross-country skis.
Snowshoeing allows you to experience the peace and solitude of Jasper in the wintertime.
It's great exercise! Snowshoeing is a cardiovascular workout that can burn 500 – 1046 calories per hour. It also targets your calves, quadriceps and hamstrings.
Snowshoeing is more affordable than other winter sports, like downhill skiing and snowboarding. Snowshoes sell between $90 – $250 or cost around $15 a day to rent. Plus, there's not the additional cost of a lift pass.
Snowshoeing doesn't require any special lessons- it's as easy as walking!
It's surprisingly fun!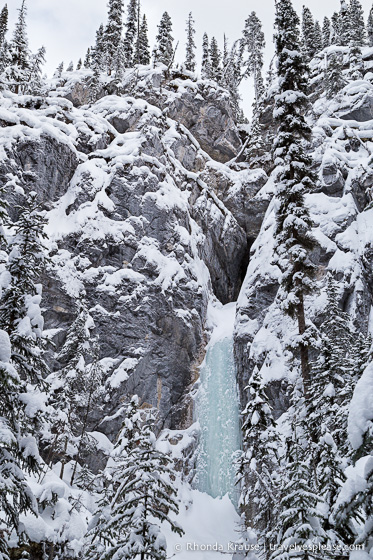 Tips for Snowshoeing in Jasper
We recommend hiring a certified guide to take you on a backcountry snowshoe excursion. They know all the best places and have the necessary safety/survival training and gear if something were to go wrong. Plus, a good guide will tell you interesting stories along the way.
Our excursion was through Canadian Skyline Adventures. Since we had such a great experience with Chris, we have no hesitations in recommending them for a snowshoeing trip. You can find out more details of the trip on their website, as well as learn about their summer hiking excursions. (Note: The locations for their snowshoeing trips can change depending on the conditions).
If you decide to go snowshoeing on your own, you can rent equipment in Jasper at one of the ski & outdoor shops. Just make sure you familiarize yourself with the area before you head out.
If you plan on doing a lot of uphill climbing with your snowshoes, I recommend getting poles. It will make everything a lot easier!
Dress in layers so you can remove clothing if you get too warm. You will work up a sweat snowshoeing. Also, make sure you have warm winter boots (waterproof is a plus).
Information was updated January 2022, but can change without notice. Please confirm directly with service providers.
Accommodations in Jasper
For your convenience, here is a list of hotels in Jasper. Please consider booking your Jasper accommodations through the included link. It costs nothing extra and helps support this website.
We'd like to thank Tourism Jasper and Canadian Skyline Adventures for hosting us in order to bring you this story. As usual, we speak the whole truth and nothing but the truth, so rest assured we really did have as much fun as we say we did!
More Jasper Attractions and Travel Guides