Purchases made through links earn us a small commission, at no extra cost to you.
When people see pictures of Jasper, or hear about the fantastic opportunities for outdoor adventure, they don't need much convincing to pay a visit. Jasper's natural beauty sells itself!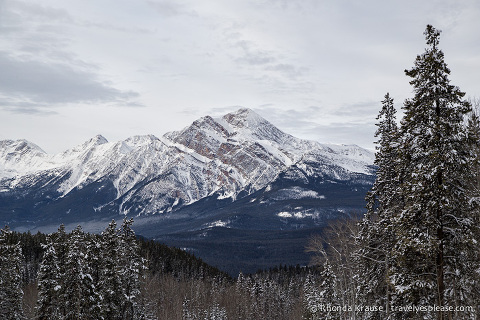 Once our Canadian winter settles in though, it's quite tempting to stay home and hibernate on the couch!
In case you needed a little convincing, we're here to show you that visiting Jasper in the winter season, especially in January, has some great benefits.
Winter in Jasper National Park- 8 Reasons to Visit Jasper in January
Instead of hibernating this winter, we hope this list encourages you to get outside and embrace winter at Jasper National Park. Here are 8 reasons why you should visit Jasper National Park in winter.
1. You'll Feel Like You Have the Entire Park to Yourself
After a busy, and often expensive Christmas season, many people choose to lay low during January. This means that popular tourist destinations, like Jasper, are noticeably less crowded.
Jasper National Park welcomes over 2 million visitors a year, but only 20% of those come between November and April.
This means that you won't have to jostle with other tourists to get that perfect photograph of Jasper's iconic landscapes. You'll get to enjoy the peace and serenity of nature as it was meant to be experienced- without interruption from crowds of tourists.
I must say, it felt pretty special to have some of the top places to visit in Jasper, like Athabasca Falls and Maligne Lake, all to ourselves.
2. Jasper is a Winter Playground for Adventurers
There's no better place to embrace winter than in Jasper! There are enough winter activities in Jasper to please every member of the family, including skiing (both downhill and cross-country), ice skating, dogsledding, tobogganing, fat biking, and snowshoeing.
Jasper is also world famous for its ice climbing opportunities and the Maligne Canyon Ice Walk.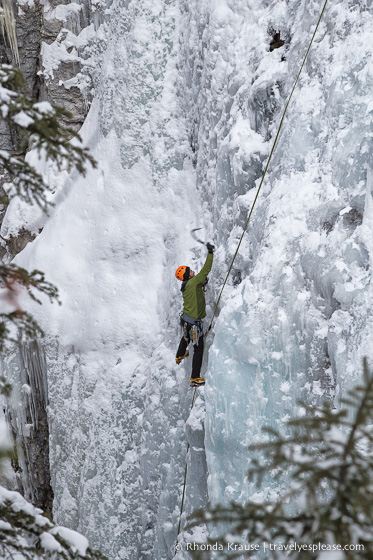 Reserve your spot on the Maligne Canyon Ice Walk.
3. The Jasper in January Festival
One of Jasper's signature festivals is "Jasper in January", which runs from the middle to the end of the month. This is a great time for winter enthusiasts to experience Jasper's warm hospitality.
Along with Jasper's wide selection of winter sports, visitors can take part in a street party, chili cook off, art show, mini food and wine festival, brewery tours, painting and photography workshops, as well as enjoy live music at venues around town.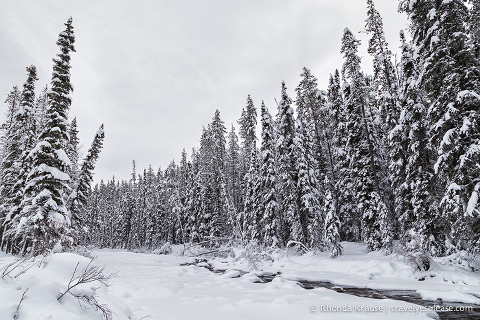 4. Discounted Rates
During the Jasper in January festival, many hotels offer discounted rates and special packages to visitors.
Some of Jasper's tour/activity providers also offer discounts off their regular rates during the festival.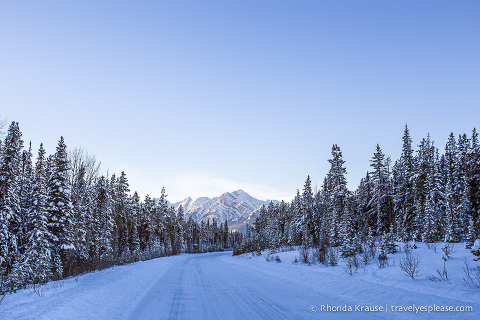 5. Wildlife Sightings
We've never failed to see wildlife in Jasper, no matter what the season. While some animals hibernate during the winter, the rest are still actively out and about.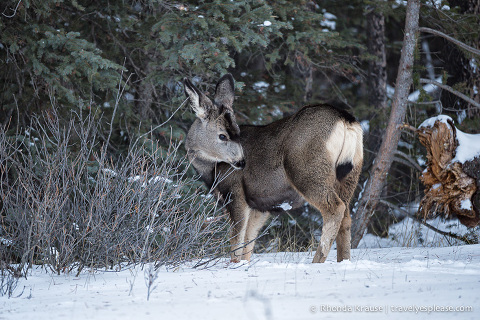 During our winter visits to Jasper, we've seen elk, Mountain goats, Bighorn sheep, and Mule deer. You don't have to go far to see them either- they like to hang out along the main highway!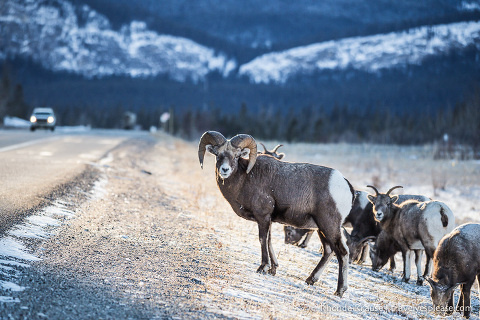 6. Dark, Star-filled Skies
Jasper is one of the world's largest dark sky preserves, making it a perfect place to marvel at the wonders of the night sky. The shorter daylight hours in January, means plenty of time to gaze at the stars!
If you're interested in learning about the night sky, a great time to visit Jasper is in October for the Dark Sky Festival.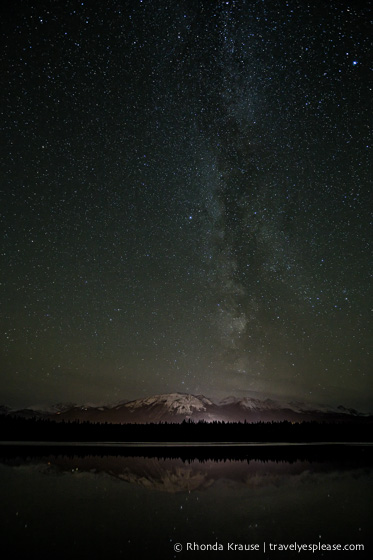 7. The Frosty Scenery
Jasper is incredibly beautiful in the winter! A fresh blanket of powdery snow, frosted tree branches twinkling like diamonds in the sunshine…it's extremely relaxing and made me forget just how long winters can be here in Alberta.
Coming to Jasper in January allows you to see a different side the majority of visitors don't get to see. Rushing waterfalls are partially frozen over, normally bare walled canyons are draped with larger than life icicles. I felt like everywhere I looked could have been the cover of a Christmas card!
8. The Crackle of a Fireplace
After a day of winter escapades, it was nice to be able to warm up in front of a real wood-burning fireplace. There's something about the quiet crackle of a fire that's cozy and soothing.
A great fireplace to warm up in front of is in the lobby at the Fairmont Jasper Park Lodge. Pull up a chair, order a hot chocolate, relax and rejuvenate for the next day's adventure!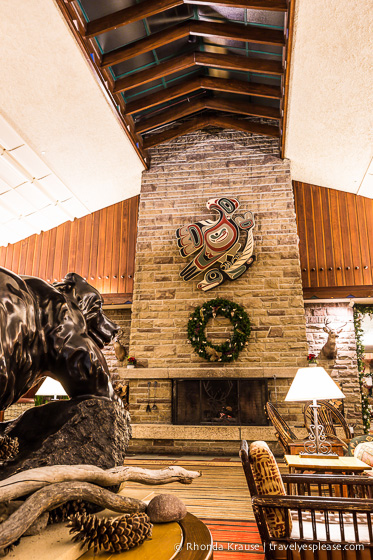 So there you have it, 8 reasons why January (or anytime in the winter, for that matter) is a great time to visit Jasper!
Tips for Visiting Jasper in January
Jasper in January 2022 runs from January 14- January 30. For more information about the festival, including a program of events, visit the Jasper in January website.
Winter sports equipment can be rented in town at one of the sport/outdoor shops.
Marmot Basin, Jasper's downhill ski and snowboard area, is only 20 kms from the town of Jasper. There are 91 runs (30% beginner, 30% intermediate, 20% advanced, 20% expert) on four mountain faces. Check the Marmot Basin website for discounts during the Jasper in January festival.
Sun Dog Tours is a tour provider in Jasper that offer guided winter activities.
Here is a trusted site where you can book a spot on the Maligne Canyon Ice Walk.
Accommodations in Jasper
For your convenience, here is a list of hotels in Jasper. Please consider booking your Jasper accommodations through the included link. It costs nothing extra and helps support this website.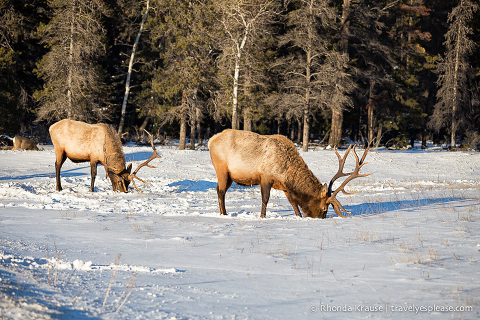 Where We Stayed
On our visit to Jasper, we stayed at the Fairmont Jasper Park Lodge. This village of rustic, yet luxurious, log cabins and suites is beautiful and charming, especially when all dressed up for the holidays!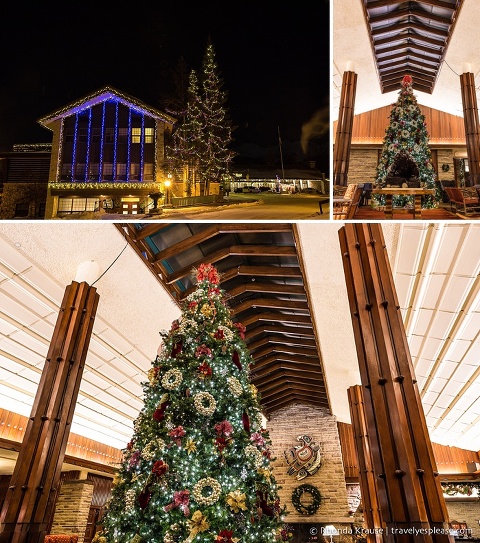 We loved the resort's location- right on the shore of Lac Beauvert with a magnificent view of Pyramid Mountain. We were surrounded by wilderness and wildlife, yet less than a five-minute drive from the Jasper townsite.
We didn't have a chance to try out any of the winter activities (or rental equipment) the JPL offers, but we did enjoy the brand new 20-person outdoor hot tub!
Our suite was large and clean, but the best part was the bed- so comfortable! We also loved how the staff brought us wood every day so we could enjoy our fireplace.
If you stay at the Jasper Park Lodge in the off-season, be advised that the selection of dining options is limited. There was only one place to have dinner when we were there the second week of January.
We'd like to thank Tourism Jasper and Fairmont Jasper Park Lodge for hosting us in order to bring you this story. As always, we speak the whole truth and nothing but the truth.
More Jasper Travel Guides