Purchases made through links earn us a small commission, at no extra cost to you.
All it took was a seeing a single photo and I was hooked on visiting Yoshino.
The picture showed a perfect vista- a vast valley full of pale pink blossoms, as far as the eye could see.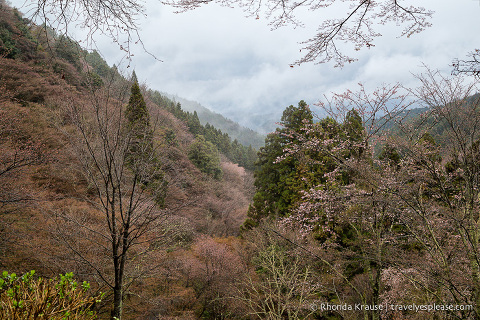 I wanted that picture. I wanted to see that scene for myself. So, when it came time to planning the itinerary for our 2 weeks in Japan, including Yoshino was a no-brainer.
Unfortunately, our day trip to Yoshino was not quite the perfect experience I had envisioned.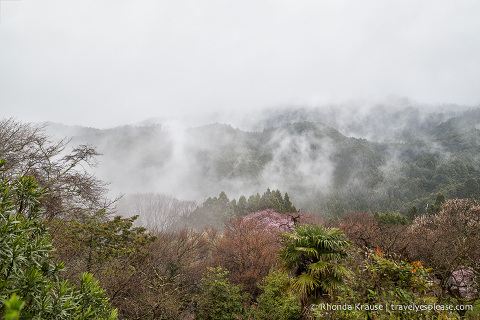 Our Day Trip to Yoshino
First off, it rained A LOT. The clouds and fog concealed most of the valley views I was hoping to see. Plus, the cherry trees were just starting to bloom at the middle of the mountain, which meant that higher up, the trees hadn't blossomed at all yet. We didn't even bother finishing our hike to the Hanayagura viewpoint since we wouldn't have been able to see the views anyways.
It's too bad our timing didn't work out because Yoshino is one of Japan's most popular cherry blossom viewing spots. As I'm writing this, I'm still filled with disappointment about our bad luck that day.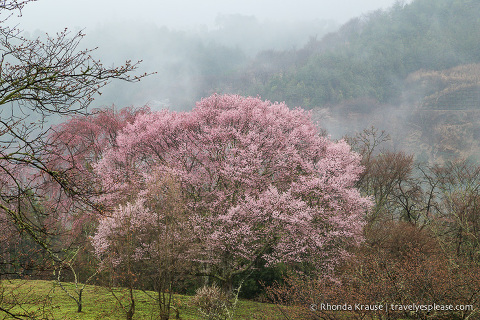 Even though our day trip to Yoshino wasn't quite what I was hoping for, it wasn't a wasted day by any means. It was still nice to be in a quiet place, among nature. Even without full-bloom blossoms, the landscape around Yoshino is gorgeous! Plus, all the rain meant that we had the entire village almost all to ourselves.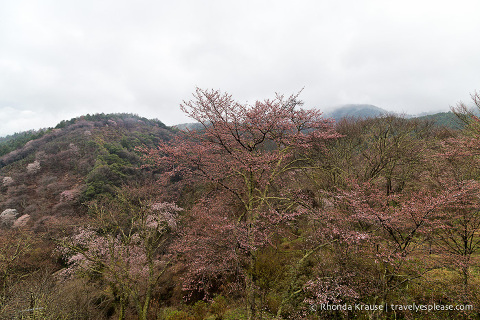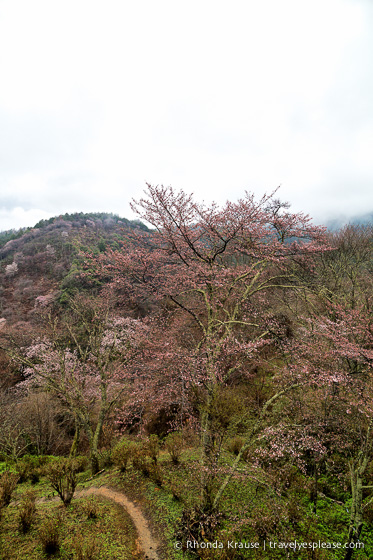 Luckily for us, there were some other things to do in Yoshino besides hike and view cherry blossoms. We visited a few temples and shrines, but my favourite place was a small garden. We also had a nice time meeting the friendly, generous and helpful locals.
Here's a look at how we made the most of a rainy day in Yoshino!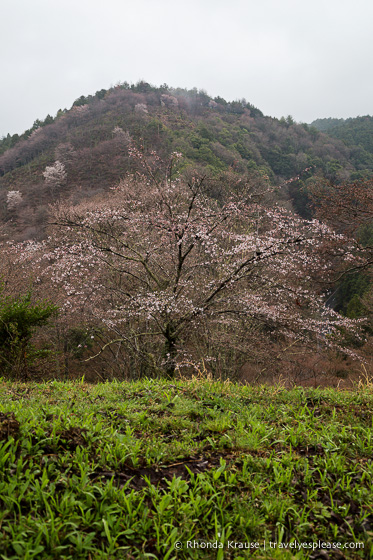 About Yoshino
Yoshino is a small, attractive mountain village in the Nara prefecture, on the Kii Peninsula. It is well known for being surrounded by over 30,000 cherry trees planted at four different altitudes. In the spring, each level of trees bloom in succession, lengthening the viewing season to about 3 weeks.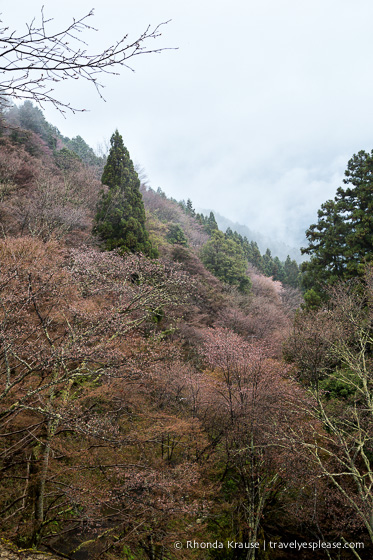 Yoshino is the start of a pilgrimage trail to sacred Mount Omine, so the Yoshinoyama area is dotted with many temples and shrines.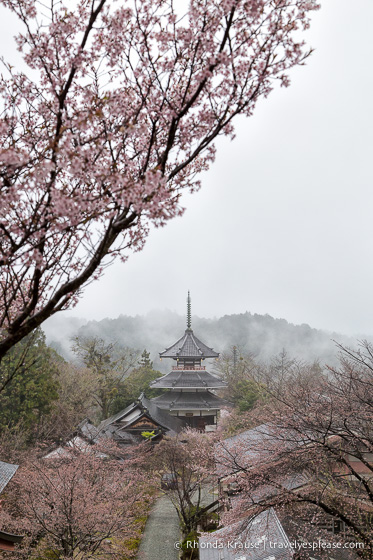 Yoshino, along with Koyasan and the Kumano Sanzan (partly located in Nachisan), was designated a UNESCO World Heritage Site in 2004 under the title "Sacred Sites and Pilgrimage Routes in the Kii Mountain Range".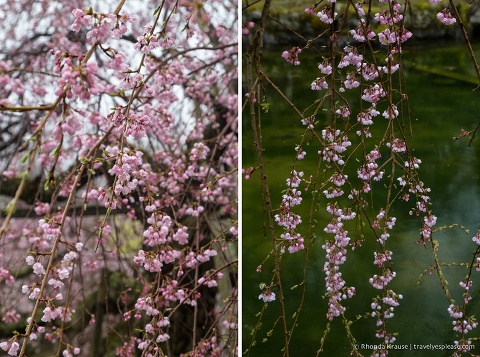 Attractions in Yoshino- What to See and Do
Our main reason for visiting Yoshino was to hike the mountain and view the cherry blossoms from different vantage points. Unfortunately, our timing wasn't quite right and Mother Nature was being a real pain.
So, after abandoning our hike partway through, we set off to explore the town of Yoshino and found some pretty great places. Here are some attractions in Yoshino we visited during our trip.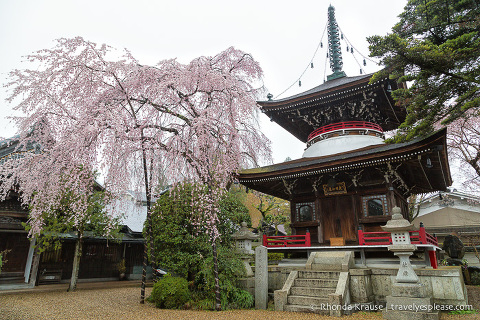 Kinpusenji Temple
Kinpusenji is the main temple of Yoshino and the starting point of the pilgrimage trail to Mount Omine.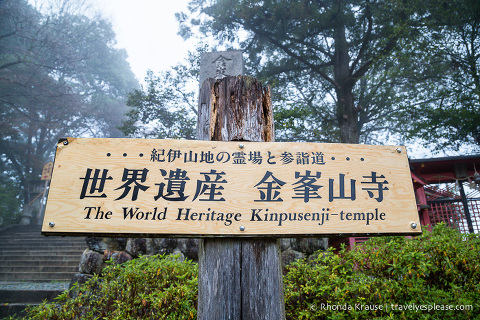 Kinpusenji Temple is included in the World Heritage Sites of Yoshino as it's one of the most important temples of Shugendo, a religion that combines aspects of both Buddhism and Shinto, focusing on mountain worship.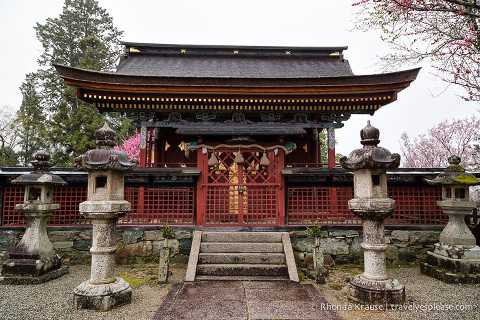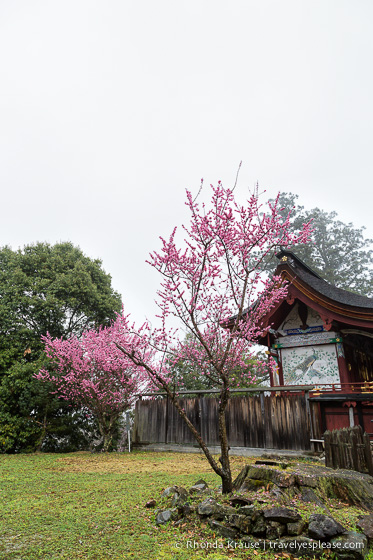 The temple's main hall (Zao-do Hall) is said to be the second largest wooden structure in Japan (Tōdai-ji Temple in Nara Park being the first).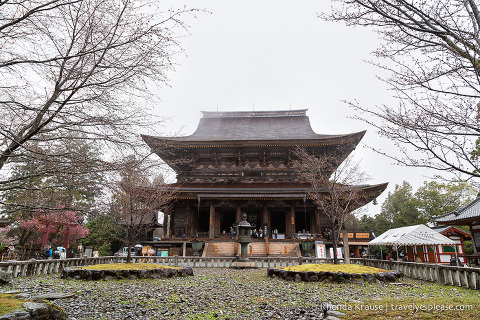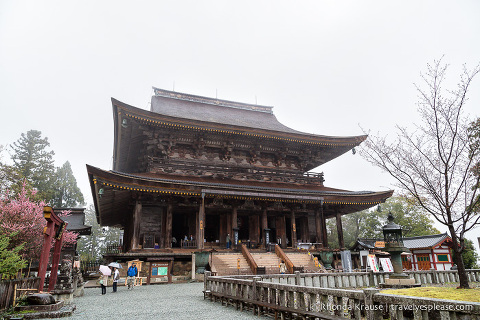 The temple grounds also have a cute little three-story pagoda. You'll have to walk down a big flight of stairs to get to it, but we thought it was worth it!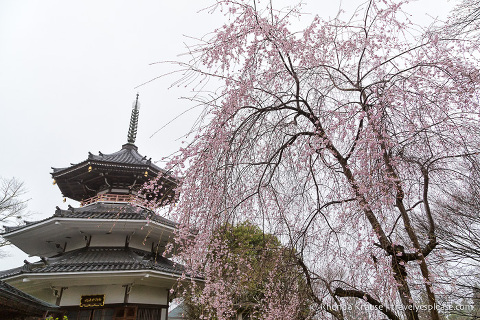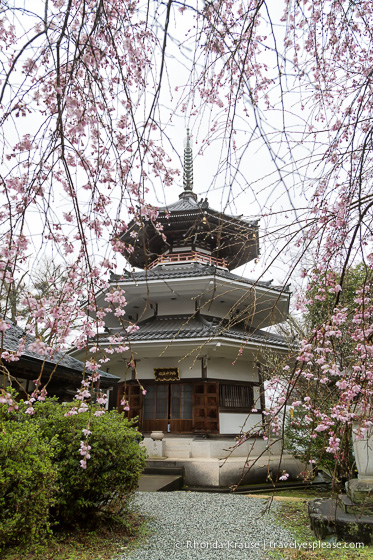 Sakuramotobo Temple
Sakuramotobo is another temple for Shugendo mountain worship. It was built by Emperor Tenmu about 1350 years ago.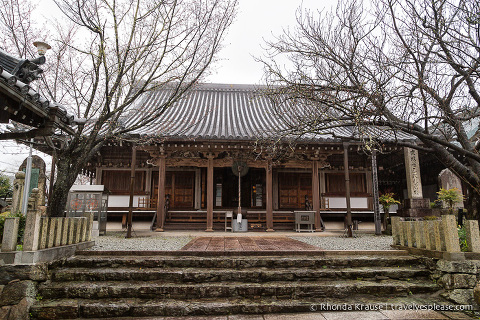 Tenmu chose this location for the temple because in a dream he saw a cherry tree here, in full bloom in the middle of winter.
We didn't spend much time at this temple, really just took more of a peek. The big weeping cherry tree caught my eye as we were walking past, so we decided to go and take a quick look.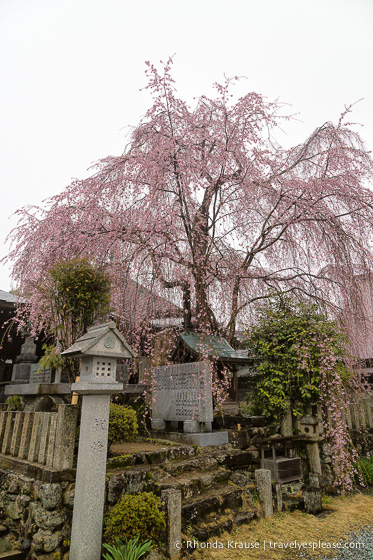 Chikurin-in Temple and Gunpoen Garden
Chikurin-in is a Buddhist temple which once served as accommodation for Shugendo practitioners. It now welcomes all types of travellers into its traditional ryokan accommodations.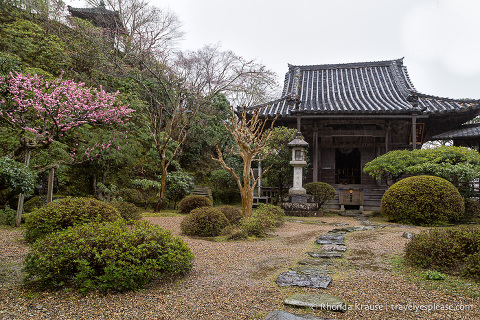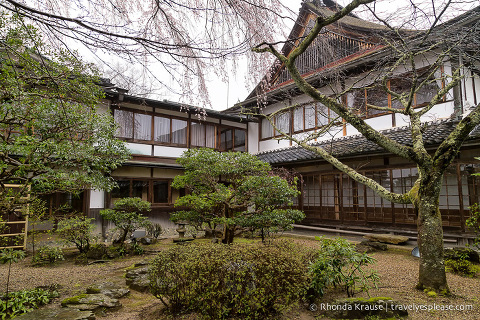 The highlight of the temple is Gunpoen Garden, a small, yet very beautiful landscape garden. It's believed to have been designed by tea master, Sen no Rikyo.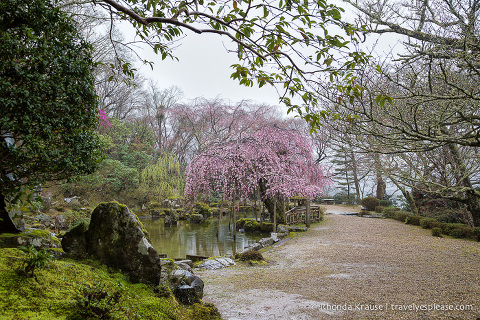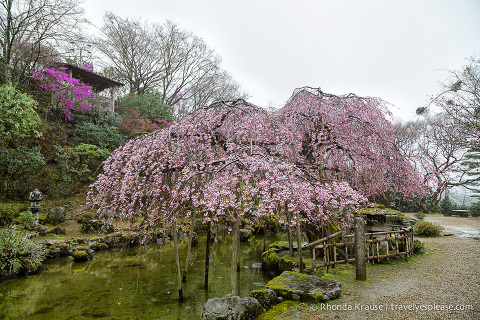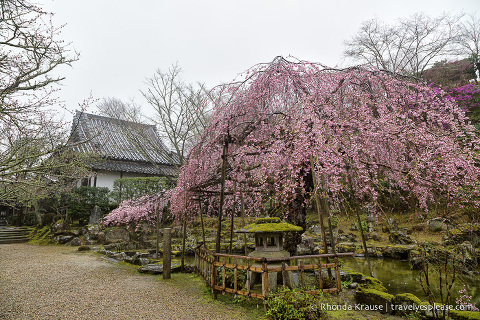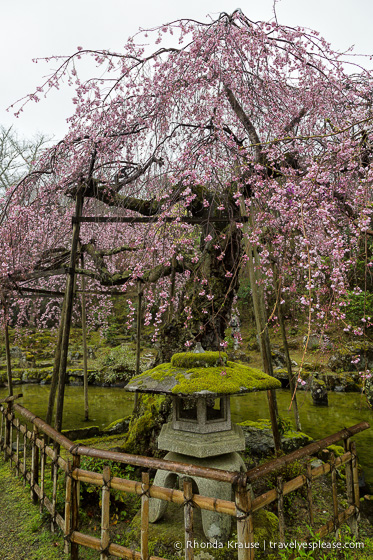 The garden features dozens of cherry trees that nicely surround a small pond. If you visit, make sure you follow the path that goes up the hill behind the garden. There's a nice viewpoint to look out over the mountain slopes and garden down below.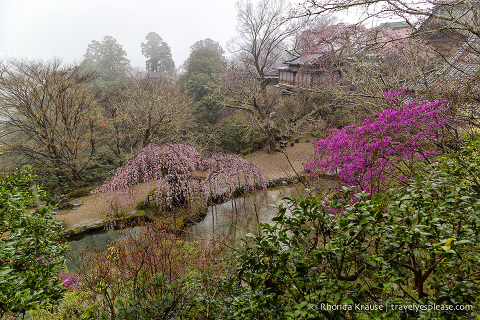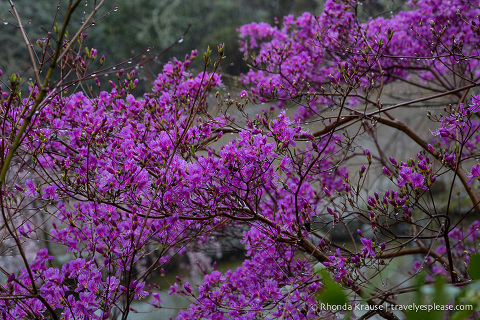 Gunpoen Garden was definitely my favourite place in Yoshino! We thought it would have been a good place to have a picnic if the weather was nicer.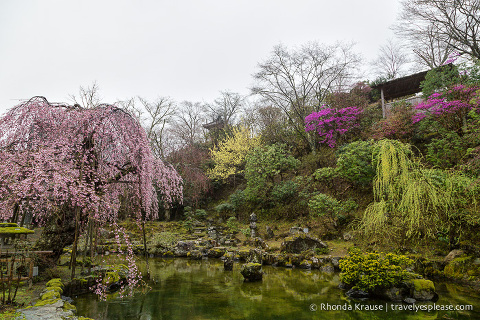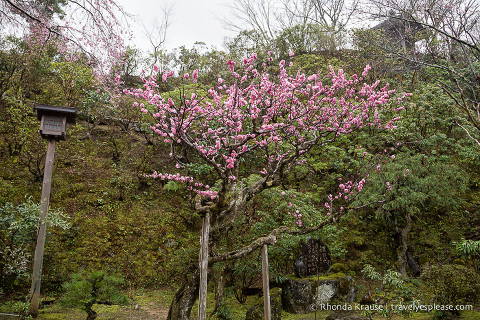 Reflecting on Our Visit to Yoshino
Yoshino was definitely worth making the trip from Nara, even though most of the cherry blossoms weren't in bloom and it was raining buckets. If you know how much I hate rain, then you'll understand that this is quite the compliment to Yoshino!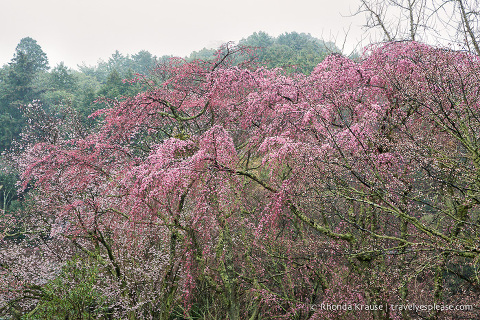 Initially, we found Yoshino to be really confusing. We had no idea which way we should go to get the best views of the cherry-tree covered hills and every map we looked at was orientated a different direction, adding to the confusion!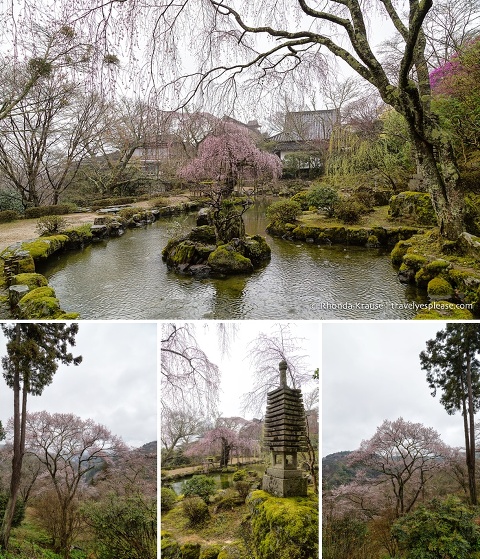 Also, the shrines and temples in Yoshino are almost hidden away among the houses and could easily go unnoticed if you don't know what you're looking for. Luckily, the locals were very helpful and gave us suggestions about where to go and what to see in Yoshino.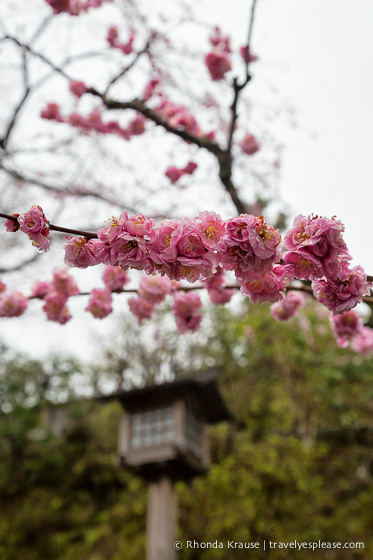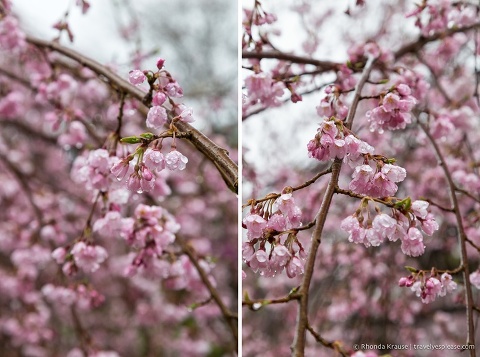 Speaking of the locals, all the people we met during our day trip to Yoshino were just wonderful! One old lady saw us walking by in the rain and ran out of her house to give Mike an umbrella to use!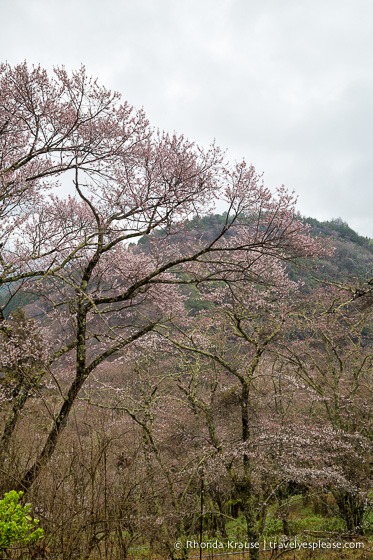 Mike and I both really loved the atmosphere in Yoshino. We liked that it was out of the way, kind of remote and that we seemed to be the only western tourists there. We got the sense that Yoshino is more popular among Japanese tourists than foreigners. There was hardly any English spoken, or written on menus. It was the only place in Japan we had trouble communicating with people, which made it a fun adventure!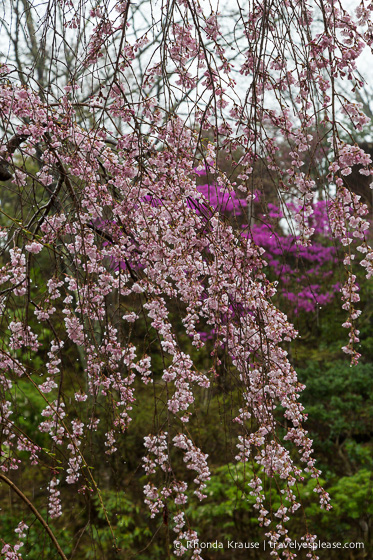 Even though we were about a week too early to see the blossoms in full bloom, I don't regret visiting Yoshino. I would definitely come back here again! Hopefully next time, I'll have the chance to see the valley covered in cherry blossoms and I'll leave with my very own photograph like the one that inspired me to visit.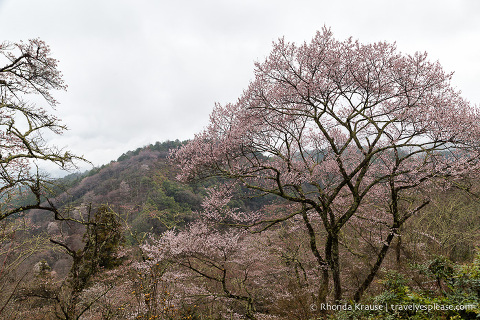 Tips for Visiting Yoshino
Getting to Yoshino: Yoshino can be visited as a day trip from Nara. We used our Japan Rail Pass to get from Nara to Yoshino-guchi Station. At Yoshino-guchi, we had to transfer trains to the Kintetsu Yoshino Line. This portion was not covered by our JR pass, so we each had to buy an additional ticket for ¥380.
The train trip was only supposed to take about an hour and a half, but it took us longer than expected. Having to buy a ticket in Yoshino-guchi led to us missing the connecting train. Plus, the man working at Yoshino-guchi station sold us a ticket for a local train that stopped at every station along the way.
From Yoshino Station, to get into town you can either take the ropeway up the slope to Yoshinoyama Station or walk the switchback path.
Getting Around Yoshino: During cherry blossom season there are shuttle buses going from Yoshino Station to the Naka Senbon area (the middle area of the mountain, near Chikurin-in Temple). The buses depart 2-4 times/hour from late March to late April and cost ¥450 one way. From the Naka Senbon area there are shuttle buses that go to the Oku Senbon area further up the mountain until early May. We took the shuttle bus up to Naka Senbon then walked down at the end of the day.
Yoshino Cherry Blossom Season: The cherry blossoms on Yoshinoyama typically start opening in late March or early April (we were there April 1). Full bloom is usually early to mid April, but this is staggered because of the range of elevations (lower opening first). These dates are only guidelines and can vary quite a bit from year to year, depending on the weather.
Information was updated September 2022, but can change without notice. Please confirm directly with service providers.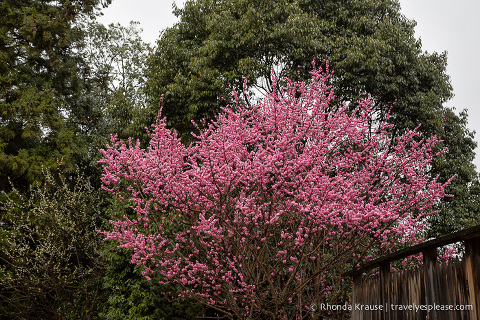 Accommodations in Yoshino
For your convenience, here is a list of some accommodations in Yoshino. Please consider booking your accommodations through the included link. It costs you nothing extra and helps support this website. Thank you!
More Japan Destinations and Travel Guides