Purchases made through links earn us a small commission, at no extra cost to you.
The Cliffs of Moher are one of Ireland's top destinations and the best way to experience this natural wonder is by doing the Cliffs of Moher Coastal Walk.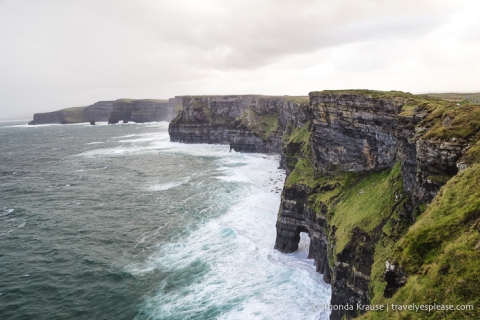 Cliffs of Moher Coastal Walk
The Cliffs of Moher Coastal Walk is a 13 km trail that runs along top the cliffs from Doolin to Hags Head, near the town of Liscannor. The path closely follows the edge of the cliffs offering incredible views of both the rocks and surrounding sea.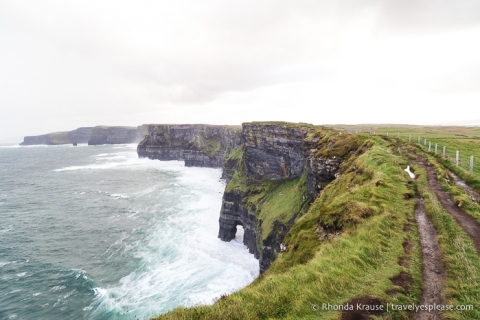 The walk is not too difficult, as most of the trail is relatively flat. However, the path is rough and uneven in places, along with being exposed to the elements so wind (and Ireland's notorious rain) can make the Cliffs of Moher Coastal Walk more challenging.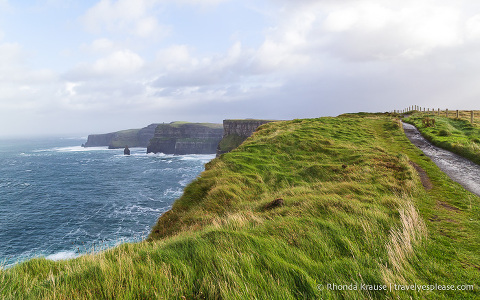 My Plan- Walking The Cliffs of Moher Coastal Trail
Walking the Cliffs of Moher Coastal Trail was one of the activities I was most looking forward to during my 2 week trip to Ireland, but as is often the case in Ireland, the weather throws a wrench into even the best laid travel plans.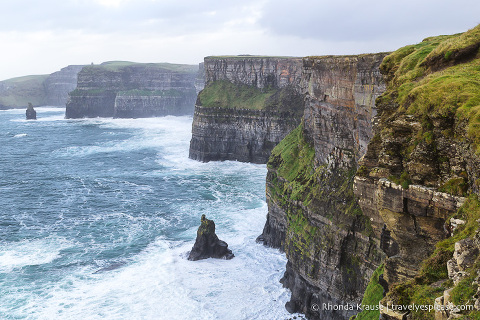 My original plan was to walk the full 13 km Cliffs of Moher Coastal Trail from Doolin to Hags Head, then return to town by shuttle bus, but the strong winds and forecasted heavy rain made me consider alternatives.
Since there was a good possibility I wouldn't be able to complete the entire Cliffs of Moher Coastal Trail, I had to decide where to start my walk in case I only completed half of it.
I saw some other bloggers write that they preferred the scenery on the southern section between Hags Head and the Cliffs of Moher Visitor Centre, so I decided to start at Hags Head. I would reassess at the visitor centre if I wanted to continue walking to Doolin.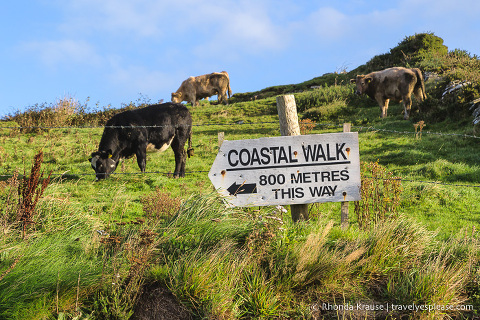 My Experience- The Cliffs of Moher Coastal Walk from Hags Head
I got an early start to my day, arriving at the Kilconnel car park before anyone else. This small, family run lot is the closest car park to the trail head at the southern end of the Cliffs of Moher Trail, so plan to arrive early if you want a spot here.
After paying my parking fee, I followed the signs to the Coastal Walk. A rural road soon led to a gate and stone wall, which I had to hop over to begin the official hiking trail at Hags Head.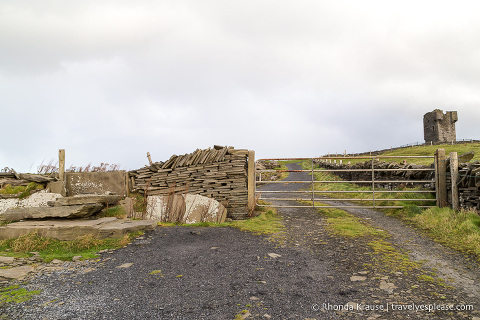 At Hags Head I encountered an interesting rock formation, said to resemble a woman looking out to sea. I wondered if it was Mal of Malbay, a sea-witch who according to local legend, fell in love with Irish hero Cú Chulainn and chased him until he escaped by hopping across sea stacks. During the chase she lost her footing and was smashed against the cliff, hence the name Hags Head.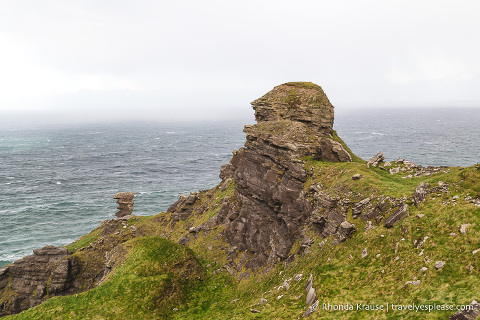 An interesting legend, but I didn't see the resemblance so I turned my attention towards the ruined tower standing on Hags Heads.
As an old watchtower used during the Napoleonic Wars, Moher Tower overlooks the Atlantic Ocean and rocky coastline. I'm not sure how alert I would've been if I was on duty here back in the day because the scenery is quite distracting!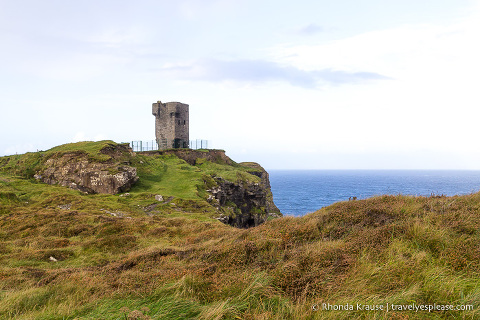 As soon as I saw the view of the Cliffs of Moher from Hags Head, I became confident in my decision to start my walk here instead of Doolin. This first glimpse of Ireland's famous cliffs added to my excitement to hike along top of them, so I eagerly set off on the Cliffs of Moher Coastal Walk.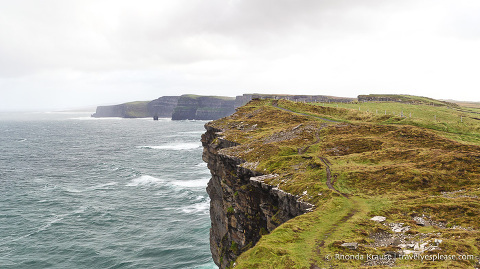 Since I was travelling solo in Ireland, I had the trail all to myself. It felt so special to be the only person looking at that view, in that moment of time, an experience you definitely don't get at the visitor centre.
I guess that's the benefit of walking in crappy weather, I thought to myself while also wondering if everyone else knew something I didn't, and that maybe I shouldn't be out here today.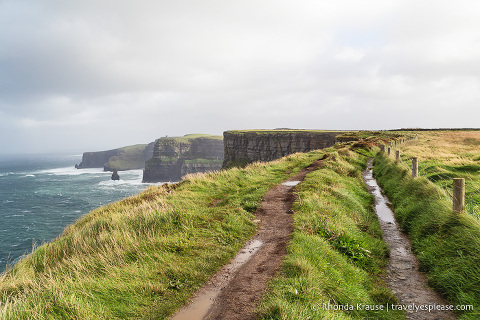 As I continued along the muddy coastal trail, the views got more and more dramatic. The cliffs were so tall, up to 214 metres in places, their vertical edge making a sheer drop into the ocean. It was wild, rugged Ireland at its best!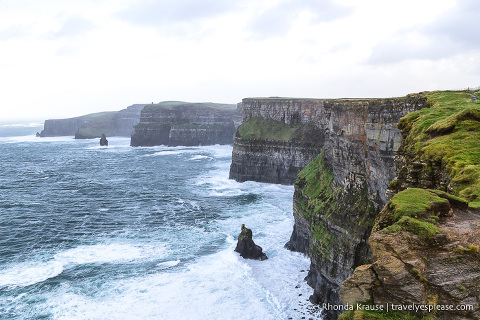 The only sounds I could hear was wind whipping around my head and waves crashing into rock, shattering into a light mist that veiled the cliffs.
Soon the wind really started to pick up. It was mostly blowing towards the cliffs but every so often would swirl around and surprise me by its force. There were times the wind pushed me so hard my feet had no choice but to go into a jog. Some gusts were even strong enough to shove me up small hills!
There were a few times during my walk on the Cliffs of Moher Coastal Trail that I had to sit down out of fear of being blown off my feet, or worse, off the cliffs!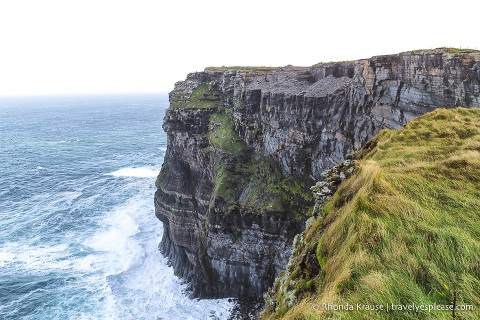 In addition to the wind, it also started to rain, and then briefly hail.
It was certainly unpleasant hiking weather, but a beautiful rainbow appeared afterwards creating a quintessential Irish scene!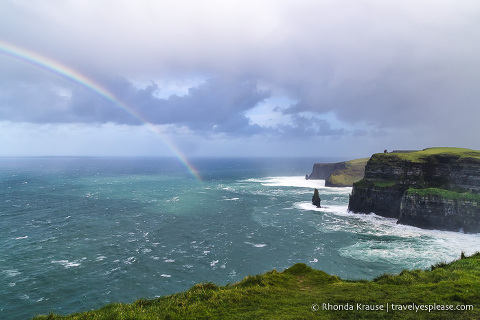 As I got closer to the visitor centre there were more people on the trail, and with that, some of the magic of the Cliffs of Moher began to fade. What a short while ago had felt untamed and untouched, was now a crowded tourist attraction.
I arrived at the visitor centre looking like quite the disaster- windblown hair, head-to-toe-rain gear, and covered in mud. With no indication of the weather improving, I decided to pull the plug on my Cliffs of Moher walk and caught the shuttle back to Kilconnel car park.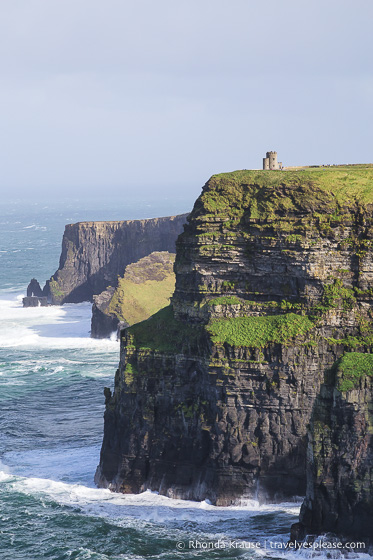 Final Thoughts About Walking the Cliffs of Moher
Even though I didn't get to do the entire Cliffs of Moher Coastal Walk, I still left feeling satisfied with having done just the southern half of the trail.
Sure, I was dodging puddles and getting bounced around by wind, but the scenery made it all worth it. Had I only experienced the Cliffs of Moher from the visitor centre, I would have definitely missed out on a memorable experience!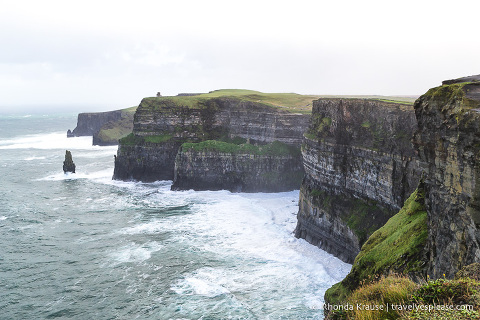 Tips for Walking the Cliffs of Moher
Getting There: The Cliffs of Moher are located in western Ireland in the Burren region of County Clare. The closest airport to the Cliffs of Moher is Shannon International.
Cliffs of Moher Coastal Walking Trail: The Cliffs of Moher Walking Trail links the villages of Doolin and Liscannor, via the Cliffs of Moher Visitor Centre. The main trail from the parking lot nearest Hags Head to Doolin is about 13 km and takes 4-5 hrs to walk. The visitor centre is 5.6 km from Hags Head (1.5- 2 hrs) and 7.7 km from Doolin (2.5- 3 hrs).
Cliffs of Moher Shuttle Service: UPDATE- The shuttle service I used (described below) is no longer operating and their website has been taken down. There was an "official" shuttle operated by the Cliffs of Moher Visitor Experience, but that service is also no longer offered. Now that there isn't a shuttle from the visitor centre you'll have to hike back to where you parked at Hags Head.
A hop on-hop off shuttle service runs from all designated coastal walk car parks. There are 8 pickup/drop-off locations between Doolin, the Cliffs of Moher Visitor Centre, and Liscannor. I parked at Kilconnel car park (which is labelled as Cliffs of Moher Liscannor Walk on Google Maps) to be closest to Hags Head. For a timetable and a map of the shuttle bus route visit the Cliffs of Moher Coastal Walk Shuttle Bus website. The site recommends reserving seats in advance but I never did this, as I visited in shoulder season. I just paid the driver when I got on.
Safety: Portions of the trail are close to the cliff edge so exercise caution, especially if it's windy. Proper walking shoes should be worn.
Information was updated March 2022, but can change without notice. Please confirm directly with service providers.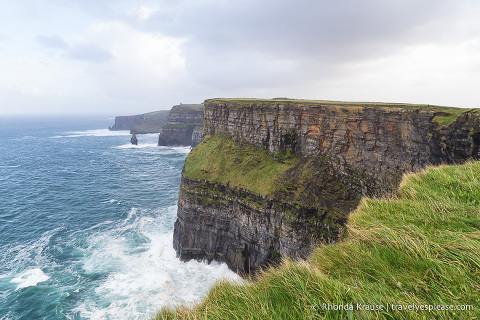 Tours to the Cliffs of Moher
If you'd rather not visit the Cliffs of Moher independently, here is a trusted site where you can book tours to the Cliffs of Moher. Here are some highly rated ones I picked out:
Accommodations Near the Cliffs of Moher
Doolin is lovely small town and popular base from which to visit the Cliffs of Moher. Liscannor and Lahinch are also close by.
For your convenience, here is a list of hotels in Doolin, Liscannor, and Lahinch. Please consider booking your Cliffs of Moher accommodations through the included link. It costs nothing extra and helps support this website. Thank you!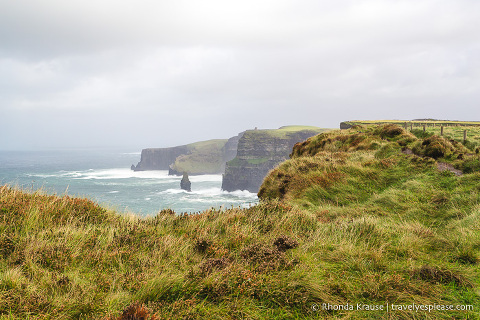 More Ireland Destinations and Travel Guides