Purchases made through links earn us a small commission, at no extra cost to you.
The Ring of Kerry is one of the most popular and well known of Ireland's scenic drives, a route that frequently makes it onto the itinerary of first-time visitors to Ireland.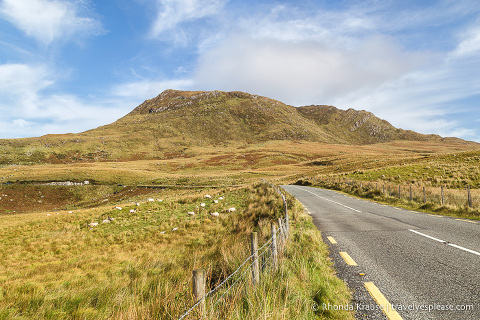 With so many travellers eager to drive the Ring of Kerry, I worried that maybe it was too touristy and I wouldn't enjoy it.
What a ridiculous thought!
Driving the Ring of Kerry
Driving the Ring of Kerry was a fantastic experience full of quintessential Irish sights- colourful towns, green fields, craggy cliffs, small islands, windswept beaches, low mountains, castle ruins, and ancient stone forts.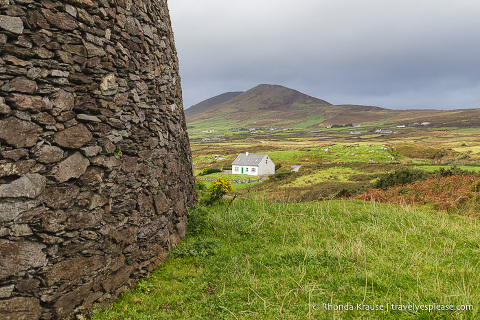 At 179 kilometres, you can drive the Ring of Kerry in one day (including stops), but I decided to do it over two days. This gave me plenty of time for photo stops, short walks, and some memorable detours, including the fantastic Skellig Ring and Valentia Island, where I spent the night.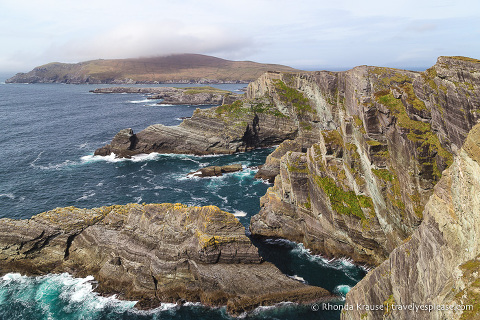 The Ring of Kerry starts and ends in Killarney, my favourite town in Ireland. I decided not to complete a small portion of the loop (which would return to Killarney), instead continuing on to Dingle so I could drive the Dingle Peninsula the next day.
Here's a look at my favourite places to visit on the Ring of Kerry. I hope my 2 day Ring of Kerry itinerary gives you some inspiration and helps you plan your own Ring of Kerry drive!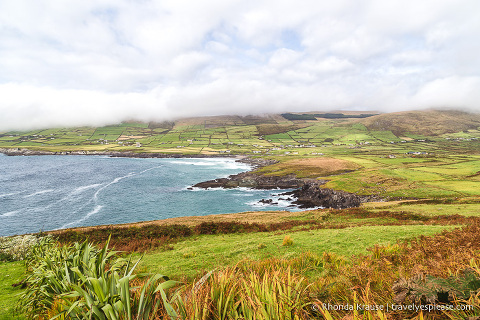 Points of Interest on the Ring of Kerry
I was most interested in landscapes and historic sites on the Ring of Kerry, so I chose to pass through the towns and instead spend my time in more natural settings.
These were my stops on the Ring of Kerry, starting clockwise from Killarney.
Killarney National Park
Before I started driving the Ring of Kerry, I did an early morning walk in Killarney National Park. I can't describe how much I loved this place without using a string of clichés, so I'll just let these photos of Killarney National Park speak for themselves.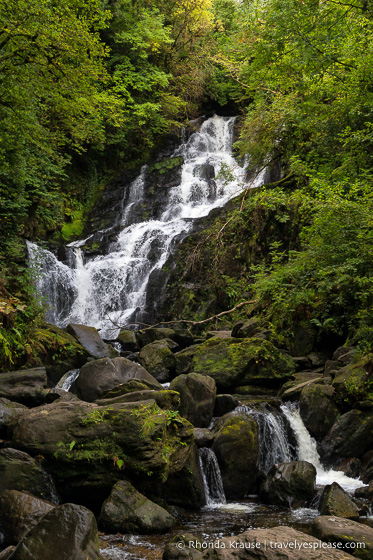 I recommend spending at least one day in Killarney before driving the Ring of Kerry so you can do a boat and bike trip through the Killarney Lakes and Gap of Dunloe. It was undoubtedly the highlight of my two weeks in Ireland!
Ladies View and Moll's Gap
After leaving Killarney, I drove the N71 through the national park and along the Lakes of Killarney, gaining elevation until I reached Ladies View.
Ladies View is a scenic lookout where you can enjoy a panorama of Upper Lake and Purple Mountain. In 1861, Queen Victoria's ladies-in-waiting also took delight in this vista, hence the name Ladies View.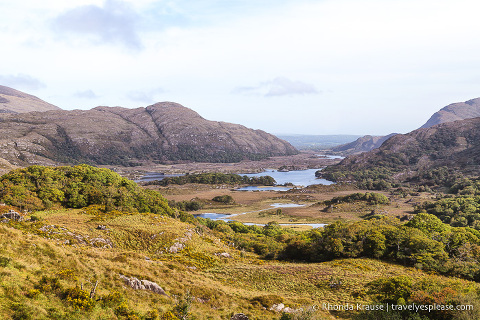 A few kilometres after Ladies View, I arrived at Moll's Gap and the summit of the pass. This also was a nice vantage point for enjoying the scenery and there's even a café where you can grab a bite to eat.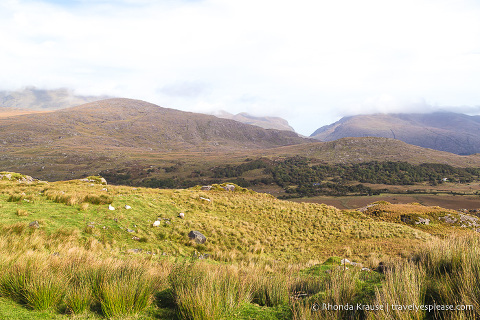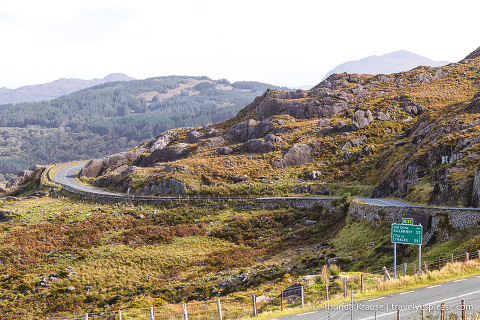 After Moll's Gap, the road makes a beautiful descent towards the colourful town of Kenmare, just slightly past the turn off for N70. I drove up a few streets just to take a look, then headed back to the N70 to continue my road trip on the Ring of Kerry.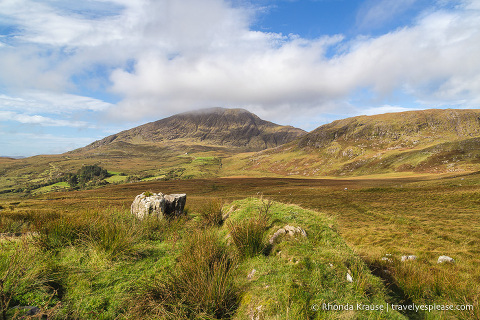 Derrynane Bay and Ballinskelligs Bay
The coastal drive between Castlecove and Waterville is particularly attractive and there are plenty of small roadside pullouts where you can stop for photos.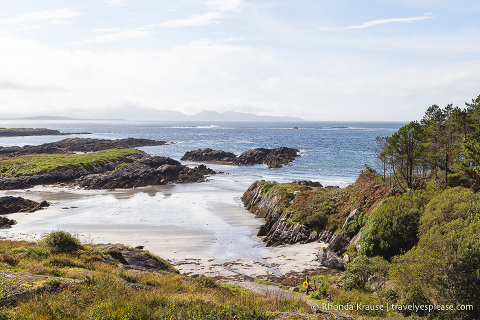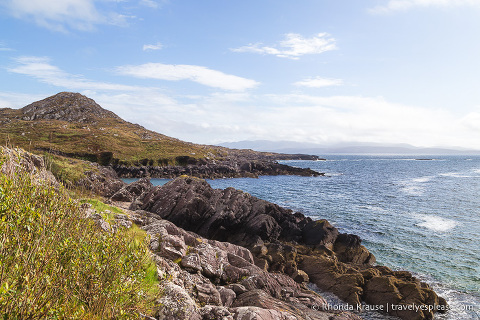 I loved looking out at the rocky shoreline and distant islands, but was especially mesmerized by the green fields stretching out along the bays.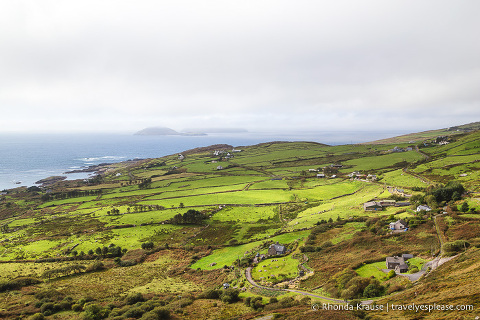 Skellig Ring
This lesser-travelled ring within the ring is a wonderful detour off the main route. The fact that it's not frequented by tour buses makes it feel wild and isolated, therefore more pleasurable to drive than the Ring of Kerry.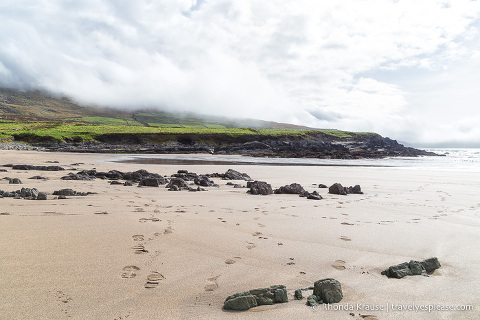 The 18 km Skellig Ring is packed with incredible scenery and on a clear day you can even see Skellig Michael (I was not so lucky and could only glimpse its distinctive ragged outline).
Kerry Cliffs
The best part of driving the Skellig Ring was my visit to the Kerry Cliffs. They bill themselves as "Kerry's most spectacular cliffs" and I have to agree. I even thought they were more engaging than the famous Cliffs of Moher (so why weren't they mentioned in my guidebook?)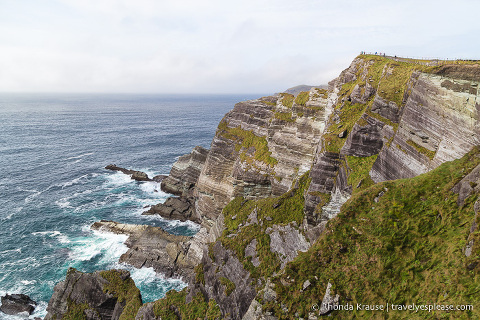 The Kerry Cliffs tower 300 metres above the Atlantic Ocean and are the closest landfall to the Skellig Islands. They're rugged and dramatic, with different vertical levels and rocky arms reaching out into the sea.
The cliff face was so interesting to look at because of the distinct layers and colours of rock, with patches of green vegetation interspersed between them. The Kerry Cliffs were even captivating enough for me to ignore that my hair was being aggressively blown all over the place- and I hate wind!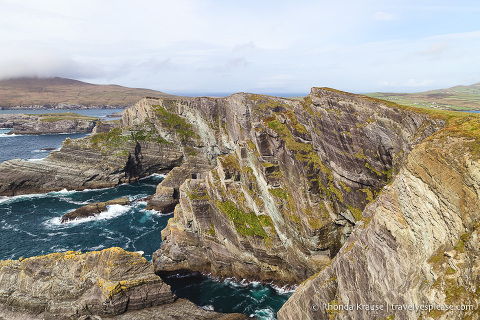 Another thing you can see at the Kerry Cliffs are examples of the beehive huts on Skellig Michael. These small structures were built using corbelling, a technique where the layers of stone get closer and narrower towards the peak.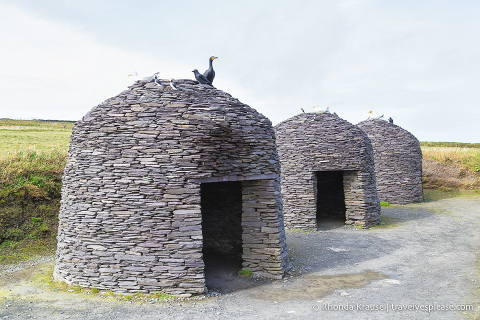 Portmagee and Valentia Island
Portmagee is a very small waterfront village and jumping off point for tours to Skellig Michael. There's not much here but some restaurants and accommodations, but it's photogenic nonetheless.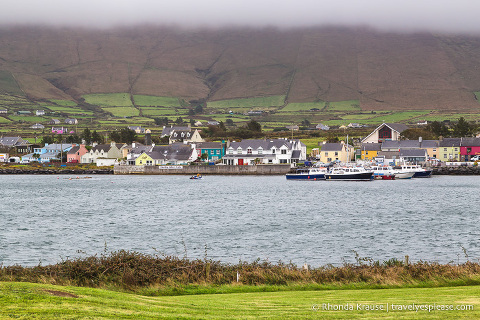 Across the bridge on Valentia Island is the Skellig Experience Visitor Centre, where you can find information about the Skellig Islands. I wasn't impressed with the centre, but it was my only option to learn about Skellig Michael since my tour got cancelled because of strong winds (I'm still sad about that).
I spent the night in Knightstown, the largest (but still very small) settlement on Valentia Island, ending my first day of touring the Ring of Kerry.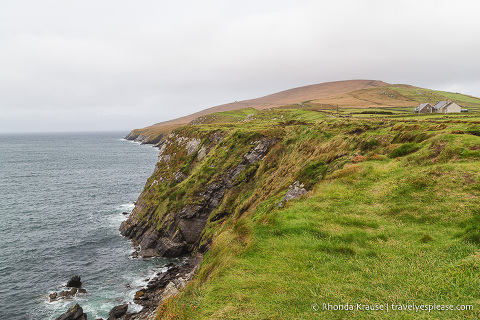 Ballycarbery Castle 
After leaving Valentia Island and the Skellig Ring, I rejoined the N70 to continue driving the Ring of Kerry.
A short while later I turned off at Cahersiveen, detouring to Ballycarbery Castle, a crumbling 16th century ruin.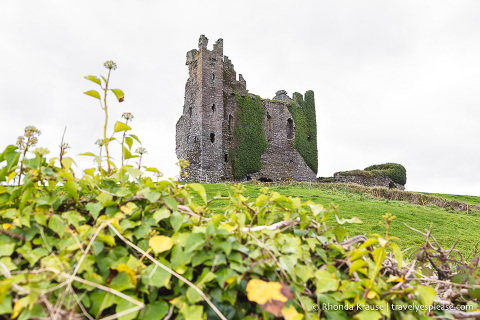 You don't need much time here, since the castle is fenced off, but the creeping vines on the castle walls make it an evocative, picturesque site.
Cahergall and Leacanabuaile Stone Forts
My final stop before getting back on the Ring of Kerry was Cahergall and Leacanabuaile stone forts, not far from Ballycarberry Castle.
I loved these ring forts so much and they were the perfect place to reflect on turning 36 (I visited on my birthday). I lingered here for quite a while, enjoying both the architecture and surrounding landscape. It was absolutely stunning, but best of all, I felt like I discovered some secret location since I only saw a couple of other people here.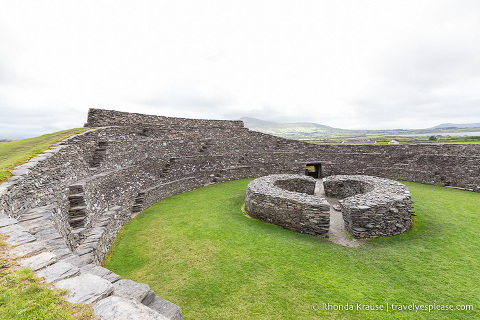 Once I finally drug myself away from the forts, I returned to the N70 and finished my self-guided Ring of Kerry tour. Instead of turning onto the N72 at Killorglin and completing the circuit in Killarney, I went straight and made my way to the Dingle Peninsula, spending the night in the lovely town of Dingle.
Final Thoughts About Driving the Ring of Kerry
I really enjoyed driving the Ring of Kerry and thankfully it wasn't the over-rated experience I worried it might be. This drive definitely lives up to the hype.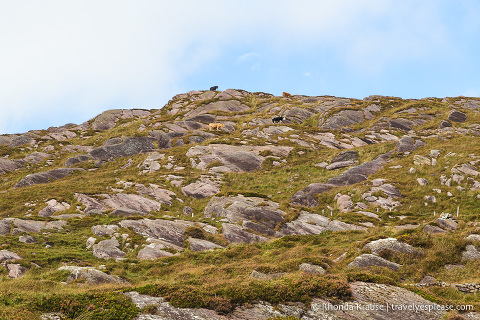 My favourite scenery on the Ring of Kerry was between Killarney and Kenmare, but it was my detours to the Skellig Ring and nearby stone forts that I enjoyed the most.
With only two days on the Ring of Kerry, I of course didn't see and do everything, but was very satisfied with the places I chose to visit.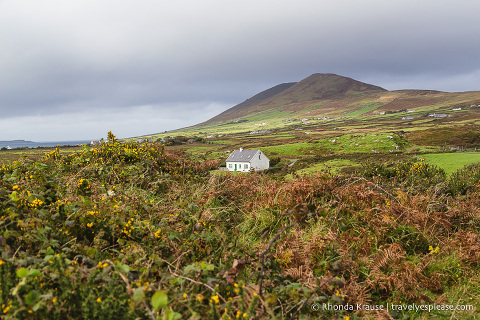 Sure, the route is popular with both tour groups and independent travellers, but if you self-drive the Ring of Kerry you're able to take your time, get off the beaten path, stop wherever you want, and even discover some hidden gems along the way.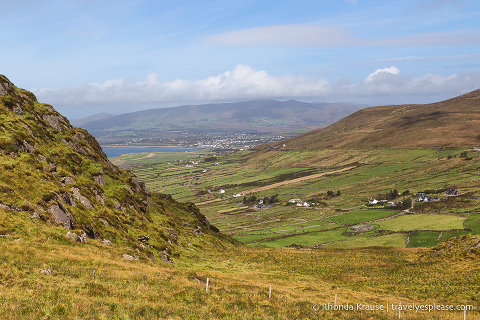 Map of the Ring of Kerry
Here's a map of the classic Ring of Kerry drive. I've also plotted the points of interest on the Ring of Kerry and Skellig Ring that I mentioned in this post.
Tips for Driving the Ring of Kerry/ FAQ's
Where is the Ring of Kerry Located?- The Ring of Kerry is in southwest Ireland on the Iveragh Peninsula (County Kerry). The official Ring of Kerry route takes the N71, N70, and N72.
Which Direction Should You Drive the Ring of Kerry?- If you go counter-clockwise, you'll be following the tour buses. Getting stuck behind a bus can be frustratingly slow, not to mention they block the good views. If you go clockwise, you'll have the coastal views closest to you on the left. However, you may have to deal with passing a bus head on, which can be stressful on a narrow, twisty road. It all depends on how confident you feel driving in Ireland. I went clockwise and didn't encounter any buses where the road was not big enough to easily pass them.
How Long Does it Take to Drive the Ring of Kerry?- Without stops, driving the Ring of Kerry takes 3.5 hours. Most tours of the Ring of Kerry are 6.5- 7 hours. I suggest overestimating the amount of time you'll need for your trip because you'll likely want to make many unplanned stops for photos, walks etc.
Weather on the Ring of Kerry– The weather can be varied and change quickly. I experienced a mix of sun, cloud, and heavy winds. Since it's Ireland, come prepared for rain.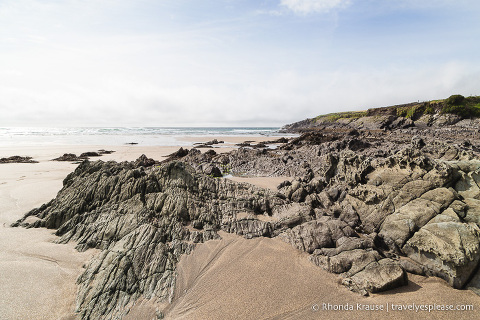 Accommodations on the Ring of Kerry
For your convenience, here is a list of hotels along the Ring of Kerry. Please consider booking your Ring of Kerry accommodations through the included link. It costs nothing extra and helps support this website. Thank you!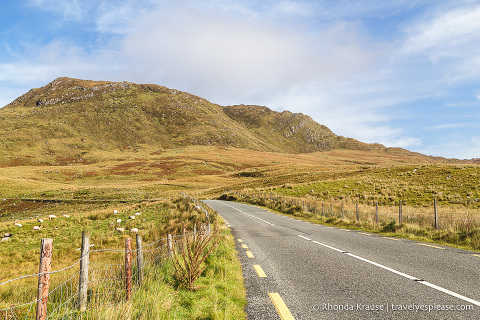 More Ireland Destinations and Travel Guides