Purchases made through links earn us a small commission, at no extra cost to you.
As I was leaving for my first trip to Ireland, I felt more relaxed than I usually do before visiting a new country. The excited anxiety that I normally experience was replaced by confident anticipation.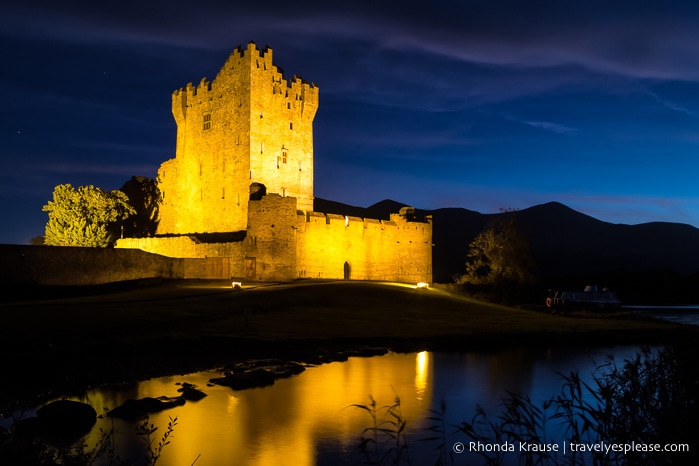 Since I was going to be travelling solo for my first trip to Ireland, I made sure to do plenty of research before hand. I wanted to arrive feeling self-assured and prepared for my 2 week road trip in Ireland.
Luckily, most everything I had read or heard about Ireland was overwhelmingly positive. As I boarded the plane to Dublin, I didn't feel a twinge of worry about travelling in Ireland for the first time.
What to Expect on Your First Trip to Ireland
After my first trip to Ireland, I can tell you to expect a warm welcome, gorgeous scenery, interesting ruins, fun and friendly locals, a relaxed atmosphere, and a lot of rain.
Ireland is a place where you can fill your days with outdoor adventures and hours of sightseeing, but it'll also tempt you to slow down and soak up the natural beauty and inviting culture.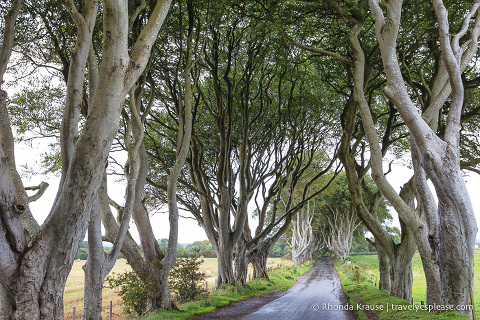 Not only was Ireland a great place for solo travel, it was very easy to travel around. I didn't experience any culture shock, since Irish culture has such a global reach, especially here in Canada where many citizens are of Irish descent.
Even though what I experienced in Ireland was not too much different from home, there are a few things to know when planning your first trip to Ireland.
I hope this guide, based on my personal experience and observations, answers any questions about travelling to Ireland for the first time, helping your own trip go as smoothly as mine did!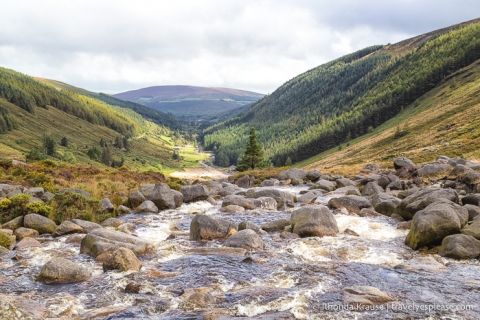 Language
English is widely spoken in Ireland, even though Irish is the official language. I never came across anyone who couldn't speak English, even in the rural, Irish-speaking Gaeltacht regions.
Most street signs in the Republic of Ireland are bilingual. The exception was in some areas of the Gaeltacht where signs were in Irish only.
Transportation

The most common and convenient way for travellers to explore Ireland is by rental car, but there also is a bus and train network you can use.
The train network is limited and doesn't serve many of the most beautiful areas of the Republic.
I rented a car (and recommend this option) because driving allows you greater independence and flexibility, allowing you to make the most of your time. I wasn't tied to a timetable and could spontaneously explore the countryside, where some of the best scenery is.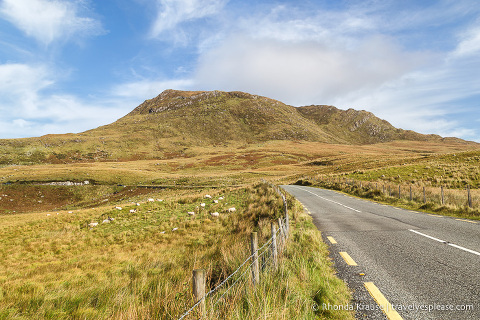 Renting a Car in Ireland
Costs
Rental cars are quite affordable (compared to other countries), especially if you can drive a manual. Automatics are not as common in Ireland, and therefore more expensive to rent (think double the price). At the time of my visit I was able to find rates in advance for €10- €20/day (unlimited miles) for a small, manual transmission car.
To give you an idea of rental car costs in Ireland, I spent $718.05 Canadian for a 15 day rental, economy automatic. This was for late September-early October with no extra insurance or other add-ons.
Insurance
If you want to decline the car rental company's Collision Damage Insurance (CDI/CDW) in favour of the insurance provided by your credit card, you MUST have a letter from your credit card company confirming relevant coverage in Ireland. Not all credit cards will provide insurance in Ireland.
In researching car rental companies in Ireland, I found that many will accept coverage provided by eligible US issued World Mastercards and some Canadian issued Visa card programs. Auto rental insurance programs offered by European banks and credit cards are not accepted. As things can change, and I can't speak to the policies of all credit card and rental companies, please check with your card issuer in advance and bring a letter confirming coverage.
A deposit of €3000- €5000 (depending on the company) is required if you choose to decline CDW, so make sure you have that much available on your credit card.
Rental companies reserve the right to refuse third party insurers details if not satisfied with the coverage on the rental vehicle.
Check with your rental company if there are any restrictions on taking the car into Northern Ireland. It wasn't an issue for me.
License Requirements
Most rental companies require you to have a driver's license for at least a year (some 2 years). An International Driver's License is only required if your national license is not in Roman script.
Choosing a Car
I recommend choosing the smallest car possible since many of the roads in Ireland are very narrow. The driveways at some of my B&B's didn't have a lot of room to park either. Also, smaller cars require less fuel. I was surprised at how much gas I used!

Tip: Look into renting a diesel to see if that would cut down on fuel costs and fill-up stops.

If you're not experienced/comfortable driving a manual transmission, splurge and get an automatic. I was glad I chose an automatic because having to worry about shifting gears, driving on the left, and navigating so many roundabouts would have been stressful.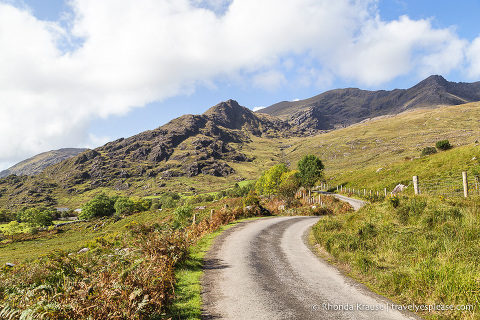 Driving in Ireland/Roads in Ireland
Ireland has a great network of roads and you can drive across the country in less than 4 hours. There are motorways (divided highways), primary roads (2-lane roads), and secondary and tertiary roads (can be very narrow and winding, with blind corners). There are also A LOT of roundabouts.

Tip: The most efficient route is not necessarily the best. Getting off the main roads onto secondary and tertiary routes can take you through some wonderful countryside.

Some motorways charge tolls. Tolls for the M50 in Dublin are charged automatically and need to be paid online at www.eflow.ie by the following day.
Drive times can take longer than expected due to narrow roads and getting stuck behind tractors, other slow moving vehicles, even sheep. Plus, I guarantee you'll want to make plenty of photo stops!
Google Maps worked well for navigation, so no need to rent an expensive GPS.
I found that speed limits on secondary roads are often much faster than is comfortable to drive. The secondary and tertiary roads in Ireland are not only narrow and winding, many are lined with rock walls, sometimes hidden by vegetation, so if you move too far over you can scrape your car.
Distances and speed limits in the Republic are posted in kilometers, but in Northern Ireland they are in miles. I wasn't expecting the switch in Northern Ireland, plus my car's speedometer was in kilometers only, so that made things tricky!
Gas is expensive in Ireland. I was paying between €1.32 and €1.34/L (around $2.00 CAD).
In my experience, drivers in Ireland are very courteous and rule abiding.
Parking
I never had any issues finding parking, as the bigger towns and cities had pay-to-park lots available. They were well signposted and easy to find.
Street parking is usually for a fee. Purchase tickets from nearby machines and display on your dash.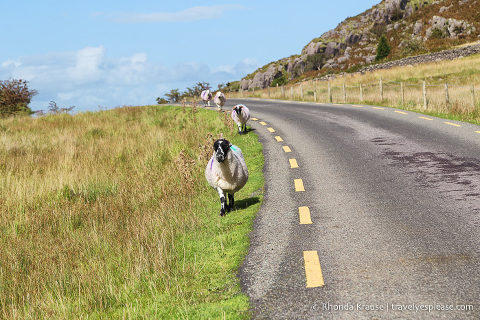 Currency, Credit Cards, ATMs
The currency in the Republic of Ireland is the euro. Northern Ireland uses the pound sterling.
Visa and Mastercard are widely accepted in Ireland so I was able to use my credit card for most purchases. There was only one B&B that I had to pay cash and one that charged a fee to use my Visa (some smaller businesses prefer debit cards so will charge a fee for credit cards).
ATMs are plentiful in Ireland but I didn't have to use one.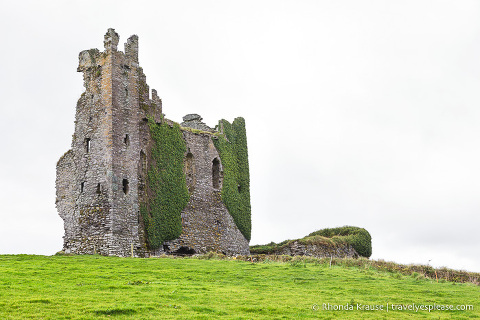 Safety
Ireland is very safe and I felt more comfortable there than in other European countries. I still took my normal precautions, but wasn't worried about being robbed, assaulted, or scammed. It also was refreshing not to have to deal with any touts.
Weather
Rain is inevitable in Ireland and weather can change frequently throughout the day. It also can get very windy, especially on the coast, so boat tours and ferry trips are sometimes cancelled.

Tip: Pack a raincoat and clothes that can be easily layered. If you plan on doing a lot of outdoor activities, I recommend waterproof pants and hiking shoes.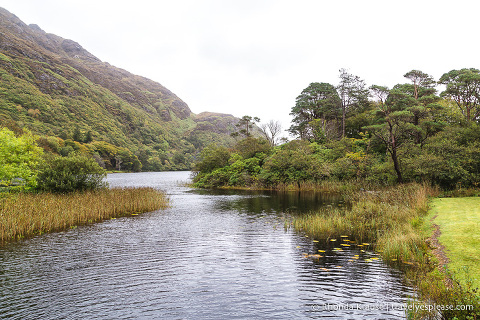 Restaurants and Food
The food in Ireland was so delicious! I mostly ate in pubs and had many great homestyle meals, like roast turkey and ham. Pub food in Ireland is nothing like the greasy pub food in Canada!
Local specialties include potatoes, meat, seafood, soda bread, and the Full Irish Breakfast of bacon, sausages, black and white pudding, eggs, and tomatoes.
I thought it was expensive to eat out in Ireland. On average, I was paying €15-18 for dinner and a pop. At least the portion sizes were big.
Nearly every time I ordered a pop it came in a very small, "baby sized" glass that was only half full (3/4 if I was lucky). There are no free refills on pop either, so not good value for the money.
Unlike other places in Europe, I wasn't charged for a glass of water.
Food came out really quickly after ordering. I would order, open up my journal, write a sentence or two, and then my food was there!
In a restaurant, tip 10% for good service and food. In pubs, tipping is not expected unless table service is provided. Don't feel obligated to tip if your dining experience was unsatisfactory.
My bill was not brought to the table until I asked for it. Many times I had to go pay at the bar because the waitress never came back after clearing my plate. Also, I can only think of one instance where the waitress came to check how my meal was so far.
I noticed that people ate dinner a lot earlier than other places in Europe. I'd go into a pub at 4:30 or 5:00 pm and there would already be a lot of people eating. Most restaurants outside Dublin close at 9:00 pm.
Many pubs have live music on certain nights of the week. So much fun!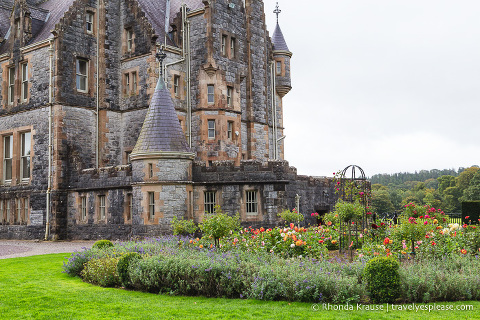 Accommodations
Accommodations in Ireland range from simple hostels to castle hotels, so there's something for every budget and travel style. Bed and Breakfasts are the most common type of accommodation.
I stayed almost exclusively at B&Bs and guesthouses. They were cozy, clean, had free WiFi, parking, and provided fantastic breakfasts. The hosts were always welcoming and helpful.
As a solo traveller, it was easy to find single rooms in B&Bs.
I thought accommodation prices were very reasonable, except in Dublin. On average, I was paying $70 CAD/night and never more than $100 to stay as a solo traveller in a B&B (in the fall).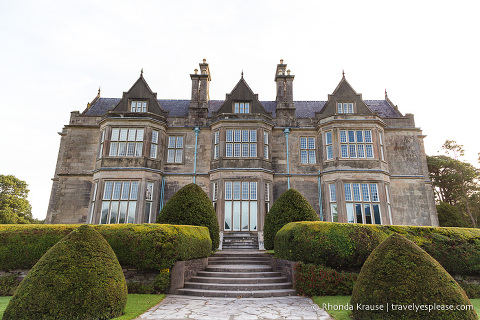 Electricity
Electricity in Ireland is 230V/50Hz.
Outlets in Ireland take 3 rectangular prongs, same as what is used in the United Kingdom.
Sometimes I came across electrical outlets that had on/off switches.
There were no outlets in bathrooms where I could plug in a blow dryer (only 2 round pin outlets for shavers). I was not a fan of that!
Public Restrooms
I didn't come across any public toilets you had to pay to use, but maybe they exist since it's common in much of Europe.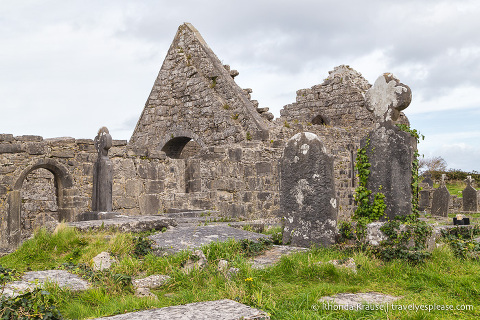 Other Tips & Observations on my First Trip to Ireland
Cell coverage throughout the country was good, but not perfect. I encountered a few small areas without service.
The Sim card I bought didn't have network coverage in Northern Ireland. That meant all calls and data were subject to roaming charges.

Tip: Make sure your phone has data roaming turned on if you go to Northern Ireland. I kept getting an offline notification when trying to use Google Maps and in hindsight realized it was because I had data roaming turned off.

There was so much talk on the radio stations. I wish I had brought my own music.
The Irish really were as friendly and helpful as their reputation suggests!
Final Thoughts About my First Trip to Ireland
I had a fantastic time during my first trip to Ireland! It was everything I thought, and hoped, it would be.
Even though a visit to Ireland can involve a lot of driving, it's a journey that's easily savoured. I couldn't get enough of the green hills and craggy coast, and was content to lose track of time while exploring Irish ruins and hiking in nature.
For a small island, there's an incredible amount of wonderful sights. I definitely didn't experience everything I wanted to. I guess I'll have to plan another trip to Ireland one day!
Where to Visit on Your First Trip to Ireland
To help you decide where to visit on your first trip to Ireland, here is a video of highlights from my two week road trip.
Resources to Help Plan Your First Trip to Ireland
Here are some resources to help you plan your first trip to Ireland.
Click here if shopping from Canada.

Accommodations in Ireland
For your convenience, here is a list of hotels and B&Bs in Ireland. Please consider booking your Ireland accommodations through the included link. It costs nothing extra and helps support this website. Thank you!
Tours in Ireland
Here is a trusted site that has a large selection of tours and tickets for activities in Ireland. You can book everything from day trips out of Dublin, full-day regional tours, walking tours, airport transfers, pub crawls, food tours, and multi-day tours.
Products I Use and Recommend for a Trip to Ireland
Waterproof outerwear is a must for a trip to Ireland. I was so glad I had waterproof pants and waterproof shoes that were sturdy enough for short hikes, yet lightweight enough to wear all day.
Click here if shopping from Canada.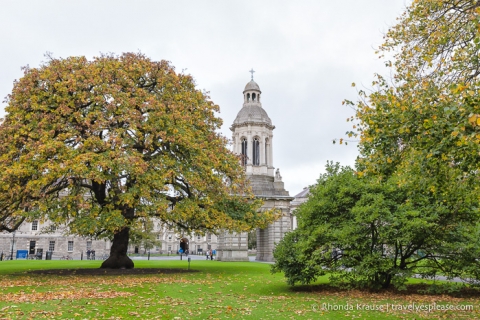 More Ireland Travel Guides