Purchases made through links earn us a small commission, at no extra cost to you.
Ireland has no shortage of scenic driving routes, but one that should not be missed during a road trip in Ireland is a drive on the Dingle Peninsula.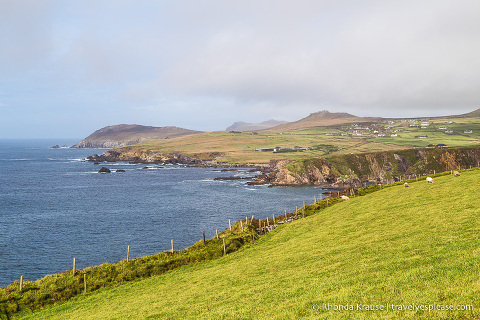 Narrow roads on the Dingle Peninsula weave their way across a rugged and ancient landscape, linking together timeworn ruins, small towns, and sandy coves.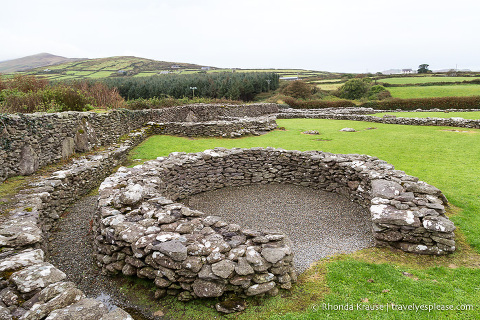 Driving the Dingle Peninsula is like ordering a tasting menu of Ireland's classic experiences. Whether it's indulging in food and drink at an antique pub, singing along with a jovial Irish traditional music session, watching waves crash into craggy cliffs, or wandering among the stone remains of a prehistoric site, you can enjoy it all on the Dingle Peninsula.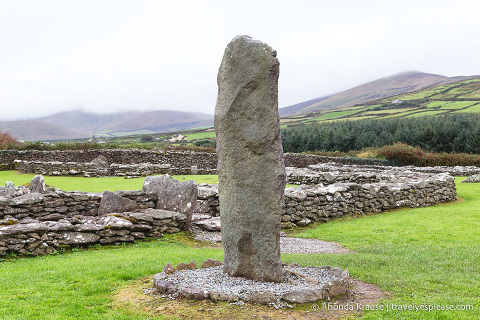 Driving the Dingle Peninsula
Driving the Dingle Peninsula was a natural continuation from the Ring of Kerry drive, as instead of returning to Killarney, I could make my way directly from the Iveragh Peninsula to the Dingle Peninsula "next door".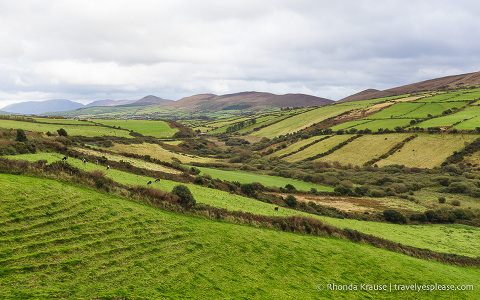 I stayed the night in Dingle town, setting out the next morning for a rainy day drive on the Dingle Peninsula.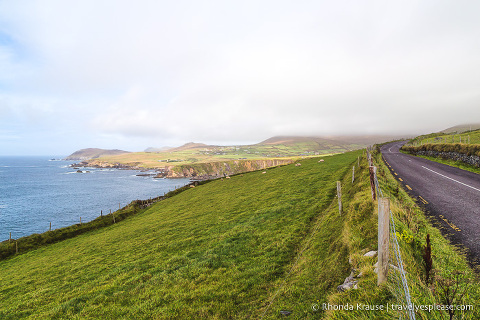 The Dingle Peninsula can easily be driven in one day without feeling rushed. You can base out of Dingle and focus your sightseeing on Slea Head Drive, or do as I did and continue through Conor Pass to north side of the peninsula, ending in Tralee for the night.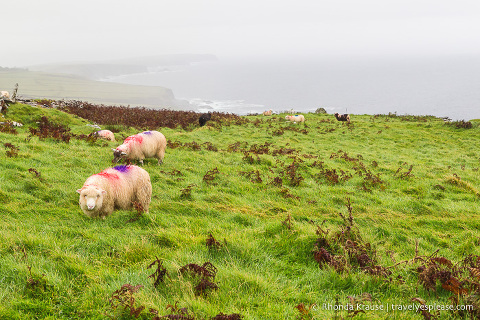 Unfortunately for me, it rained pretty hard half the day (my camera never did fully recover from getting wet), so I didn't make as many sightseeing stops on the Dingle Peninsula as initially planned. Still, I think I experienced some of the best places to visit on Dingle Peninsula.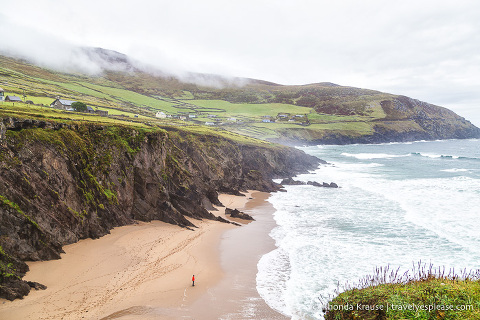 Points of Interest on Dingle Peninsula
I mainly wanted to visit scenic viewpoints and historic sites on Dingle Peninsula, so decided to pass through most the villages in favour of more natural settings and places of archaeological interest.
These were my stops on the Dingle Peninsula!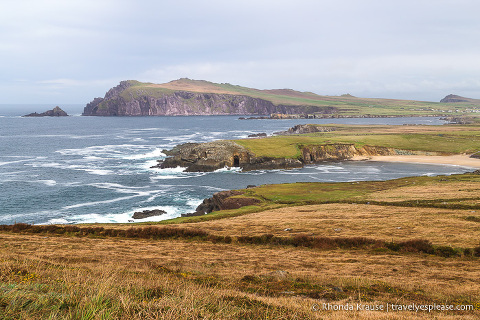 Inch Beach
Inch Beach was my first stop on the Dingle Peninsula and was a great place to stretch my legs after driving from Cahergall stone fort, on the Ring of Kerry.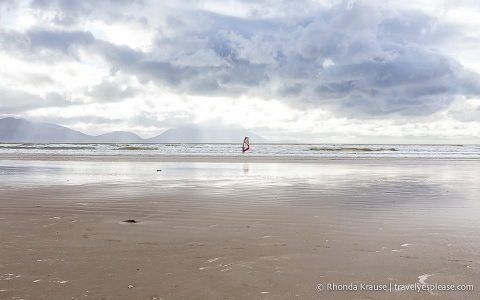 I walked along the wide, sandy shore, watched a guy windsurfing, and had an interesting chat with a local who spent the night car camping on the beach. He was the first of many talkative people I would meet during my self-guided Dingle Peninsula tour. Meeting so many locals who would freely, and passionately, share their knowledge of the country was one of the best things about solo travel in Ireland.
Dingle Town
Dingle is a lovely small town with colourful buildings, lively pubs, and plenty of opportunities to enjoy a traditional Irish music session. It was pretty much everything I expected an Irish seaside village would be like.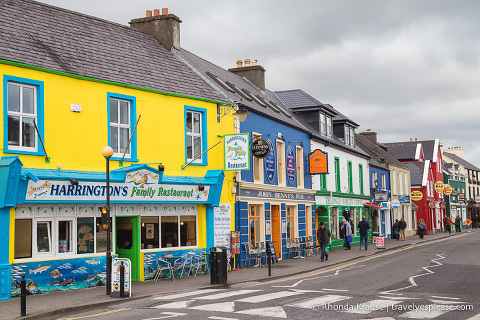 There weren't any specific places I wanted to see, as the atmosphere of Dingle is its main attraction. I walked along the harbor, strolled up and down the multi-coloured main street, treated myself to some handmade made ice cream at Murphy's, then feasted on a delicious homestyle turkey and ham dinner at a pub.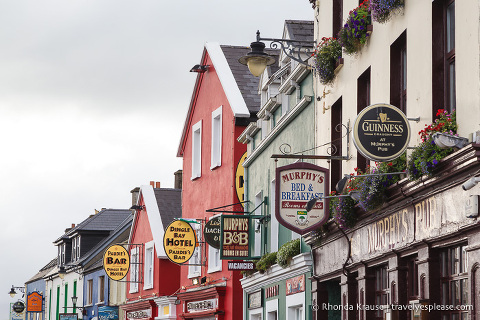 I ended my evening by taking in some live music at the Dingle Music Shop. This converted fisherman's cottage was packed with people who came to experience a concert of Irish folk music. It was a fun evening and I got a bit of an education too, discovering that the popular Metallica song "Whisky in the Jar" is actually a cover of an Irish traditional song.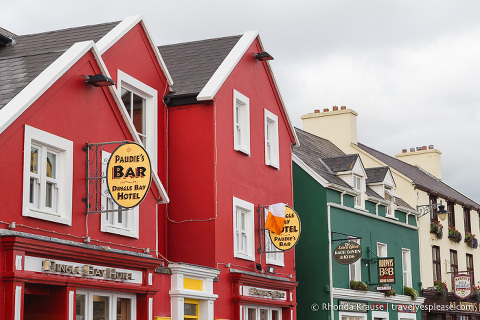 Slea Head Drive
The next morning I left Dingle on Slea Head Drive, a 50 km circular route that takes in most of the main attractions on Dingle Peninsula. The road is very narrow in places and travellers are requested to drive the route clockwise to avoid having to squeeze by each other, especially challenging when a big tour bus is coming your way.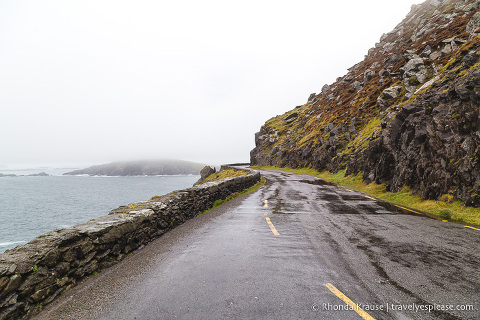 As the historic heart of Dingle Peninsula, Slea Head Drive is home to numerous beehive huts, ring forts, and early Christian sites. There are also stunning views of the rocky coastline, and on a clear day, the Blasket Islands.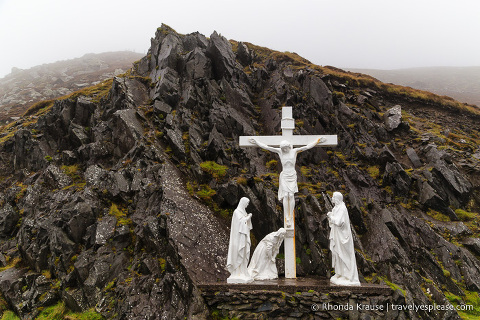 All of the following sites, except for Conor Pass, can be found along Slea Head Drive.
Beehive Huts- Caher Conor
After driving through the town of Ventry and past Dunbeg Fort, I came to a small group of beehive huts in a field.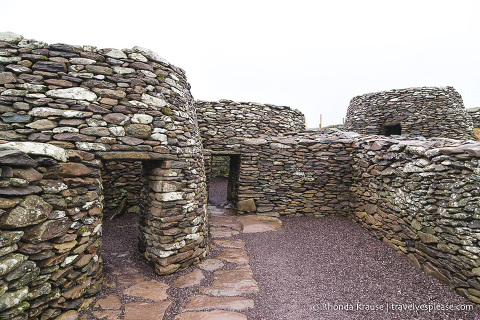 Known as Caher Conor (or the Fahan Beehive huts), these stone buildings were likely an enclosed farmstead and could have been inhabited until 1200 A.D.
This specific cashel (stone fort) is occupied by five structures built without mortar using a technique called corbelling.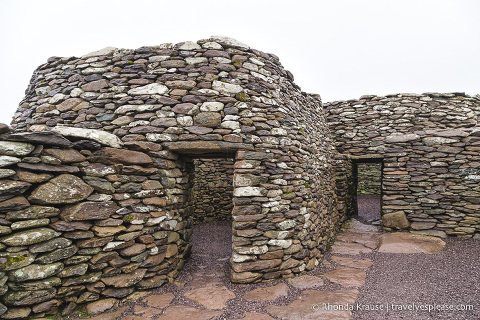 Dunmore Head and Coumeenoole Beach
Dunmore Head is the westernmost point of mainland Ireland and is one of the best viewpoints on Slea Head Drive.
From here you can see Coumeenoole Beach on one side, and some jagged rocks at the base of the cliff on the other.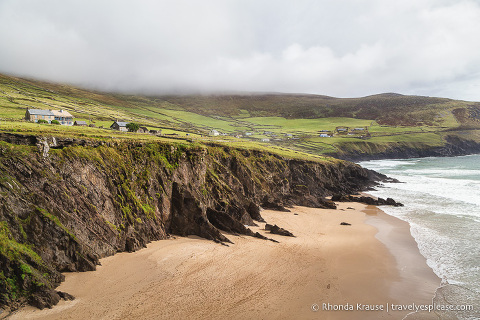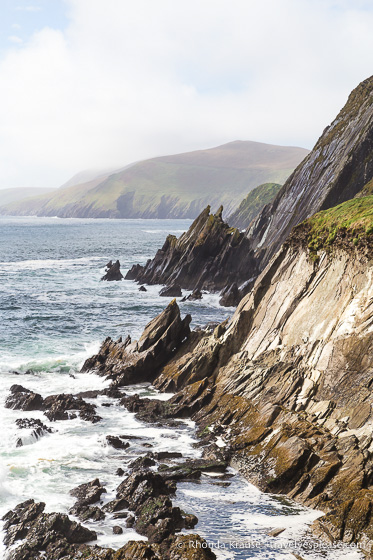 Had the weather been better, I would have taken a walk further up the hill to Dunmore Head to get a wider view of the surrounding landscape and Blasket Islands. Still, it was a beautiful place to sit in the car and wait for my camera to dry out and start working again.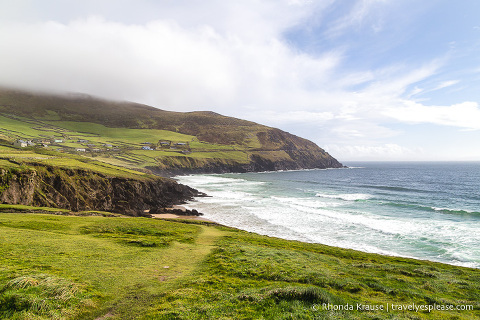 Reask Monastic Site
My favourite archaeological site on the Dingle Peninsula was Reask Monastic Site. Little is known about the history of this monastic settlement, but it's believed to have been founded in the 6th century.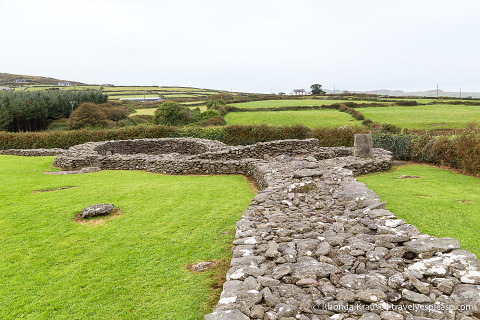 The ruins consist of a low stone wall enclosing the remains of an oratory, cross slabs, standing stones, burial ground, shrine site, and beehive huts where the monks lived.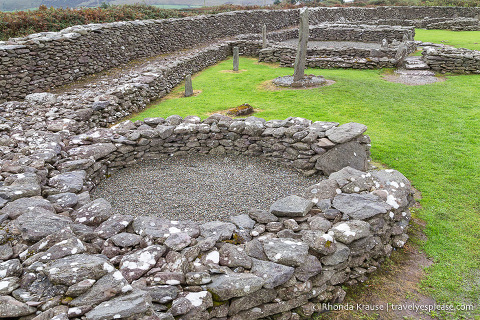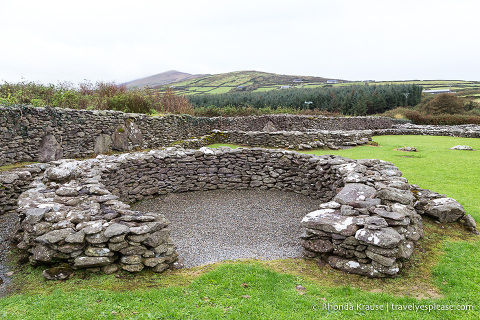 At least ten cross-inscribed stones have been discovered here, the most famous of which is the Reask Stone. It's beautifully decorated with spiral designs and the carved with the letters DNE, which stands for Domine, Latin for O Lord.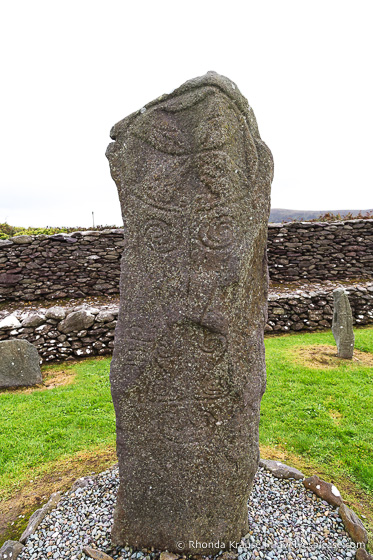 I got the sense that Reask Monastic Site is missed by many people who drive the Dingle Peninsula since I only saw two other people with a private guide.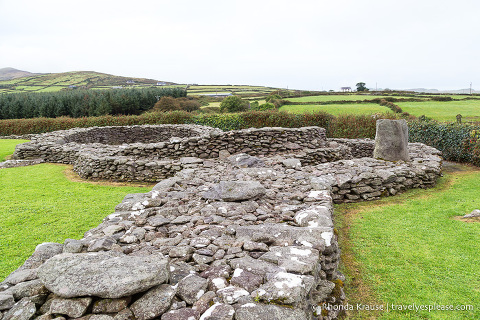 Gallarus Oratory
The last historic site along Slea Head Drive I visited was Gallarus Oratory, a remarkably preserved small chapel built in the 7th or 8th century.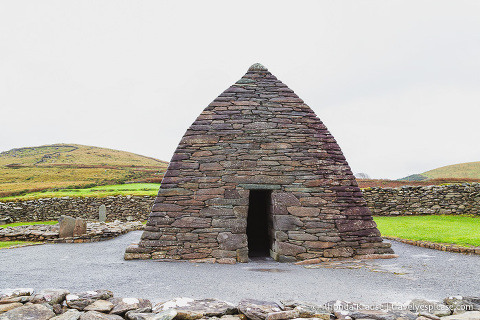 I thought the design of Gallarus Oratory was quite interesting, as it resembled an inverted boat. There are only two openings in the stone building- a narrow doorway and small round-headed window that splays more widely towards the inside.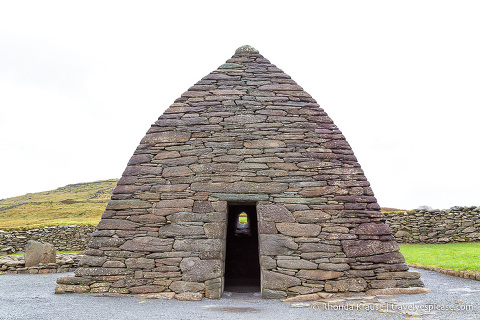 There is a privately owned visitor centre near Gallarus Oratory, but the only reason for paying their fee is to use the parking lot. For free access to Gallarus Oratory, head to the public entrance about 150 m uphill from the signposted turn to the visitor centre (signs for the public entrance have been removed). The public parking lot next to the site is very small.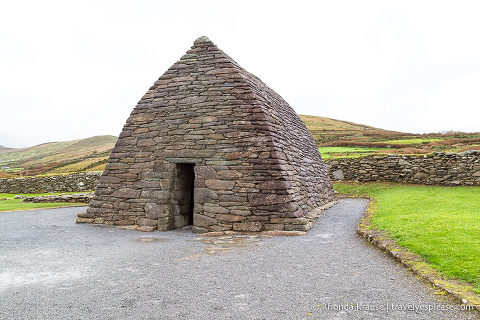 Conor Pass
After completing Slea Head Drive and arriving back in Dingle, I finished my self-guided tour of the Dingle Peninsula by driving on the R560 through Conor Pass.
Topping out at 456 m, Conor Pass is the highest mountain pass in Ireland. The road is twisting and narrow, offering views of Dingle Harbour and Mount Brandon on the way to the summit.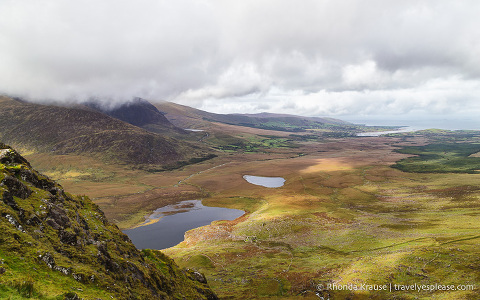 From the parking lot at the summit, you can enjoy a fine view of the glaciated landscape. The valley below has a few lakes and the remains of stone walls and huts. It was a lovely viewpoint to conclude my sightseeing on the Dingle Peninsula.
Final Thoughts About Driving the Dingle Peninsula
Even on a cloudy, windy, rainy day, the Dingle Peninsula was a remarkable place to explore.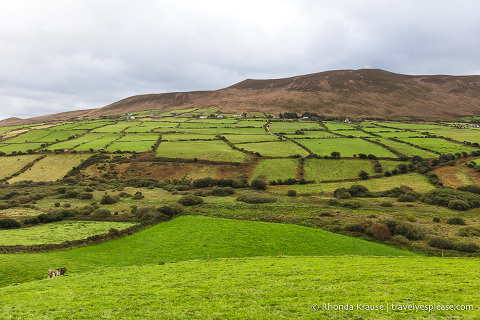 I saw so many interesting historic sites and beautiful scenery while driving the Dingle Peninsula, but still only scratched the surface of what it has to offer. A couple places to see on Dingle Peninsula I missed out on were Eask Tower, Rahinnane Castle, and Dunquin Pier. I guess there are plenty more sites to see the next time I drive the Dingle Peninsula!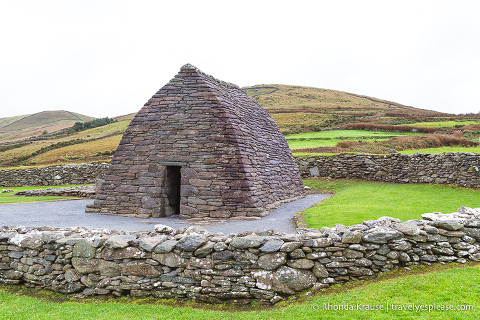 Map of the Dingle Peninsula
Here's a map of the attractions on Dingle Peninsula I visited during my self-guided tour.
Tips for Driving the Dingle Peninsula/FAQ's
Where is the Dingle Peninsula?- The Dingle Peninsula is in southwest Ireland, jutting into the Atlantic Ocean. Much of the peninsula is a Gaeltacht area so road signs are in Irish.
How Long Does it Take to Drive the Dingle Peninsula?- The Dingle Peninsula can easily be driven in one day. I would allocate at least half a day to explore the sites along Slea Head Drive, then a couple more hours to leisurely drive the rest of the peninsula.
How Do I Find My Way Around?- The main driving route on the Dingle Peninsula is well marked and it's best to trust the signs before your GPS. Follow the signs that say "Slea Head Drive" and "Wild Atlantic Way". Just remember that other road signs will be in Irish, so it helps to know the Irish spelling of the places you want to visit.
Which Direction Should You Drive the Dingle Peninsula?- Tourists are requested to drive clockwise, especially on Slea Head Drive (R559). Going against this natural flow can cause bottlenecks where the road is only wide enough for one vehicle.
Are There Any Vehicle Restrictions?- The Conor Pass has weight and length restrictions (max 2 tonnes and 7.2 m). This means that coach buses and large campers and trucks can't travel northeast of the parking lot at the summit of Conor Pass.
Where Should I Stay to Explore Dingle Peninsula?- The most convenient place to base yourself out of is Dingle, since it's on the peninsula and located at the start of Slea Head Drive. Killarney is also a good choice, as it's a central base for driving both the Dingle Peninsula and Ring of Kerry.
If you plan to drive the Dingle Peninsula as part of a larger road trip in Ireland, you can start from Killarney, or somewhere else along the Ring of Kerry, and finish in Tralee (what I did).
Accommodations on the Dingle Peninsula
For your convenience, here is a list of hotels on the Dingle Peninsula. Please consider booking your Dingle Peninsula accommodations through the included link. It costs nothing extra and helps support this website. Thank you!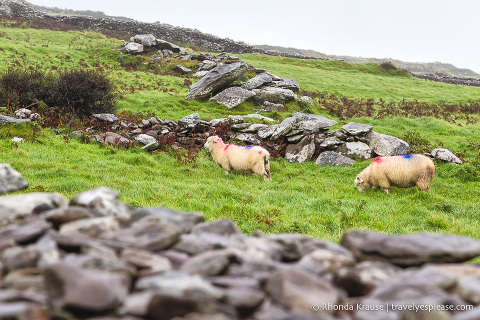 More Ireland Destinations and Travel Guides