Purchases made through links earn us a small commission, at no extra cost to you.
One of the fondest memories of our trip to Miyajima Island was hiking Mount Misen. Seeing as Mike and I both love nature, history and experiencing the culture of a destination, Mount Misen was the perfect place for us to combine our interests into an active afternoon of exquisite views and spiritual sites.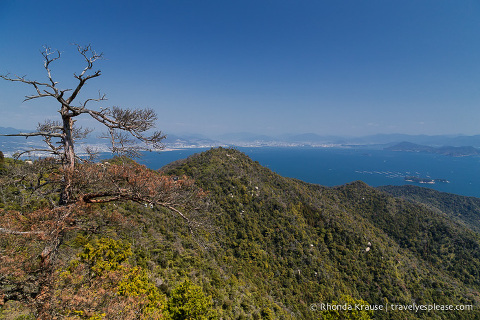 About Mount Misen
Mount Misen is the tallest mountain on Miyajima (535 meters above sea level) and has long been considered a sacred site, worshipped since ancient times.
In 806, the mountain was visited by the great monk Kobo Daishi Kukai, teacher of Shingon Buddhism and founder of the monastic complex at Koyasan.
At Mount Misen, Kobo Daishi underwent ascetic practice for 100 days. There are many spiritual sites on Mount Misen reminiscent of Kobo Daishi's time on the mountain, including a fire which was said to be lit by him over 1200 years ago.
Besides Buddhist structures, Mount Misen is also home to a primeval (old-growth) forest, a Natural Treasure of Japan.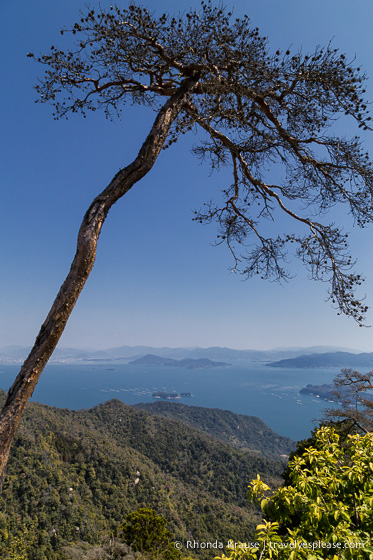 Our Mount Misen Hike  
Our exploration of Mount Misen started at Momijidani Station, the ropeway station at the foot of the mountain. We decided to take the cable car up and then hike back down the mountain, in order to save time.
The views from the cable car were absolutely wonderful and added to my excitement to spend the afternoon on Mount Misen.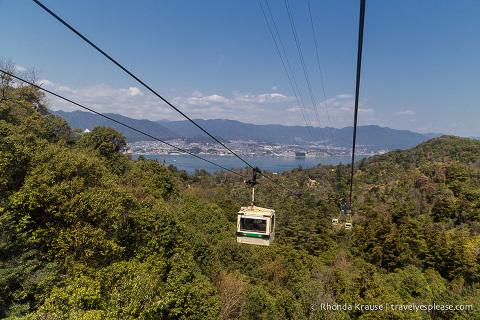 The cable car dropped us off at Shishiiwa Station, 430 metres above sea level. From there, we walked a short distance to the Shishiiwa Observatory, which is a great viewpoint for admiring the Seto Inland Sea and its islands.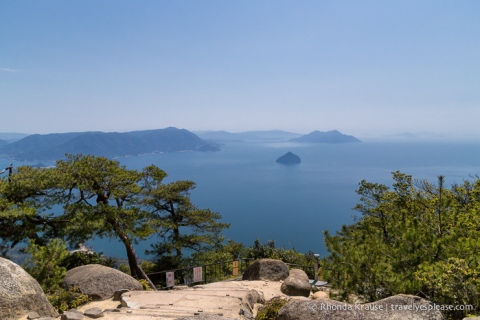 The view was so calming and peaceful that I had a hard time tearing myself away, but eventually we did begin our hike to the summit of Mount Misen!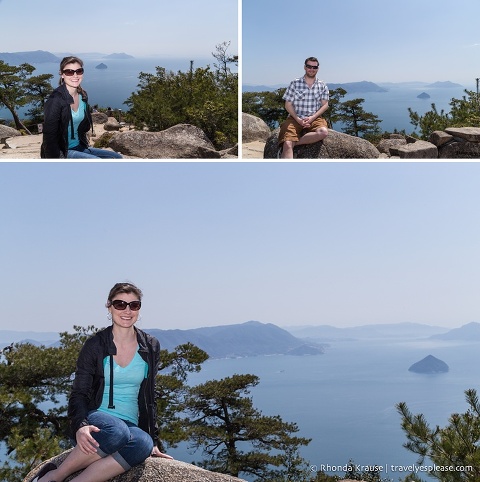 From the top ropeway station the walking trail led down the side of a hill before it joined up with the Momijidani Course and started to ascend up Mount Misen. This is where things got a little tough, at least for me.
The path led through the forest at a steady climb, requiring a fair amount of stamina. My cardio endurance is pretty pathetic, a fact that was magnified by all the Japanese grandmas and grandpas passing me by as I huffed and puffed my way to the top. I was quite impressed that there were so many older generations out with their families, enjoying a challenging hike. Maybe the key to longevity is remaining active?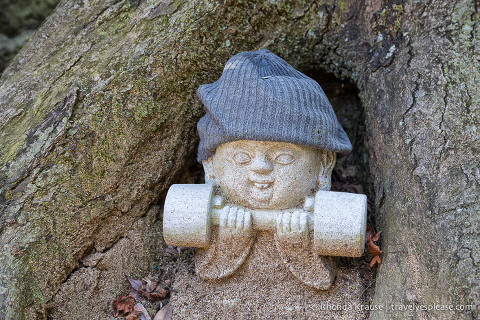 Another thing that made a lasting impression was just how friendly people were while hiking Mount Misen. Pretty much everyone we passed enthusiastically said "konnichiwa" (hello, in Japanese) to us. We were having so much fun greeting people that we accidentally said konnichiwa to another pair of western tourists!
The steep section of path eventually came to an end and opened up into a courtyard surrounded by Buddhist halls. This was a nice place to take a rest and experience the spirituality of Mount Misen.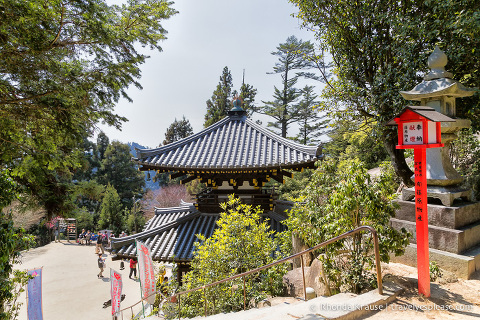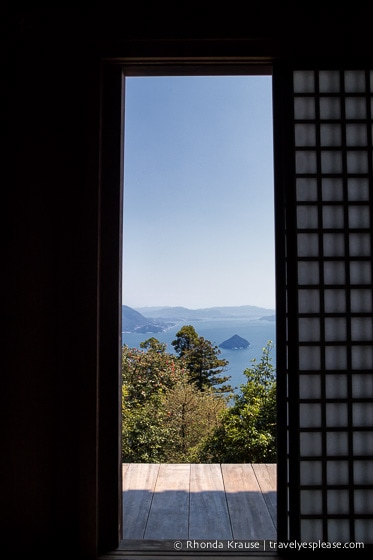 Our favourite was Reikado Hall (Hall of the Spiritual Flame). Inside is the fire lit by Kobo Daishi when he was worshipping on the mountain in 806, still burning to this day. The Eternal Flame was used to light the Flame of Peace in Hiroshima's Peace Memorial Park.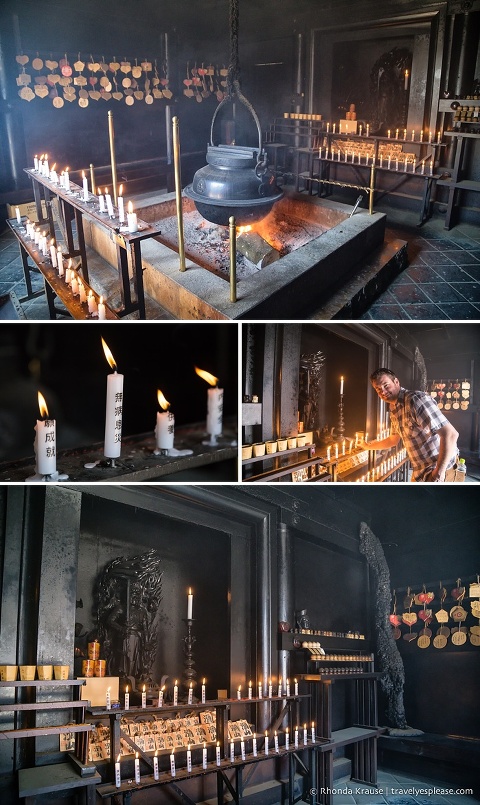 After visiting Misen Hondo (Misen Main Hall) and Sankido Hall, we felt rested enough to begin the final leg of the hike to the summit of Mount Misen.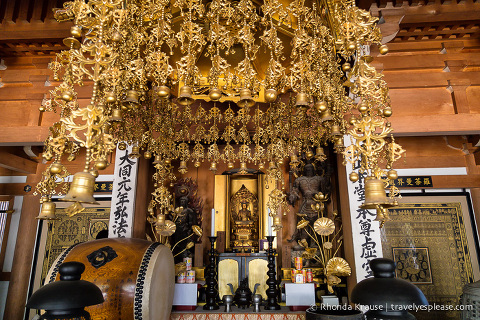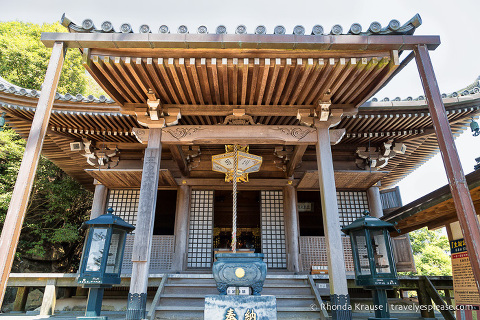 This path was not as steep as the first one and passed by many uniquely shaped large rocks. As you get above the tree line there are some fantastic views to be enjoyed!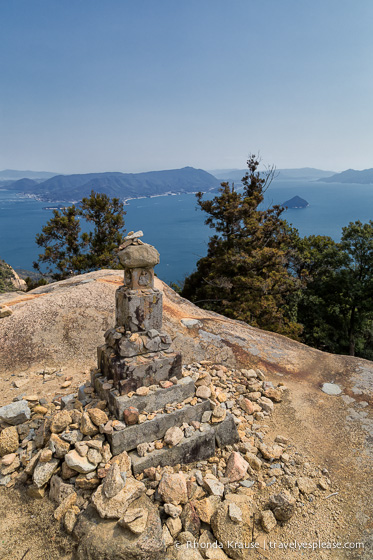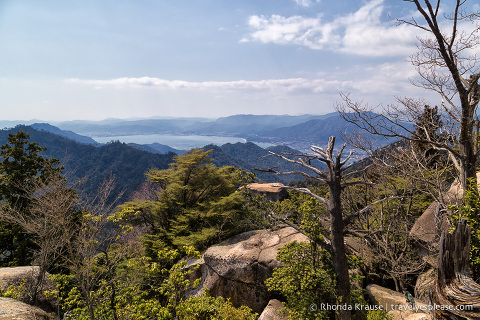 Speaking of incredible views, none is better than the one you get when you reach the top of Mount Misen. From the observatory we got a bird's eye view of Miyajima, the great torii gate of Itsukushima Shrine and the Seto Inland Sea. It was a clear day, so we could even see as far as Hiroshima!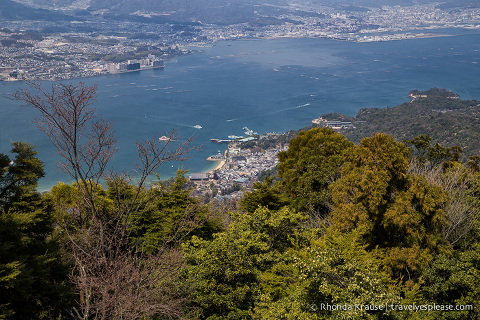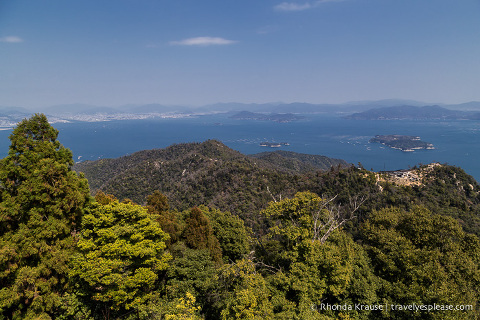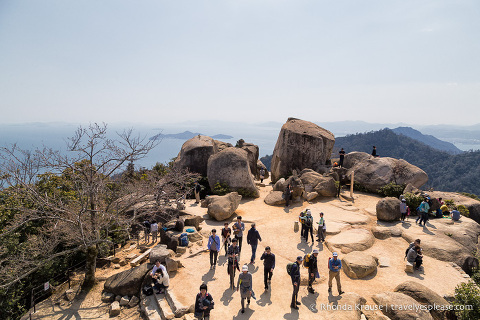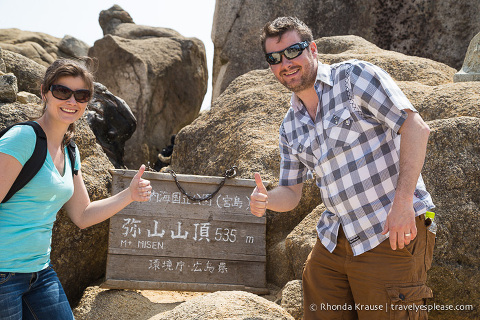 We sat at the top of the observatory for a while before beginning our trek down the mountain and back into town.
The path down Mount Misen once again led us through the forest, at a steady decline. It wasn't long until we arrived at Niomon Gate. In the Edo era, people were not allowed to climb Mount Misen past this gate after 2:00 pm. If you did, it was believed that you would experience evil consequences brought on by long-nosed goblins.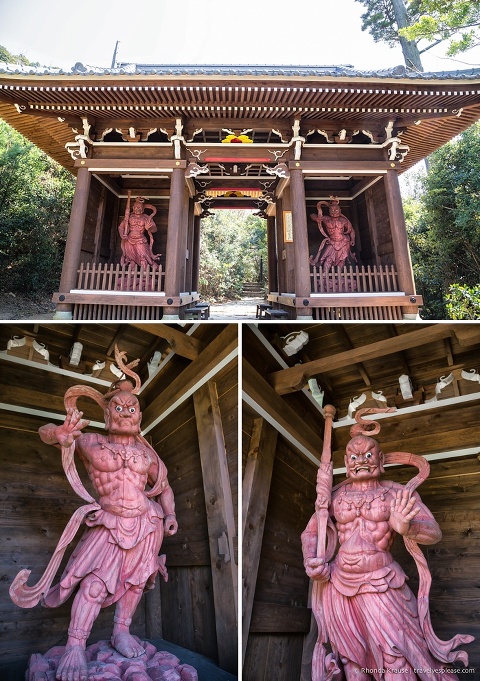 From the gate, we had two choices of paths to take- the Daishoin Course or the Omoto Course. We decided to take the Daishoin Course because it ended at Daishoin Temple, which we planned to visit after our hike.
Walking on this path made us really glad we decided to take the cable car up the mountain. There were over 2,000 stone steps to the summit!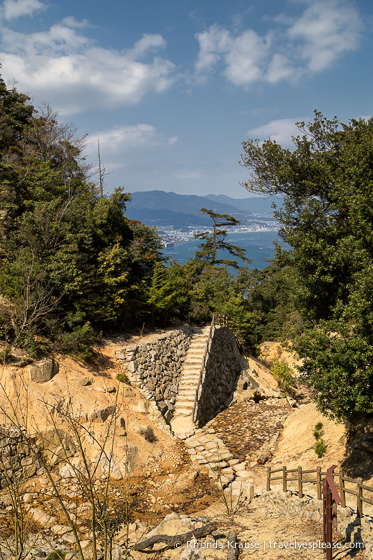 In hindsight, maybe going up the steps would have been easier on the body than going down. As I write this, I'm having flashbacks of how sore my knees and bottoms of my feet got! My feet were in pain the rest of our two weeks in Japan. I'm almost 100% sure it was because I did this hike wearing cheap running shoes, without proper support. Lesson learned!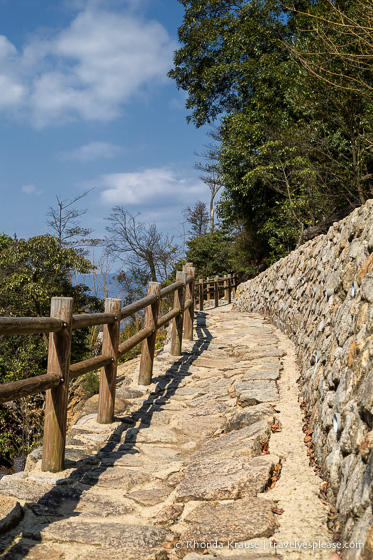 Many stairs later, Daishoin Temple came into view, a sign that we had arrived at the bottom of Mount Misen.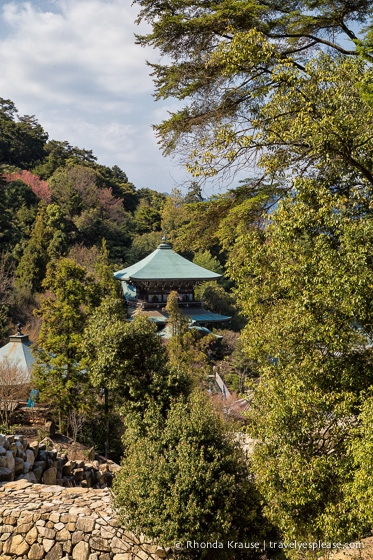 As we stepped off the climbing path, I remember feeling full of adrenaline, having just as much enthusiasm as I had during our cable car ride up. When that initial excitement lasts through the duration of an activity, that means it was an incredible travel experience!
Final Thoughts about Hiking Mount Misen
We loved every moment of hiking Mount Misen, sore knees and all! It was the perfect combination of nature and culture, activity and tranquility. If someone asked us to make a list of "must-dos" in Miyajima, hiking Mount Misen would be at the top of the list, along with watching the sunset at the great torii gate.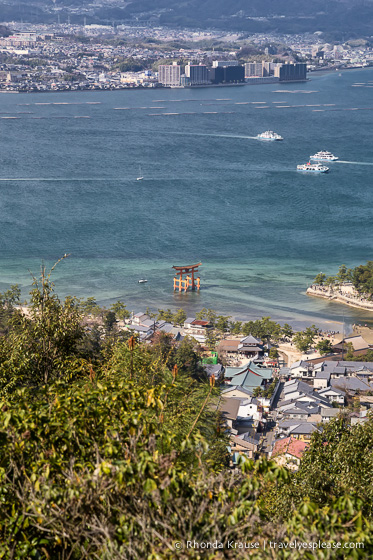 Tips for Hiking Mount Misen
Mount Misen Hiking Routes: There are 3 different paths leading to the summit of Mount Misen. The Momijidani Course takes approximately 1.5 hours to the top, the Daishoin Course about 1.5- 2 hours, and the Omoto Course about 2 hours.
Mount Misen Ropeway: If you want to take the cable car up, the ropeway station is a 20-25 minute walk from Miyajima's ferry terminal and about 15 minutes from Itsukushima Shrine.
The ropeway normally operates from 9:00 am- 4:00 pm (last downhill at 4:30 pm), but hours may vary slightly depending on the season.
A one way ticket on the ropeway costs ¥1,010, or ¥1,840 for a round trip.
Confirm current hours and prices here.
From the top ropeway station (Shishiiwa), it's about a 20 minute walk to the Buddhist halls, and roughly another 10 minutes to the summit of Mount Misen.
Service and Facilities: There were vending machines with drinks at Shishiiwa ropeway station, but I don't remember if there were any at the Mount Misen Observatory (at the summit). We recommend bringing snacks or a light lunch along with you.
There are washrooms at three locations along the trail- at the Shishiiwa ropeway station, near Misen Hondo (Misen Main Hall), and at the Mount Misen Observatory.
Information was updated September 2022, but can change without notice. Please confirm directly with service providers.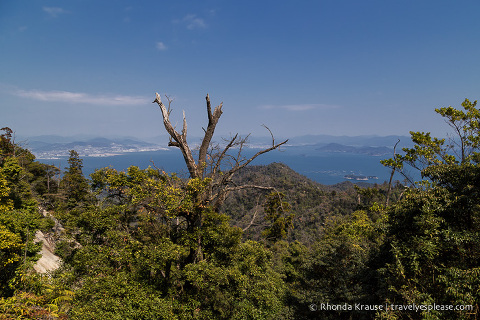 Accommodations in Miyajima
For your convenience, here is a list of HOTELS IN MIYAJIMA. Please consider booking your Miyajima accommodations through the included link. It costs you nothing extra and helps support this website. Thank you!
More Japan Destinations and Travel Guides