Purchases made through links earn us a small commission, at no extra cost to you.
When I hear a place described using the words "best" or "most", I become skeptical of the claim. Sometimes I'm even disappointed upon visiting, since not every place warrants such high praise. However, that was not the case with Nikko Toshogu Shrine- it absolutely lives up to the hype of being called Japan's most lavishly decorated shrine.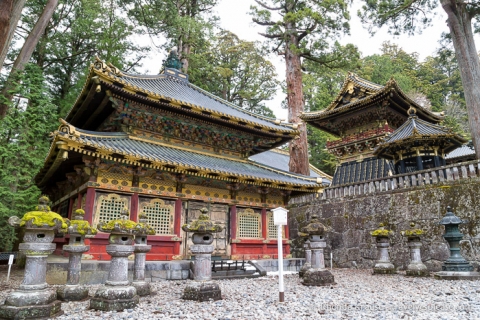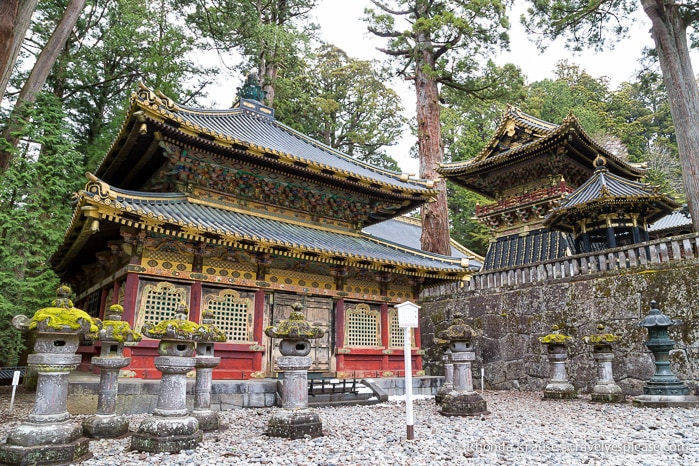 Naturally, Toshogu is the centerpiece of Nikko's vast collection of Buddhist temples and Shinto shrines. Its buildings are decorative masterpieces- splashed with vibrant colours, embellished with intricate carvings, garnished with glittering gold leaf. Toshogu Shrine is nothing short of dazzling!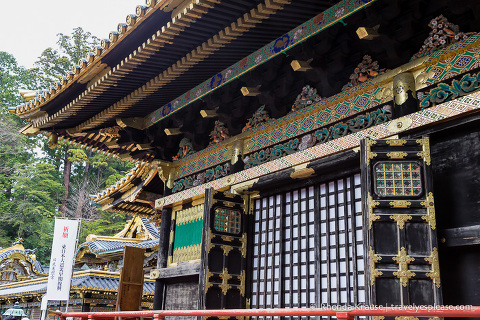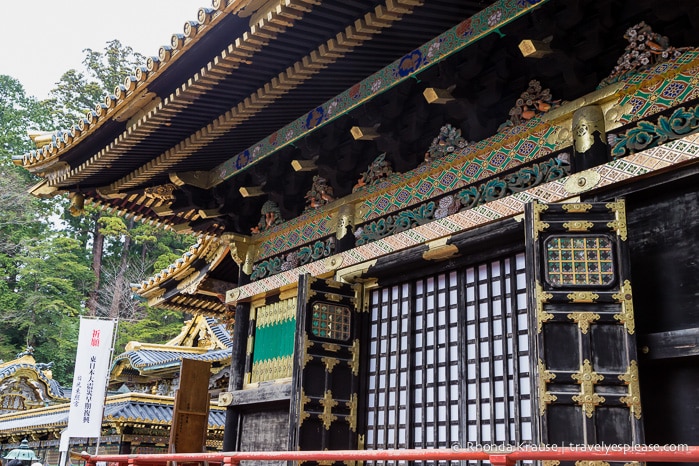 Having only one day in Nikko, and there being so many places we wanted to explore, we decided to visit only one shrine or temple in Nikko's World Heritage area. I have no doubt we chose right by picking Toshogu. It was over-the-top wonderful and I have a feeling that anything else would pale in comparison!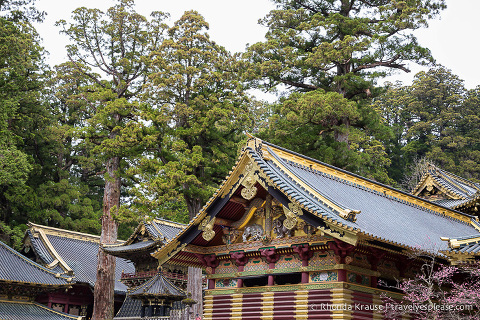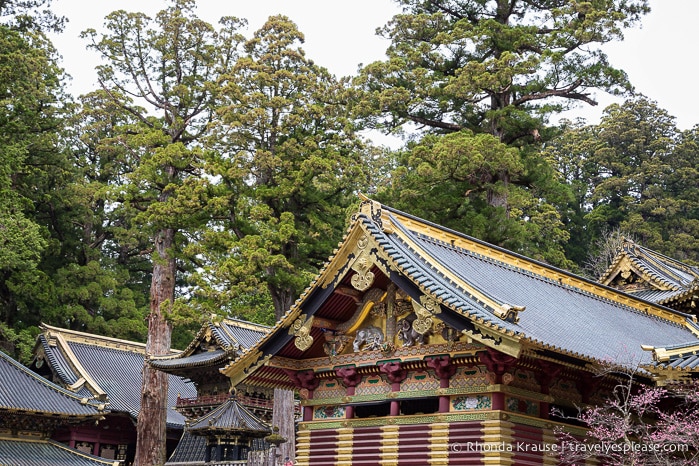 History of Nikko Toshogu Shrine
Toshogu Shrine is the final resting place of Tokugawa Ieyasu, the founder and first shogun of the Tokugawa Shogunate. He is enshrined here as the deity Tosho Daigongen, "Great Gongen, Light of the East".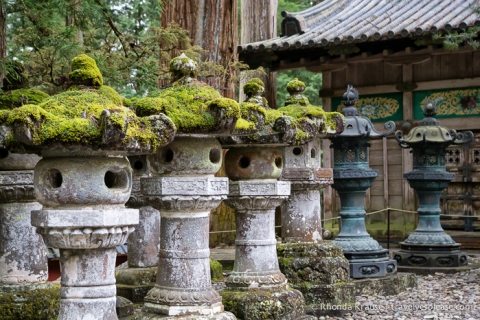 Built in 1617, while Ieyasu's son was shogun, Toshogu was originally a simple mausoleum. It was enlarged into the dramatic complex you see today in 1636, when Ieyasu's grandson was in power.
During the Edo period, the Tokugawa shogunate would arrange processions from Edo (present day Tokyo) to the Toshogu shrine at Nikko, an event that is reenacted during the shrine's spring and fall festivals.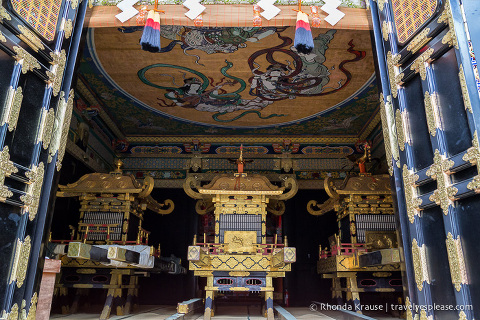 In 1999, Toshogu Shrine was inscribed as a UNESCO World Heritage Site, along with the other shrines and temples of Nikko.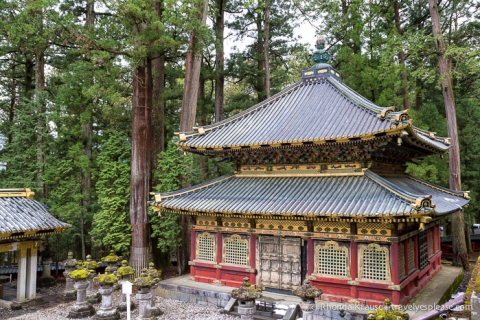 Our Visit to Toshogo Shrine in Nikko

Before we even entered the grounds of Toshogo, I was impressed. Outside the gate was a pretty five-story pagoda, a rainbow of colour and carvings, standing tall against the backdrop of a sacred, old growth forest. Its vibrancy and plentiful detailing was a preview of what was to come at Toshogu Shrine.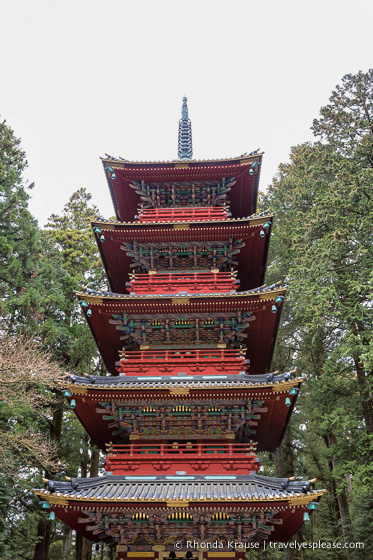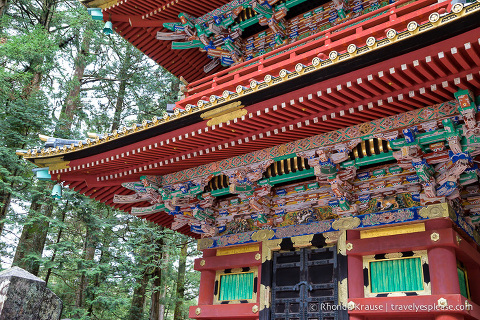 Once inside the shrine, the first group of buildings we saw were the Three Sacred Storehouses (Sanjinku). Brightly painted and trimmed in gold leaf, it was hard to believe that these are simply warehouses.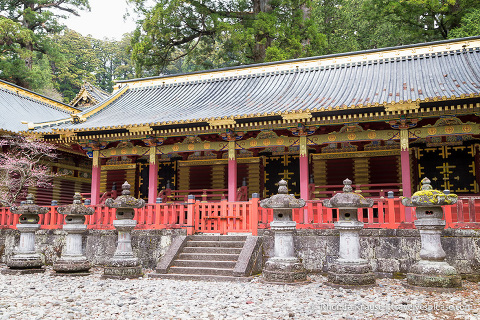 As beautiful as all three storehouses were, it was the last one that kept stealing my attention. On the upper story was a relief carving of two grey elephants. Called the Sozonozo Elephants ("imagined elephants"), they are not a realistic depiction. Interestingly, the artist who carved them had never seen real elephants before, so this is what he imagined them to look like.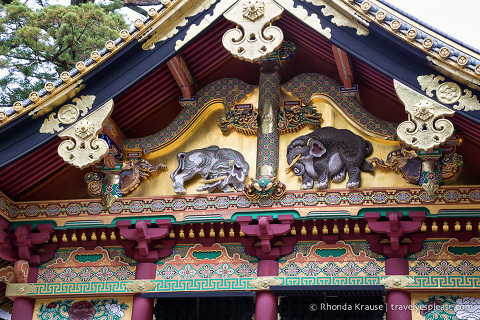 Across from the storehouses was the Sacred Stable (Shinkyusha). The stable was adorned with allegorical carvings of monkeys, completed in the 17th century. Look closely, because you'll even notice the famous Three Wise Monkeys demonstrating the Tendai Buddhist principle of 'hear no evil, see no evil, speak no evil'.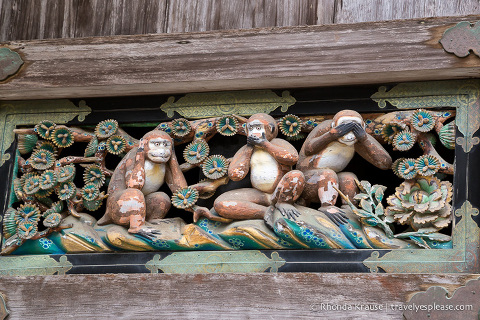 Around the corner from stable and storehouses, we walked past by some moss covered stone lanterns, perfectly aligned in front of another ostentatiously decorated building, the library (Kyozo).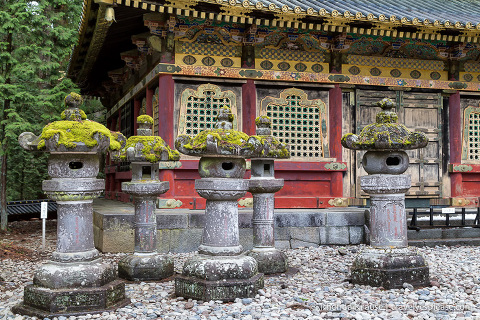 A staircase led the way up to one of Toshogu's most famous structures, the Yomeimon Gate. Unfortunately, it was undergoing renovations and covered with scaffolding when we visited, but I've read it's quite the spectacle.
From the top of the staircase, we got a great view of the identical drum tower and bell tower that stand in front of Yomeimon Gate.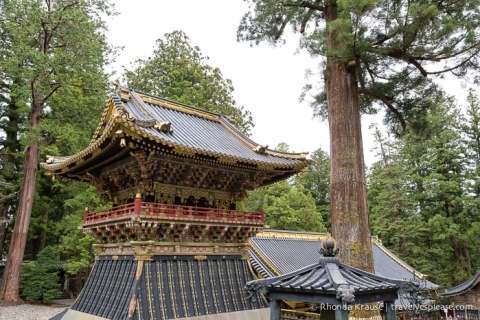 Adjacent to the Yomeimon, was a wall completely decked out in richly coloured wood carvings of peacocks and flowers. I'm not sure what the significance of the peacock is, but the carvings are of such high quality that the wall was designated a National Treasure of Japan.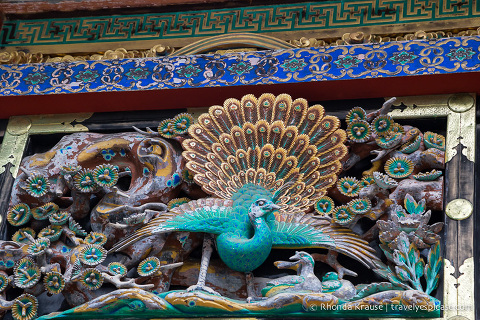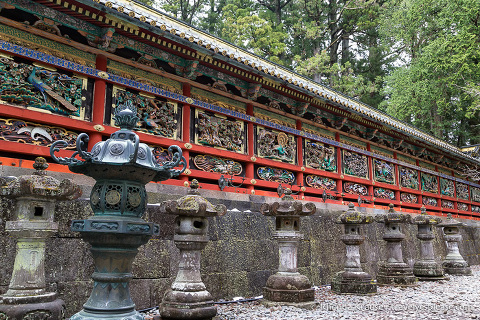 After passing through the Yomeimon Gate, we arrived at the Honden, Toshogu's Main Hall. This was probably my favourite building at Toshogu Shrine because its gate was so detailed and ornate.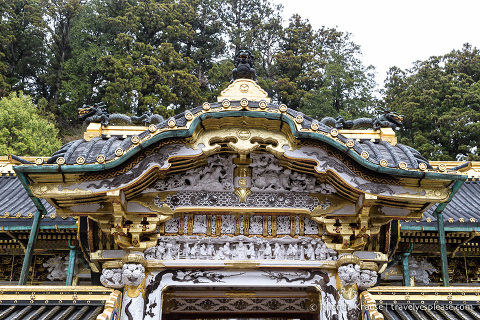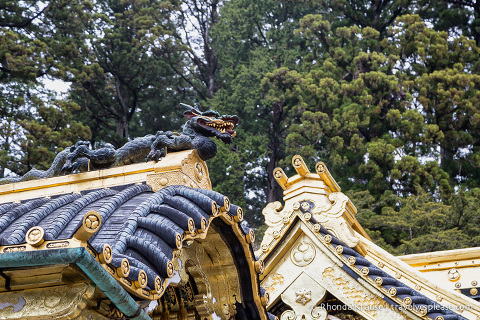 The Karamon Gate may be the smallest gate at Toshogu, but it packs a lot of decoration onto its small frame. Elaborate wood carvings of Chinese sages and an audience with the emperor adorn the white gate, which is heavily accented with gold and topped by three fierce looking dragons. The artistry was mind-blowing! I think I came back to the gate three times to get another look.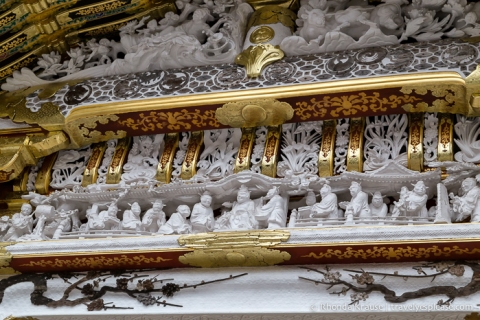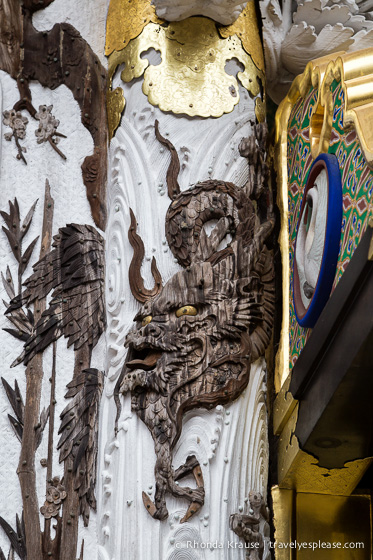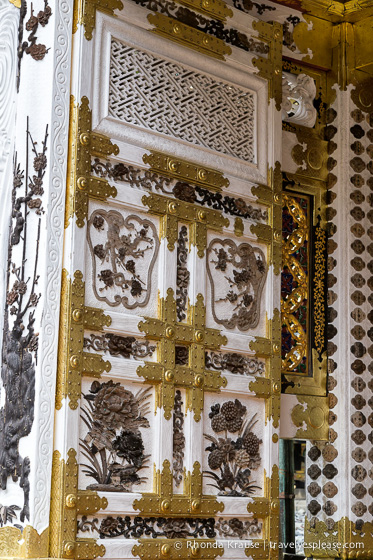 To the right of the Main Hall is another of Toshogu's famous wooden sculptures, the Sleeping Cat (Nemurineko). I heard that this sculpture is known for its lifelike appearance, but when I saw it I was slightly disappointed. I mean it's nice, but I wasn't quite sure what all the fuss was about. We even had to buy a special ticket to see it. Then there were so many people surrounding this tiny cat carving that it was hard to get a decent picture of it!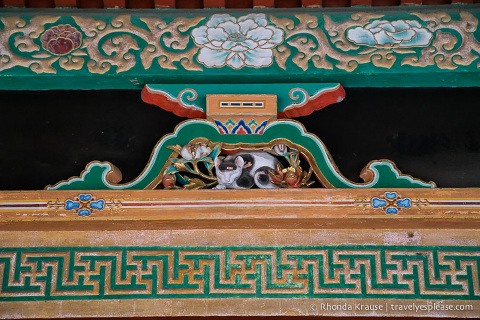 Although the sleeping cat was a bit of a letdown, at least the special ticket we bought gave us access to the tomb of Ieyasu. About 200 stone steps lead to his burial site, peacefully located among the towering cedars. Ieyasu's tomb is solemn, the only simplistic area of Toshogu.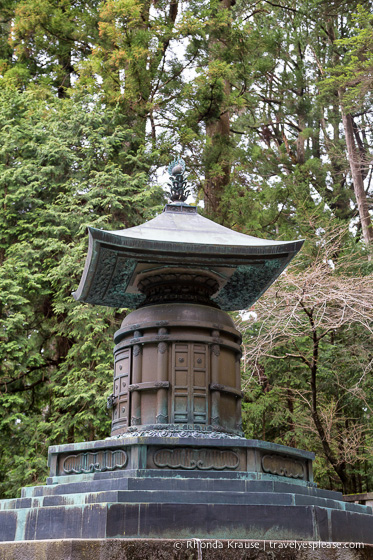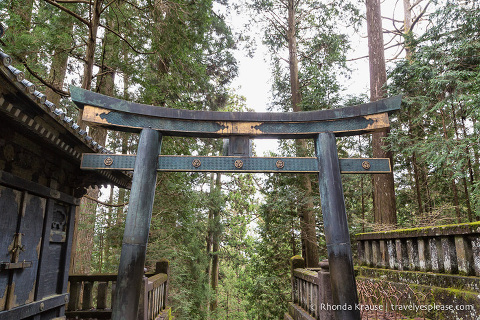 After heading back down to the main area of Toshogu Shrine, there was one more building we needed to visit, the Honjido. Situated to the left of the drum tower, Honjido Hall is best known for its ceiling painting of the Crying Dragon (Nakiryu). Inside we watched a demonstration where the monk would clap his hands, attempting to create a loud echo. Perplexingly, the echo only came if he was directly underneath the dragon's mouth. So, that explains why it's called the Crying Dragon!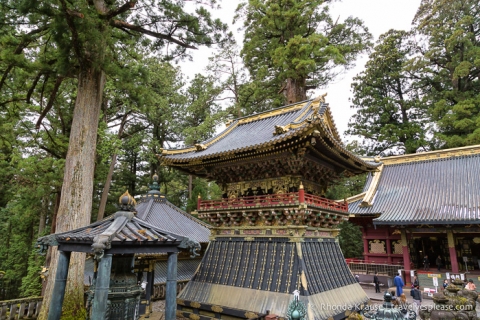 Final Thoughts About Nikko Toshogu Shrine
Toshogu Shrine just might be my favourite shrine we visited during our two weeks in Japan. Most others we saw would be considered modest compared to Toshogu. It was so golden and elaborate- anything that could be decorated was!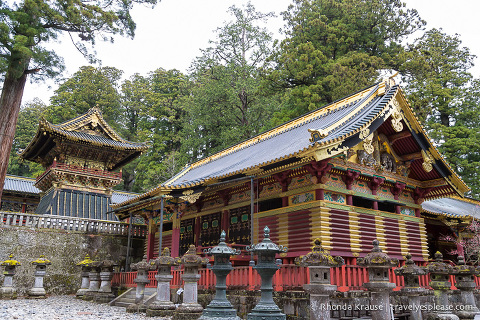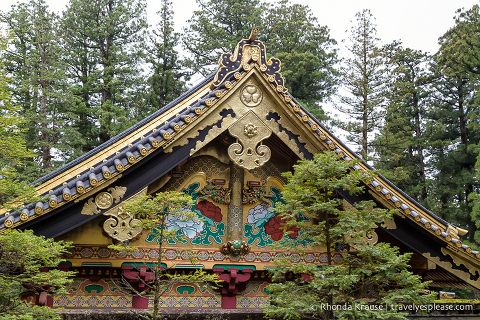 I loved all the bright colours and intricate carvings that adorned the shrine's many buildings. The Three Wise Monkeys and Imagined Elephants were tops in my mind though.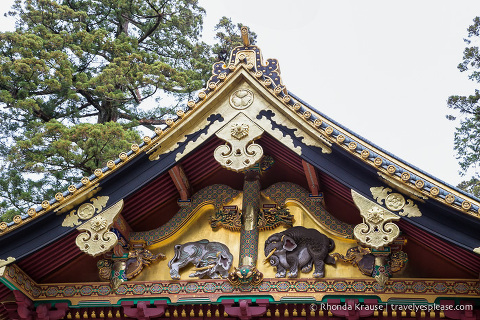 I'm glad we took our time here because Toshogu Shrine is not a place you want to rush through. The architectural and artistic details are exquisite and for those to go unnoticed or unappreciated would be a shame. It truly is one of the most beautiful shrines in Japan and definitely worthy of any Japan bucket list!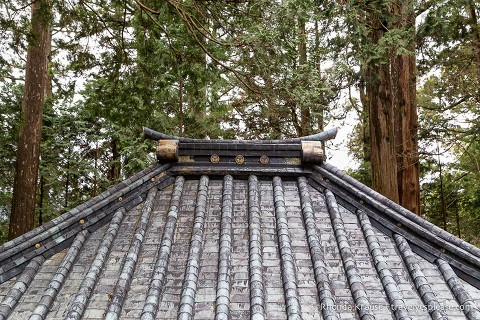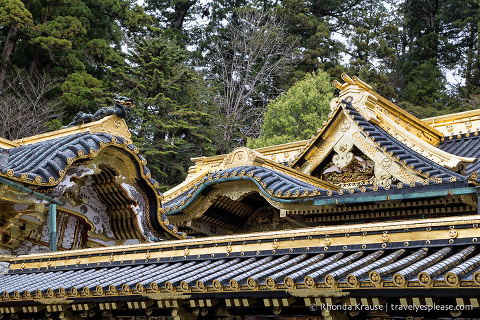 Tips for Visiting Toshogu Shrine in Nikko

Getting There: Nikko Toshogu Shrine is located about a 30 minute walk, or 10 minute bus ride, from the Tobu and JR Nikko train stations.
Opening Hours: Toshogu Shrine is open year round from 9:00 am- 5:00 pm (4:00 pm November through March). Confirm current hours here.
Admission Fees: Admission to Toshogu Shrine is ¥1,300. According to the shrine's website, it looks as though there's no additional ticket to see the sleeping cat carving, like when we were there. There is an extra fee to visit the treasure hall or you can buy a combination ticket that includes both the shrine and treasure hall.
More Tips: Toshogu Shrine attracts a lot of tour groups, so if you want to avoid the crowds, try and visit early in the morning and on a weekday.
Information was updated June 2022, but can change without notice. Please confirm directly with the venue.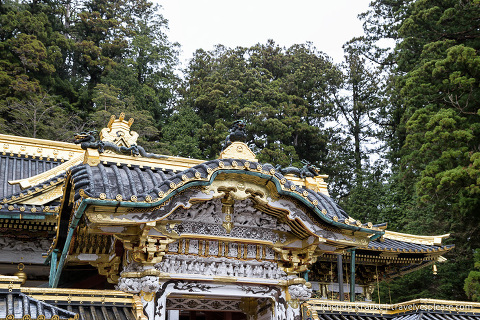 Accommodations in Nikko
For your convenience, here is a list of hotels in Nikko. Please consider booking your Nikko accommodations through the included link. It costs nothing extra and helps support this website. Thank you!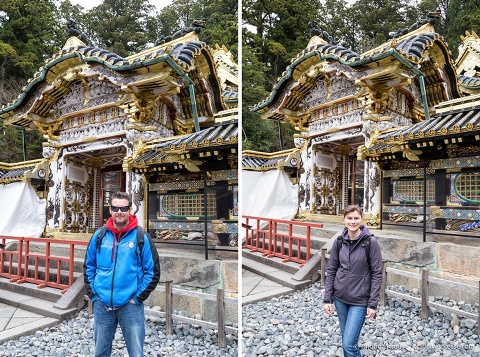 More Japan Destinations and Travel Guides