Purchases made through links earn us a small commission, at no extra cost to you.
Stretching along the Sea of Japan, in the Chugoku region of Western Honshu, is a coastal prefecture that's largely untouched by foreign visitors, at least for now. But once the secret gets out, I'd expect that to change.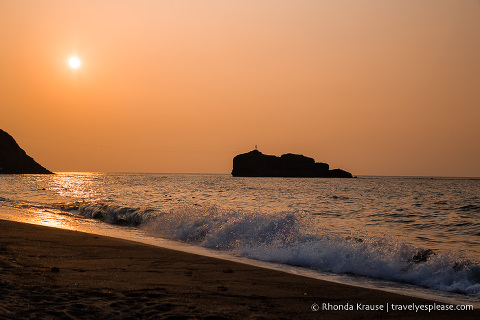 Tottori prefecture is an ideal area of Japan to visit for people, like myself, who prefer smaller cities and towns without the big crowds. After all, Tottori is Japan's least populated prefecture.
Tottori is a place where you can experience the diversity of Japan's landscapes, often seeing scenery that you wouldn't typically associate with Japan. I know Japan is an island, but still, I was surprised to see so many beaches, sand dunes, and large coastal granite rock formations. I kept thinking, I can't believe this is Japan.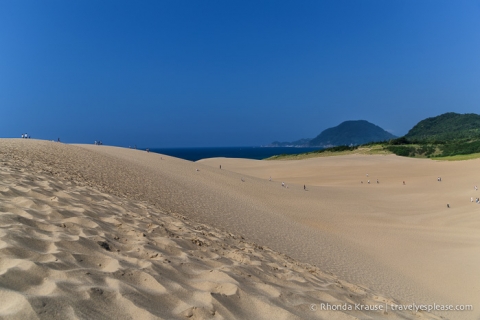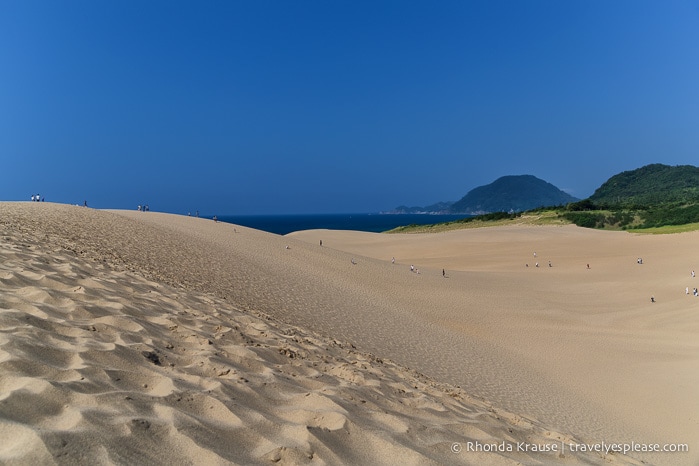 Although on first glance Tottori didn't look like what I associate with Japan, it definitely felt like Japan. Shrines and temples, tucked away in the dense forest, connect visitors to the spirituality and traditions of Japan. Japanese style houses line the countryside (think 2-story, wood frame with ceramic tiled roofs), and onsen reign supreme, as relaxing in these natural hot springs is a beloved pastime. You'll likely even come across some manga (comic) characters during your time in Tottori!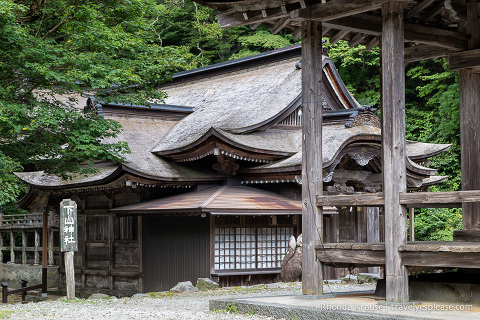 How to Spend 3 Days in Tottori Prefecture- My Itinerary

I spent 3 days in Tottori and found it was just enough to experience a variety of attractions and activities, in different locations throughout the prefecture, without feeling rushed. My Tottori itinerary gave me a good sense of the area, but there were a few places I could see myself returning to explore further, linger longer.
To help you plan your own trip to Tottori, I put together this Tottori travel guide. Here's a look at some places to see and things to do in Tottori, all laid out in a handy 3 day itinerary!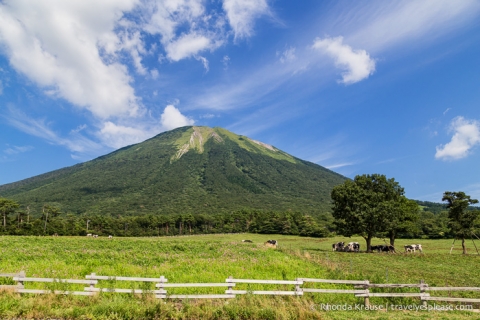 Day 1: Eastern Tottori- Uradome Coast, Sand Dunes, Sand Museum
I took a domestic flight from Tokyo's Haneda airport to Tottori Airport, which was 1 hour and 15 minutes long. From the airport, I took the shuttle bus to Tottori Station and visited the tourist information office to sign up for the 2000 yen tourist taxi (¥2000/person to have the cab for 3 hours). Beyond the Tottori City area, the best way to explore the prefecture is to rent a car. I spent the night in Misasa, which is about a 1 hour drive from Tottori City.

Tottori City is a great starting point for any visit to Tottori because it has many of the prefecture's best attractions, all easily (and affordably) accessible via the 2000 yen tourist taxi. I recommend spending the day exploring parts of the San'in Kaigan Geopark, to experience some incredible natural beauty!
Uradome Coast
The first thing I did in Tottori was go on a sightseeing boat cruise of the Uradome Coast, in the San'in Kaigan Geopark. There was so much great scenery, I almost didn't know where to look! We passed by cliffs, sea caves and large, uniquely shaped rocks jutting out of the clear, blue sea. The cruise was a great activity to get me excited for the other natural wonders I'd see in Tottori!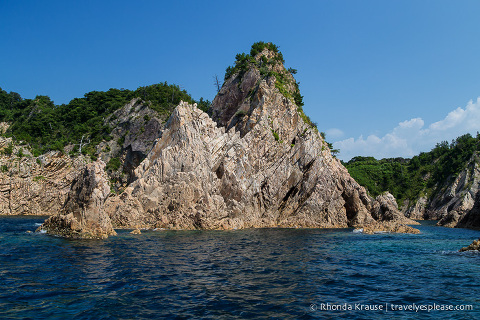 After the boat cruise, make sure you try the squid ink ice cream. I was worried that it would taste salty or "ocean flavoured", but it actually didn't have much of a distinct flavor at all. Plus, it was fun to laugh at my black lips and tongue afterwards!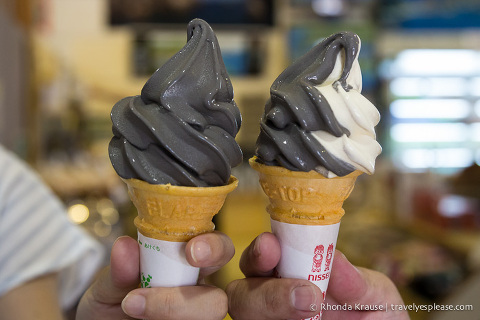 Tottori Sand Dunes
Of all the places I visited in Tottori, the Tottori Sand Dunes surprised me the most. I had no idea that there were sand dunes in Japan, never mind such a big area of them!
The Tottori Sand Dunes span 16 kilometres east to west along the Sea of Japan, making them Japan's largest sand dunes. Walking along the sand, you can see delicate wind ripples, colourful plants, even volcanic ash. However, it's the coastal views from top of the largest dune that will stay in my memory for a long a time.
Read my full post about the Tottori Sand Dunes.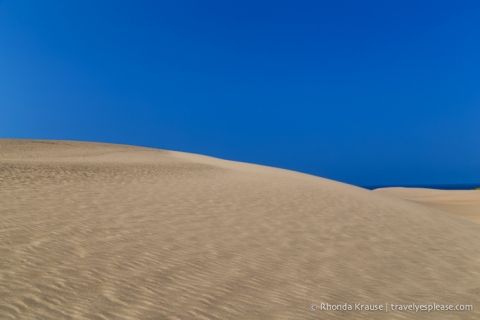 Tottori Sand Museum
After seeing the dunes in their natural form, make sure you stop in at the Sand Museum to see the sand in its sculpted form.
I was so impressed by the creations in this museum- it's incredible what artists can sculpt from just sand and water!
The theme for 2016's exhibit was South America and I was instantly hooked since that is where I'll be travelling to next. It was so interesting to see many of the places I'm planning on visiting carved with such detail in sand.
Read my full post about the Tottori Sand Museum.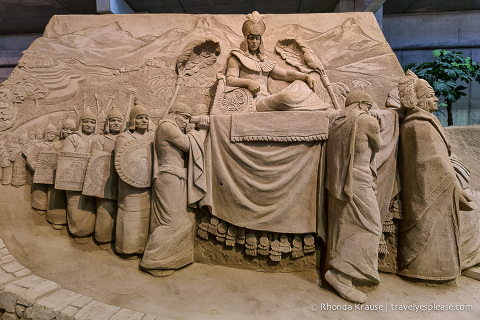 Hakuto Shrine & The Legend of the White Rabbit
After visiting the Sand Museum, we started to drive along the Hakuto Coast towards Misasa, in central Tottori. Along the way we stopped at Hakuto Shrine, a small place but home to an interesting legend.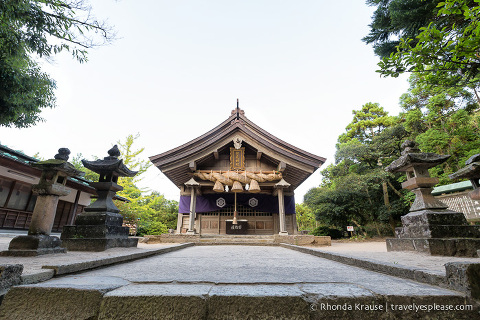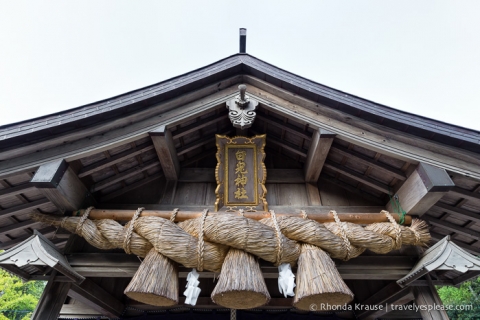 "The White Rabbit of Inaba" is a myth recorded in Japan's oldest surviving book, the Kojiki. It tells the story of how a white rabbit, wanting to cross from Okinoshima Island, tricks some sharks into forming a bridge for it to cross.
The rabbit tells the sharks he wants to see whose clan is larger, that of the sharks or that of the rabbits, and has the sharks line up so he can count them. Once in a row, the rabbit hops across their backs, counting them as he crosses the sea. Almost at the end of the line, rabbit announces that he tricked the sharks so he could use them as a bridge. This angers the last shark, who attacks the rabbit ripping off his fur.
Later, the injured white rabbit sees Okuninushi (a Shinto god) and his brothers on their way to woo Princess Yakami and stops them to ask for help. Okuninushi takes the rabbit to bathe in fresh water and then has him roll in the pollen of cattails. The white rabbit is healed, his fur good as new, and his true form of god revealed.
In thanks, white rabbit tells Okuninushi that he will marry Princess Yakami, even though he is the last born in his family.
In honour of this legend, there are small statues of white rabbits flanking the path to Hakuto shrine. It's a popular place for those looking to get married.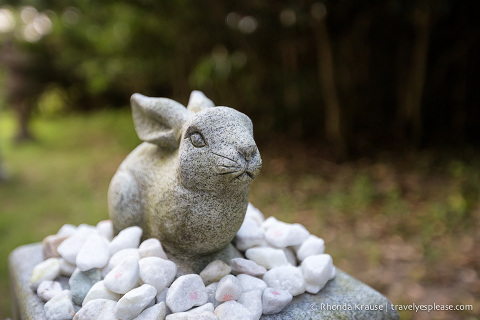 Day 2: Central & Western Tottori- Misasa, Mount Mitoku, Sakaiminato
I spent my first night in Tottori prefecture at a Ryokan (Japanese inn) in the hot spring town of Misasa, famous for its radium-rich water. After a morning climb up Mt. Mitoku, I refreshed at a nearby onsen, then drove 20 mins to Kurayoshi for lunch. From there, I drove 1.5 hrs to Sakaiminato to visit a museum, then drove 30 mins back to Yonago to spend the night.
Mount Mitoku and Sanbutsuji Temple
My second day in Tottori started with quite the adventurous hike up Mount Mitoku. This steep climb is a traditional training route for Buddhist monks because it requires a lot of concentration. Once you do it, you'll know what I mean!
The hard work was worth it though because along the way we got to see many different wooden buildings of Sanbutsuji Temple, some of which offer up fantastic views of the surrounding valley.
The final destination on Mt. Mitoku is Nageiredo, a small hall built under an overhanging rock. A national treasure, it's a simple structure but very beautiful- a nice reward for completing the challenging climb!
Read my full post about Mount Mitoku and Sanbutsuji Temple.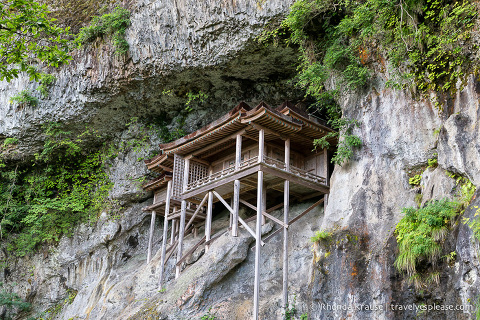 Mizuki Shigeru Museum in Sakaiminato City
After lunch I headed to Sakaiminato City, hometown of Japanese manga author Shigeru Mizuki, famous for his comic and animation series "GeGeGe no Kitaro".
If you're a fan of Mizuki and/or manga, then you'll likely enjoy visiting the Mizuki Shigeru Museum. Inside, you can learn about Mizuki's life and the Yokai (monsters and spirits in Japanese folklore) he drew.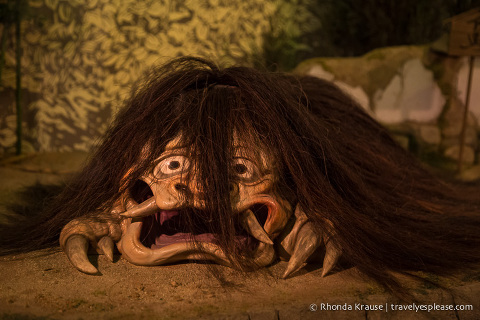 Even the main street leading up to the museum is dedicated to Mizuki and his Yokai. Mizuki Shigeru Road is lined on both sides with 153 bronze statues of Yokai characters. You can tell which characters are the most famous because people will crowd around to have their picture taken with them!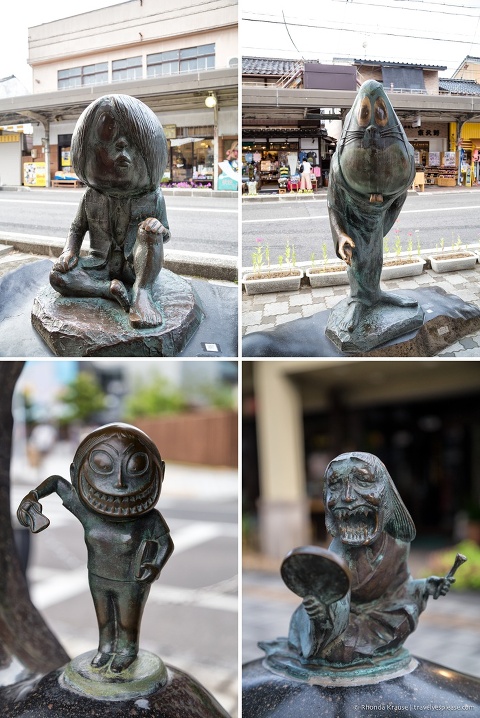 Admittedly, I had no idea what Yokai were before coming to Sakaiminato City, but still enjoyed my visit and discovering a part of Japanese culture unfamiliar to me.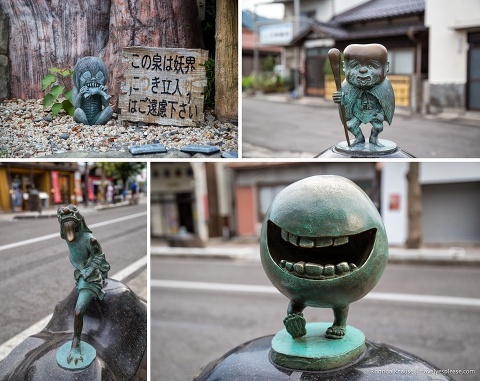 Day 3: Western Tottori- Tottori Hanakairo Flower Park, Mount Daisen
From Yonago, I drove 25 minutes to the Tottori Hanakairo Flower Park, then about 30 minutes to the Mount Daisen area. Early evening, I flew back to Tokyo from Yonago Airport.
Tottori Hanakairo Flower Park
Seeing how I love gardens, I had no doubt that I was going to enjoy Tottori Hanakairo Flower Park. It's a gorgeous spot with wonderful views of Mt. Daisen and its circular design made it easy to get around to the different gardens in the park.
My favourite area was Flower Hill because I loved the vibrant field of yellow. The mountain backdrop wasn't too bad either! This is definitely a place that would be fun to return to every season.
Read my full post about Tottori Hanakairo Flower Park.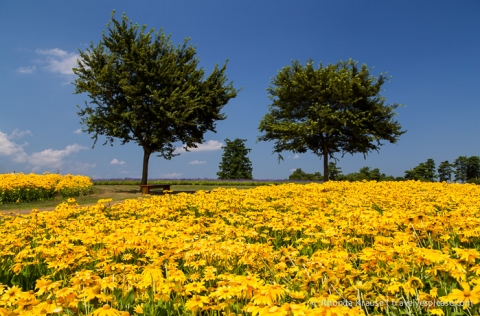 Mount Daisen- Daisen-ji Temple & Ogamiyama Shrine
Mount Daisen was a great place to go on my last day in Tottori because it allowed me to experience the spirituality and nature so closely associated with Japan.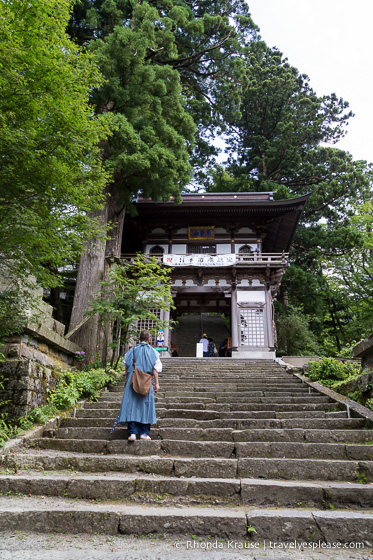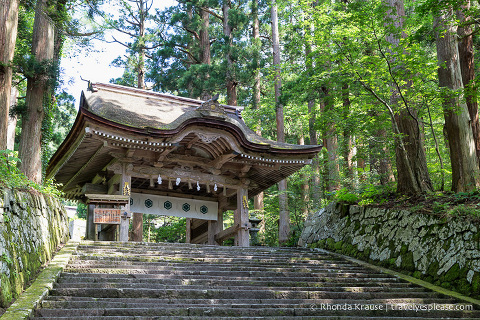 After having a traditional vegan lunch at one of the Buddhist temples, I began walking up Mt. Daisen. I briefly visited the main temple of Daisen-ji before continuing up the path to Ogamiyama Shrine.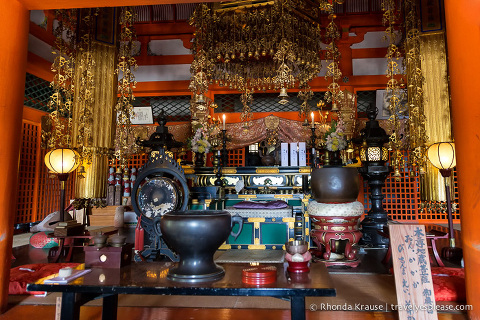 I felt a wave of calm, peacefulness as I walked along the Ishidatami-no-sando pathway. Huge cedar trees towered above me as I carefully stepped from stone to stone, traversing Japan's longest stone pavement pathway (700 metres).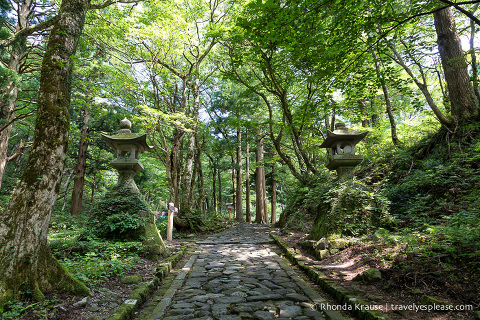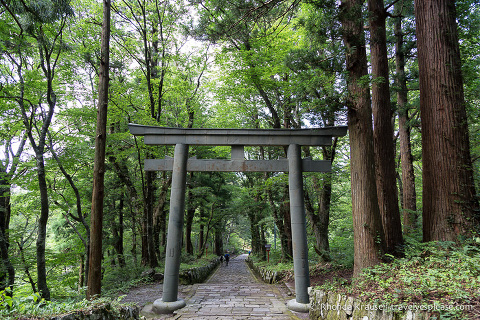 Soon, I arrived at the Reverse Gate/Back-facing Gate of Ogamiyama Shrine. Crossing under it I was greeted by a wide staircase, leading the way to the shrine. Once I reached the large wooden building, I was first struck by its size, then the dragon carvings over the entrance stole my attention. I always love those little details!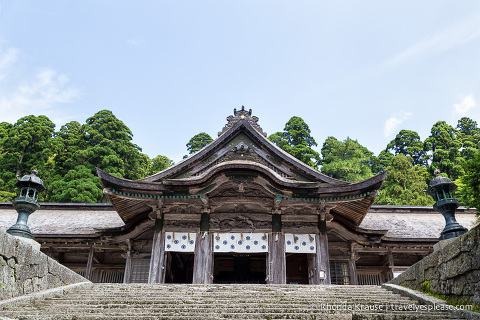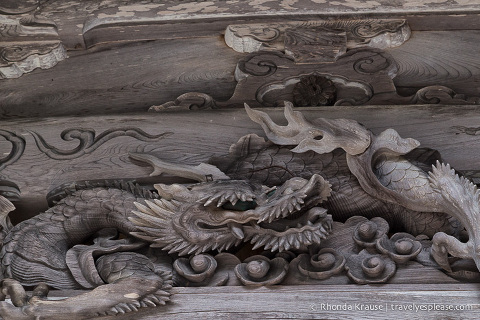 Daisen Makiba Milk no Sato
Before leaving Tottori, I had to satisfy my ice cream craving so I stopped in at a small farm at the foot of Mt. Daisen. Judging from the line-up, I was in for quite a treat!
The ice cream was so creamy and delicious- you could definitely taste it was made from fresh milk. As much as I loved the ice cream, the views were just as good. I never expected to see a scene like this in Japan- a pasture of cows backed by Mt. Daisen. So picturesque!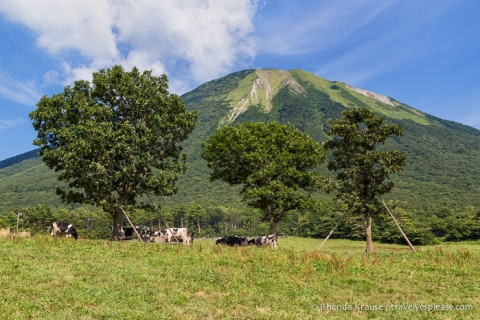 Final Thoughts About my 3 Days in Tottori
After 3 days in Tottori, I did not want to leave. I'll even embarrass myself a little by admitting that I teared up going through airport security. And getting on the plane. And during the flight back to Tokyo.
Japan, as a whole, has this effect on me. It's a country that I feel really connected to and those emotions not only stayed with me during my 3 days in Tottori, they became stronger.
It was interesting travelling around Tottori prefecture because there were some things I expected to see, and other things I didn't foresee finding in Japan. Those surprises were part of what made my trip to Tottori so much fun!
Tottori had a nice mix of attractions, something for every type of traveller, so I had no trouble finding fun things to do in Tottori. There was beautiful scenery (both mountains and the sea), activities in nature, beaches, temples and shrines, hot springs to relax in, unique museums, traditional inns and good restaurants to enjoy the local food. The only thing missing was an intact, original Japanese castle (Tottori City has castle ruins and Kawahara has a replica castle).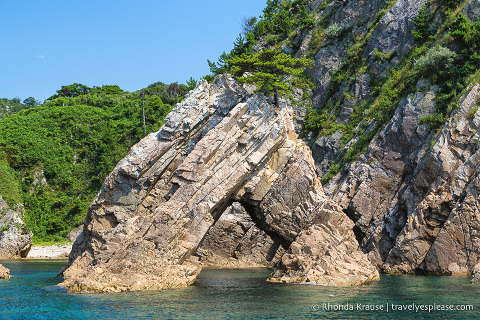 I liked that Tottori wasn't crowded like Tokyo and Kyoto. It may not be a very popular tourist destination just yet, so is one of the best places in Japan to visit for people who don't like being around hordes of other tourists. Apart from myself, I only noticed one family of obvious international tourists.
In Tottori, I felt like I experienced many of the most outstanding things about Japan- peaceful nature, serene sacred places, fresh food, impeccable landscapes and great hospitality. The best part though- I felt like it was undiscovered, special just for me!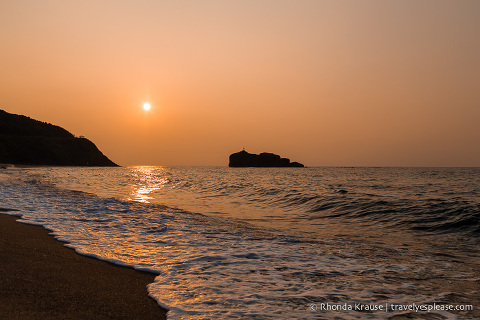 Tottori Travel Tips
Getting to Tottori: Tottori can be accessed by plane, train and bus from some major Japanese cities.
By plane: Tottori prefecture has 2 airports. The Tottori Sand Dunes Conan Airport welcomes flights from Tokyo and the Yonago Kitaro Airport serves flights from Tokyo and Seoul (South Korea). Flights from Tokyo are about 1 hr 15 mins.
By train: To Tottori City, it's a 4 hr 45 mins train ride from Tokyo, 3 hrs from Nagoya, or 2.5 hrs from Osaka. Trains also serve Kurayoshi and Yonago.
Transportation in Tottori: The most convenient (and scenic) way for tourists to get around the prefecture is by rental car. Don't worry, street signs are in English too! Cars can be rented at both airports.
Airport Shuttles: From Tottori Sand Dunes Conan Airport, there is a shuttle bus to/from Tottori Station, where the tourist information office is. Price is ¥460. From Yonago Kitaro Airport, the shuttle bus goes to/from Yonago Station for ¥590.
Taxis: Tottori City has a great taxi option for tourists called the ¥2000 yen taxi. For just ¥2000/person you can have a cab for 3 hours. The driver will wait for you at each destination you visit, so you don't have to worry about calling a cab for the return trip. You can book this service at the Tottori City International Tourist Support Centre or through your hotel.
Sightseeing Buses: Totttori City and Yonago have a few bus options that take you to the main sightseeing destinations.
Trains: Tottori prefecture is served by the West Japan Rail Company. If you plan on travelling quite a bit around Tottori and surrounding prefectures, you may want to look into buying a JR-West Rail Pass (the San'in area ones cover travel in Tottori). For an extensive trip around the country, a Japan Rail Pass can be a great deal for foreign visitors.
Tourist Information in Tottori City: The Tottori City International Support Centre is at Tottori Station (outside access). You can find many brochures and get travel information from staff that speaks English, Korean and Chinese.
Food in Tottori: Tottori has many local specialties, but my favourite food was the 20th Century Pear (Nijisseiki). So crisp and very juicy! If you visit in August or September, you can even visit orchards to pick your own pears. Other local delicacies I recommend are Matsuba Crab and Tottori's Japanese Beef.
Wi-fi: Some hotels in Tottori may not have wi-fi (my ryokan in Misasa didn't). If you need to be connected, consider renting a pocket wi-fi device upon arrival in Japan. Make sure you check with the company that it will work everywhere in Tottori you will be traveling to, especially if you are going to Misasa.
Information was updated September 2022, but can change without notice. Please confirm directly with service providers.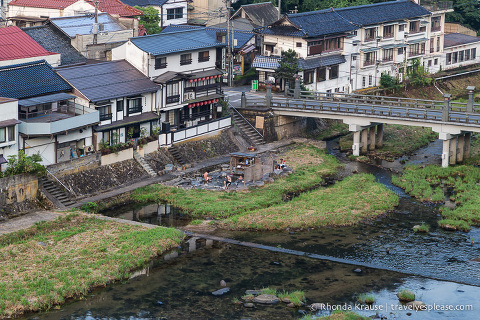 Accommodations in Tottori
For your convenience, here is a list of some hotels in Tottori prefecture. Please consider booking your Tottori accommodations through the included link. It costs nothing extra and helps support this website. Thank you!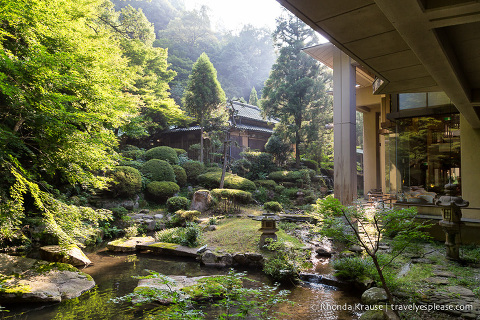 I'd like to thank the Tottori Prefectural Government Tourism and Exchange Bureau for hosting me in order to bring you this story. As always, I speak only the truth and hosts have no editorial influence on articles.
More Japan Destinations and Travel Guides