Purchases made through links earn us a small commission, at no extra cost to you.
For our last day in Japan, we decided to ditch the hustle and bustle of modern Tokyo, and head to the forested area of Nikko for one last opportunity to experience the traditions, spirituality and natural beauty of Japan.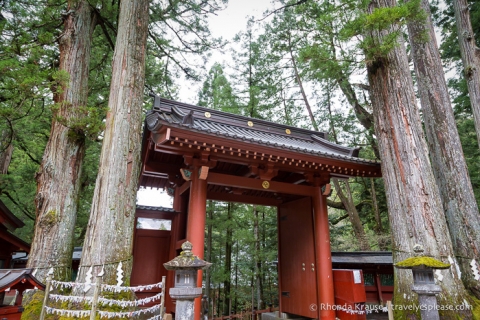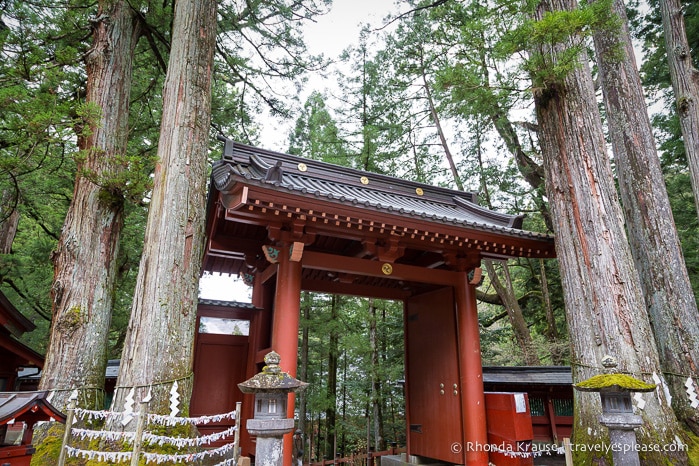 Nikko is a Buddhist-Shinto religious centre, its shrines and temples scattered among the hilly woodlands. At times we felt lost among the towering pines and cedars, yet incredibly connected to the nature and spirituality that surrounded us.
Vibrant green moss clung to perfectly aligned stone lanterns, torii gates welcomed us into sacred spaces, symbolic decorations adorned ancient shrines, and red-bibbed Jizo statues lined a river-side path.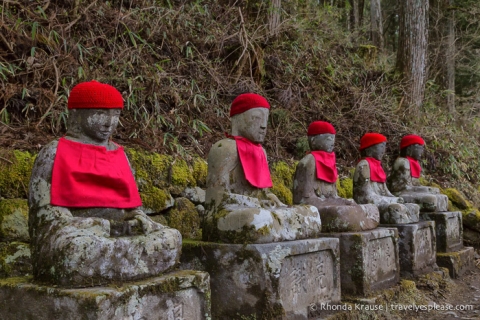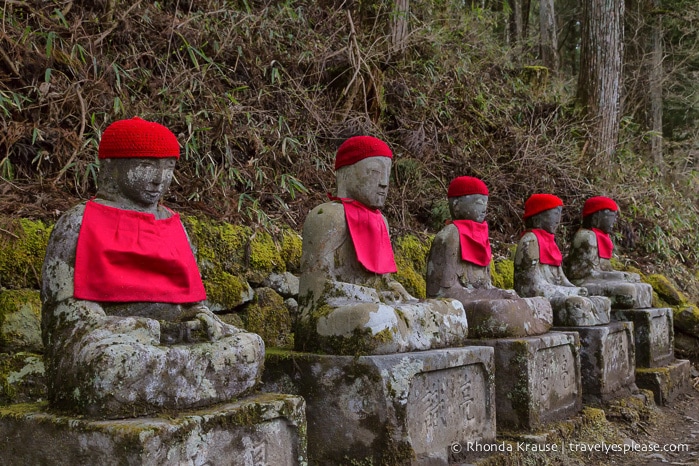 An atmospheric location, Nikko had all the elements for a perfect send-off from Japan. We couldn't think of a better way to end our two week trip to Japan than with a day trip to Nikko!
Our Day Trip to Nikko- What to See With One Day in Nikko
Our day trip to Nikko from Tokyo was very very fulfilling. Not only did we get to see some fabulous Japanese architecture, we enjoyed some beautiful landscapes and a unique natural wonder.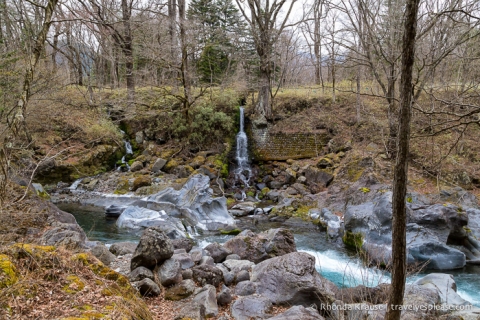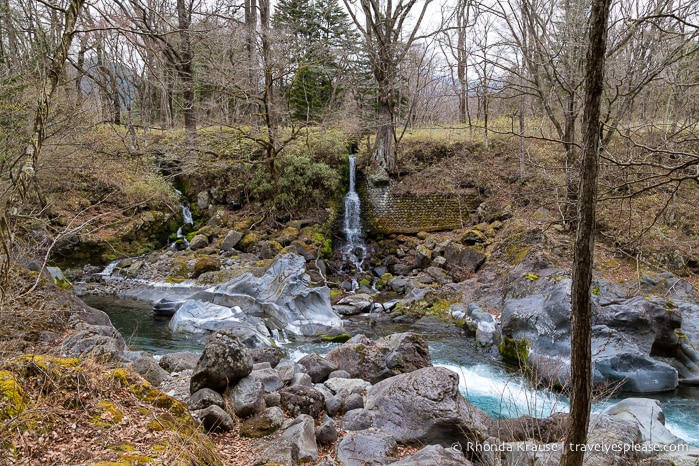 With only one day, we definitely did not have time to see all of Nikko's shrine and temples, even though I would have liked to. Still, I'm happy with the sites we chose to visit as they gave us a nice overview and provided a well-rounded experience.
Here's a look at how we spent one day in Nikko!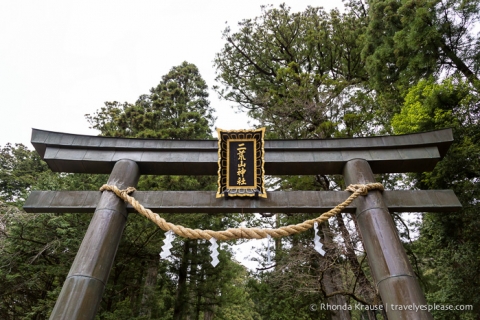 Shinkyo Sacred Bridge
The vermillion coloured Shinkyo Bridge marks the entrance to Nikko's World Heritage listed area of shrines and temples.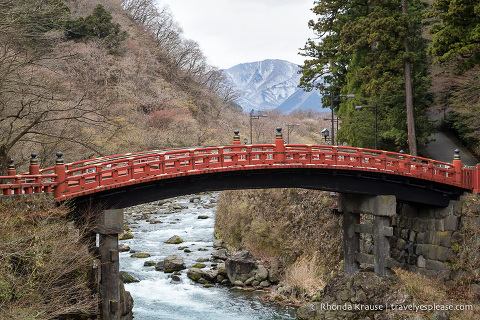 The bridge was built in 1636, but has been renovated a few times since then, and is now ranked as one of Japan's three finest bridges.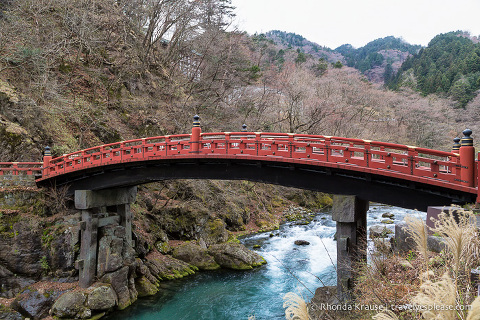 In feudal times, the Shinkyo Bridge could only be crossed by the emperor. Even today its use is limited, in that you have to pay a fee to walk across it.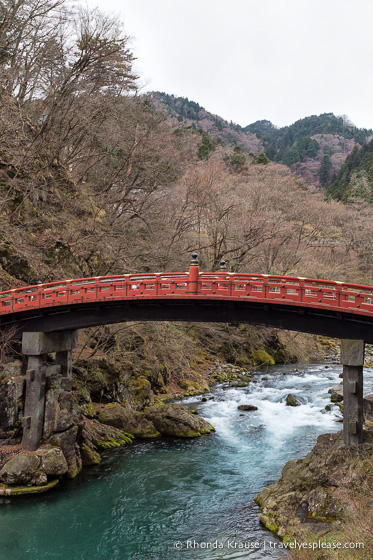 Nikko Toshogu Shrine
If you only have time to visit one shrine in Nikko, make sure it is Toshogu. It's Japan's most lavishly decorated shrine, decked out in gold-leaf accents and countless wood carvings.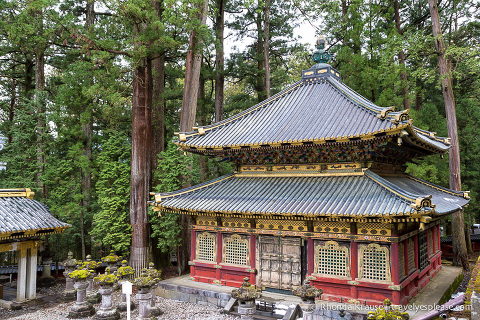 There are 55 buildings at Toshogu, which contain both Buddhist and Shinto elements. Perhaps the most notable structures are the five-story pagoda and Yomeimon Gate, but I was a big fan of the white and gold Karamon Gate.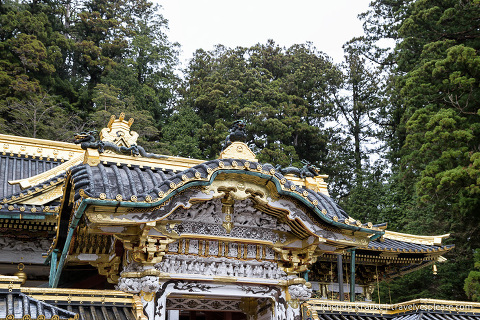 Toshogu Shrine attracts big crowds, since it's one of the best shrines in Japan, so try and visit early in the morning and on a weekday, if possible.
Read more: Nikko Toshogu Shrine- Japan's Most Lavish Shrine
Tamozawa Imperial Villa Memorial Park
The Tamozawa Imperial Villa is away from the main shrine and temple area of Nikko, but is easily reachable if you enjoy walking.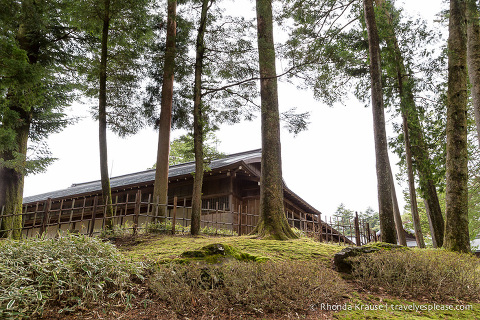 The villa was built in 1899 as a vacation home for Prince Yoshihito (the Taisho Emperor). It's the largest wooden structure of all the imperial villas and incorporates a variety of architectural styles from the Edo and Meiji Period.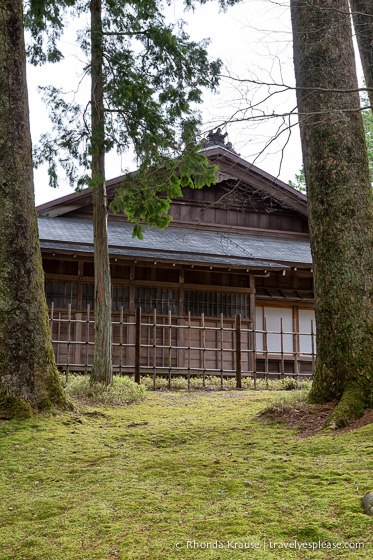 We opted not to go inside, but did enjoy a walk around the memorial park before making our way to the Kanmanagafuchi Abyss.
Kanmangafuchi Abyss
The Kanmangafuchi Abyss is a group of scenic pools that were created by lava flows from an eruption of Mt. Nantai.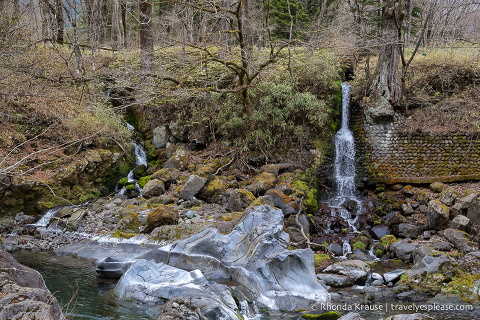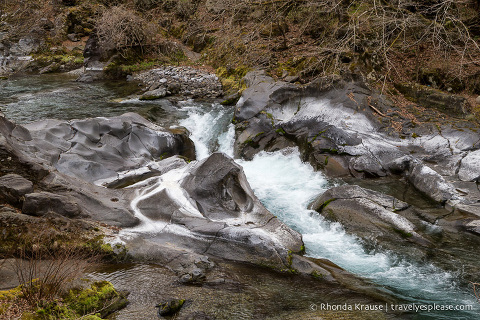 We had a pleasant walk along the riverside trail where we could get a close look at the uniquely shaped rocks that formed the small gorge.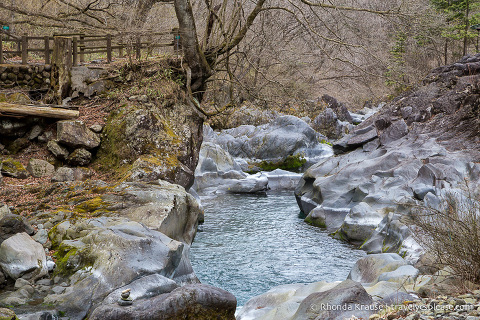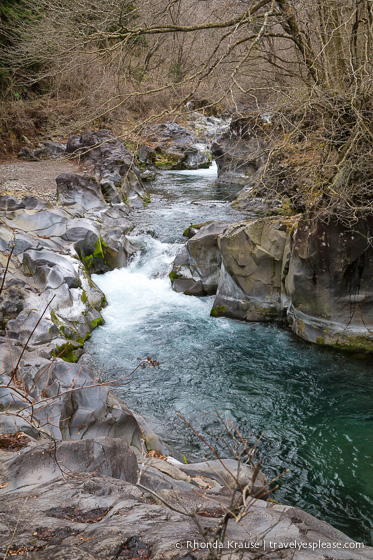 Further up the trail, we came to a long row of about 70 stone statues of the bodhisattva Jizo, protector of deceased children. Each Jizo statue was dressed in a knitted red hat and cloth bib. In Japanese folklore, Jizo is said to hide children in his robes to protect them from demons in the underworld.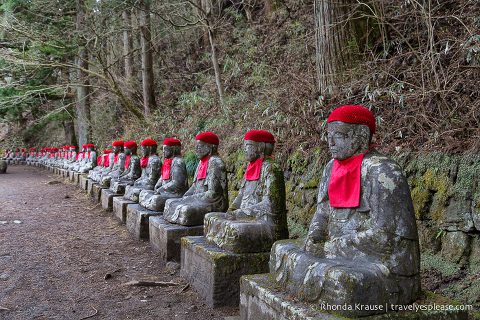 Another interesting legend about Nikko's Jizo statues, is that their number will change every time you count them. Of course, we had to try this for ourselves to see if it was true or not. Both Mike and I counted the statues twice and got the same number each time. Looks like they aren't "phantom statues" after all!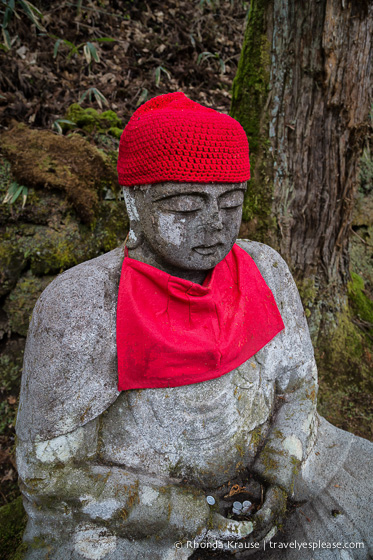 Final Thoughts on Our Day Trip to Nikko
I really enjoyed our visit to Nikko and felt like we had a full day, without it being rushed. We were able to experience Nikko's most popular shrine, as well as go beyond the typical tourist zone.
While one day in Nikko was sufficient to see the main sites, I would have loved another day to explore more of the shrines, temples and surrounding natural areas. Unfortunately, we missed out on Lake Chuzeji and Kegon Waterfall. I guess I'll have to visit Nikko again on a future trip to Japan!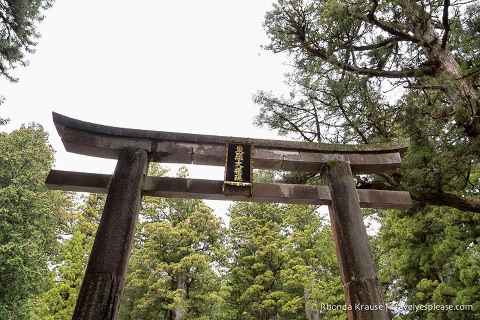 Tips for Making a Day Trip to Nikko
Getting to Nikko from Tokyo: Nikko is about a 2-hour train ride north of Tokyo.
If you have a Japan Rail Pass, take the Tohoku shinkansen to Utsunomiya, then transfer onto a regular train to the JR Nikko Station. Total travel time should be about 1 hr 40 mins.
We took a direct, limited-express train from Shinjuku Station to the Tobu Nikko Station. These trains use a section of track belonging to Tobu Railways, so a JR pass is not valid for a portion of the trip (you will have to pay the difference upon arriving at Tobu Nikko Station). Also, all seats on these trains require the purchase of a reservation.
Another option is to take Tobu Railways from Asakusa Station, which has hourly rapid trains that take about 2 hours. There are also a few limited-express trains in the morning and afternoon which require the purchase of a reservation but only take about 1 hour 45 mins. A JR pass is not valid on this line.
The Tobu Nikko Station has a tourist information desk where you can get help in English and pick up a town map.
Getting Around Nikko: From the train stations, it's about a 30 minute walk up the main street to the shrine area. You can also take a bus to the Shinkyo bridge and other stops in the World Heritage area. Buses run between the train stations and major tourist attractions in Nikko as often as every 15 minutes, but those travelling further afield are less frequent. Bus passes for unlimited rides can be purchased at the Tobu-Nikko Tourist Centre and the Nikko Station ticket office.
We chose to walk everywhere and were able to visit all the sites mentioned above without using public transportation.
Admission: Each shrine and temple charges its own admission fee.
Opening Hours: Most of the sites are open from 8:00 am until 4:00 or 5:00 pm, depending on the season.
More Tips: To make the most of your day trip to Nikko, arrive early in the morning to beat the tour groups.
The Nikko Official Guide website has a lot of helpful information for visiting Nikko. You'll find ideas for more things to see and do in Nikko, transportation tips, and other valuable advice for planning your day trip to Nikko.
Tours to Nikko from Tokyo
Here is a reputable site where you can book day trip tours to Nikko from Tokyo.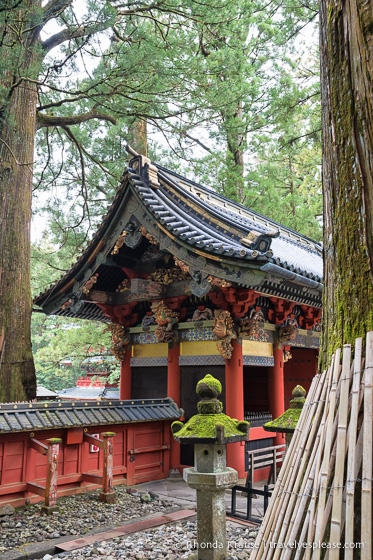 Accommodations in Nikko
For your convenience, here is a list of hotels in Nikko. Please consider booking your Nikko accommodations through the included link. It costs nothing extra and helps support this website. Thank you!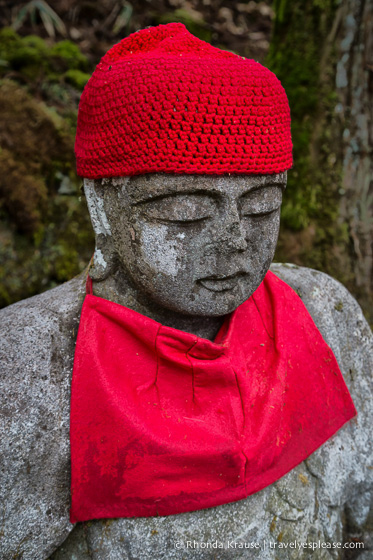 More Japan Destinations and Travel Guides