Purchases made through links earn us a small commission, at no extra cost to you.
A trip to Alberta wouldn't be complete without doing a road trip in the Canadian Rockies.
The drive from Calgary to Jasper is one of the finest road trips in Canada, a route that passes by Alberta's most inspiring scenery as it makes its way through the mountains and into the heart of Banff and Jasper National Parks.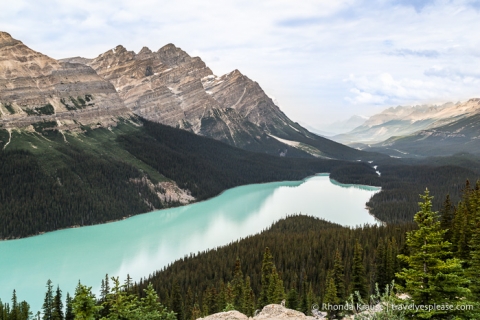 With so much to offer, this Alberta road trip is not one you'll want to rush. You'll need at least a week (preferably more), to experience the best of the Canadian Rocky Mountains in Alberta.
8 Days in Alberta- Rocky Mountains Road Trip Itinerary from Calgary to Jasper
8 days in Alberta's Rocky Mountains is adequate to see the main sights, but more importantly, it'll allow you to go beyond sightseeing with enough time to enjoy some outdoor adventures in Alberta.
This Canadian Rockies road trip itinerary includes some fantastic day hikes, scenic walks, a horseback trip, helicopter sightseeing tour, and stops at breathtaking viewpoints.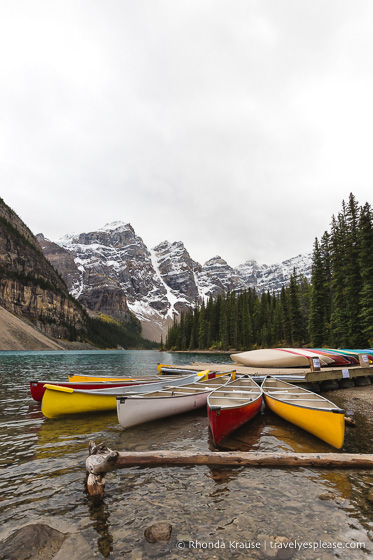 I've written this itinerary to start from Calgary, as that's the most convenient place to fly into, but you can also fly to Edmonton and do the route in reverse.
Here are our favourite places to see in Alberta on an 8 day Canadian Rockies road trip!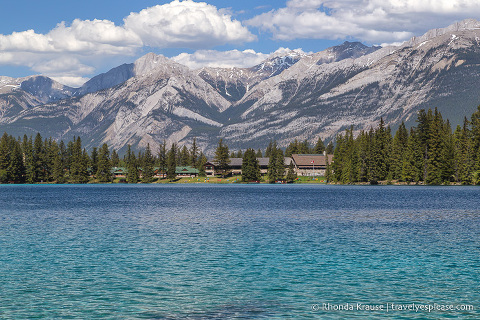 Note: Links to specific destination articles will open in a new window for your convenience.
Canadian Rockies Road Trip Map
Here's a map of the points of interest you'll see on this 8 day Canadian Rockies road trip itinerary.
Day 1: Drive Calgary to Banff National Park
Start your Alberta Rocky Mountains road trip by driving west from Calgary on Highway 1 (Trans Canada Highway) towards Banff National Park. Make a stop in the small town of Canmore, shortly before the national park boundary, to experience beautiful scenery without the big crowds.
Approximate drive times: Calgary to Canmore- 1hr 10 mins, Canmore to Banff townsite- 32 mins
Canmore
For a memorable and thrilling introduction to Alberta's Rocky Mountains, we recommend doing a helicopter tour in Canmore. Nothing beats a bird's eye view of the area's most beautiful landscapes!
Our 30 minute helicopter tour flew us past the Three Sisters Peaks, Mount Assiniboine and Gloria Glacier, the Goat Range, and over Spray Valley. I was a little anxious at first, being this was my first time in a helicopter, but my nerves were quickly settled by the dramatic mountain views, something you definitely can't experience from the ground!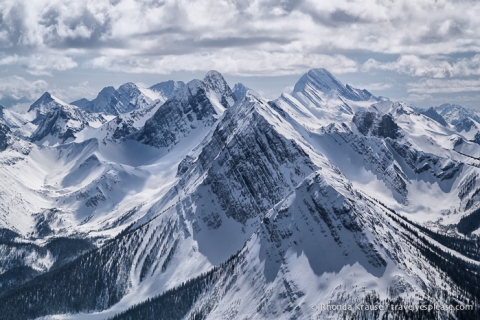 Don't rush off after your helicopter tour, as there are plenty of scenic walks and short hikes in Canmore. Our favourite is the 3.8 km Grassi Lakes Hike, which leads to two small blue-green lakes surrounded by mountains. If you choose the more challenging of the two possible routes, you'll be rewarded with great views of Canmore, the reservoir, and a waterfall. Allow for 1.5-2 hours if you take the scenic route.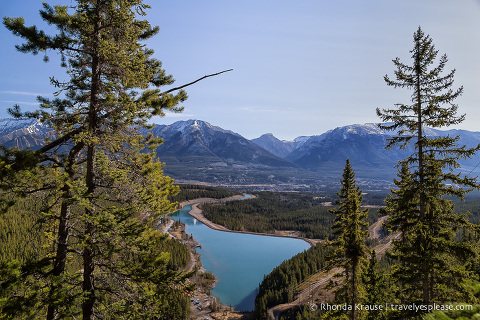 Banff Townsite
The rest of the day can be spent exploring the town of Banff. Admittedly, it's really busy during the summer season, and too commercialized for my taste, but it's still a beautiful place to spend the first night of your Alberta road trip.
An interesting place to visit in Banff is Cave and Basin National Historic Site. The discovery of this natural hot spring on Sulphur Mountain, and desire to protect it, led to the creation of Banff National Park. Inside the cave you can admire the sparkling turquoise waters, while outside you can see a steaming thermal water basin.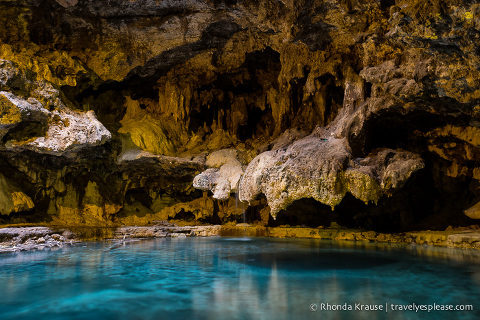 After visiting Cave and Basin, take a peek inside the historic Banff Springs Hotel, a luxurious property built in the late 19th century by the Canadian Pacific Railway. If you wish, have dinner at the "Castle in the Rockies" before ending your day with an evening soak at Banff Upper Hot Springs.
Check prices, availability, and reviews for the Fairmont Banff Springs.
Day 2: Drive Banff to Lake Louise
Start Day 2 of your Canadian Rockies road trip by driving along the scenic Bow Valley Parkway to Johnston Canyon. Spend a few hours hiking at Johnston Canyon before continuing on the Bow Valley Parkway to the hamlet of Lake Louise, your home for the next three nights.
Approximate drive times: Banff to Johnston Canyon- 27 mins, Johnston Canyon to Lake Louise- 26 mins
Johnston Canyon
The hiking trail at Johnston Canyon is one of the busiest in Banff National Park (so get an early start), but the scenery is lovely enough that the crowds don't detract too much from the experience.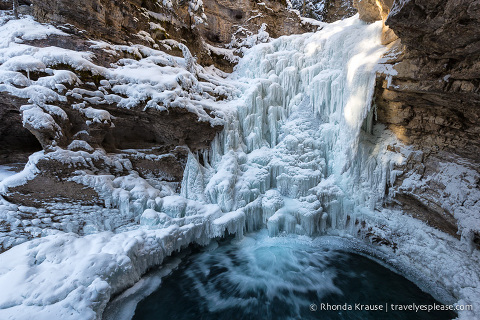 Canyon-clinging catwalks will lead you through the gorge to two waterfalls- the Lower Falls at 1.1 km, then the Upper Falls at 2.7 km. Most people end their hike at the Upper Falls, but we recommend carrying on another 3 kilometers to the Ink Pots. Here you can enjoy seven greenish-blue pools of spring water surrounded by open meadows. It's a fantastic place for a quiet picnic.
If you want to hike to the Ink Pots and back, plan to spend 4-5 hours. If you only want to visit the Lower and Upper Falls, allow 2- 2.5 hours for the return trip.
Lake Louise
With postcard-worthy views and plenty of opportunities for outdoor adventure, it's easy to understand why tourists flock to Lake Louise.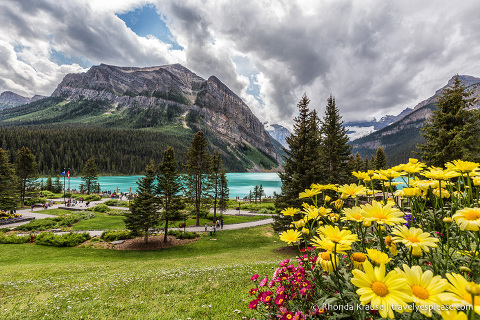 Our favourite way to escape the crowds that hang out along the shoreline is to rent a canoe and paddle across the glacier-fed lake. The turquoise water and backdrop of rocky mountain peaks are relaxing and invigorating at the same time. If you're up to it, paddle close to the Victoria glacier that hangs at the far end of Lake Louise.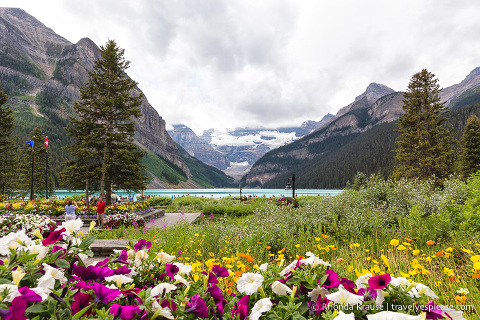 After canoeing on Lake Louise, grab a table at one of the restaurants inside Chateau Lake Louise. Our go-to meal is Swiss Fondue at the Walliser Stube. Mmm… cheesy goodness!
Check prices, availability, and reviews for the Fairmont Chateau Lake Louise.
Day 3: Plain of Six Glaciers (Lake Louise)
No driving today, instead you'll be transported by horseback to the Plain of Six Glaciers Tea House. If horses aren't your thing, you can also hike to the tea house.
Horseback Ride to the Plain of Six Glaciers
Travelling by horseback to the Plain of Six Glaciers is a Canadian Signature Experience and a truly unique way to explore Lake Louise.
During the 4 hour trail ride to the Plain of Six Glaciers Tea House, you'll trot through the forest, along the shore of Lake Louise, across a field of moraine (rock deposits lefts behind by glaciers), then up towards the base of Victoria Glacier before arriving at the historic tea house at 7,000 ft.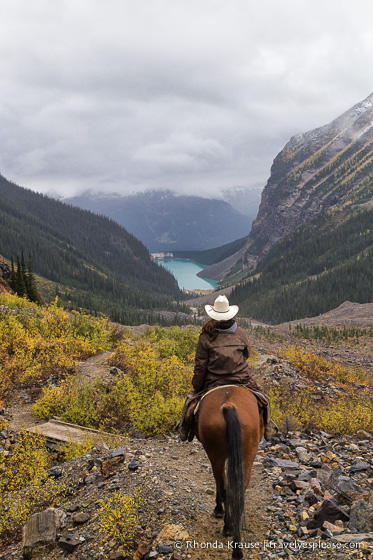 If you're like me, your legs will be stiff after such a long horseback ride, so the rest of the day can be spent relaxing and at Lake Louise, or perhaps checking out the view from the top of the Lake Louise Gondola (if you don't mind the hefty price tag).
An interesting place to have dinner tonight is at The Station Restaurant, located inside Lake Louise Station. Train enthusiasts will appreciate the building's railway heritage and foodies will enjoy the delicious Canadian cuisine.
Day 4: Moraine Lake & Larch Valley

Early in the morning, drive the short distance from Lake Louise to Moraine Lake, a must-see place on a road trip in Alberta thanks to its classic views. After admiring the famous lake, set out to hike the Larch Valley trail, which starts nearby at the Moraine Lake Lodge. Spend one final night in Lake Louise.
Approximate drive times: Lake Louise to Moraine Lake- 20 mins
Moraine Lake
You've probably seen countless pictures of Moraine Lake on Instagram, but long before that, this exquisite landscape lake graced the back of Canada's $20 bills.
Moraine Lake is a perfect stop during a summer road trip in the Canadian Rocky Mountains because the water is at its bluest in June and July. The view from Rockpile Trail is stunning, with the rugged Valley of the Ten Peaks framing the vivid lake.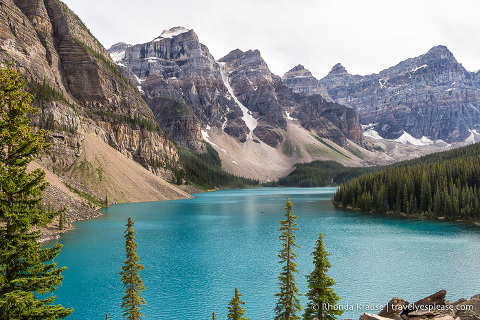 Moraine Lake is a very popular place to visit in the Alberta Rockies, so try to avoid the rush with an early morning (or evening) visit.
Hiking Larch Valley
Larch Valley is most beautiful in early autumn when the larch tree needles turn golden yellow, but even without the fall colours it's still an enjoyable hike.
The Larch Valley hike climbs and winds up through the forest before arriving at an open meadow and valley of larch trees. Continue a bit higher to Minnestimma Lakes, or higher yet to Sentinel Pass, and you'll be rewarded with wonderful views of the Valley of Ten Peaks.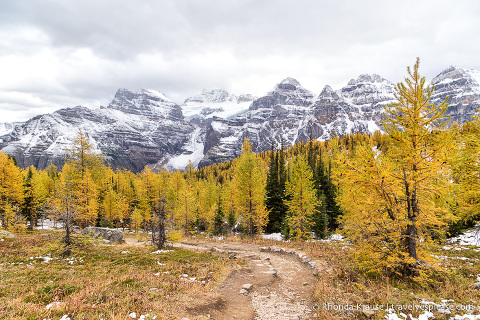 It's 4.3 km one way to Larch Valley/Minnestimma Lakes and the round trip can take up to 4 hours.
Day 5: Drive the Icefields Parkway to Jasper National Park
It's time to leave behind Banff National Park and head towards Jasper via the Icefields Parkway (Highway 93), one of Canada's most scenic drives. Spend the next three nights in Jasper.

Approximate drive times: Lake Louise to Jasper townsite- 3 hrs (without stops)
Icefields Parkway
You can't do a proper Canadian Rocky Mountains road trip without driving the Icefields Parkway from Lake Louise to Jasper.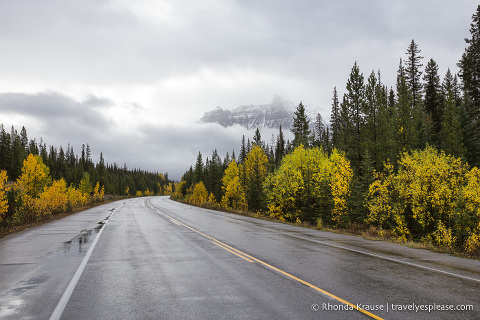 The road linking Alberta's mountain parks is one of Canada's best, as far as scenery goes. From brilliant blue lakes, cascading waterfalls, rugged canyons, imposing peaks, and icy glaciers, there's no shortage of attractive places to pull over and revel in the views.
Since it's a long drive with plenty of gorgeous sights, you'll have to make some tough decisions about where to stop along the way if you want to make it to Jasper by suppertime. My favourite point of interest along the Icefields Parkway is Peyto Lake (at Bow Summit), but I also recommend stopping at the Columbia Icefield, Sunwapta Falls, and Athabasca Falls (nearest to Jasper townsite).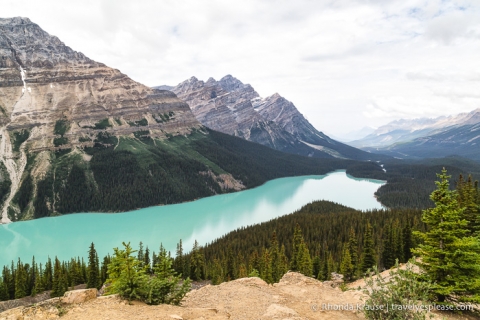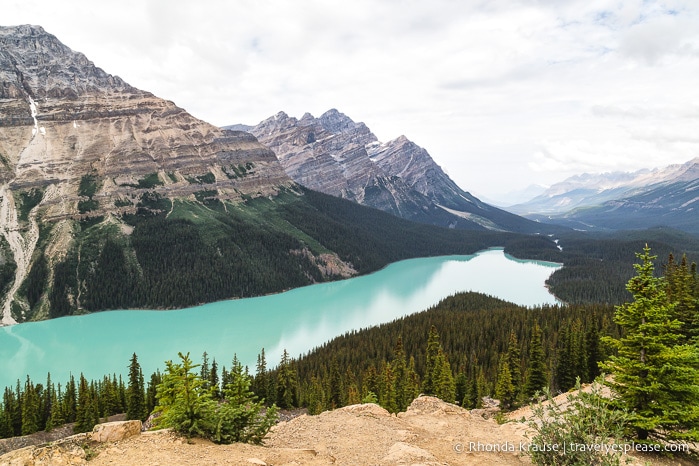 Day 6: Valley of the Five Lakes, Pyramid Lake, & Lac Beauvert

Spend the day visiting some of the lakes in Jasper National Park, beginning with a hike at the Valley of the Five Lakes. From there, make the short drive to Pyramid Island, then end your day at Lac Beauvert and the Jasper Park Lodge.
As an alternative to the Valley of Five Lakes hike, you can visit Mt. Edith Cavell and do the longer Cavell Meadows hike or shorter Path of the Glacier Trail. These connected routes offer beautiful views of a glacial pond.
Valley of the Five Lakes Hike

The Valley of the Five Lakes hike is my favourite hike in Jasper because the trail makes a loop around five blue-green lakes, each with a unique shade.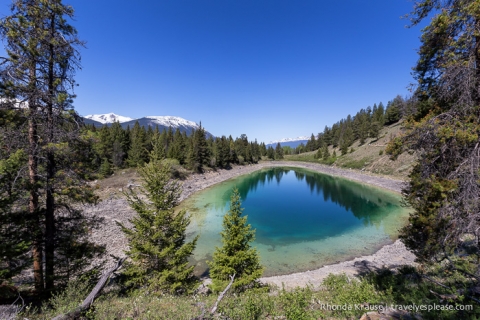 There's a short loop and long loop, both of moderate difficulty. We chose the short route and it took us just under 2 hours to complete, including plenty of time spent enjoying the scenery!
Pyramid Lake
Pyramid Lake is a great place to go for a short walk that's not very far from town (8 km). From the tiny Pyramid Island (and shores of Patricia Lake), you get beautiful views of Pyramid Mountain reflecting in the water. It's a lovely spot that I try to visit every time I make a trip to Jasper National Park.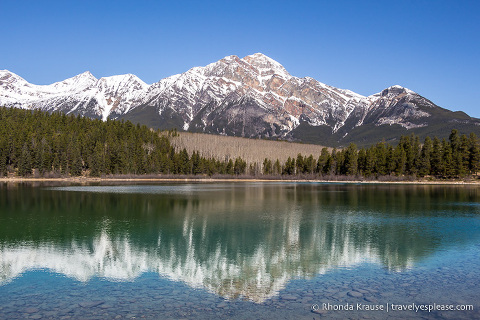 Beauvert Lake
At Lac Beauvert there's an easy 4 km walking trail that wraps around the entire lake, offering pleasing views of the surrounding mountains and shore-side Jasper Park Lodge.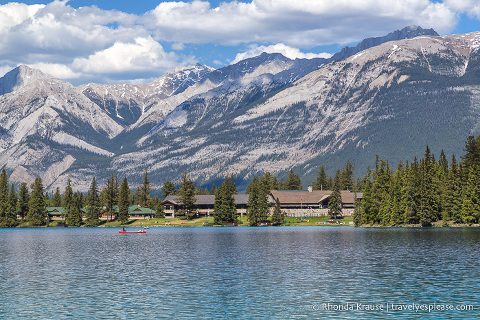 If you're tempted to get out on the water, you can rent a canoe, kayak, paddle boat, or paddle board from the boathouse. There's a beautiful golf course here too.
Afterwards, pop inside the Jasper Park Lodge for an appetizer or dinner and continue to enjoy Jasper's beautiful scenery from your table.
Check prices, availability, and reviews for the Fairmont Jasper Park Lodge.
Day 7: Maligne Valley/Maligne Lake Road

For your last full day in Jasper, explore the natural sites along Maligne Lake Road, which is also a great place to spot wildlife in Jasper National Park. We've seen black bears and cubs, mule deer, moose, even a grizzly all on this road.
Maligne Canyon
Maligne Canyon is the gateway to Maligne Valley and the deepest canyon in the Canadian Rockies, dropping to 50 metres in places.
The six bridges crossing the canyon make it easy to experience various vantage points of this incredible landmark. You can see waterfalls, eroded limestone, and the swirling water of Maligne River. You can easily spend 2-3 hours walking along the rim of the canyon, learning from the interpretive displays along the way.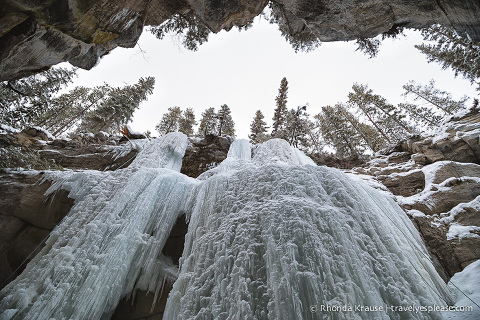 For a completely different experience, make a winter trip to Jasper when you can do the Maligne Canyon Ice Walk and see the gorge draped in ice.
Medicine Lake
Medicine Lake is worth stopping at to capture a few pictures, but what makes it really unique is something you can't see at all.
Known as the "disappearing lake", Medicine Lake is an area the Maligne River fills faster than it can drain. The water slowly infiltrates the ground, moving through an underground cavern system before re-emerging at Maligne Canyon.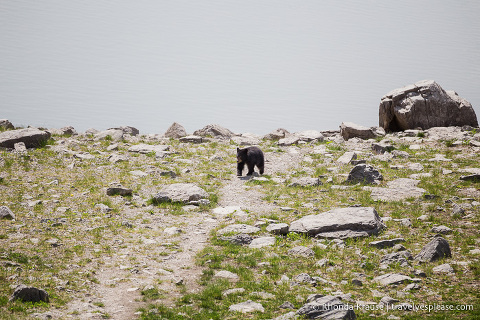 Medicine Lake can be a good place to spot wildlife (we've seen a black bear with cubs here) and in the winter it's a fun place to go snowshoeing in Jasper.
Maligne Lake
At the end of the road is Maligne Lake, the largest lake in Jasper National Park (and second largest glacier-fed lake in the world) at 22.5 km long and 1.5 km wide.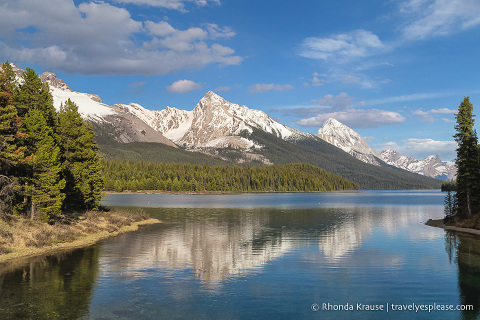 There's plenty to do here including day hikes, canoeing, and lunching at the historic Maligne Lake Chalet. You can even take a boat tour to the famous, and highly photographed, Spirit Island. The scenery during the Maligne Lake cruise is remarkable, especially once you arrive at Spirit Island, so it's definitely a must-do on a road trip in Alberta's Rocky Mountains.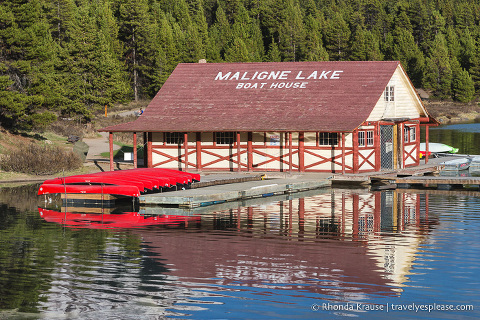 Day 8: Drive to Edmonton or Back to Calgary
Approximate drive times: Jasper to Edmonton- 3 hr 54 min, Jasper to Calgary- 4 hr 57 min
Now that your week-long road trip in the Canadian Rocky Mountains has come to an end, it's time to return home. You can either drive back to Calgary, making a second trip on the Icefields Parkway and Highway 1, or take Highway 16 and fly out of Edmonton.
If you choose the Edmonton route, it's nice to make a stop at Miette Hot Springs, the hottest springs in the Canadian Rockies, to soak up a few more moments in Alberta's mountains. Miette Hot Springs is 61 km east of Jasper townsite, at the end of Miette Road, not far from the entrance to Jasper National Park.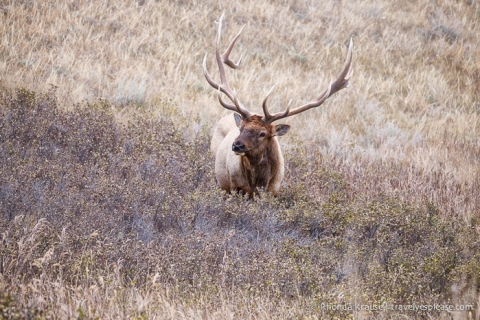 Final Thoughts About Our Canadian Rockies Road Trip in Alberta
I've done this road trip in Alberta's Rocky Mountains many times (I'm lucky enough to live in Alberta), but it never gets old.
There are so many great places to see and things to do in the Canadian Rockies that a road trip through the area can be different every time. Writing this post made me want to get out and drive from Banff to Jasper all over again to discover some new lakes and hikes in Alberta's Rocky Mountains!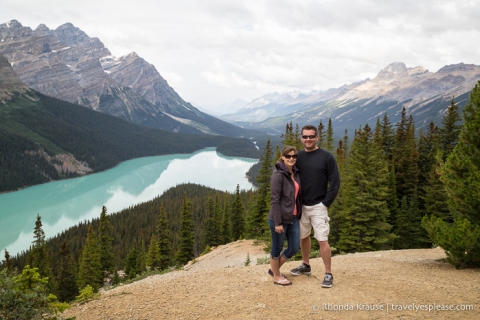 Tips For Doing a Road Trip in Alberta's Rocky Mountains
You will need to buy a park pass at either the entrance to Banff National Park or Jasper National Park. The cost is determined by how many days you will be in the parks and how many people are in the vehicle. Annual passes are also available.
The Icefields Parkway has very few services, so be sure to pack snacks and a lunch (there are plenty of great picnic spots). Also, make sure to fill up with gas in Lake Louise or Jasper as there's only one gas station at the Saskatchewan River Crossing Resort, and prices are usually higher here.
There is no cell reception along the Icefields Parkway and service in Banff and Jasper National Parks can be spotty. Don't expect cell service in the wilderness areas.
Most viewpoints and pull out areas have outhouses if you need a bathroom break.
Be alert for wildlife on roads and hiking trails. Educate yourself on what to do if you encounter wildlife and always keep a safe distance.
If doing this road trip in the winter, be prepared for icy conditions and extreme weather (especially on the Icefields Parkway). Pack extra clothing, food, and check the road reports before heading out. Sometimes parts of the Icefields Parkway get closed if conditions are bad.
Accommodations and campsites can fill up in the summer season, so make sure to book them well in advance. Pickings are especially slim in Lake Louise.
If you want to extend your trip to the Canadian Rockies, we suggest adding a few more days in Jasper National Park. Not only is it beautiful with a laid-back vibe, there's so many fun adventures and things to do in Jasper National Park that it's sure to be a highlight of your Alberta vacation.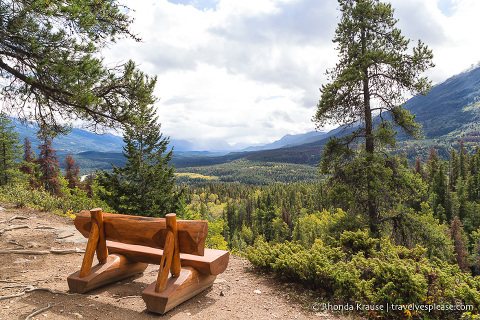 Accommodations in the Canadian Rocky Mountains
For your convenience, here is a list of hotels for the stops on this Alberta road trip itinerary. Please consider booking your accommodations through the included link. It costs nothing extra and helps support this website. Thank you!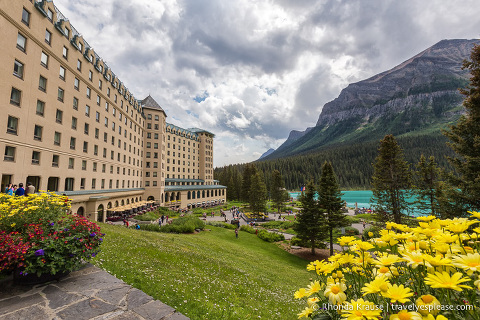 More Canadian Rockies Destinations and Travel Guides